Los Angeles Soccer:

Necaxa
April, 22, 2011
4/22/11
3:02
PM PT
By
Scott French
| ESPNLosAngeles.com
Three of the eight playoff berths have been taken, and the fight for the final five is heating up as the Mexican Primera Division heads into its penultimate weekend of the regular season, with a dozen teams still in contention, but only eight of them really in the race.
Quickly:
In: Pumas UNAM (9-1-5), UANL Tigres (8-2-5) and Morelia (8-3-4)
On the verge: Guadalajara (6-3-6), Cruz Azul (7-5-3) and Atlante (7-6-2)
Above the wire: Monterrey (6-5-4) and America (7-7-1)
Just outside looking in: Toluca (5-5-5), Atlas (5-5-5) and Santos Laguna (6-7-2), all two points out of the final spot
Alive, but not for long: Puebla (5-8-2), Pachuca (4-7-4) and Estudiantes Tecos (4-7-4)
Out: Gallos Blancos (4-8-3), Necaxa (3-7-5) and Jaguares (3-10-2)
Pumas, Tigres and Morelia claimed their spots during last week's "doble jornada." Pumas, on top of the overall table most of the Clausura campaign, can clinch the No. 1 seed -- rarely a winner in Mexico's playoffs -- with a win Friday night at Necaxa and Tigres' failure to win Sunday at Morelia in one of the two major showdowns this weekend.
The other big matchup pits Guadalajara, looking like a real contender the past month, against Cruz Azul in Mexico City. Chivas is fourth and Cruz Azul fifth, both with 24 points, and neither is likely to miss the postseason.
But the Cementeros are skidding. They've lost three of four, with losses to Santos, Morelia and Puebla, after challenging for the top spot most of the season. The 3-0 rout of Monterrey, which is falling at a quicker pace, might prove to be Cruz Azul's savior.
Monterrey is winless in its last four league games, its focus blurred by its CONCACAF Champions League title-series run and its game slowed by injuries to key players. A longtime shoulder ailment has prevented star Chilean forward
Humberto Suazo
from contributing the way he needs to, and forward
Aldo de Nigris
and midfielder Luis Perez, both Mexican national-teamers, will be out for three to four weeks with thigh injuries.
February, 22, 2011
2/22/11
4:51
PM PT
By
Scott French
| ESPNLosAngeles.com
Calexico's
Isaac Acuņa
is starting to flower, following his first Primera Division appearance in nearly a year with a game to remember.
Acuņa, 21, scored in his first start in Mexico's top league to lead Gallos Blancos de Queretaro (2-4-1), who started the week at the bottom of the Clausura standings, to a stunning 2-0 triumph at Santos Laguna (3-3-1).
Acuņa scored in the third minute -- he took a pass from
Eder Borelli
as he slipped past the backline, dribbled past goalkeeper
Oswaldo Sanchez
and knocked the ball into the open net -- and fed
Carlos Bueno
for the second goal just before halftime.
Santos' fans answered with jeers after a second successive 2-0 home loss, and coach
Ruben Omar Romano
, who guided the Torreon-based club into the Apertura final, was dismissed after cameras caught him making an offensive gesture to fans, after which he criticized the supporters.
"His behavior went against the values that the club stands for and promotes, which is why the decision was taken to end our working relationship with immediate effect," the club said in an announcement on its Web site. Said club president
Alejandro Irarragorri
: "This is a deeply hurtful decision, but we must be consistent with our values and responsibility as a model team. Ruben reacted negatively to pressure from the fans, and that's something we can't cover up."
Fellow Argentine
Diego Cocca
, 38, was hired to replace Romano. Cocca, a former right back who counts Atlas, Veracruz and Gallos Blancos among the nearly dozen clubs for which he toiled, previously has managed three Argentine clubs, most recently La Plata's Gimnasia y Esgrima.
Acuņa, who is with Queretaro on loan from America, played 35 minutes in a 5-0 loss Feb. 12 to Toluca. He made his debut last April 10, playing five minutes for America in a victory over Jaguares.
SINCE 5-0:
The most alarming result of the Clausura occurred in week one, when Atlas, the worst team in the fall Apertura, throttled a decent (or so we thought) Morelia side, 5-0. After three games, Atlas had matched its fall win total and sat atop the overall table.
February, 14, 2011
2/14/11
11:41
PM PT
By
Scott French
| ESPNLosAngeles.com
Jonathan Bornstein has brought UANL Tigres some needed luck. Give Danilinho and Hector Mancilla some credit, too.
The club from suburban Monterrey, known more for its disappointments than its triumphs, are atop the Primera Division's Clausura standings after Danilinho set up one goal and scored another in a 2-0 victory Saturday over visiting Cruz Azul.
Up next: Clasico Regiomontano rival Monterrey, which won the Apertura crown in December and has prevailed in three of its last four games.
Bornstein, who joined Tigres after five seasons with Chivas USA, made his fourth start (going 45 minutes) for UANL (4-1-1), which is 4-0-0 with the UCLA/Los Alamitos High School product in the lineup and winless when he's left on the bench.
Danilinho, a Brazilian midfielder who arrived from Jaguares, and Mancilla, a Chilean forward acquired from Toluca, have been huge additions, and their partnership proved too much for Cruz Azul (3-2-1), which fell from third to fifth overall with the loss.
Mancilla scored the first goal, a one-touch finish in the 69th minute after Danilinho burst past two defenders to the right byline and sent in a cross. The Brazilian added the second deep into stoppage, setting up his shot with a superb first touch.
Monterrey (3-3-0, in ninth overall) also won, routing Jaguares, 4-1, as Chilean World Cup star
Humberto Suazo
had a hat trick -- giving him 19 goals for the fall/spring campaign -- and
Dario Carreņo
set up two goals, one my
Aldo de Nigris
.
FALL FROM FIRST:
Pumas UNAM's time atop the overall standings was short. The Mexico City club dropped to third overall after an error by goalkeeper
Alejandro Palacios
and missed penalty kick by former Chivas USA forward
Francisco Palencia
allowed Guadalajara to escape with a 1-1 draw.
February, 8, 2011
2/08/11
3:06
PM PT
By
Scott French
| ESPNLosAngeles.com
America has righted things in a hurry, reeling off two more wins in the past week to leap into the overall top five and all but push the horrid-by-club-standards 0-2-1 start out of mind.
Matias Vuoso
scored three goals as the Aguilas (3-2-1) routed San Luis, 3-0, and dominated Gallos Blancos de Queretaro, 3-1, to push Chilean coach
Carlos Reinoso
's mark to 3-0 in his third stint in charge of the Mexico City giant.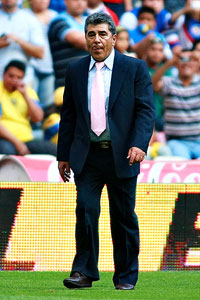 Francisco Estrada/Getty ImagesCarlos Reinoso, in his third go-around with America, has his 11 with a 3-0 record under his guidance.

"We've gotten good results, but we've been at this just 10 days," Reinoso told media as America began preparations for Friday's match at last-place Necaxa. "Suddenly, people are asking us to be more offensive ... but we're improving little by little, and what makes me happy is that the players have received [my] message."

The Aguilas dismissed Manuel Lapuente in a panic after sandwiching home losses to Pachuca and UANL Tigres around a draw with Jaguares, but the move worked as well as hoped. America responded to the firing with a 2-0 victory over previously perfect Atlas on Jan. 29, and it was more impressive in Wednesday's win over San Luis, a forward makeup -- the match was initially scheduled for April 13.

Vuoso converted two penalty kicks against San Luis and scored the second goal, just before halftime, against Gallos Blancos. Sunday's win wasn't assured until Aquivaldo Mosquera's 86th-minute goal.

"We went back to basics," Vuoso, who has five Clausura goals and 15 for the fall/spring season, explained to the Mexican media. "[Lapuente] had nothing to do with [the poor start] -- it was us, the players. We had forgotten the basics, forgotten to play as before, as we usually do. ... It was the fault of the players, not the fault of other people."

IN MONTERREY: Los Alamitos' Jonathan Bornstein, making his third start of the season for Group 1 leader UANL Tigres (3-1-1), set up Hector Mancilla's eighth-minute opener in a 2-0 victory at Santos Laguna. The home side was without top scorer Christian Benitez, who has an ankle injury.

Tigres' crosstown rival Monterrey (2-3-0) also posted a 2-0 victory, over Pachuca on Aldo de Nigris and Neri Cardozo goals, to vault to 11th in the overall standings. The Rayados have shutouts in four of their past five home games. Pachuca turned to former Galaxy forward Herculez Gomez and fellow U.S. World Cup pick Jose Francisco Torres, giving each his first Clausura start, but the Tuzos (1-2-2) fell to the bottom of Group 2 after failing to score for the third time in four games.


February, 1, 2011
2/01/11
6:43
AM PT
By
Scott French
| ESPNLosAngeles.com
America fired its coach and won. Monterrey expressed confidence in its quality and lost. Guadalajara just drifts aimlessly along.
Three Mexican Primera Division clubs dealing with crisis in different ways, and two of them, at least, are expected to contend for the Clausura title, no matter their slow starts.
America, which dumped
Manuel Lapuente
after opening the "spring" season 0-2-1, won as
Carlos Reinoso
started his third stint as head coach with a 2-0 win over previously perfect Atlas as
Matias Vuoso
and
Angel Reyna
scored second-half goals.
It might have finished differently: Atlas could have pulled even moments after Vuoso's strike, but
Hebert Alferez
tripped over the ball facing a virtually open net from close-range. And Reyna's goal was the product of the worst possible clearance attempt, by
Darvin Chavez
.
"I think we're on the right track, and we deserved the win because we never gave up on it," Reinoso told media. "I'm going to be very demanding, and America must be a team that always goes out to dictate play on any field and against any rival."
Monterrey (1-3-0) is 17th overall -- only pointless Necaxa is worse -- after falling, 3-2, at Pumas UNAM, the Rayados' sixth loss in their past eight regular-season games. And that after dropping just one of the previous 31 en route to two league titles and a best regular-season record.
"We realize that victories are always urgent, especially with a team that is normally used to winning and to playing good football," Monterrey assistant coach
Carlos Barra
told reporters. "We need to reach the level of previous tournaments."
Both clubs have the talent to turn their seasons around. Guadalajara (0-1-3), which sank to 16th overall with a 1-0 defeat to crosstown rival Estudiantes Tecos, is one of two winless clubs (Necaxa's the other) and has shown no knack for winning games. They've finished ahead just twice in their past 16 matches, dating to early September.
January, 24, 2011
1/24/11
11:35
PM PT
By
Scott French
| ESPNLosAngeles.com
UANL Tigres has teased before with poor returns, so nobody is proclaiming the club from suburban Monterrey as some new-found power, least of all manager Ricardo Ferretti.
"I think it's premature -- we are on day three, and things have gone well, but I think it's premature to talk of this is our tournament …," Ferretti told the Medio Tiempo Web site after Tigres' last-minute 2-1 victory Sunday over Club America at Estadio Azteca. "This dream is based on a lot of hard work, dedication, dedication, commitment."
Ferretti is in his third stint as Tigres boss -- the took them to the 2001 Invierno final and 2003 Clausura semifinals -- and knows well the their spotty history. They haven't won a playoff game since 2005, a span of 10 seasons, and haven't qualified for the postseason the last four seasons, falling just short in the fall Apertura.
With Los Alamitos'
Jonathan Bornstein
(Los Alamitos HS/UCLA) already contributing, Tigres is atop Group 1 and third in the overall standings with a 2-0-1 mark. The former Chivas USA captain has started the last two games, playing in midfield, and nearly scored Sunday.
Tigres toppled America (0-2-1) when
Hector Mancilla
finished a great burst by
Damian Alvarez
in stoppage time. They rallied from a two-goal deficit to tie Gallos Blancos, 2-2, in the Clausura opener and topped Necaxa, 1-0, on a PK in their second game.
HOT FOOT:
Pumas UNAM tops Group 3 with a 1-0-2 record behind
Juan Carlos Cacho
, the deadliest striker in the Primera Division. Cacho scored two more superb goals -- volleying home
Martin Bravo
's feed and with a smash to the upper-left corner -- as Pumas UNAM rallied from a two-goal deficit but couldn't hold on in a 3-3 draw with Cruz Azul.