Los Angeles Soccer:

Nelson Akwari
June, 18, 2012
6/18/12
6:18
PM PT
By
Scott French
| ESPNLosAngeles.com
CARSON -- Neither of Chivas USA's center backs Monday morning was under contract, and one of them hadn't played competitively in months -- focused more on his UCLA degree and keeping up with two young sons.
One winger played on the indoor Anaheim Splash's reserve team last winter, and his replacement's experience is primarily in the minor leagues of Germany and the Netherlands. Neither are under contract.
Add in a couple of Chivas Academy stars -- high-schoolers, really -- and the Goats produced a most experimental lineup for their MLS Reserve League clash with Portland. They came out of it with a point -- rookie
Casey Townsend
and German trialist
Sebastian Stachnik
scored goals in an entertaining 2-2 draw in Home Depot Center's Track and Field Stadium -- and, more important, without having to expend much first-team energy.
Chivas is through one of four games in a grueling 11-day stretch, facing a critical Major League Soccer showdown Wednesday against Montreal, and the last thing it needs is to find minutes for players. There are enough meaningful minutes to spread around.
"For sure, we have a game in two days and another three days after that. And the [U.S.] Open Cup game next week," head coach
Robin Fraser
said. "We have a busy schedule and are trying to manage the schedule for everyone involved."
Only six first-team players saw action, and among them, only wingers
Laurent Courtois
and
Ryan Smith
, who came on in the second half, can be considered major contributors.
All three trialists in camp -- Stachnik, center back
Bobby Burling
and Brazilian winger (and former Spash reserve)
Tiago Luzardi
-- were given roles, and Academy midfielder
Eric Gonzalez
(Corona/Santiago HS) and forward
Ben Spencer
made their Reserve League starts since last year.
Also on hand was MLS veteran
Nelson Akwari
, who has played for the MetroStars, Columbus, Real Salt Lake and Vancouver (when it was a second-division team) before returning to UCLA last year to complete his education. He doubled up in the L.A. Blues' backline last season, but this year has been about school (he's two years from an engineering degree) and family.
October, 23, 2011
10/23/11
6:34
PM PT
By
Scott French
| ESPNLosAngeles.com
Chivas USA officially wrapped up its season Sunday morning, and it was one of the high points of the campaign.

The Goats, with a mixture of regulars, second-choice players, Academy kids, guests and an assistant coach with a rocket leg, rallied from a three-goal deficit for a 3-3 MLS Reserve League draw with the Seattle Sounders.

Assistant coach Greg Vanney, a former U.S. national-teamer, netted the equalizer with a free kick from outside the box in the 88th minute.

Victor Estupiņan and Academy player Ben Spencer also tallied for the Goats (3-3-4), who finish third in the West Division of Major League Soccer's second competition. Seattle (8-1-1) won the divisonal title.

Seattle was ahead by two goals by the fourth minute -- Pat Noonan scoring in the second minute, Lamar Neagle following two minutes later -- and made it 3-0, courtesy of Noonan, 10 minutes later.

French trialist Nicolas Dieuze played the full 90 for Chivas, and veteran defender Nelson Akwari, who played this season for the L.A. Blues in the third-tier USL Pro league, was a halftime substitute for the Goats.

August, 30, 2011
8/30/11
11:55
AM PT
By
Scott French
| ESPNLosAngeles.com
Backline leader Nelson Akwari, a former Major League Soccer player who fell into the L.A. Blues' lap when he returned to Southern California to complete his degree at UCLA, is part of the USL Pro's all-league team.
So is fellow Bruins product
Maxwell Griffin
, star goalscorer for Orlando City.
That's it for locals on the third-division's list of the top 22 players, released Tuesday, four days before Orlando City meets the Harrisburg City Islanders in the title game. Both are first-team selections.
Akwari, 29, who spent five seasons with the MetroStars, Columbus Crew and Real Salt Lake before moving into the USL's minor leagues, was a calming presence in central defense for the Blues, who went 8-8-9 and reached the USL Pro quarterfinals in their first season.
Griffin (Palmdale/Littlerock HS) scored 10 goals for Orlando City (17-3-6), which won the Commissioner's Cup as regular-season champion and looks to complete the double Saturday at the Orlando Citrus Bowl (Fox Soccer Channel, 4 p.m.).
Defender
Gareth Evans
, a repeat first-teamer for the Wilmington Hammerheads, was with the Blues during preseason but was released before their first game. Former Galaxy defender
Troy Roberts
, with the Rochester Rhinos, is a second-team pick.
July, 23, 2011
7/23/11
10:04
PM PT
By
Scott French
| ESPNLosAngeles.com
The L.A. Blues escaped the eastern heat with four points, wrapping up a quick two-game trek Saturday night with a 1-1 draw at Harrisburg. Cesar Rivera's team-best eighth goal of the campaign and Nelson Akwari's late save off the goal line were pivotal.

The Blues (7-4-6) extended their unbeaten streak to four games heading into a three-game set next weekend and the following Tuesday in Southern California against stumbling Antigua Barracuda, which has lost seven in a row.

L.A., which won Friday at Richmond, is third in the National Division, six points behind first-place Rochester (10-6-3) and three in back of Harrisburg (8-5-6).

Jason Pelletier gave the City Islanders a 19th-minute lead, scoring directly from a 45-yard free kick. Rivera brought the Blues even just before halftime, finishing from Peter Byers' feed.

Harrisburg had opportunity to win, but Sainey Touray hit the crossbar in the 65th minute and Akwari cleared an Anthony Calvano header off the line at the finish.

Byers was red-carded in the 65th minute after inadvertently elbowing an opponent in the head.
May, 1, 2011
5/01/11
9:33
PM PT
By
Scott French
| ESPNLosAngeles.com
Charlie Naimo spoke last week to the importance of first impressions, and when his L.A. Blues finally got to make one, the message came garbled.
There was plenty of good but much too much that wasn't in the club's home opener Sunday, a 1-0 USL Pro defeat to Antigua Barracuda before a small but appreciative crowd at Cal State Fullerton.
The Blues (3-1-1) lacked sharpness in Barracuda's box without late scratch
Walter Gaitan
, who failed a pregame fitness test after tweaking a quad muscle last week, and suspended forward
Cesar Rivera
and got far too little from their overwhelming advantage in possession.
Barracuda (4-2-0), which overtook L.A. atop the third-tier USL Pro's International Division standings, was content to sit back -- but with a high and effective restraining line -- and counter, and forward
Peter Byers
might have had a hat trick, or more, had he finished as well as he beat defenders.
Stefan Smith
scored the goal, in the 24th minute, knocking home a rebound after a giveaway by
Nelson Akwari
led to a
Lawson Robinson
shot, but the Blues surely would have prevailed with better precision in the final pass or finish.
"We were good at the things Walter would've helped us be good at, which was keeping possession and creating chances," said Naimo, the Blues' head coach and vice president. "Cesar's that guy that if we had high amongst [Barracuda's] backline … [he's] so strong on the ball, you get him that ball in those areas, central, he's gonna turn you, he's gonna spin you, and he's also extremely creative. I think he would have made a difference.
"Obviously, Walter could have made a difference. But you know what? At the end of the day, whatever we had on the field tonight, I thought the guys did a good job. We lacked efficiency in the final ball, whether it was the service or the finish. We created some beautiful chances tonight.
"It had to be a great game to watch, but, obviously, you come up short, you come up short."
OPENING NIGHT:
The crowd count was 696, which is smaller by 7,157 than the gathering that saw the Blues' second team, playing in the lesser Premier Development League, in Fresno on Friday night.
April, 29, 2011
4/29/11
10:46
PM PT
By
Scott French
| ESPNLosAngeles.com
The near-marathon trek to start the season went well, for the most part, and now L.A. Blues -- the Southland's newest pro soccer club -- are ready to show their fans what they can do.

They'll get the chance Sunday in their home opener at Cal State Fullerton, and head coach Charlie Naimo admits he's feeling some pressure. He so wants his possession-first squad to make the best impression against USL Pro divisional rival Antigua Barracuda, even if he's unsure who -- or how many -- he'll be looking to impress.

The Blues (3-0-1), who leapt atop the International Division standings in the third-tier league with an unbeaten four-games-in-nine-days trip to the Caribbean, haven't had much opportunity yet to lure followers, so it could be a lot of friends and family joined by a few soccer junkies looking on when the 5 p.m. kickoff arrives at Titan Stadium.

Naimo, who is the Blues' vice president (and de facto technical director for all three pro-level teams within the club), says he doesn't have a feel for how big the opening-night audience but will be satisfied in a couple of thousand stop by. It might take a few games to reach that number -- the Blues also will play home games at Centennial High School in Corona and College of the Canyons in Santa Clarita -- but this is a long-term project.

"If we can get 2,000 in seats [I'll be satisfied]," Naimo said. "I wish it were more, but I'd be happy with it. We're a first-year team with so many things to do. We didn't know we'd be playing until late October, didn't have a [general manager] in place until Feb. 1. Where we are, we have to be realistic with our goals.

"We're looking at the first year as we've got to build toward year two and get better every day. Every day build the fan base more. We're hoping if we do well, keep stringing together results, play well, we can be a team soccer enthusiasts want to support. We're not there yet, but we're headed in the right direction."


April, 19, 2011
4/19/11
3:10
PM PT
By
Scott French
| ESPNLosAngeles.com
Argentine midfielder Walter Gaitan debuted in USL Pro with three goals and an assist as the L.A. Blues opened with wins in Puerto Rico and Antigua. On Monday, he was named the third-tier league's player of the week.
Gaitan scored a goal and assisted another in the Blues' 3-0 victory Friday at Sevilla FC Puerto Rico, and he scored both Blues goals in a 2-1 comeback win Sunday at Antigua Barracuda FC. L.A. closes its four-game Caribbean trip with matches Wednesday against Puerto Rico United and Saturday vs. River Plate Puerto Rico, both in Carolina, Puerto Rico.
Blues center back
Nelson Akwari
was selected for USL Pro's team of the week.
April, 15, 2011
4/15/11
4:44
PM PT
By
Scott French
| ESPNLosAngeles.com
It's a new team in a new league, stuck by its lonesome out here, thousands of miles from its rivals, and guided by a coach who has worked exclusively with women the past dozen years.
The makings of a success story? The L.A. Blues hope so, and as they embark on their inaugural season in USL Pro -- American pro soccer's third tier -- they've got greater designs than putting out an affordable and entertaining alternative to the Galaxy and Chivas USA.
"We want to make the playoffs and get in the championship," says midfielder
Josh Tudela
, one of eight Blues with Major League Soccer experience. "We're not going to settle for anything less than that."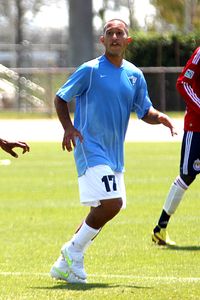 Chivas USAGerardo Bravo will be one of the key players for the L.A. Blues this season.


It's big talk, but the Blues, on paper, at least, have the makings of a contender. They've got Argentine midfielder Walter Gaitan, a superstar of mammoth proportion at this level of the game, veterans such as Tudela and defender Nelson Akwari, rising players like Chivas USA loaner Chukwudi Chijindu and some local-league stars head coach Charlie Naimo says he believes will make their names with the club.

"I feel we've done a pretty good job of putting together a very good roster for this level," said Naimo, who has won three titles in United Soccer Leagues' women's league and was general manager of the L.A. Sol, the short-lived Women's Professional Soccer club partially owned by the Blues organization. "So they need to find some strength in that, then say, 'Hey, we've got the group, now we have to win.' "

If they're not as good as the Galaxy, they might be more fun to watch. The plan is to play a pretty possession game, weaving passing patterns past foes to create chances for Chijindu and the other forwards.

"Everybody wants to play that way," Naimo said, "so time to put up or shut up. Do what is required, and a lot of what I see is when it doesn't work, it's the guys off the ball who aren't working hard enough to get into good spots. You've got to make the game easy for your teammates.

"We're certainly not afraid to pass the ball to guys that are contested. We're certainly not afraid to ask for the ball when guys are on us. It's just a matter of getting those people in a little bit spot, a matter of of making that pass a little bit better so they can escape. And then you discourage that high pressure. That's the only way to slow a game down. Otherwise, what stops the other team from chasing you, from running you over for 90 minutes? You've got to be able to step on the ball. … It's obviously attractive if it comes off."

The Blues open their season Friday night in Juncos, Puerto Rico, where the begin a four-games-in-nine-days sweep of the Caribbean, facing their four International Division rivals. First up: Sevilla FC Puerto Rico, which has weak ties to its Spanish namesake, followed by matches Sunday at Antigua Barracuda, Wednesday at Puerto Rico United and next Saturday against River Plate Puerto Rico.

The home opener is May 1 against Barracuda at Cal State Fullerton's Titan Stadium, and home games also will be played at Centennial High School in Corona and College of the Canyons in Santa Clarita.


April, 3, 2011
4/03/11
10:34
PM PT
By
Scott French
| ESPNLosAngeles.com
The L.A. Blues made their public debut Saturday night, playing in front of a real, paying audience in a charity match -- and impressing with a 7-0 romp over a team organized as the Orange County All-Stars. The real news was in the Blues' lineup.
Two new faces were on the field for So Cal's newest pro team, and both have Major League Soccer experience.
Nelson Akwari
, a UCLA product who spent five years with three MLS clubs, was in central defense.
Edwin Miranda
, a Cal State Northridge alum who was drafted by Dallas in 2004 and has played for El Salvador's national team, was at the bottom of the midfield diamond.
Akwari, 29, will be signed this week, a club source confirmed. Miranda, 30, signed Saturday. Their additions give the Blues (4-1-2 in preseason), who on April 15 open their inaugural season in third-tier league USL Pro, eight players who have spent time on MLS rosters, including Chivas USA forward
Chukwudi Chijindu
(Fontana/Damien HS), who is on loan from the Goats, and former Galaxy defenders
Leonard Griffin
(Palmdale/Littlerock HS and UCLA) and
Mike Randolph
(Chino Hills/Ayala HS), midfielder
Josh Tudela
and forward
Israel Sesay
.
Akwari, who was in residency with the U.S. under-17 team in the late 1990s with
Landon Donovan
,
DaMarcus Beasley
,
Oguchi Onyewu
, etc., played in 2002 with New York, 2003-04 with Columbus and 2005-06 with Real Salt Lake. He's played in lower divisions since, spending last season with the Vancouver Whitecaps, who made the jump this year to MLS.
Miranda, a two-time Big West Conference Defender of the Year at CSUN, didn't make Dallas' team in 2004 and has since played in lower divisions -- Portland Timbers, now in MLS, and Hollywood United FC are former employers. His experience with the Puerto Rico Islanders could be valuable; three of the Blues' International Division rivals are in Puerto Rico.
A GOOD CAUSE:
Blues GM
Alyse LaHue
estimated Saturday's game raised about $1,000 for victims of the earthquakes and tsunami in Japan, with the proceeds going to Orange County Red Cross. Argentine midfielder
Walter Gaitan
tallied twice and Serbian forward
Tomislav Colic
(Vanguard University) netted another in the first half, and Chijindu, Sesay,
Gerardo Bravo-Benavides
and
Cesar Rivera
scored goals after halftime.