Los Angeles Soccer:

Neri Cardozo
April, 25, 2012
4/25/12
7:52
PM PT
By
Scott French
| ESPNLosAngeles.com
Monterrey repeated as CONCACAF Champions League titlist Wednesday night, but it sure wasn't simple.

With star striker Humbero Suazo, author of both goals in last week's first leg, suspended for the title-series finale, the Rayados created nearly nothing offensively until the finish, when Neri Cardozo delivered with one sensational run.

Cardozo's goal in the 82nd minute trimmed Santos Laguna's margin of victory in the second leg to 2-1, giving Monterrey a 3-2 aggregate advantage in the all-Mexican final.

Monterrey, which wins a return trip to the FIFA Club World Cup, slated for next December in Japan, becomes the fourth team to repeat as champion, joining countrymen Cruz Azul (twice) and Pachuca. Mexico City's Cruz Azul won a record three in a row from 1969 through 1971.

The Galaxy reached the quarterfinals in the tournament, losing to Toronto FC, which lost to Santos in the semifinals. They'll be in the next edition, which is slated to begin in late July.

Santos, playing at home in Torreon, evened the series at two goals apiece with strikes at the end of the first half and near the start of the second. Daniel Ludueña fired inside the right post from just above the box three minutes into first-half stoppage, and Oribe Peralta fired to the top-right corner in the 51st minute, following Rodolfo Salinas' failed bicycle-kick attempt after Monterrey goalkeeper Jonathan Orozco slapped away a Carlos Quintero cross.

Monterrey put only two shots on target, but the second was a worthy winner. After a Santos turnover, Cardozo was fed just inside the midfield stripe and took off on a 50-yard run. He beat two defenders with a quick give-and-go with Walter Ayovi, chested down the return pass just outside the box and half-volleyed a deflected shot inside the left post.

CONCACAF CLUB CHAMPIONS
CONCACAF Champions League
2011-12 -- Monterrey (Mexico)
2010-11 -- Monterrey (Mexico)
2009-10 -- Pachuca (Mexico)
2008-09 -- Atlante (Mexico)


February, 8, 2011
2/08/11
3:06
PM PT
By
Scott French
| ESPNLosAngeles.com
America has righted things in a hurry, reeling off two more wins in the past week to leap into the overall top five and all but push the horrid-by-club-standards 0-2-1 start out of mind.
Matias Vuoso
scored three goals as the Aguilas (3-2-1) routed San Luis, 3-0, and dominated Gallos Blancos de Queretaro, 3-1, to push Chilean coach
Carlos Reinoso
's mark to 3-0 in his third stint in charge of the Mexico City giant.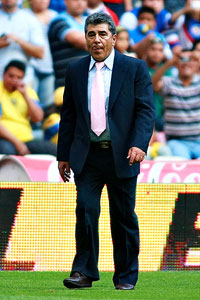 Francisco Estrada/Getty ImagesCarlos Reinoso, in his third go-around with America, has his 11 with a 3-0 record under his guidance.

"We've gotten good results, but we've been at this just 10 days," Reinoso told media as America began preparations for Friday's match at last-place Necaxa. "Suddenly, people are asking us to be more offensive ... but we're improving little by little, and what makes me happy is that the players have received [my] message."

The Aguilas dismissed Manuel Lapuente in a panic after sandwiching home losses to Pachuca and UANL Tigres around a draw with Jaguares, but the move worked as well as hoped. America responded to the firing with a 2-0 victory over previously perfect Atlas on Jan. 29, and it was more impressive in Wednesday's win over San Luis, a forward makeup -- the match was initially scheduled for April 13.

Vuoso converted two penalty kicks against San Luis and scored the second goal, just before halftime, against Gallos Blancos. Sunday's win wasn't assured until Aquivaldo Mosquera's 86th-minute goal.

"We went back to basics," Vuoso, who has five Clausura goals and 15 for the fall/spring season, explained to the Mexican media. "[Lapuente] had nothing to do with [the poor start] -- it was us, the players. We had forgotten the basics, forgotten to play as before, as we usually do. ... It was the fault of the players, not the fault of other people."

IN MONTERREY: Los Alamitos' Jonathan Bornstein, making his third start of the season for Group 1 leader UANL Tigres (3-1-1), set up Hector Mancilla's eighth-minute opener in a 2-0 victory at Santos Laguna. The home side was without top scorer Christian Benitez, who has an ankle injury.

Tigres' crosstown rival Monterrey (2-3-0) also posted a 2-0 victory, over Pachuca on Aldo de Nigris and Neri Cardozo goals, to vault to 11th in the overall standings. The Rayados have shutouts in four of their past five home games. Pachuca turned to former Galaxy forward Herculez Gomez and fellow U.S. World Cup pick Jose Francisco Torres, giving each his first Clausura start, but the Tuzos (1-2-2) fell to the bottom of Group 2 after failing to score for the third time in four games.


December, 5, 2010
12/05/10
11:46
PM PT
By
Scott French
| ESPNLosAngeles.com
Monterrey needed every bit of its home-field advantage to claim its fourth Mexican Primera Division championship Sunday. The big winners: Chilean forward Humberto Suazo and coach Victor Manuel Vucetich.
Suazo netted his 14th and 15th goals of the Apertura as the Rayados romped, 3-0, past Santos Laguna in the second leg of the final. Vucetich won his 10th trophy and his fifth title in the top-tier league.
Monterrey, which also won the fall Apertura last year, posted a 5-3 aggregate triumph, rallying after Santos pulled out a 3-2 victory at home in Thursday's first leg on a late Duilio Davino own goal.
"Monterrey is a great club" Vucetich, who sandwiched last January's InterLiga title at Home Depot Center and the best regular-season record in last spring's "Bicentenario" Clausura tournament between the Apertura titles, declared to the Mexican media afterward. "It is an institution that in the last 10 years has countless achievements."
Club Tijuana also won a trophy Sunday, claiming the second-tier Liga de Ascenso title with a 3-0 aggregate victory over Veracruz.
December, 2, 2010
12/02/10
11:02
PM PT
By
Scott French
| ESPNLosAngeles.com
An acrobatic own goal by Duilio Davino has put Monterrey in a hole midway through its Mexican Primera Division championship home-and-home with Santos Laguna.
Davino, who was part of Mexico's 1998 World Cup team, lunged at
Jose Maria Cardenas
' cross in the 86th minute Thursday night, knocking the ball off the right post and into his net, giving Santos a 3-2 triumph in an absorbing first leg in the Apertura final.
Second-seeded Monterrey, which will be home for Sunday's title-decider, twice rallied from deficits and appeared in solid shape heading into the final five minutes of a 2-2 draw in Torreon. Davino's miscue -- designed to keep Cardenas' cross from reaching
Christian Benitez
-- means the Rayados must win by a goal to force overtime or two goals to claim a second successive Apertura crown.
Ivan Estrada
was pivotal for third-seeded Santos, providing a 23rd-minute lead, then crossing for a
Carlos Darwin Quintero
header to put the Guerreros ahead, 2-1, just before halftime. Quintero has scored in each of the past three games.
Chilean World Cup standout
Humberto Suazo
's 13th goal of the campaign, from
Aldo de Nigris
' touch, pulled Monterrey even in the 38th minute, and
Neri Cardozo
made it 2-2 in the 55th after de Nigris stripped a defender just outside Santos' box.
TIJUANA ON THE VERGE: Mauro Gerk
and
Javier Gandolfi
scored goals three minutes apart, and Club Tijuana is 90 minutes from the Liga de Ascenso's Apertura title following a 2-0 win at Veracruz.
November, 28, 2010
11/28/10
11:44
PM PT
By
Scott French
| ESPNLosAngeles.com
Monterrey will play for a second successive Apertura title. Santos Laguna will get another shot at the trophy it just missed out on last spring.
The expected sides emerged from the Mexican Primera Division semifinals Sunday, and the two-leg title series will begin in Torreon on Thursday night. The second leg will be played next Sunday in Monterrey.
Santos and America played a 3-3 thriller in Torreon -- third-seeded Santos won on aggregate, 5-4 -- and Monterrey got a pair of late goals to beat visiting Pumas UNAM, 2-0, after a scoreless draw in Thursday's first leg.
America rallied three times in the second half on goals by
Vicente Sanchez
,
Matias Vuoso
and
Enrique Esqueda
, but it wasn't nearly enough -- the Aguilas needed to win by two goals to reach the final.
Carlos Darwin Quintero
made the task much more difficult, firing Santos ahead in the second minute. he scored a second in the 61st, and
Christian Benitez
netted his 16th of the campaign in the 75th.
Second-seeded Monterrey, which beat Santos, 2-1, Oct. 23 in Torreon, would have advanced with another 0-0 draw against Pumas. But
Humberto Suazo
took advantage of a defensive miscue in the 88th minute, and
Neri Cardozo
doubled the advantage two minutes into stoppage.
November, 25, 2010
11/25/10
10:48
PM PT
By
Scott French
| ESPNLosAngeles.com
Club America's title hopes might have disappeared on a piece of magic by Christian Benitez -- and black magic from referee Jaime Herrera.
The fourth-seeded Aguilas failed to get two penalty calls, then gave up a goal at the finish, absorbing a 2-1 defeat Thursday to visiting Santos Laguna in a semifinal first leg in Mexico's Primera Division playoffs.
Second-seeded Monterrey's defensive stance was rewarded with a 0-0 draw at Pumas UNAM in the other Mexico City encounter, and the Rayados will need no more than a tie in Sunday's home leg to advance to the championship series. Higher seeds move on if the aggregate score is even.
America will need a two-goal victory in Torreon after Benitez broke a tie in the 89th minute, beating three defenders and then firing home a cross-box shot, his league-best 15th goal of the campaign.
Carlos Quintero
gave No. 3 seed Santos a 10th-minute lead, and
Angel Reyna
pulled the Aguilas even in the 19th.
"The result serves us," Benitez told Televisa, the giant TV network that owns America. "Now we play at home. We have an advantage, and we must seize it."
That advantage was built largely on Herrera's inadequacies. He allowed play to continue after
Felipe Baloy
took down America forward
Matias Vuoso
in the Santos box, then allowed
Fernando Arce
to get away with hitting
Vicente Sanchez
in the face, also in the box.
Monterrey kept nine men (plus goalkeeper
Jonathan Orozco
) behind the ball for most of its match against No. 8 seed Pumas, which stunned top-seeded Cruz Azul in the quarterfinals.
Neri Cardozo
nearly gave the Rayados a lead in the 21st minute, but his shot struck the left post.
LIGA DE ASCENSO:
Club Tijuana and Irapuato moved closer to the title showdown in Mexico's second-tier division.
The Xoloitzcuintles notched their 11th shutout in 18 games in a scoreless draw at Albinegros de Orizaba, hardly a surprising result. Tijuana has surrendered just seven goals during the Apertura, and Albinegros has posted five successive clean sheets, extending its shutout streak to 535 minutes.
Tijuana, which needs only a draw in Sunday afternoon's second leg at Estadio Caliente, has a decided advantage at home. The Xolos are 7-0-2 in T.J., conceding just twice.
Irapuato dominated Veracruz in its home leg, using goals by
Ariel Gonzalez
in the sixth minute and
Jose Luis Lopez
in the 60th for a 2-0 victory.
Cuauhtemoc Blanco
nearly made it 3-0, but his 43rd-minute header from
Arturo Alvarado
's cross crashed off the crossbar.
SEMIFINALS, FIRST LEG
Thursday
America 1 (A. Reyna 19), Santos Laguna 2 (Quintero 10, C. Benitez 89)
Pumas UNAM 0, Monterrey 0
SEMIFINALS, SECOND LEG
Sunday
America at Santos Laguna, 4 p.m.
Pumas UNAM at Monterrey, 6 p.m.
SEMIFINALS, FIRST LEG
Thursday
Albinegros de Orizaba 0, Club Tijuana 0
Irapuato 2 (A. Gonzalez 6, J. Lopez 60), Veracruz 0
SEMIFINALS, SECOND LEG
Sunday
Albinegros de Orizaba at Club Tijuana, 1 p.m.
Irapuato at Veracruz, 5 p.m.
November, 22, 2010
11/22/10
9:44
AM PT
By
Scott French
| ESPNLosAngeles.com
Monterrey assumed the role as favorite in Mexico's Primera Division playoffs after holding off visiting Pachuca on Sunday in a wild quarterfinal second leg.
Humberto Suazo
,
Aldo de Nigris
and
Neri Cardozo
scored goals, and the second-seeded Rayados settled for a 3-3 draw -- leaving aggregate at 4-4. Monterrey advanced as the higher seed to a semifinal showdown with Pumas UNAM.
Santos Laguna also reached the final four, outlasting Jaguares, 1-0, for a 2-1 aggregate triumph. The No. 3 seed was set for a series with America before
Juan Pablo Rodriguez
's penalty kick deep into second-half stoppage.
Monterrey, which is the highest remaining seed after No. 1 Cruz Azul's defeat Saturday against Pumas, won the Apertura title last fall and posted the best record in the spring Clausura earlier this year. Pachuca pulled the first round upset in May, twice beating the Rayados to reach the semifinals.
The Tuzos appeared finished after Monterrey jumped to a 3-1 lead after 57 minutes, but
Faustino Arizala
, who scored their goal in Thursday's 1-1 draw in Pachuca, finished off a headed hat trick with goals in the 84th and 89th minutes. Monterrey held on for four minutes of stoppage to advance.
Former Galaxy star
Herculez Gomez
set up the third of Arizala's goals.
Gomez, who joined Pachuca over the summer after scoring 10 goals last spring for Puebla, has been targeted by UANL Tigres, Spanish-language Web site Medio Tiempo reported. Club vice president
Andres Fassi
said he would be in contact with the Monterrey-area club about the Los Angeles-born forward, who is slated to play for the Tuzos in next month's FIFA Club World Cup in Dubai.
Jonathan Bornstein
(Los Alamitos/Los Alamitos HS and UCLA) will join Tigres from Chivas USA in January.
LIGA DE ASCENSO:
The last of the higher seeds in action during the second-tier Liga de Ascenso quarterfinals is out. Veracruz rode an early goal by
Guillermo Rojas
to oust fourth-seeded Lobos BUAP, a 1-0 road victory Sunday providing a 2-1 aggregate triumph.
Second-seeded Indios de Ciudad Juarez and third-seeded Alacranes de Durango were eliminated Saturday. Top seed Club Tijuana received a bye into the semifinals and will begin its playoff trek Wednesday at Albinegros de Orizaba. The home leg is tentative scheduled for Saturday at Estadio Caliente.
QUARTERFINALS, SECOND LEG
Sunday
Monterrey 3 (Suazo 19, de Nigris 37, Cardozo 57), Pachuca 3 (Arizala 26, 84, 89)
Santos Laguna 1 (J. Rodriguez pen. 95+), Jaguares de Chiapas 0
SEMIFINALS, FIRST LEG
Wednesday

Santos Laguna at America, 5 p.m.
Thursday

Monterrey at Pumas UNAM, 7 p.m.
SEMIFINALS, SECOND LEG
Saturday

America at Santos Laguna, 4 p.m.
Sunday

Pumas UNAM at Monterrey, 2 p.m.
QUARTERFINALS, SECOND LEG
Sunday
Lobos BUAP 0, Veracruz 1 (G. Rojas 12)
SEMIFINALS, FIRST LEG
Wednesday

Club Tijuana at Albinegros de Orizaba, time TBA
Thursday

Veracruz at Irapuato, time TBA
SEMIFINALS, SECOND LEG
Saturday

Albinegros de Orizaba at Club Tijuana, time TBA
Sunday

Irapuato at Veracruz, time TBA
November, 18, 2010
11/18/10
11:13
PM PT
By
Scott French
| ESPNLosAngeles.com
Victor Manuel Vucetich
already was without three starters, all red-carded in Monterrey's loss to Guadalajara in last weekend's regular-season finale, so his decision to leave stars
Humberto Suazo
and
Walter Ayovi
on the bench was not without risk.
No problem for the Rayados, who dictated play most of the way and claimed a 1-1 draw at Pachuca -- almost as good as a victory -- in their quarterfinal opener Thursday in Mexico's Primera Division.
Santos Laguna also came away with a 1-1 tie on the road at Chiapas-based Jaguares, which provides a significant advantage in Sunday's second legs. The higher seeds advance to the semifinals if the aggregate score is even.
Monterrey, the No. 2 seed, went ahead in the 56th minute, with
Jose Maria Basanta
finishing
Neri Cardozo
's corner kick. It settled for a draw when
Faustino Arizala
fired into the top-right corner 11 minutes later.