Los Angeles Soccer:

New York Cosmos
July, 21, 2011
7/21/11
8:55
PM PT
By
Scott French
| ESPNLosAngeles.com
Marvin Iraheta is ready to play at Old Trafford against Manchester United. At least, he'd better be.
The Pasadena teen is among 18 players
selected Thursday
for the new New York Cosmos' first first-team roster, to go up against the English Premier League champion in
Paul Scholes
' testimonial match Aug. 5.
Former U.S. national team stars
Brad Friedel
and
Brian McBride
also are on the roster, which was put together by Cosmos director of soccer
Eric Cantona
and honorary president
Pelé
. Iraheta stars for Cosmos Academy West in Pasadena, part of the club's youth development structure.
The Cosmos, who claim lineage to the great North American Soccer League team of the 1970s and '80s, were formed last year and aim to be Major League Soccer's 20th club. Former Galaxy star
Cobi Jones
is the club's assistant director of soccer.
Iraheta, 19, an El Salvador native who graduated last month from Blair High School, last year was the U.S. Soccer Development Academy's U-17/18 Player of the Year last year and this season was a first-team All-Development Academy selection.
February, 23, 2011
2/23/11
10:28
PM PT
By
Scott French
| ESPNLosAngeles.com
Chivas USA's playoff hopes increased dramatically Tuesday. Major League Soccer added two teams to the postseason mix.
The league boosted its playoff participants to 10 teams with the addition of two single-game wild-card showdowns, which should be welcomed by Chivas and Columbus, Chicago and D.C., K.C. and New England, even Toronto FC.
The Galaxy and the like? Are you kidding?
Here's how the postseason works this year:

The top three teams in each conference qualify for the main draw, which is just like before: home-and-home conference semifinals, one game conference finals, MLS Cup. The next four best teams, regardless of conference, take the wild-card slots, with the No. 7 seed playing 10 and 8 playing 9 and the winners advancing to play the regular-season champs, and … well, you know how it works.
This system will cut down on all that confusing cross-conference movement in the playoffs, which led to an all-West showdown in last year's Eastern Conference final, an Eastern Conference title (en route to MLS Cup glory) by Real Salt Lake in 2009, and a Western championship by New York in 2008.
Had this system been in place last year, K.C. would have been the No. 3 seed in the East and opened against Columbus, which the then-Wizards might have won. Which would have left them 90 minutes from MLS Cup.
One wild-card battle would have matched Colorado against San Jose. ... Hey, they did play -- in the Eastern Conference final. The Rapids prevailed, then won the MLS Cup crown. (The other wild-card matchup would have been Seattle-Chicago; the Galaxy likely would have opened against Colorado.)
MLS has had eight playoff teams since its 1996 start, when there were only 10 clubs. As the league slowly grew to 16 teams by 2010, eight playoff berths seemed sufficient. Portland and Vancouver make for 18 teams this season and Montreal for 19 next year, and eight still sounds perfect.
L.A. would have reached the 2006 playoffs had this format been in place, but nothing could have saved the Galaxy in 2007 and 2008. And forget Chivas last year or in 2005.
February, 7, 2011
2/07/11
11:54
PM PT
By
Scott French
| ESPNLosAngeles.com
Charlie Davies, the U.S. national team forward whose World Cup hopes ended in a deadly car accident 16 months ago, has joined D.C. United to recharge his career.
He joined D.C.'s camp in Fort Lauderdale, Fla., on Wednesday for a one-week trial. If D.C. officials are happy, a one-year loan agreement has been reached with Sochaux, Davies' French club.
"We're all rooting for Charlie. He's come a long way, and we're all hoping for the best," D.C. head coach
Ben Olsen
told media last week. "But we have to be realistic in our job and figure out if he's right for this club at this time.
"There's no question Charlie will be back. Whether or not it's now, three months from now, six months from now, that's what we're here to find out."
Davies, 24, has not played in a competitive match since he was critically injured in an October 2009 accident that left one person dead. He suffered a lacerated bladder, fractured right tibia and femur, fractured elbow, facial injuries, and bleeding on the brain, requiring months of surgeries and rehab, followed by a failed, fervid attempt to return to form in time for last summer's World Cup.
The speedy Davies, who emerged as a first-choice forward for U.S. coach
Bob Bradley
during World Cup qualifying, called the possible move to D.C. "a wonderful opportunity for me" and told media he knows what he needs to do to return to his best form.
January, 10, 2011
1/10/11
7:21
PM PT
By
Scott French
| ESPNLosAngeles.com
Cobi Jones is old enough to remember the old Cosmos -- the team of Pelé, Franz Beckenbauer, Giorgio Chinaglia and other big-name stars -- and the North American Soccer League, believe it or not.
"I'm 40 years old," he says. "Why does everybody think I'm still in my 20s?"
It could be the youthful energy with which he plied his trade for so many years, encompassing three World Cups, a U.S.-record 164 international matches and the first dozen seasons in Major League Soccer as a Galaxy star and then legend, but his standing with L.A.'s team -- dating to its 1996 debut -- has officially ended.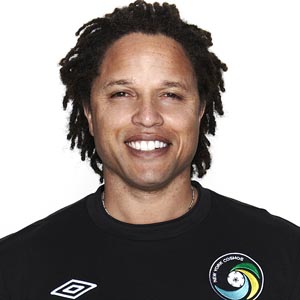 Courtesy of Steve ShawCobi Jones


Jones, whose name was synonymous with the Galaxy, was unveiled Monday as the Cosmos' associate director of soccer and club ambassador. After 12 years patrolling the flanks and three more as assistant coach, first to Ruud Gullit and then to Bruce Arena (with one game as interim head coach in between), his new focus is getting a second New York club ready for MLS.

The new Cosmos are angling to become the league's 20th team, and a natural rival to the New Jersey-based New York Red Bulls, and they've impressed Jones since first contacting him last year with the "fervor with which they're doing everything."

"I can't go into too many of the details," he told ESPN Los Angeles on Monday, "but it's something that will pleasantly surprise a lot of people. The ultimate goal is to get into MLS, but the way they're going about it, I think, is the right way.

"They want to do amazing things, not just in the New York area, but for MLS and soccer in the United States and internationally."


January, 10, 2011
1/10/11
3:44
PM PT
By
Scott French
| ESPNLosAngeles.com
Add to Edson Buddle's move to Germany two departures from the local clubs Monday.
Cobi Jones
, perhaps the Galaxy's most enduring legend, has left
Bruce Arena
's coaching staff to become associate director of soccer and an ambassador for the new New York Cosmos, who are bidding to become the 20th Major League Soccer franchise.
Osael Romero
, the Salvadoran midfielder who arrived on loan from Vista Hermosa with decent fanfare when he joined Chivas USA last season, was released after a dismal 2010 campaign.
Jones, of course, is soccer royalty in these parts. The Westlake Village product (Westlake HS/UCLA) has been with the Galaxy since their inception, playing from 1996 through 2007 -- he owns 10 club records, including games (306), starts (281) and assists (91), and is No. 2 to
Landon Donovan
in goals (70) -- and serving as assistant coach the past three seasons.
Jones, who was a high school teammate of
Eric Wynalda
's, played in three World Cups (1994, 1998 and 2002) and holds the U.S. record for international appearances (164), the No. 7 total in history.
The Cosmos, revived last year by former Tottenham vice chairman
Paul Kemsley
, already has a Los Angeles presence, partnering with Pasadena-based youth club Los Angeles Futbol Club to form Cosmos Academy (West). LAFC was rebranded as LAFC Cosmos.
Romero, 24, an attacking midfielder for El Salvador's national team, was too slight, too slow and never adapted to Major League Soccer. He made just 13 appearances for Chivas USA, nine in league play, and scored one goals. The Goats declined their option on the loan agreement, and Romero returned to Vista Hermosa.