Los Angeles Soccer:

Nick Noble
May, 30, 2012
5/30/12
2:19
PM PT
By
Scott French
| ESPNLosAngeles.com
Looking for a positive from the Galaxy's quick exit Tuesday night from the U.S. Open Cup? How about
Leonardo
, who returned to the Galaxy lineup after spending most of the past 13½ months rehabilitating a devastating knee injury?
The Brazilian center back went the full 90 minutes, not by plan, in L.A.'s third-round loss in Cary, N.C., to the Carolina RailHawks, who will be home for next week's round-of-16 clash against Chivas USA, the third successive Southern California side the second-tier club will face in the nearly century-old competition.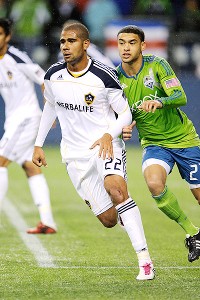 Steven Bisig/US PresswireOne positive for the Galaxy in their U.S. Open Cup loss was the play of Leonardo.
That's about it on the plus side.

The Galaxy's season-long slide dipped a little deeper with the 2-1 defeat, in which they surrendered a lead for the third straight game and were beaten for the sixth time in seven outings. No, they didn't have their big guns -- only Chad Barrett, Leonardo and maybe David Junior Lopes among the first XI could be considered "starters," and none are first choice at their positions. One of the lessons from an evening in which seven of 14 Major League Soccer clubs in action were eliminated by lower-division foes: Those who used virtual first-choice lineups won, and those who didn't lost.

It was more pronounced for the Galaxy, which had to spend all three substitutions on injuries -- one of them apparently significant -- and was unable to make tactical swaps nor pull off fatigued players as Carolina took charge down the stretch.

Hector Jimenez's demise was the low point. He had to be carted off, RailHawks midfielder Amir Lowery on one shoulder, with a knee injury after a rough tackle near the end of the first half. He couldn't put weight on his left leg, and it looked serious. The Galaxy have provided no updates but he'll undergo a scan now that the team is back in Los Angeles.

Barrett left while cramping 20 minutes into the second half. Bryan Gaul, who like Jimenez has seen increased first-team time, left just before Ty Shipalane's 75th-minute equalizer after he was hit in the face during an aerial battle in the Galaxy box. His left eye was puffed up, but it appeared to be nothing serious.

"Three guys who have actually been playing game and three guys that would have been good to go 90 minutes," midfielder Michael Stephens noted in his postgame media session. "It was really unfortunate, and I think you saw that. A lot of guys ran out of legs down the stretch."

Include Leonardo in that group. He'd played just twice in games this spring -- 11 minutes in an April 24 reserve friendly against the L.A. Blues and one half in an MLS Reserve League game with San Jose on May 8 -- and was on the 18-man roster, but did not play, in the last three league games.

"Remarkable we got 90 minutes out of him tonight ...," Arena said. "We didn't anticipate him playing that long, but once we had those injuries and we had to make all our changes, he had to stay in there. He did a good job. He obviously got tired at the end."


April, 20, 2012
4/20/12
5:01
PM PT
By
Scott French
| ESPNLosAngeles.com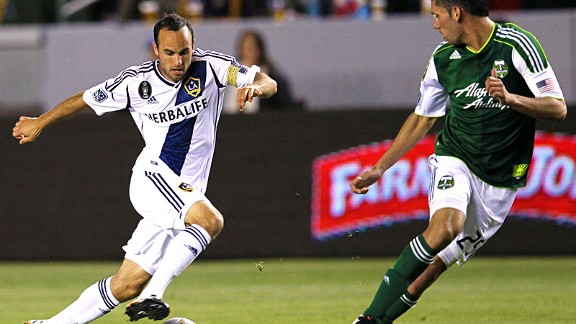 Stephen Dunn/Getty ImagesLandon Donovan, left, helped the Galaxy beat Portland last week, but Colorado will be a tougher challenge.

There's a corner here somewhere that the Galaxy needs to turn, and debate on whether they've done so following a horrific start to this campaign is taking place within the locker room, too.

Landon Donovan's take: The Galaxy started turning things around in the loss two weeks ago at Sporting Kansas City, then improved upon that to beat Portland last weekend.

And it's not nearly enough.

"The reality of last weekend is we beat a team that had lost a few in a row and were at the bottom of the West. And we were at home," Donovan said as he prepared for L.A.'s Major League Soccer clash Saturday night at Colorado. "That's a game we need to win, we have to win."

This one, he notes, "is more difficult," and not only because the Rapids, even without two of their leaders, is among MLS's most dynamic sides. They're fast and skillful and athletic, and that mile-high altitude is a little bit like a 12th man in Colorado colors.

The Galaxy head in with greater confidence than they've possessed since falling behind by two goals at the start of the CONCACAF Champions League quarterfinal first leg in Toronto to begin the season. They defended well, for the first time, at K.C., and the victory over the Timbers at Home Depot Center showed improvement everywhere on the field, with newcomer David Junior Lopes providing the physical game needed in the back, Juninho looking a little more like his old self in midfield, and Donovan and David Beckham scoring fine goals.

"Winning always helps," head coach Bruce Arena said. "Even when you play bad and win, you get fooled by that. It does funny things with your mind. I think we had a combination of playing well and winning, though, which is good."

Said Beckham: "We felt like [we'd stepped forward] during the game, just because our whole performance was better. I think even had we lost the game, we'd have felt we played a lot better game than we had done all season. Thankfully, we won the game and got the three points, but the only way we'll turn a corner is if we'll continue to work hard like we've been doing and continue to play hard like we've been doing."

The Galaxy's wins haven't been against impressive competition. D.C. United looked utterly lost against L.A. a month ago, although they've played pretty well since. Portland last week dropped its fourth in a row, and in the last three the Timbers have conceded the winning goal after the 80th minute. Hardly the best measuring stick.

"We're still a long way from where we need to be," Donovan said. "Where we should be."


February, 29, 2012
2/29/12
2:55
PM PT
By
Scott French
| ESPNLosAngeles.com
The Galaxy made their decision on a third goalkeeper, signing veteran Bill Gaudette and waiving Nick Noble in advance of Wednesday's Desert Diamond Cup match against New York in Tucson, Ariz.
Gaudette, 30, joined L.A. on trial at the start of preseason after playing last year with the Montreal Impact in the second-tier North American Soccer League. He was with the Columbus Crew from 2005 through 2007, then starred for the Puerto Rico Islanders, helping the Caribbean power upset the Galaxy in the CONCACAF Champions League's preliminary round in 2010.
He's seen action in three preseason games, surrendering two goals in 128 minutes.
Noble, 27, a former Chicago Fire goalkeeper, signed with the Galaxy in December after two years in Sweden with second-tier Ljungskile SK. He played in four preseason games, for 187 minutes, conceding six goals.
Josh Saunders
won the starting job last season from Jamaican star
Donovan Ricketts
, who was traded last November to Montreal. It is unclear whether Gaudette or returning No. 3 keeper
Brian Perk
, a UCLA alum from Rancho Santa Margarita who has been injured throughout preseason, will be Saunders' chief backup.
January, 22, 2012
1/22/12
10:05
PM PT
By
Scott French
| ESPNLosAngeles.com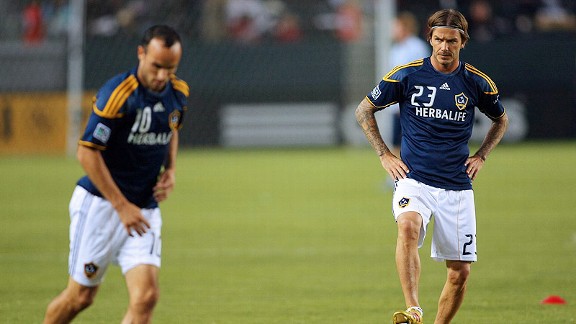 Victor Decolongon/Getty ImagesNow that the David Beckham has agreed to return, the Galaxy can calm down and work on their title defense.
CARSON -- David Beckham's signing, made official last week, answered the greatest of offseason questions for the Galaxy. As the club heads into preseason training, with its first on-field session slated for Monday morning at Home Depot Center, there's one more gnawing concern: the backline.
It was defense that made the difference in L.A.'s runs last season to the MLS Cup and Supporters' Shield titles, with
Omar Gonzalez
's exquisite play at center back setting the tone for a club that tied the Major League Soccer record for shutouts, with 17, and added five more in the playoffs and CONCACAF Champions League.
The torn anterior cruciate ligament Gonzalez sustained on Jan. 5, in his first practice following a short-term loan deal to Germany's FC Nuremberg, leaves a massive hole in the middle of the Galaxy's backline, and how they deal with it will have much influence on what they achieve in 2012.
Here's a quick look at the Galaxy as their campaign begins:
Best Galaxy team in history? Oh, yeah. (Sorry, '96ers.) In MLS annals? Hard to argue. They amassed 67 points (most of the post-shootout era) on a 19-5-10 campaign, was the only club in a remarkably balanced league that conceded less than a goal per game, cruised to the Supporters' Shield (as regular-season champ, quietly the most meaningful of MLS's prizes), then went 4-0 through the playoffs, capping the campaign with a 1-0 triumph over Houston, not nearly so close, in an MLS Cup final played before the home fans.
December, 23, 2011
12/23/11
1:14
PM PT
By
Scott French
| ESPNLosAngeles.com
The Galaxy got one big postseason mission out of the way Friday, re-signing defender/midfielder Sean Franklin while collecting signatures from three others and exercising an option they previously, but not irrevocably, had declined.
Defender/midfielder Bryan Jordan also re-signed, and the Galaxy wrapped up deals with forward Pat Noonan, whose rights were acquired from Seattle in last week's second-stage re-entry draft, and goalkeeper Nick Noble, who has spent the past two seasons in Sweden.
Also back is forward Adam Cristman, who had pulled out of Major League Soccer's re-entry process after the option on his contract, worth only the league minimum of $42,000 last year (but with a salary boost anticipated), was initially declined.
Franklin (Palmdale/Highland HS and Cal State Northridge), 26, the 2008 MLS Rookie of the Year and an MLS All-Star Game starter last summer, is the big news. He's among the best right backs in MLS and is probably better as a right-sided midfielder, which is where he'll likely play if Landon Donovan is paired with Robbie Keane on L.A.'s forward line.
Jordan (Temple City/Temple City HS), 26, who has been with the Galaxy since 2008, is a backup, primarily as an outside back, who played in 18 first-team and eight MLS Reserve League games last season. Cristman, 26, a big, physical, hard-working forward, scored eight goals in 33 games, including Reserve League, after arriving in a trade last January.
Noonan, 31, was one of four players the Galaxy selected from other rosters during the second-stage draft in the re-entry process. He's scored 46 goals in 10 MLS seasons, but only four in the last five injury-filled campaigns. He played just 259 minutes across nine games with the Sounders last season.
Noble, 27, was Chicago's first-round draft pick in 2007, when Galaxy associate head coach Dave Sarachan was the Fire boss, but he never saw league action before his June 2009 release. He played briefly with the second-tier Austin Aztex before taking off to Sweden, where he's spent the past two seasons, making 59 first-team appearances, at second-division Ljungskile SK.
Noble is the third goalkeeper on the Galaxy roster, joining Josh Saunders and Brian Perk. The Galaxy also selected Jon Conway from Chicago in the second-stage re-entry draft, but Noble's signing might signal that the club, which won't carry more than three netminders, doesn't plan to bring in Conway.
BECKHAM IN DOHA?:
Agence France-Presse reports that
David Beckham
will attend the Qatar ATP Open tennis tournament in Doha right after New Year's and could sign with Qatari-owned Paris Saint-Germain at that time.
The tournament runs Jan. 2-8 and the president of Qatar's tennis federation is
Nasser Al-Kelaifi
, who also is president of PSG. Al-Kelaifi heads Qatar Sports Investments, a quasi-governmental outfit that is the French club's primary shareholder.
ELSEWHERE:
Other MLS news ...
Midfielder Baggio Husidic, whom Colorado drafted from Chicago in the second-stage re-entry draft, is former Galaxy defender/assistant coach Gregg Berhalter's first signing with Hammarby in Sweden.
New England signed midfielder Clyde Simms, which it acquired from D.C. United during the second-stage draft.