Los Angeles Soccer:

Nick Posthuma
January, 11, 2012
1/11/12
7:33
PM PT
By
Scott French
| ESPNLosAngeles.com
Chandler Hoffman and Kelyn Rowe aren't going to last very long once the MLS SuperDraft begins Thursday morning, and Luis Silva, Sam Garza, Miguel Ibarra and Andy Rose figure to be nabbed soon after.

They're the big names, but hardly the only ones, among local players aiming for an opportunity with a Major League Soccer team. There are nearly two dozen players who grew up or went to school in Greater Los Angeles hoping to hear their names called in Kansas City.

Some of them, let's be honest, don't have a shot, not with just two rounds of picks -- 38 in all. Next week's supplemental draft will provide possibilities, and players will be looking to participate in team combines and in trials during preseason training.

Some might look abroad -- there are leagues everywhere on the planet -- and there are two professional minor leagues (NASL, USL Pro) and several pro clubs in the Premier Development League and its rival NPSL.

Here's a quick rundown of 22 players who might find a job in MLS, if the right situation develops:


September, 19, 2011
9/19/11
12:11
AM PT
By
Scott French
| ESPNLosAngeles.com
UC Irvine and its Orange County rival Cal State Fullerton are off to their best starts in men's soccer in years, but any hopes for unbeaten campaigns -- realistic or not -- are now dead.
The fifth-ranked Anteaters and the Titans suffered their first defeats Sunday, dropping tight encounters on the East Coast.
Irvine (7-1-0) fell, 2-0, in a showdown with 12th-ranked South Florida, which got goals from
Wesley Charpie
in the 13th minute and
Dom Dwyer
in the 82nd.
Fullerton (5-1-1), which is ranked 24th by
Soccer America
, was beaten, 2-1, at George Mason on
Taylor Morgan
's penalty kick with about 20 minutes to go.
Nick Posthuma
(Pasadena/St. Francis HS) scored for the Fullerton in the 52nd minute, answering
Julio Aronja
's strike in the final minute of the second half.
In other men's action:
Kelyn Rowe's spectacular shot from 30 yards -- off the left post, off the right post and in -- 88 seconds into overtime lifted UCLA (4-2-1) to a 1-0 victory at San Diego.
Ben Sperber (Palm Desert/Desert Christian HS) provided an early lead, but UC Riverside (3-2-1) settled for a 1-1 draw with visiting San Jose State when Nick Cashmere tallied with 92 seconds left in regulation.
Jason Swope scored twice in the final 10 minutes of regulation as Cal State L.A. (4-0-2), ranked 10th in NCAA Division II, rallied for a 2-2 California Collegiate Athletic Association draw with visiting Chico State.
Cal State Dominguez Hills (3-2-1) closed a tough CCAA weekend as Cal State Stanislaus used a physical game plan -- committing 25 fouls to 11 for the Toros -- en route to a 1-0 victory. CSUDH was ranked 23rd in the NCAA Division II poll but lost, 5-0, Friday to Chico State.
Cal Poly Pomona (4-2-0) topped visiting UC San Diego, 3-0, in a CCAA clash on goals by Boris Beta, Ian Trantow (Riverside/Arlington HS) and Jonathan Enns.
WOMEN: Hubbard's hat trick lifts Long Beach
Nicole Hubbard
scored a hat trick as Long Beach State broke out a deadly attack Sunday afternoon, routing St. Mary's, 6-0, at George Allen Field.
Hubbard (Lakewood/Mayfair HS) tallied in the 17th, 29th and 64th minutes for the 49ers (6-3-0), who also received big games from
Shawna Gordon
and
Nadia Link
.
September, 12, 2011
9/12/11
9:42
AM PT
By
Scott French
| ESPNLosAngeles.com
UC Irvine had final-four aims a year ago, when head coach George Kuntz's talented, senior-heavy team climbed into the top 10 before an upset loss to Cal State Fullerton in the conference tournament and a poor RPI kept it out of the NCAA tournament, one of the most stunning omissions we've seen in the men's soccer brackets.
Expectations this fall aren't so towering. The Anteaters were picked fourth in the Big West Conference's preseason coaches poll, behind UC Santa Barbara, Cal Poly and Fullerton.
Might want to rethink that.
Irvine is off to a 6-0-0 start for the first time in school history after rallying twice from first-half deficits, then pulling away to a 4-2 non-conference victory Sunday at Midwest power Illinois-Chicago.
Enrique Cardenas
(Coachella/Coachella Valley HS) scored in the 58th minute and
Christopher Santana
in the 77th to lift the Anteaters, who are No. 9 in the National Soccer Coaches Association of America men's Division I rankings.
UIC (2-1-2) went ahead twice, on goals off corner kicks by
Zach Kaleta
in the fourth minute and
Craig Krzyskowski
in the 22nd, but UCI answered immediately both times, through
Christian Hernandez
(Palmdale/Palmdale HS) in the 13th and
Jonathan Rivas
(Norwalk/Santa Fe HS and Cerritos College) in the 24th.
In other men's action:
Ryan Lee and Chandler Hoffman scored first-half goals to lead UCLA (2-2-1) past 10-man Loyola Marymount (2-3-0). The Bruins dominated the game, outfiring LMU, 13-4; the Lions were handicapped when Logan McDaniel (Palmdale/Quartz Hills HS) was red-carded in the 14th minute, just 23 seconds after Lee tallied.
Jesse Escalante (Placentia/Valencia HS) and Nick Posthuma (Pasadena/St. Francis HS) scored to lead Cal State Fullerton (4-0-1) past San Francisco, 2-0, to win UNLV's event, the Titans' second tournament championship in as many weekends.
Cal State Northridge (2-3-0), just seven minutes from victory, surrendered three goals in 97 seconds and lost, 3-1, to New Mexico in the decisive encounter of the Lobos' tournament. Gustavo Villalobos (Van Nuys/Birmingham HS) tallied for the Matadors in the 35th minute.
September, 9, 2011
9/09/11
2:13
PM PT
By
Scott French
| ESPNLosAngeles.com
Cal State Fullerton not so long ago was a regional power in men's soccer, with nearly annual treks to the NCAA Tournament -- including a final four appearance in 1993 and a run to the quarterfinals the following season.

It's been rough going since the Titans last made the playoffs back in 2000, with 10 successive losing seasons, but their performance last weekend at Cal State Northridge's annual event signals that a renaissance could be at hand.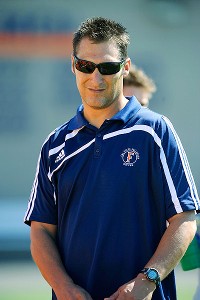 Matt Brown/CS Fullerton athleticsBob Ammann is looking for his first winning season -- and first NCAA appearance -- in his sixth season in charge at Cal State Fullerton.
Fullerton (2-0-1) set the terms with a physical game plan for a 0-0 draw against defending NCAA champion Akron, then displayed its considerable skill in a 5-1 dismantling of UNLV to win the tournament title.

Head coach Bob Ammann, a goalkeeper and assistant coach at CSUF before taking the reins following the 2005 season, has always fielded talented, competitive teams that so often controlled matches but came out one-goal losers. This year looks like it might be different -- he's got a a senior-heavy side featuring 10 returning starters, a little more grit to go with the style, and a belief that it can battle Big West Conference giants UC Santa Barbara and UC Irvine.

"We're confident in where we're at," said Ammann, who started the campaign with a 34-56-9 record. "It's a group that's been with each other for awhile now. We went through our times, obviously, and as I'm constantly preaching to them: Those are the things that grew our skin."

The Titans were a much better team at the end of last season than they'd been most of the fall, upsetting UC Irvine in the Big West tournament semifinals to highlight a 7-12-2 campaign.

Ammann's core group features five seniors: All-Big West first-team forward Nick Posthuma (Pasadena/St. Francis HS) and midfielder Kevin Venegas (Lakewood/Los Alamitos HS) and honorable mention goalkeeper Trevor Whiddon, plus midfielders Oscar Aguero (Anaheim/Katella HS) and Michael Denny. Posthuma led the Titans with nine goals last year; Venegas was the top player at CSUN's tournament.

Also making imprints are juniors Jonathan Birt (Santa Ana/Calvary Chapel HS), the lone returning starter on the backline, and Jesse Escalante (Placentia/Valencia HS), a rising forward first seen in one of Ammann's youth camps.

The Titans' approach -- ball on the ground, keep possession -- and flair required to follow it have impressed opponents all along, but defensive liabilities have hurt. The addition of Englishman Roberto Vernaschi, who transferred from Delaware -- aided by the returns of Mario Alvarez and Bobby Reiss (Palmdale/Quartz Hill HS) after missing last season through injury -- has added steel to Fullerton's game.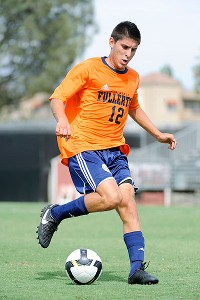 Matt Brown/CS Fullerton athleticsKevin Venegas factored in three goals in the Titans' win over UNLV, which clinched Cal State Northridge's tournament title.
"He's got that kind of bad-boy mentality," Ammann said. "He's got that 'I'm not afraid to tell you what I'm going to do to you.' That's something we've lacked, and the other players are feeding off that."

That was apparent against Akron. The Titans' physical game plan neutralized the Zips, and Fullerton had the better scoring opportunities if less of the game.

"I thought their spirit was good," said Akron coach Caleb Porter, whose team dropped from second to fourth in the NSCAA rankings this week. "I really liked their energy and their attitude and their edge. They have a chip on their shoulder, and they showed that against us, and that was good for our guys to see -- these teams weren't intimidated by Akron. These teams play the UCLAs and UC Santa Barbaras, so playing us isn't going to intimidate them."

Ammann credits depth -- "Now we can bring in guys, and we really don't drop the standard," he says -- and the ability to play both ways.

"We've always been able to score and create, but we've leaked too many goals," he said. "We're really limiting the opportunities of our opponents. This is ultimately going to be the difference. I believe we can score, and as long as we defend and we gain that confidence that we can lock the game down and finish it when we do score, we've got some potential."

Fullerton, which plays this weekend at UNLV's tournament, was third in the Big West coaches preseason pool, behind UC Santa Barbara and Cal Poly but ahead of UC Irvine, which is ranked ninth in the nation. The NCAA tournament is within reach.

"That's something we've been talking about for awhile," Ammann said. "This is definitely the team with the progress. The guys who are seniors now are the first group to come freshman through. And that pays big dividends in college soccer."

November, 11, 2010
11/11/10
11:33
PM PT
By
Scott French
| ESPNLosAngeles.com
UCLA survived its first test in the NCAA Division I women's tournament, but just barely.
The Bruins needed goal-line heroics from defender
Lauren Barnes
, two saves from goalkeeper
Chante' Sandiford
and a perfect spot kick from
Elise Britt
to beat BYU on penalties following a 0-0 draw Thursday at Drake Stadium.

"This is the character that I've been waiting to see in this team," UCLA coach
Jill Ellis
told the school's website. "I was blown away by the way we competed. It's just constant belief that it can go your way, and that's honestly what it comes down to."
Burgeoning U.S. women's national-teamer
Sydney Leroux
nearly tallied twice for UCLA, but she hit the post at the end of the first half and was stopped on a 108th-minute breakaway.
UCLA (12-7-2), which is seeking an eighth successive College Cup final four appearance, on Saturday will face Central Florida (15-4-3), a 2-1 winner over Fresno State in the second game of Thursday's doubleheader.
The Bruins could be without star star midfielders
Jenna Richmond
and
Kylie Wright
(Rancho Santa Margarita/Tesoro HS). Richmond, a U.S. under-20 national-teamer, was stretchered off in the 17th minute with a knee injury; Wright had to be carted off 11 minutes later with an ankle injury.