Los Angeles Soccer:

North American Soccer League
July, 10, 2012
7/10/12
4:59
PM PT
By
Scott French
| ESPNLosAngeles.com
The game of the year for minor league soccer around these parts produced an unexpected result amid huge momentum swings and left one Southern California club joyous and another heartbroken.
Tyler Coombes
' 14th goal of the season lifted FC Santa Clarita, a first-year club born from the ruins of the Lancaster-based Rattlers, past the previously unbeaten San Diego Flash to claim the second Southern Conference berth for the National Premier Soccer League's Western Division playoffs.
Coombes (Palmdale/Palmdale HS and Cal State L.A.) scored twice as the Storm (8-3-3) posted a 4-3 victory Sunday at Canyon High School in Canyon Country, rallying for the winning goal in the 89th minute after the Flash (11-1-2) overcame a three-goal deficit.
Sergio Valle Ortiz
's second goal of the evening pulled San Diego just a minute before Coombes provided the victory.
The goal was a must -- a draw would have given the No. 2 spot to the Fullerton Rangers (8-4-2), whose 4-0 rout of San Diego Boca in Santa Ana, fueled on goals by brothers
Andre
and
Diego Turoldo
(both Torrance/North Torrance HS and Cal State Dominguez Hills), wrapped up about an hour before Coombes struck.
Martin Galvan
scored the first goal and assisted two more for the Storm, who were up, 3-0, when
Alex Harlley
(Rosamond/Rosamond HS) tallied three minutes into the second half.
Santa Clarita will visit Hayward-based Bay Area Ambassadors (9-4-1), the Northern Conference champion for Saturday's Western semifinals. The Flash are home against Sonoma County Sol (7-3-4) in the other semi, and the winners will meet next week for a spot in the NPSL final four.
Fullerton looked likeliest to finish second after beating Santa Clarita, 3-0, on June 24, but it fell to third after a 5-1 loss to the Flash a week later.
It also was a big week for another So Cal side: Pali Blues claimed the W-League's Western Conference title. Another, Beach FC, failed in its bid for the Pacific-South crown in the Women's Premier Soccer League.
The Ventura County Fusion, who are headed to the Premier Development League playoffs for the fourth straight year, can claim the Southwest Division championship Wednesday.
Elsewhere in minor-league soccer:
July, 3, 2012
7/03/12
3:34
PM PT
By
Scott French
| ESPNLosAngeles.com
Cal FC's stirring U.S. Open Cup run has given
Eric Wynalda
the first step toward the coaching job he covets. He's
taken charge of the Atlanta Silverbacks
, the last-place team in the second-division NASL, on an interim basis.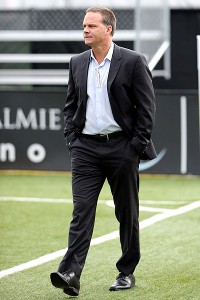 Steven Bisig/US PresswireEric Wynalda took the head coaching job in Atlanta in the NASL, but he's essentially there to find a permanent replacement.
Wynalda, a Hall of Fame striker from Westlake Village, replaces head coach Alex Piņeda Chacon and director of soccer Rodrigo Rios, but it's not a permanent move. Wynalda last week told ESPN Los Angeles that he is merely a careholder coach -- he will lead the search for a full-time boss -- but he figures to serve the Silverbacks (1-5-8) as an adviser moving forward.

Wynalda guided Cal FC to the fourth round of the U.S. Open Cup -- with a surprise victory over Major League Soccer's Portland Timbers included. He previously lobbied for head-coaching jobs with Chivas USA and Chicago.

"I'm absolutely thrilled for this opportunity with the Silverbacks. It was truly one that I didn't want to pass up," Wynalda, also an on-air analyst for Fox Soccer Channel's international coverage, said in a statement. "This is a case of an underperforming team, and I'm honored that the club chose me to take on the challenge of turning things around and helping the Silverbacks fulfill their potential on the field."

Atlanta, which has played in whichever league served as America's second division all but two years since 1995, has made the playoffs only three times in 15 seasons. It went 4-20-4 last year and is winless at home (0-4-3) this season.

The Silverbacks play Tuesday against Carolina and Saturday at Minnesota. Wynalda will make his debut in a July 14 home game against the Puerto Rico Islanders.

Elsewhere in minor-league soccer:


June, 26, 2012
6/26/12
2:22
PM PT
By
Scott French
| ESPNLosAngeles.com
The Fullerton Rangers took a huge stride toward the National Premier Soccer League playoffs with Sunday's victory over FC Santa Clarita, a showdown for second place in the Western Division's Southern Conference.

Former Chivas USA/New York Red Bulls forward David Arvizu (Santa Ana/Foothill HS) scored two goals as the Rangers avenged a loss two months earlier in Santa Clarita with a 3-0 triumph at Santa Ana Stadium.

The Rangers (7-3-2) have a two-point advantage over the Storm (6-3-3) with two games to play. Both have matches remaining with the San Diego Flash (9-0-2), which has clinched the Southern Conference title.

The Rangers' NPSL team finished second to the Flash and went to the playoffs last year, when they were affiliated with the Santa Ana Winds.

Arvizu scored in the 17th and 60th minutes and Cuban forward Eder Roldan tallied in the 24th for Fullerton, which has won three in a row and scored at least three times in its past four games. Santa Clarita has won just twice in its past five games, over the division's two worst clubs (Phoenix and North Coast, with a combined 2-18-1 record), and could rue a 1-1 draw at home June 9 with San Diego Boca (4-5-3).

Santa Clarita is likely to vault back to second next weekend, when it faces fading Conejo Valley side FC Hasental (3-7-2), but getting a resullt against the Flash on July 7 is critical to the Storm' playoff hopes. Fullerton plays the Flash in San Diego this weekend, then closes July 8 at home against Boca.

Elsewhere in minor-league soccer:

June, 19, 2012
6/19/12
4:03
PM PT
By
Scott French
| ESPNLosAngeles.com
The Ventura County Fusion learned Saturday night how real is the threat posed newcomers FC Tucson.

The Premier Development League expansion side rallied for a 1-1 draw although down a man in a showdown of the Southwest Division's Nos. 1 and 2 clubs at Ventura College, an intense clash that ended with a little postgame dustup in the parking lot, the Arizona club reported on its website.

Francisco Lopez gave Ventura the lead five minutes into the second half, but Danny Toia -- Real Salt Lake's first Home Grown Player, released by the Major League Soccer club in February -- netted the 61st-minute equalizer. Tucson was down to 10 players after Eli Galbrath-Knapp's dismissal in the 30th minute.

The Arizonans (6-1-3) surged into first place, one point ahead of the Fusion (6-1-2), with Monday's 1-1 draw against L.A. Misioneros.

Elsewhere in minor-league soccer:

USL PRO: Bright Dike is the third-division league's Player of the Week after scoring the goals in the L.A. Blues' 1-0 wins Friday and Sunday over Dayton, which sent them from seventh to fifth in the table. Goalkeeper Amir Abedzadeh made the PDL Team of the Week. Only first-place Orlando City (9-1-2, 2.4167) and second-place Charleston (8-3-0, 2.1818) have more points per game than do the Blues (5-3-2, 1.7000).


June, 12, 2012
6/12/12
8:48
PM PT
By
Scott French
| ESPNLosAngeles.com
IRVINE -- Daniel Steres was drafted by Chivas USA, spent a month in camp with the Seattle Sounders, and has been a force -- in the back or anchoring the midfield -- as the Ventura County Fusion have turned the Premier Development League's Southwest Division into their own playground.

Now he's back with the Sounders, taking the next step in his journey to being a full-fledged professional.

Steres (Calabasas/Calabasas HS), who starred at San Diego State, was taken by Seattle in last week's college-waiver draft and headed over the weekend to Washington.

"We're getting the contract [sorted out], and then working my way up to get a starting role, obviously," Steres told ESPN Los Angeles after the Fusion's 2-1 victory Friday evening over Orange County Blue Star. "Sounds like they're excited to have me come in. I'm excited to go in."

Steres, probably a center back or right back in MLS, lost out in numbers games during preseason at Chivas and, after his release by the Goats, in Seattle. He's been superb for the Fusion, bolstering the backline next to Mickey Daly (Cal State L.A.) or Tim Pontius (Yorba Linda/Servite HS and UC Santa Barbara) or teaming with former Chivas USA/Portland Timbers midfielder Rodrigo Lopez (Santa Barbara/Santa Barbara HS) in central midfield.

The Fusion (6-1-1) are atop the Southwest Division after rallying for a 2-1 win against Blue Star at Concordia University. Travis Bowen (Van Nuys/Chatsworth HS), the older brother of Chivas USA forward Tristan Bowen, scored both goals -- his fourth and division-best fifth of the season -- with the winner coming in the 76th minute.

Ventura is one point ahead of FC Tucson, which visits the Fusion next weekend.

Pontius, the younger brother of D.C. United midfielder Chris Pontius, also is getting some MLS attention. The big center back, a Sounders draft pick, has been in camp the past week with the Galaxy. He says playing with the Fusion has helped prepare him.

"College is one thing," he said. "College prepares you for the next step. This is kind of the in-between phase between college and pros. You've got a lot of players here who can make the next step."

He said his time with Sounders in preseason was "spectacular."

"Unfortunately, it didn't work out for me, but at the end, I gained a lot of experience out of that opportunity," Pontius said. "Spots were tight there, so there's only so much you can do. You play your game, if it doesn't work out, it doesn't work out. You try the next one."

Elsewhere in minor-league soccer:


June, 5, 2012
6/05/12
4:39
PM PT
By
Scott French
| ESPNLosAngeles.com
The W-League's Western Conference title appears to be headed the Pali Blues' way or to the Seattle Sounders. They're the chief contenders just four weeks into the campaign.
Pali completed sweeps of its Southern California rivals, both of them one-goal home wins, to improve to 4-0-0. The Sounders, also 4-0-0, won three games last week with U.S. national team stars
Alex Morgan
,
Hope Solo
,
Sydney Leroux
,
Megan Rapinoe
and
Stephanie Cox
on hand.
Morgan (Diamond Bar/Diamond Bar HS) scored and assisted Lyndsey Patterson's goal in the 3-0 romp Monday night over Colorado Rapids' women's team. Leroux (UCLA) had an assist in a 2-1 win Thursday over the third-place Colorado Rush (3-1-0), a match that sold out the Starfire Sports Complex's 4,500-seat stadium in Tukwila, Wash.
Pali, which is affiliated with the L.A. Blues' men's team (both are coached by
Charlie Naimo
), got goals from
Nikki Washington
and
Liz Bogus
to beat the L.A. Strikers, 2-1, then pulled out a 1-0 triumph over Santa Clarita Blue Heat on Australian national-teamer
Servet Uzunlar
's goal three minutes into second-half stoppage.
The Blues and Sounders meet twice this season: June 20 in Tukwila and in the July 15 regular-season finale at Palisades High School.
Elsewhere in minor-league soccer:
May, 29, 2012
5/29/12
2:34
PM PT
By
Scott French
| ESPNLosAngeles.com
Orange County Blue Star sits atop the Southwest Division standings in the Premier Development League following last week's 3-2 win at archrival Southern California Seahorses, and another victory in Tuesday night's rematch would put a little space between them and Fresno Fuego.
The sides are even on points and have virtually identical goal totals -- Blue Star's 12 for-7 against just above Fresno's 12-8 -- but Blue Star (3-0-3) have a game in hand and are on a three-game winning streak, scoring three times in each victory.
Kyle O'Brien
(Garden Grove/Marina HS and Vanguard University), Floridian
Nico Olsak
and U.S. youth national-teamer
Miles Byass
(Highland/Redlands HS), a junior at San Diego State, scored the goals against the Seahorses.
Fresno (3-1-3) has won just one of its last six games, and that against the U.S. Club Soccer's rep in the first round of the U.S. Open Cup. The Fuego were on the road last week, getting bombed in the Open Cup's second round by second-division Fort Lauderdale Strikers, then managing only draws against the PDL's Utah clubs, who have never been in contention for playoff berths.
Elsewhere in minor-league soccer:
May, 22, 2012
5/22/12
7:09
AM PT
By
Scott French
| ESPNLosAngeles.com
Five weeks in and things are starting to fall into place in the Premier Development League's Southwest Division, and that's with one side yet to open its season.

Longtime powers Orange County Blue Star and Ventura County Fusion took big steps forward, both them shaking off slow starts to their seasons with a pair of impressive victories.

Blue Star (2-0-3) clobbered first-place Fresno Fuego, 3-1, in the Central Valley, rolling to a three-goal lead through two Andrew Riemer goals and another by Adrian Avila, then headed home to handle the Ogden Outlaws, also by a 3-1 tally. Nico Olsak scored and assisted goals in that one.

Orange County, one of two unbeaten teams in the Southwest Division, climbed within a point of the Fuego (5-1-1), who are in Florida for a U.S. Open Cup second-round match against the Fort Lauderdale Strikers from the second-tier North American Soccer League. The other unbeaten: BYU Cougars, who open their season this weekend.

The Fusion (2-1-1), coming off a U.S. Open Cup victory over the NPSL's Fullerton Rangers (and in advance of Tuesday's Open Cup second-rounder against the L.A. Blues) posted shutouts over the Ogden Outlaws (2-0) and Pali Blues (3-0), both second-tier sides at best within the division.

Victor Chavez (Fontana/A.B. Miller and UCLA) scored in both games for the third-place Fusion. Francisco Lopez played a role in all three goals against Pali.

Elsewhere in minor-league soccer:

April, 9, 2012
4/09/12
1:14
AM PT
By
Scott French
| ESPNLosAngeles.com
Emilio Orozco joined Mexico UANL Tigres straight out of high school. Now he's back in the States, for at least the summer.
Miguel Ibarra
's goal was to make a Major League Soccer roster. He'll continue working toward that in American soccer's second division.
They're among 16 players with local ties in the North American Soccer League, an eight-team outfit that opened its season Saturday with clubs on the East Coast, in the Midwest and in Canada and the Caribbean. Eight of them, including Orozco and Ibarra, are from Southern California. Three more played college ball here, and five others have spent time with the Galaxy, Chivas USA or L.A. Blues.
Orozco, a wing-back from Oxnard (Oxnard HS) who starred for San Fernando Valley youth club Real So Cal, joined the Fort Lauderdale Strikers on loan from Tigres, where he has played in the youth ranks and for the club's under-20 team.
His cousin,
Moises Orozco
(Oxnard/Oxnard HS) -- a playmaker with U.S. national team aspirations who also is with Tigres -- was on trial with Toronto FC during MLS's preseason.
Ibarra (Lancaster/Lancaster HS) was drafted by the Portland Timbers during January's MLS supplemental draft, and he joined the Minnesota Stars after he was released from camp. The playmaker joins former UC Irvine teammate
Amani Walker
and three other local players on the Stars' roster.
Another UC Irvine-bred rookie, goalkeeper
Andrew Fontein
, is with the Tampa Bay Rowdies.
Two Chivas USA draft picks are in the league: Cal State Fullerton's
Kevin Venegas
(Lakewood/Los Alamitos HS), a midfielder with Minnesota, and German defender
Fabian Kling
, who is with expansion team San Antonio Scorpions.