Los Angeles Soccer:

Omar Bravo
January, 6, 2012
1/06/12
7:23
PM PT
By
Scott French
| ESPNLosAngeles.com
Mexico's Clausura, the second-half championship, kicks off in the Primera Division on Friday night, with Club Tijuana visiting Morelia.
The Xolos went unbeaten in their last eight games in the fall Clausura and hope that prods them up the table in the spring tournament -- they're looking to survive, since one club will be relegated to the second-tier Liga de Ascenso come May.
Here are seven things to follow in Mexico this spring:
December, 12, 2011
12/12/11
5:34
PM PT
By
Scott French
| ESPNLosAngeles.com
Paris Saint-Germain's pursuit of Galaxy midfielder David Beckham is "95 percent complete," French sports daily L'Equipe reports, citing inside sources at the club.
No such word from Beckham or his representatives, and the English superstar hinted during the Australian leg of the Galaxy's postseason tour that he wouldn't be making a decision, much less announcing one, until after Christmas.
Read more on the story, and the Galaxy's negotiations with defender/midfielder Sean Franklin and midfielder Juninho, here.
WORTH NOTING:
The Galaxy are looking to sign a "couple" of academy players to Home Grown Player contracts, and Arena said it could happen in the "next week or two." Possibilities include U.S. youth national-team veterans
Mario Rodriguez
(North Hollywood/Poly HS) and
Jose Villareal
(Inglewood/Leuzinger HS). ... Arena on trading goalkeeper
Donovan Ricketts
to Montreal: "We had to make [an economic] move with Donovan Ricketts. Donovan Ricketts we would have loved ot keep here at the Galaxy, no question about it. But he was an asset. He was sough after, and we were able to move him, saving us money on the cap and with the allocation dollars we received [in the trade], too."
ELSEWHERE:
More news from around the league:
Mexican forward Omar Bravo is leaving Sporting Kansas City after one season to sign with Mexico City giant Cruz Azul.
Seattle transferred Swedish midfielder Erik Friberg to Malmö FF, one of Sweden's top clubs.
Andres Mendoza, released by Columbus, is headed to Mexican club Atlante.
Forward Darren Mattocks, a University of Akron sophomore who could be the No. 1 selection in next month's MLS draft if he signs a Generation adidas contract, is likely to sign in Scandinavia, his agent told Soccer By Ives.
Colorado promoted former NBA and Derby County exec Tim Hinchey from chief marketing officer to president.
November, 5, 2011
11/05/11
9:31
PM PT
By
Scott French
| ESPNLosAngeles.com
A few hours before the Galaxy and Real Salt Lake kick off at Home Depot Center, the Houston Dynamo and Sporting Kansas City battle for the Eastern Conference title and the other berth in the Nov. 20 MLS Cup in Carson.
You've got questions? We've got answers.
Who are these guys? How did they get here?
Eastern regular-season champ Sporting (15-9-12 including playoffs) won just one of its first 10 games, all on the road, while waiting for the final touches on its glorious new stadium. Since then, the ex-Wizards have been lights-out, going 14-3-9 behind a vibrant attack featuring Mexican star
Omar Bravo
, South Bay product
Kei Kamara
and breakout star
Graham Zusi
. They've won four in a row, with two 2-0 decisions over Colorado in the first round of the playoffs, and are unbeaten in their last seven.
Houston (14-9-13), which won MLS Cup titles in 2006 and 2007 -- the first two seasons after relocating from San Jose -- battled injuries most of the year, then got hot as it got healthy. With MLS assist leader (and MVP hopeful)
Brad Davis
creating from the left and
Geoff Cameron
bolstering a solid defense, the Dynamo are 6-0-1 in their last seven games, a run that led to the No. 2 seed in the East.
What's going to decide this one?
How well Houston handles Sporting's blistering speed and league's-best athleticism will be telling. K.C. attacks in waves, making good use of the flanks to get the ball up top to rising star
Teal Bunbury
and Rookie of the Year slam-dunk
C.J. Sapong
, who have ample pace. Cameron and
Bobby Boswell
are a solid central tandem in the back for the Dynamo, which has in Davis and veteran striker
Brian Ching
potential difference-makers.
September, 5, 2011
9/05/11
9:47
PM PT
By
Scott French
| ESPNLosAngeles.com
The last two games at Livestrong Sporting Park went to the wire, with late equalizers and stoppage-time winners sending Sporting Kansas City, in a marathon homestand at its new digs, to painful, dramatic defeats.
Another strike in stoppage determined Monday's showdown, but this time it was the Galaxy in a world of hurt.
Omar Bravo
converted a 92nd-minute penalty kick as Sporting, its high-pressure attack poking holes in the L.A.'s league-best defense, rallied twice from deficits for a 2-2 Labor Day draw.
It left the Galaxy at 14-3-10, with 52 points, when they should be heading home with 54.
Sean Franklin
, who entered his fourth Major League Soccer campaign without a goal, doubled his 2010 output with strikes in the 25th and 74th minutes, but L.A. gave up two goals on set pieces -- one didn't count, although it should have -- and surrendered the final equalizer when a
Julio Cesar
cross glanced off
Frankie Hejduk
's arm in the 90th minute.
Referee
Ricardo Salazar
pointed to the spot, and Bravo's finish split the points.
"I'm happy I got two goals," Franklin, who volleyed a put-back header from
Omar Gonzalez
for the first and first-timed a diagonal ball from
David Beckham
under Sporting goalkeeper
Jimmy Nielsen
for the second, told the media afterward. "But I wish on the day out team have got three points. ...
"We were definitely frustrated we gave up a penalty kick in the 90th minute. On the day, we'll take a point, but there's definitely three points out there we should have got."
A quick look at the Galaxy's draw:
BEST PLAYER:
Gotta give Franklin some love. He's a natural at right midfield, more so than at right back, always dangerous going forward, and both of his goals were quality.
But Sporting (9-8-10) was the aggressor most of the match, especially at the end, and breakout midfielder
Graham Zusi
was the guiding force. His shot from distance requires attention, but he also pops up in pivotal places and combines well to create opportunities. He was the best man on the field.
BEST GOAL:
The best goal was the one that didn't count.
July, 16, 2011
7/16/11
2:41
PM PT
By
Scott French
| ESPNLosAngeles.com
Chivas USA fans hoping to see
Nick LaBrocca
or
Heath Pearce
on Major League Soccer's All-Star team are going to have to wait another couple of days. So will Galaxy supporters who want
Juninho
or
Todd Dunivant
on the roster.
MLS Commissioner
Don Garber
opted for frontline firepower with his two selections for the July 27 All-Star Game against Manchester United in Harrison, N.J., which were announced Saturday afternoon.

New York Red Bulls teen forward
Juan Agudelo
and Sporting Kansas City veteran
Omar Bravo
were added to the MLS roster, which stands at 14 -- with three of those players uncertain or unlikely to make the game.
Seattle goalkeeper
Kasey Keller
is expected to be in action in Panama the night before the All-Star Game, leading the Sounders against San Francisco FC in a first-leg preliminary-round clash in the CONCACAF Champions League. FC Dallas winger
Brek Shea
has a game in Tegucigalpa, Honduras, the night after the midseason exhibition, a Champions League opener against Municipal.
New York coach
Hans Backe
, who will guide the All-Stars, last week ruled out his Mexican defender,
Rafa Marquez
, who has been sidelined since the CONCACAF Goldb Cup final because of a hamstring strain.
Keller, Shea and Marquez were on the First XI, selected in a fan vote. So were Galaxy stars
Landon Donovan
,
David Beckham
,
Omar Gonzalez
and
Sean Franklin
.
Garber told Fox Soccer Channel his reasons for choosing the Colombia-born Agudelo, a rising star with the U.S. national team, and Bravo, a Mexican star.
"I thought Juan was a no-brainer ...," he said. "Great young player and really an exemplary product of our MLS academy system, so, you know, here's the guy that's proving the system is working. Sitting where we sit, this is an opportunity for Juan to continue his development ... allow him to get into a big-time game and hopefully learn from that experience."
Of Bravo, he said: "What we really need to do here is play well against Man U, and Omar's a guy that has a lot of big-time experience. He's been there before. This is not a guy that's going to to get flustered. He's playing in games where there have been superclubs, and Omar has performed in those competitions. ... It doesn't hurt that Omar has a real ability to impress this audience of ours, which is increasingly Hispanic."
Backe and the league will announce the rest of the team Monday.
July, 9, 2011
7/09/11
10:03
PM PT
By
Scott French
| ESPNLosAngeles.com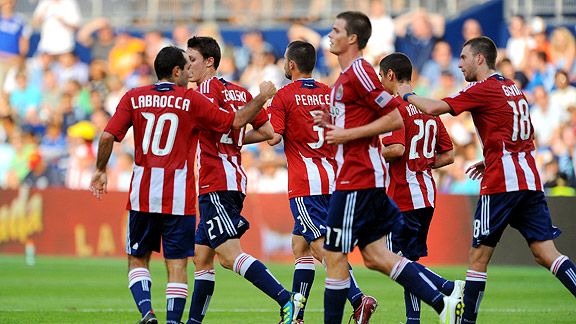 G. Newman Lowrance/Getty ImagesChivas USA teammates congratulate Nick LaBrocca (10) after his goal gave the L.A. team a 1-0 lead.
Nick LaBrocca scored a momentous goal and Dan Kennedy made save after save as Chivas USA staved off repeated forays as it took aim Saturday on back-to-back victories for just the second time this season.

It fell apart in stoppage time, when a flicked-on long ball was volleyed onto Mexican star Omar Bravo's path, and his forceful header at the left post delivered to Sporting Kansas City a 1-1 draw with the visiting Goats at sold-out Livestrong Sporting Park.



It was a crushing finish for Chivas (5-7-7), which was overrun much of the second half but held on as Kennedy made several big second-half stops and commanded his area on dangerous crosses.
LaBrocca's goal, from a
Justin Braun
feed to finish a fine four-pass sequence in the 30th minute, was the 10,000th in MLS's 15½-year history -- and his team-best sixth of the season. The veteran midfielder has scored in each of the last three games as Chivas has followed a three-game losing streak with a three-game unbeaten streak.
Sporting (5-6-7), which held possession 63 percent of the match -- considerably more in the second half -- extended its unbeaten streak to 10 games by rallying from a deficit to win points for the third successive home game. With Bravo running riot on the left flank and So Cal boys
Kei Kamara
and
Chance Myers
teaming up on the right, K.C. created at least nine solid chances in the second half and were unfortunate not to put one away before Bravo's strike exactly two minutes into stoppage.
It came from a long ball by
Matt Besler
, deep in Sporting territory, that
Birahim Diop
headed from just above the box toward Kamara, who was lined up almost even with the right post.
Rookie defender
Zarek Valentin
was inside Kamara and got to the ball first, volleying it -- but it arced over toward the left post, and Bravo was in position to nod it sharply into the goal's ceiling.
A quick look at Chivas' draw:
BEST PLAYER:
If you want to give this to Bravo, it's warranted. He was constantly a threat, with
Graham Zusi
provided the foundation for Sporting's second-half dominance, then netted a fine stoppage-time equalizer. He had the biggest impact on the match.
July, 8, 2011
7/08/11
10:48
PM PT
By
Scott French
| ESPNLosAngeles.com
Chivas USA's decision last week to test some tactical alternatives -- and then discard them before trying them out in a game -- could prove to be a masterstroke by rookie head coach
Robin Fraser
.
His Goats, he says, are "starting to form an identity," and by demonstrating that he was willing, at the very least, to consider trading in that identity -- as a possession team that, when things are going right, can run foes off the park -- for something less attractive, possibly less satisfying but maybe more effective might have been enough to shake them from a growing stupor.

Chivas (5-7-6) offered two impressive and dynamic but far from complete performances last week while ending two skids -- first of three losses and then of four games without a win -- and head into Saturday's Major League Soccer match at Sporting Kansas City (5-6-6) feeling pretty good about themselves.
But not
too
good.
"I think at times when we weren't playing great on the field, we recognized that," defender
Heath Pearce
said after Wednesday night's 2-0 triumph over San Jose at Home Depot Center. "We didn't try to force our way out of it. We played smart, we played safe. ... We were able to build into our kind of flow. When we kind of get off pace, we start trying too hard to keep that style of play. We were able to recognize that early [in the victory] and kind of go through the ebbs and flows of the game."
Learning how to manage the game is a big part of the process Chivas is undergoing as it grows into the side Fraser envisions. On occasion, the Goats get it right, and when they do, it's
Nick LaBrocca
-- acquired from Toronto FC during preseason -- at the reins. He's playing atop the midfield diamond, and his class on the ball and ability to finish, seen with goals in last weekend's 1-1 draw against Chicago and to secure the win over San Jose, have provided a needed dimension, especially with
Blair Gavin
and
Paulo Nagamura
missing so much time through injury.
The elements of Chivas' game are simple but difficult. They prefer to move the ball, to play keep away as they bear down on the opponent's box, and it all stems from their defensive play, which was solid last week after mistakes doomed earlier efforts.
March, 20, 2011
3/20/11
12:18
AM PT
By
Scott French
| ESPNLosAngeles.com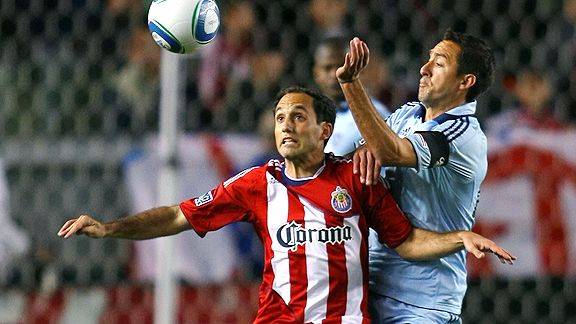 Victor Decolongon/Getty ImagesNick LaBrocca of Chivas USA tries to play the ball while under pressure by Davey Arnaud of Sporting Kansas City.

CARSON, Calif. -- We could pick apart the miscues that cost Chivas USA in its opener -- there were several, and they were costly -- but the big picture provides a more comprehensive glimpse of where the Goats are and where they're headed than can any of the details.

There was a lot more to like than dislike in Saturday night's 3-2 defeat to Sporting Club Kansas City at Home Depot Center, but if Chivas was pleased by its play, and it was, the defining emotion afterward was disappointment.

"Obviously, a very disappointing result," Robin Fraser started his first postgame news conference. "I feel like when you play at home, you should win, end of story. But I was very, very encouraged by a lot of the soccer that we saw tonight.

"I thought that at times, for good portions of the match, we played very good soccer, got into the attacking end. I thought it was difficult for them to handle us as we came forward in waves. I would have liked to see us have a little bit more of a killer instinct in the final third, but I think that's coming as well. The disappointing thing is that I feel like individual mistakes led us to where we are, because for the most part, the team played fairly well.

THE GOOD: Here are three things that worked for the the Goats:
Marcos Mondaini: The Argentine playmaker, attacking mostly from the left flank, made Sporting's defenders dizzy with space-opening runs that might have led to more chances -- and surely will, as chemistry thickens -- had everyone on attack been on the same page. "He's good at creating space, pulling off of guys," defender Jimmy Conrad said. "I think that proved difficult for [Sporting]. They really didn't know how to handle him. … I think as we understand him more, it's just going to make our team better."
Team defense: Sporting has the foundation of a dynamic attack, even with Teal Bunbury on the sidelines, but it accomplished little against Chivas' defense, except on the goals, all product of mental lapses. Fraser judged it "fair to decent, in terms of our organization and being able to win balls back right when we lose them. … When we did a good job of it, I think it was difficult for Kansas City to find clear-cut options forward, and you could see sometimes it was good, and sometimes it was a step or two off, and then the other team becomes dangerous."
Set-piece scoring: Chivas scored just two goals last season from dead balls, one off a corner kick and the other a penalty kick. They netted two Saturday, both from corner kicks, and both finished emphatically. Conrad, wearing the captain's armband, netted his first goal as a Goat, and his 20th in MLS, in the 55th minute to make it 2-1 -- he's on target for 34 this season, he pointed out afterward -- and Ben Zemanski stayed just onside to finish Nick LaBrocca's put-back from a clearance, his first MLS goal.
March, 19, 2011
3/19/11
12:12
PM PT
By
Scott French
| ESPNLosAngeles.com
Jimmy Conrad expects his first few minutes wearing a Chivas USA jersey in a real game will be a bit emotional, but that has nothing to do with the red and white stripes.

His tenure with the Goats begins Saturday night at Home Depot Center, and he couldn't envision a better first foe: Sporting Club Kansas City, the team he spent the past eight seasons leading from the rear.

The four-time Best XI center back was one of the most consistent performers and a fan favorite with the Kansas City Wizards, as Sporting previously was known, but head coach Peter Vermes informed him late last fall that he was no longer in the club's plans.

It worked out for Chivas USA, which acquired the former Temple City High School and UCLA standout in December's re-entry draft, and for Conrad, who is the backline anchor on a Goats team looking to build something special behind new head coach Robin Fraser.

That doesn't necessarily lessen the sting.

"There's a lot of reasons I want to win this game, regardless of the opponent," Conrad said this week. "But it'd be nice [to beat K.C.] Anyone that's been let go from one team and now think that they didn't want you anymore, you obviously want to stick it to them a little bit. … I'm human.

"But after a few minutes of the game, once we get started, then its just another game, a matter of making good soccer decisions and organizing and putting guys in good spots and let everything else kind of fall where it goes."


February, 10, 2011
2/10/11
4:33
PM PT
By
Scott French
| ESPNLosAngeles.com
Major League Soccer
unveiled its 2011 schedule
Thursday, and if a big step forward has been taken with the decision to sit quiet on three FIFA International Fixture Dates -- Aug. 10, Sept. 3-4 and Oct. 8-9 -- then perhaps we should be questioning why the league won't stop, or at least slow down, during the CONCACAF Gold Cup.
MLS plans a full slate during the June 5-25 regional nations championship, with Chivas USA slated to play on opening day (at home against Portland, with the Gold Cup's Home Depot Center matches held the following day) and opposite the final (at Philadelphia) and the Galaxy in action (at San Jose) the night of the final.
The Galaxy, which figures to lose
Landon Donovan
and perhaps
Omar Gonzalez
to the U.S. national team for the tournament, will play four games during the Gold Cup. Chivas USA, which likely will lose nobody, is scheduled to play five.
The SuperClasico, pitting the Galaxy against Chivas, is slated for May 21 (Goats at home) and Oct. 16 (L.A. at home). Reigning MLS champion Colorado visits HDC on March 26 (vs. Chivas) and Sept. 9 (vs. Galaxy).
Chivas faces two tough stretches: seven of nine on the road from mid-April through the end of May, with games at Real Salt Lake, New York and Columbus; and a five-game swing through Dallas, New England, Seattle, Colorado and Portland from July 31 through Aug. 24. The Galaxy's longest trek is three games, at D.C. United, Toronto FC and Chicago, from April 9-17.
All 18 teams will be in action March 26 -- Chivas is home against Colorado, Galaxy plays at Real Salt Lake -- the biggest day ever on MLS's calendar.
Here are six matches to watch from each of the local teams' schedules: