Los Angeles Soccer:

Orlando City SC
July, 11, 2012
7/11/12
3:21
PM PT
By
Scott French
| ESPNLosAngeles.com
Bright Dike has returned to Portland after energizing the L.A. Blues attack with six goals over a seven-game span, but the Fullerton-based USL Pro club picked up something good from the Timbers.

Center back Andrew Jean-Baptiste, a first-round pick in January's MLS SuperDraft, has joined the Blues on loan from Portland in advance of this week's games against last-place Antigua Barracuda in Bradenton, Fla.

Also arriving on loan is Orlando City forward Maxwell Griffin (Palmdale/Littlerock HS), a former UCLA star who scored 10 USL Pro goals last year and finished the season on loan to the San Jose Earthquakes. The Blues sent winger George Davis IV to Orlando on loan in the deal.

The moves with Portland coincide with Monday's dismissal of Timbers head coach John Spencer, with general manager Gavin Wilkinson taking charge on an interim basis for the rest of the MLS season.'

The Blues also have signed defender Josh Suggs, who played for the club last year and has been with San Jose this season, and goalkeeper Carl Woszczynski, a Chicago Fire supplemental draft pick who spent nearly a week on trial in February with Chivas USA. Head coach Charlie Naimo indicated L.A. also is talking to an MLS club about acquiring an attacking player.

Woszczynski could be replacing Amir Abedzadeh, the Blues' No. 1 goalkeeper, whose transfer to a club overseas appears imminent.

Naimo, whose team has lost five in a row, expects to release a few players this week.

"Everybody knows we're one win away from feeling good again," he said in a club release. "That said, it doesn't erase what I've seen over the past two weeks. Nothing will ever erase that -- not even two wins this week in Florida. What has happened has happened, and the mark has been left. Making changes now is nothing more than the logical conclusion from that.

"It's never personal, but we're absolutely going to release players and trade to bring on others who we think can help us. I'm exhausting every minute of my time right now to try to find a way for us to get better in our personnel."


July, 9, 2012
7/09/12
1:08
PM PT
By
Scott French
| ESPNLosAngeles.com
FULLERTON -- Charlie Naimo has never been one to hide his emotions, but after his L.A. Blues hit bottom Sunday evening, dropping their fifth in a row with a 4-0 debacle against Orlando City SC, he made it clear that he's ready to dump some of the more useless players under his command.

The Blues' head coach/general manager railed against his team's penchant for costly errors, its naīvete, lack of "mental strength" and shortage of "resourceful guys," and said if all USL Pro contracts weren't guaranteed, "I would cut so many guys from this team right now. ... Do you think I'd keep some of these guys around here? You kidding me?"

The Blues (5-8-2) were done after conceding two goals to Dennis Chin in first 17 minutes, both following turnovers, then gave up two more near the end, to Jean Alexandre in the 70th and Matt Luzunaris in the 78th minutes, Alexandre's also after a giveaway in the back.

"It's beyond frustrating to me at this point. The bottom line is we make too many mistakes right now," Naimo told ESPN Los Angeles. "Nobody scores a hard-earned goal against us. It's always a gift. I don't know, I don't have any answers. It's my fault. I picked the team. I'm the one who signed some of these guys that are allowing these things to happen, so, whatever. It's on me."

The Blues have in a week and a half fallen from fifth to eighth in the third-division league, and they haven't scored in their last three games, including back-to-back losses at Cal State Fullerton to first-place Orlando City (12-1-4), the defending champion.

They were without striker Bright Dike, who has six goals in 10 games after arriving on loan from Major League Soccer's Portland Timbers but tweaked a hamstring in Friday's loss.

Dike might be done with the Blues; he's set to return to the Timbers early this week, but what exactly that means is uncertain.

"He's supposed to go back tomorrow," Naimo said. "It could be for good, we don't know. We discussed about him going back [to Portland] short-term, coming back [to qualify before] out roster freeze" date in two weeks. "We're working pretty well with Portland right now. I'm sure we'll get another player or two [from them]."

They're getting another defender Monday, with Josh Suggs, who played for the Blues last year and has been with MLS's San Jose Earthquakes this season, arriving on a free transfer. Suggs "is going to give us another winner, winning mentality, good athlete. Helps you in a game like that. I would have played him [rather than Corey Miller] at left center back today, and I promise you the first two goals don't get scored."


July, 6, 2012
7/06/12
10:52
PM PT
By
Scott French
| ESPNLosAngeles.com
FULLERTON -- An early goal and an injury to Bright Dike conspired Friday night to derail the L.A. Blues, who extended their losing streak to a franchise-worst four games despite a rather decent performance against the USL Pro's No. 1 team.

Orlando City SC claimed a 1-0 victory before a sparse crowd at Cal State Fullerton, knocking the Blues (5-7-2) down another peg in the standings -- to eighth -- with a rematch set for Sunday, also at Titan Stadium.

"I don't know what to say. I'm baffled ...," said Blues head coach Charlie Naimo, whose team lost three in a row on a six-day Eastern swing that ended Tuesday. "As the game wore on, I thought we got better and better and better and just didn't produce a goal. In a tight game like this, there's not going to be a whole lot of chances.

"I was happy with the way we played. We're a good team, and [Orlando knows] it. That's two games in a row against the best team that we could've won both matches [the first, in May, was a 1-1 draw in Florida], and it wouldn't have been we got lucky. Tough shape now, man. We're in real tough shape."

Center back Kieran Bernard headed home Anthony Pulis' corner kick in the second minute, and although the Lions (11-1-4) couldn't create a whole lot more offensively, that was enough -- especially once Dike was done.

The forward, who has six goals in 10 appearances since joining the Blues on loan from Major League Soccer's Portland Timbers, limped off with a hamstring injury just before halftime. It doesn't look to be a major ailment, but it will surely keep him out of the finale in the two-game set.

Dike had the Blues' best chance, muscling through Orlando's defense in the 28th minute for a sharp shot at the right post, but goalkeeper Miguel Gallardo made a fortunate stab to keep it out of the net.

"If we'd have played that well with Dike on the field in the second half, you've got to think he would generate three or four shots himself," said Naimo, whose team managed just six shots, to Orlando City's eight. "So it definitely hurt us."


July, 6, 2012
7/06/12
12:44
PM PT
By
Scott French
| ESPNLosAngeles.com
Rodrigo Lopez tormented the L.A. Blues while leading Ventura County Fusion to a U.S. Open Cup upset a month and a half ago. Now he has the chance to do it all over again.
The former Chivas USA and Portland Timbers midfielder, one of the foundations of the Fusion's superb Premier Development League campaign this season, signed Friday with USL Pro champion Orlando City SC.
The Lions play tonight and Sunday against the Blues at Cal State Fullerton.
"I always wanted to be in an environment where I can truly improve each day," Lopez said in a statement. "I believe Orlando City is that place and I look forward to helping the club for the rest of the season."
The Fusion's run to the third round of the Open Cup, with victories over Fullerton Rangers and L.A. Blues before a tight loss to Chivas USA, was in great part about Lopez and Chivas USA draft pick
Daniel Steres
' partnership in central midfield. Steres signed with the Seattle Sounders last month.
Lopez, 25, who grew up in Santa Barbara, was with Chivas USA from 2005 through 2007, making eight Major League Soccer appearances. He spent some time in his native Mexico, including a spell with Gallos Blancos, and last year was with the Timbers, although he saw no MLS time.
Orlando City (10-1-4) are atop the USL Pro standings. Tonight's game begins at 7:30 p.m. and Sunday's at 5 p.m., with the Blues (5-6-2) looking to climb back into the third-division league's top six.
July, 3, 2012
7/03/12
3:34
PM PT
By
Scott French
| ESPNLosAngeles.com
Cal FC's stirring U.S. Open Cup run has given
Eric Wynalda
the first step toward the coaching job he covets. He's
taken charge of the Atlanta Silverbacks
, the last-place team in the second-division NASL, on an interim basis.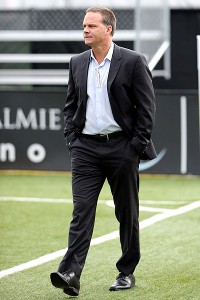 Steven Bisig/US PresswireEric Wynalda took the head coaching job in Atlanta in the NASL, but he's essentially there to find a permanent replacement.
Wynalda, a Hall of Fame striker from Westlake Village, replaces head coach Alex Piņeda Chacon and director of soccer Rodrigo Rios, but it's not a permanent move. Wynalda last week told ESPN Los Angeles that he is merely a careholder coach -- he will lead the search for a full-time boss -- but he figures to serve the Silverbacks (1-5-8) as an adviser moving forward.

Wynalda guided Cal FC to the fourth round of the U.S. Open Cup -- with a surprise victory over Major League Soccer's Portland Timbers included. He previously lobbied for head-coaching jobs with Chivas USA and Chicago.

"I'm absolutely thrilled for this opportunity with the Silverbacks. It was truly one that I didn't want to pass up," Wynalda, also an on-air analyst for Fox Soccer Channel's international coverage, said in a statement. "This is a case of an underperforming team, and I'm honored that the club chose me to take on the challenge of turning things around and helping the Silverbacks fulfill their potential on the field."

Atlanta, which has played in whichever league served as America's second division all but two years since 1995, has made the playoffs only three times in 15 seasons. It went 4-20-4 last year and is winless at home (0-4-3) this season.

The Silverbacks play Tuesday against Carolina and Saturday at Minnesota. Wynalda will make his debut in a July 14 home game against the Puerto Rico Islanders.

Elsewhere in minor-league soccer:


May, 24, 2012
5/24/12
9:23
PM PT
By
Scott French
| ESPNLosAngeles.com
Everything the L.A. Blues lacked in Tuesday's U.S. Open Cup defeat was present Thursday night, when they took the game to the USL Pro's top club and opened a two-game, three-day East Coast trek with a point.
Portland Timbers loaner
Bright Dike
scored his second goal in three games,
Amir Abedzadeh
was superb in the nets, and the Blues (3-2-2) played with energy and style to hold reigning champion/first-place Orlando City SC (6-0-2) to a 1-1 draw at the Florida Citrus Bowl.

"Coming off of a match in the Open Cup where there was minimal effort, it was great to see the team just leaving it on the field," head coach Charlie Naimo told ESPN Los Angeles. "A couple guys who were not there for us Tuesday played harder tonight than I've ever seen them play. They definitely took that loss to heart."

L.A. was looking to attack all night and was the better team at the end, creating several chances and hitting a post as it sought a late winner. That was the Blues' plan from the start, and because Tuesday's loss to the Ventura County Fusion eliminated a game next week from their schedule, that also will be the approach Saturday night against the Charleston (S.C.) Battery (4-2-0).

Orlando City went ahead in the 22nd minute, with Wes Allen powerfully heading home an Anthony Pulis corner kick, but the Blues were even within three minutes.

Dike, who played 33 minutes Wednesday night in the Timbers' friendly with Spanish club Valencia in Portland, Ore., headed home a cross from Allan Russell to tie the score in the 25th.