Los Angeles Soccer:

Oscar Dautt
July, 22, 2011
7/22/11
8:40
PM PT
By
Scott French
| ESPNLosAngeles.com
Mexican midfielder Jonathan de Leon has been training with the L.A. Blues for a couple of weeks, waiting for his paperwork to be finalized so he can show what he can do in a real game.

He got his chance Friday night, and he can do plenty.

De Leon, 24, cleared to play earlier in the day, scored two first-half goals as the Blues started a brief East Coast trip with a 2-1 USL Pro victory over the Richmond Kickers in a game played in sizzling heat -- with an index of 110 degrees.

Cesar Rivera set up both Blues goals, sending a through ball for De Leon in the fifth minute and feeding the UANL Tigres product to dribble through Richmond's defense to make it 2-0 in the 44th.

Mexican goalkeeper Oscar Dautt made several big saves -- two each on Luke Vercollone and Matthew Delicate -- and was beaten only by Sascha Gorres' 69th-minute penalty kick after Nelson Akwari fouled Vercollone.

The Blues (7-4-5) kept pace with National Division leader Rochester (10-6-3), a 3-0 winner Friday over Pittsburgh, and second-place Harrisburg (8-5-5), which Wednesday routed FC New York, 5-1. L.A. visits Harrisburg on Saturday night. Richmond (10-6-3) has lost three of its last four home games.

L.A. was without forward Chukwudi Chijindu, who is on loan from Chivas USA. Chijindu has a high ankle sprain, but coach Charlie Naimo said it was possible he might play Saturday.
July, 1, 2011
7/01/11
7:36
PM PT
By
Scott French
| ESPNLosAngeles.com
The L.A. Blues failed to win for the fourth time in eight days Friday night, managing little offense but benefiting from a great Oscar Dautt save in a scoreless draw with the Charleston Battery to begin a two-game swing through the Carolinas.

Dautt pawed away Dane Kelly's stoppage-time header to win a share of the points for the Blues (5-3-4) in front of 3,497 at Blackbaud Stadium in Charleston, S.C. The Battery (7-6-4) jumped to second place in the American Division, one point ahead of the Richmond Kickers and 10 behind Orlando City.

The Blues failed to beat Harrisburg in two games last weekend in Southern California, then lost, 2-1, Tuesday night to the Galaxy in a U.S. Open Cup third-round match. They have a game Saturday against the Wilmington (N.C.) Hammerheads.

Charleston outshot L.A., 12-5, and goalkeeper Andrew Dykstra was called upon to make only one save. Chukwudi Chijindu had the Blues' best chance, a blast over the crossbar in the 12th minute.

The Blues' National Division status seems iffier with every match. They are eight points behind division leader Rochester (8-4-3), which Friday toppled Richmond, 2-1, and remain two points behind Harrisburg (6-4-3), which is home Saturday against Charlotte. Fourth-place FC New York (4-5-5), a 2-0 winner Friday over Antigua Barracuda, is only two points behind L.A.
May, 22, 2011
5/22/11
9:50
PM PT
By
Scott French
| ESPNLosAngeles.com
Chukwudi Chijindu scored twice and set up Edwin Miranda's brilliant opener as L.A. Blues put together their best performance since last month's Caribbean trip in a 3-0 romp over the Pittsburgh Riverhounds in Bridgeville, Pa.
Chijindu, with the Blues on loan from Chivas USA, struck in the 28th minute and in second-half stoppage as L.A. (5-2-2) opened a seven-point lead on Rochester in the USL Pro's National Division. Rochester (3-3-1) has two games in hand, but the Blues are the only team with a winning record in the division. Pittsburgh fell to 2-4-2.
L.A. had been up and down since going 3-0-0 to start a season-opening trip to Puerto Rico and Antigua, winning just one of five games after Friday's 1-1 draw at Dayton, the league's only winless side.
But Miranda blasted a Chijindu feed to the upper-right corner from just above the box in the 17th minute, and Chijindu made it 2-0 just 11 minutes later from a
Walter Gaitan
flick.
Mexican goalkeeper
Oscar Dautt
stopped
Stefan Lundberg
1-on-1 in the second half to claim his second shutout of the season.
May, 12, 2011
5/12/11
10:33
PM PT
By
Scott French
| ESPNLosAngeles.com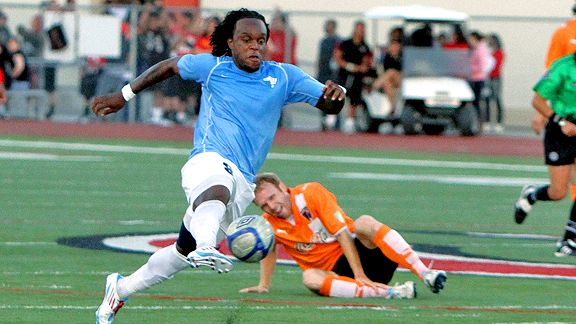 Courtesy L.A. BluesChukwudi Chijindu, on loan to the Blues from Chivas USA, had an impressive goal in a victory Thursday.

CORONA -- Chukwudi Chijindu would rather be in Carson, battling for time on the field -- and a job putting the ball away -- with Chivas USA. A few more finishes like Thursday night's, and that might be on the menu.

Chijundu finished a superb sequence in the 88th minute to answer a late Charlotte Eagles equalizer and lift the L.A. Blues to a 2-1 victory at Centennial High School in the club's Inland Empire opener.

Chijindu took a fine feed from Cesar Rivera, danced past two defenders at the top of the box and fired past former UCLA goalkeeper Eric Reed as the Blues (4-1-1) triumphed in a USL Pro encounter that drew 676 fans -- plus another couple of hundred people attending a Centennial football event -- to Husky Stadium.

Former Galaxy outside back Mike Randolph scored the first goal and played a wise backheel to Rivera to start the sequence that led to the winner.

CHUCKY IN CHARGE: Chijindu, a Fontana product known to all as "Chuck," made his first start for the Blues; he has been slowed down by a hamstring injury and acknowledged he's "still not 100 percent."

"Any time you can get three points, it's always a good feeling," he said. "To get the winning goal was a good feeling as well. … I think one thing we have is good chemistry. We have very good players with the ball at our feet. That's our strength. Whenever we're able to move the ball quick, make runs off of each other and support each other, I think good things can happen."

Chijindu joined the Blues on loan from Chivas, sent down to the third-tier club, Goats coach Robin Fraser said, to tidy his game. The dreadlocked forward didn't agree with the decision.

"Obviously, you want to show [Chivas] they made a mistake or were too quick to judge, however you want to put it," Chijindu said just before the season opened. "But my main goal is to stay healthy and to score a lot of goals. To be dangerous every game, create chances, set my teammates up for chances and just work hard, because I feel like that's the route to all success, is hard work."


April, 29, 2011
4/29/11
10:46
PM PT
By
Scott French
| ESPNLosAngeles.com
The near-marathon trek to start the season went well, for the most part, and now L.A. Blues -- the Southland's newest pro soccer club -- are ready to show their fans what they can do.

They'll get the chance Sunday in their home opener at Cal State Fullerton, and head coach Charlie Naimo admits he's feeling some pressure. He so wants his possession-first squad to make the best impression against USL Pro divisional rival Antigua Barracuda, even if he's unsure who -- or how many -- he'll be looking to impress.

The Blues (3-0-1), who leapt atop the International Division standings in the third-tier league with an unbeaten four-games-in-nine-days trip to the Caribbean, haven't had much opportunity yet to lure followers, so it could be a lot of friends and family joined by a few soccer junkies looking on when the 5 p.m. kickoff arrives at Titan Stadium.

Naimo, who is the Blues' vice president (and de facto technical director for all three pro-level teams within the club), says he doesn't have a feel for how big the opening-night audience but will be satisfied in a couple of thousand stop by. It might take a few games to reach that number -- the Blues also will play home games at Centennial High School in Corona and College of the Canyons in Santa Clarita -- but this is a long-term project.

"If we can get 2,000 in seats [I'll be satisfied]," Naimo said. "I wish it were more, but I'd be happy with it. We're a first-year team with so many things to do. We didn't know we'd be playing until late October, didn't have a [general manager] in place until Feb. 1. Where we are, we have to be realistic with our goals.

"We're looking at the first year as we've got to build toward year two and get better every day. Every day build the fan base more. We're hoping if we do well, keep stringing together results, play well, we can be a team soccer enthusiasts want to support. We're not there yet, but we're headed in the right direction."


April, 15, 2011
4/15/11
4:44
PM PT
By
Scott French
| ESPNLosAngeles.com
It's a new team in a new league, stuck by its lonesome out here, thousands of miles from its rivals, and guided by a coach who has worked exclusively with women the past dozen years.
The makings of a success story? The L.A. Blues hope so, and as they embark on their inaugural season in USL Pro -- American pro soccer's third tier -- they've got greater designs than putting out an affordable and entertaining alternative to the Galaxy and Chivas USA.
"We want to make the playoffs and get in the championship," says midfielder
Josh Tudela
, one of eight Blues with Major League Soccer experience. "We're not going to settle for anything less than that."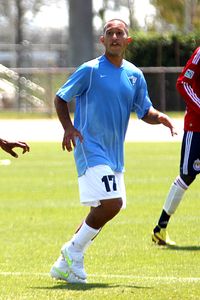 Chivas USAGerardo Bravo will be one of the key players for the L.A. Blues this season.


It's big talk, but the Blues, on paper, at least, have the makings of a contender. They've got Argentine midfielder Walter Gaitan, a superstar of mammoth proportion at this level of the game, veterans such as Tudela and defender Nelson Akwari, rising players like Chivas USA loaner Chukwudi Chijindu and some local-league stars head coach Charlie Naimo says he believes will make their names with the club.

"I feel we've done a pretty good job of putting together a very good roster for this level," said Naimo, who has won three titles in United Soccer Leagues' women's league and was general manager of the L.A. Sol, the short-lived Women's Professional Soccer club partially owned by the Blues organization. "So they need to find some strength in that, then say, 'Hey, we've got the group, now we have to win.' "

If they're not as good as the Galaxy, they might be more fun to watch. The plan is to play a pretty possession game, weaving passing patterns past foes to create chances for Chijindu and the other forwards.

"Everybody wants to play that way," Naimo said, "so time to put up or shut up. Do what is required, and a lot of what I see is when it doesn't work, it's the guys off the ball who aren't working hard enough to get into good spots. You've got to make the game easy for your teammates.

"We're certainly not afraid to pass the ball to guys that are contested. We're certainly not afraid to ask for the ball when guys are on us. It's just a matter of getting those people in a little bit spot, a matter of of making that pass a little bit better so they can escape. And then you discourage that high pressure. That's the only way to slow a game down. Otherwise, what stops the other team from chasing you, from running you over for 90 minutes? You've got to be able to step on the ball. … It's obviously attractive if it comes off."

The Blues open their season Friday night in Juncos, Puerto Rico, where the begin a four-games-in-nine-days sweep of the Caribbean, facing their four International Division rivals. First up: Sevilla FC Puerto Rico, which has weak ties to its Spanish namesake, followed by matches Sunday at Antigua Barracuda, Wednesday at Puerto Rico United and next Saturday against River Plate Puerto Rico.

The home opener is May 1 against Barracuda at Cal State Fullerton's Titan Stadium, and home games also will be played at Centennial High School in Corona and College of the Canyons in Santa Clarita.


December, 14, 2010
12/14/10
6:50
PM PT
By
Scott French
| ESPNLosAngeles.com
The L.A. Blues, set to play next year in the USL Pro league -- the third tier of American pro soccer -- were formally introduced Tuesday morning at Cal State Fullerton's Titan Stadium, which will serve as the club's primary home field next year.
Here's what we've learned:
The Blues will sit atop a club pyramid that includes two-time USL W-League champion Pali Blues' women's team, with plans to open a youth academy early next year with two boys teams -- either U14 and U16 or U16 and U18. The operating budget for next season is $800,000, but club president Ali Mansouri says it could go higher.
Head coach Charlie Naimo (GM of defunct Women's Professional Soccer club L.A. Sol, which the Blues' backers owned a piece of) will continue as manager of the Pali Blues, although an associate coach will do much of the on-field work. His associate head coach with the Blues is former Azusa Pacific University standout Shayon Jalayer, and longtime Blues coach Salvador "Chava" Moran is the assistant director of player personnel. Former Cal Baptist standout David Adams (who played in reserve games for Chivas USA) is the GM.
Mexican goalkeeper Oscar Dautt, former Galaxy midfielder Josh Tudela and attacking midfielder Cesar Rivera, a veteran of Blues amateur teams with experience in Mexico's lower divisions, are the club's first three players. The Blues are expecting to sign Gareth Evans, an All-USL2 central defender last season with Real Maryland who is playing on loan to England minor-league side Chester FC. There's a Blues-bred striker on trial with Mexico City's Cruz Azul -- Mansouri would not divulge his name -- the club will sign if the Cementeros decline to do so.
December, 14, 2010
12/14/10
9:49
AM PT
By
Scott French
| ESPNLosAngeles.com
L.A.'s new pro team has its first players.
Mexican goalkeeper
Oscar Dautt
and former Galaxy midfielder
Josh Tudela
will be unveiled Tuesday among the L.A. Blues' first signings at a combination news conference/fan rally at Cal State Fullerton's Titan Stadium, a source close to the team confirmed.
The club, which will play in the United Soccer Leagues' new USL Pro division next year, has promised to announce three signings at the 11 a.m. event.
Dautt, 34, hasn't played since spending the 2009 Apertura campaign with Lobos BUAP in Mexico's second-tier Liga de Ascenso. He was a Primera Division starter for most of 15 seasons with Monterrey (1998), Toros Neza (1999-2000), Puebla (2000-01, 2003-05 and 2008) and UANL Tigres (2001-03). His last Primera Division season was in the 2009 Clausura with Puebla, but he didn't see action.
Once considered among Mexico's most promising young goalkeepers, he was with Mexico's national team for the 2001 Confederations Cup but did not get into a game.
Tudela, 26, the Galaxy's second-round draft choice in 2007, has been club-less since he was waived July 1, 2009. He had trials last year with Romanian power Steaua Bucharest and Polish club Cracovia, then returned to Los Angeles and became Loyola Marymount University's director of soccer operations.
He played in 23 MLS games in three seasons with the Galaxy, contributing two assists.