Los Angeles Soccer:

Pablo Barrera
August, 14, 2012
8/14/12
7:12
PM PT
By
Scott French
| ESPNLosAngeles.com
MEXICO CITY -- Landon Donovan is a veteran of the soccer clashes with Mexico, one of the chief figures behind the United States' dominance in the rivalry from 2000 through early 2009 -- and one of the most hated U.S. players, at least on this side of the border.

So he possesses a keen sense of what's what with the region's twin powers, and his take on El Tri's resurgence the past few years, behind a golden generation of young talent, is simple: Mexico is something else, indeed.

"Very good. They're very good," the Galaxy's captain said on the eve of Wednesday night's friendly at Estadio Azteca (ESPN2 and Univision, 5 p.m. PT; coverage beginning at 4:30 p.m.). "They're a well-oiled machine. They know exactly what they're doing, they have a style that they like to play, and when they play at home, they're relentless.

"So, in my opinion, especially when they play here, they're one of the best teams in the world, no question."

That makes this match, the first Azteca friendly between the sides since 1984, a tough proposition for a young U.S. team that is missing a number of key players, including three-quarters of its first-choice backline, midfield anchor Michael Bradley, attacking stars Clint Dempsey and Jozy Altidore, and much of its depth.

Mexico has gone from strength to strength with its national teams, including last year's emphatic triumph over the U.S. in the CONCACAF Gold Cup final -- a result that led to Jurgen Klinsmann's appointment as the Yanks' head coach -- and, just last weekend, a stunning victory over Brazil in the gold-medal match at the London Olympics.

None of the Olympians are on Mexico's roster for Wednesday, but several play key roles for El Tri's full national team, and their success marks another step forward. Donovan wasn't surprised.

"I thought they would win. I really did," he said. "We played that Brazil team [in May], almost the exact same team, and the scoreline was 4-1 [for Brazil], but I wasn't overly impressed with them. I thought Mexico would give them a really hard game."

The full national team is even better, of course -- the roster for this one includes Javier "Chicharito" Hernandez, Andres Guardado, Hector Moreno and Pablo Barrera -- and they've dominated the rivalry since a 5-0 romp over a third-tier U.S. side in the 2009 Gold Cup title game. The last meeting, in Klinsmann's debut a year ago in Philadelphia, was a 1-1 draw.

"The reason Mexico is so good," Donovan said, "is they can play in those games [against great teams], and they do a good enough job to really stifle teams. But what makes them successful is that when they get the ball, they can actually do something with the ball. A lot of times you play a team like Brazil, and you're defending for long stretches of the game. You get the ball and you're tired, you don't make the right pass, and you're under pressure again.


December, 29, 2011
12/29/11
5:18
PM PT
By
Scott French
| ESPNLosAngeles.com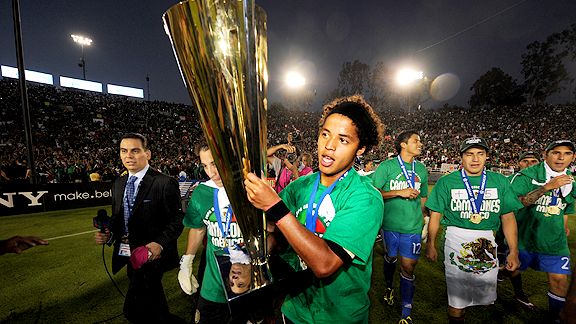 Robyn Beck/AFP/Getty ImagesGiovani Dos Santos carries the trophy after Mexico's Gold Cup victory at the Rose Bowl in June.
Counting down the 11 biggest 2011 stories in Southern California soccer ...
The United States had enjoyed pronounced dominance over its rival south of the border for a good decade, going 10-4-2 in showdowns with Mexico since 2000 -- with three of those losses in smoky, towering Mexico City and the other when the Yanks brought a beyond-reserve team to the 2009 CONCACAF Gold Cup.
Yet it was clear, in the vibrancy of El Tri's game leading to and through the early encounters in last June's regional nations championship, the positions had changed.
If confirmation was required, it arrived June 25, when Mexico spotted the Americans two goals, then sprinted past their stunned foe again and again en route to a 4-2 triumph in the Gold Cup final in front of 93,420 at the Rose Bowl.
It wasn't unexpected -- this Mexico side, guided by
Jose Manuel "Chepo" de la Torre
, is special, potentially the first in CONCACAF that really could contend for a World Cup title -- but the magnitude of the result shook the U.S. national team program to its foundations. Much hand-wringing over how to close the talent gap, followed by head coach
Bob Bradley
's dismissal a little more than a month later, and then German legend
Jurgen Klinsmann
's appointment, with the attendant new ideas, different eyes and a demeanor that is nothing like Bradley's.
The U.S. national team is in transition, which likely will continue into and perhaps beyond the next World Cup. Mexico, meantime, is on the rise, bolstered by a young, golden generation led by
Javier "Chicharito" Hernandez
, 23, and
Giovani Dos Santos
, 22. El Tri play with so much speed, both of foot and of thought, and with so much skill, with passing options at every moment leading to devastating chances that are put away.
We saw that in illuminating detail in the final, at least after
Michael Bradley
and
Landon Donovan
provided the Yanks a 2-0 lead by the 23rd minute. Giovani was in charge the rest of the way as Mexico caught up by halftime, went ahead on
Pablo Barrera
's strike five minutes into the second half and finished off with a piece of magic from Giovani, who chipped inside the upper-left post after a cheeky bit of keep-away from U.S. goalkeeper
Tim Howard
.
Giovani is the most prominent of players to come from the 2005 Mexican team that won the FIFA U-17 World Cup, a prize Mexico captured again this year. More Mexicans are playing in Europe, and at bigger clubs, and impressive talent continues to emerge from the domestic league.
Mexico stands to dominate in the region for some time, perhaps into the next decade -- perhaps forever. The U.S. has long been considered a sleeping (now awakening) giant in the world game, but the real sleeping (now awakening) giant might have been just to the south.
October, 11, 2011
10/11/11
11:08
PM PT
By
Scott French
| ESPNLosAngeles.com
Think of Tuesday's Mexico-Brazil friendly as a celebration of
Oswaldo Sanchez
's career, and as such it was a glowing success.
[+] Enlarge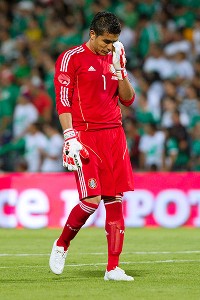 AP Photo/Christian PalmaMexico goalkeeper Oswaldo Sanchez had a rough ending to his farewell game for the national team.
The 38-year-old goalkeeper, making a farewell appearance before his home fans, made several superb saves as El Tri held on to an early advantage for nearly 70 minutes before stunning strikes by
Ronaldinho
and
Marcelo
gave Brazil a 2-1 win in Torreon.
Sanchez, Mexico's No. 1 netminder at the 2006 World Cup who hasn't figured much for the national team since
Guillermo Ochoa
's ascendancy a few years ago, was splendid in his 100th international appearance -- and basked in a glowing reception from fans of Santos Laguna, the club he captains, when subbed off in the final minutes.
The loss was the first with Mexico for technical director
Jose Manuel "Chepo" de la Torre
, not that that means a whole lot. The game was virtually meaningless, and its timing -- with nothing important nearby; World Cup qualifying doesn't begin until June -- and both clubs' reliance on Europe-based talent softened the intensity.
The highlights were three spectacular goals, including the own goal that gave Mexico a 10th-minute lead. Right-winger
Pablo Barrera
, one of Mexico's special players, wrapped an attack along the byline with a telling ball from a tight angle.
David Luiz
stuck out his foot, the ball glanced off it, spinning behind goalkeeper
Jefferson
and finding the far-post netting.
Ronaldinho's 79th-minute free kick, awarded after
Neymar
's "performance" convinced Salvadoran referee
Marlon Mejia
, was a bullet to the upper-right corner. Marcelo beat two defenders in the box before firing the winner into the goal's ceiling in the 84th.
Nothing Sanchez could do about either. His night will be remembered more for two saves on Ronaldinho, both on free kicks.
Three things we saw in Brazil's victory over Mexico:
1. IT'S NOT JUST THE STARS
No question who the big boys were. Nobody was more influential (primarily from set pieces) than Ronaldinho, the biggest name in this game. Univision's coverage featured individual cams on Neymar, the Brazilian teen the world is swooning over, and
Javier "Chicharito" Hernandez
.
June, 25, 2011
6/25/11
11:40
PM PT
By
Scott French
| ESPNLosAngeles.com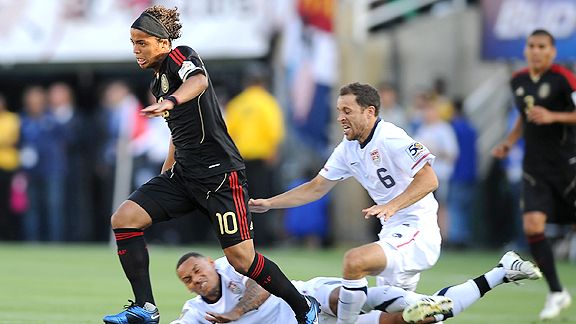 Kelvin Kuo/US PresswireThe loss of Steve Cherundolo (6) early seemed to eventually take the U.S. out of its game in a 4-2 loss to Mexico in the Gold Cup final at the Rose Bowl on Saturday.
PASADENA, Calif. -- The seeds for Mexico's stirring comeback and comprehensive victory in the CONCACAF Gold Cup final were planted at the start -- before
Michael Bradley
's header gave the U.S. an eighth-minute lead, before
Landon Donovan
doubled the advantage not long after, and well before
Giovani dos Santos
ran riot, again and again, through the American defense.
Right back
Steve Cherundolo
was "caught in a tackle" not four minutes into Saturday's showdown at the Rose Bowl, departed seven minutes later, and it was all downhill from there.
Even as the U.S. added to its lead.
Without the German-based defender, who has been to three World Cups and started every U.S. match in 2006 in Germany and last year in South Africa, the Yanks couldn't contend with El Tri's dynamism up front, and Dos Santos,
Pablo Barrera
,
Javier "Chicharito" Hernandez
and
Andres Guardado
repeatedly carved up their archrivals en route to a 4-2 triumph that thrilled the vast majority among the 93,420 on hand and gave Mexico its sixth regional title and a berth in the 2013 FIFA Confederations Cup.
Cherundolo, among the Americans' finest performers during the tournament, rolled his left ankle when he was caught between teammate
Jermaine Jones
and Dos Santos, and his departure in the 11th minute considerably weakened the U.S. backline and attack on the right flank.
Coach
Bob Bradley
sent on
Jonathan Bornstein
at left back, moved 22-year-old
Eric Lichaj
from left back to right back, and then watched Mexico dictate terms the rest of the way.
How big was the loss?
"Big," said Donovan. "His leadership, his instincts as a defender, his passing ability … it certainly didn't help."
"Losing Steve hurt," goalkeeper
Tim Howard
said, "because he's a player that's just going to bottle that player up on his side of the field. We didn't expect [him to get hurt]. You have to roll with the punches, but it hurts."
It stung badly. Bornstein, too often isolated on the left, was overrun by Dos Santos and Barrera, Lichaj had few answers for Guardado, and El Tri's ability to create at lightning pace dizzied the Yanks. "They had us twisting and turning," Howard said. "It was tough."
"They're as dynamic as any [Mexico] team I've ever played against," Donovan acknowledged. "They just have a few guys who can change the game in a heartbeat, between Guardado and Barrera and Giovani and Chicharito. They can make special plays. They're explosive, and if you give them a lot of space, they're going to make plays. And especially on a big field like this, it certainly played to their advantage."
June, 22, 2011
6/22/11
10:55
PM PT
By
Scott French
| ESPNLosAngeles.com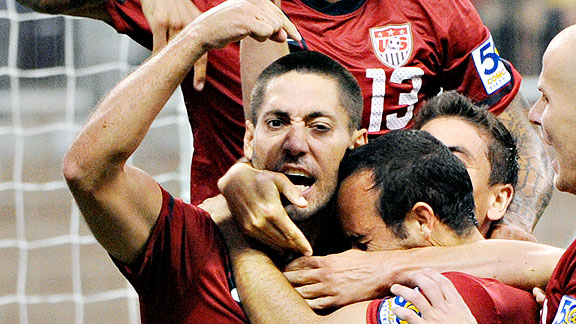 AP Photo/Dave EinselClint Dempsey and his U.S. teammates celebrate his goal in a 1-0 win over Panama.
It wasn't simple, but the U.S. and Mexico came through in Wednesday's CONCACAF Gold Cup semifinals in Houston to confirm their heavily anticipated showdown Saturday evening at the Rose Bowl.
The U.S. pulled out a 1-0 triumph over Panama as
Clint Dempsey
knocked home a brilliant feed from
Landon Donovan
in the 77th minute to send the Yanks to a record fourth successive title-game appearance in the region's nations championship.
Mexico needed overtime goals from
Aldo de Nigris
and
Javier "Chicharito" Hernandez
to conquer Honduras, 2-0, in the nightcap in front of 70,267 spectators at Reliant Stadium. Will the extra 30 minutes provide a boost for the Americans, who spent less time on the field and were finished 3½ hours earlier than their archrivals?
CONCACAF officials announced Wednesday that the game at the Rose Bowl, slated for a 6 p.m. kickoff, is a sellout. It will be the first meeting between the U.S. and Mexico in Southern California since October 2000.
The teams have met in four previous finals, with Mexico winning in 1993 (4-0), 1998 (1-0) and 2009 (5-0) and the U.S. prevailing four years ago, a 2-1 thriller sending the Yanks to the 2009 FIFA Confederations Cup, where they stunned Spain and nearly toppled Brazil in the final.
Saturday's winner will claim a berth in the 2013 FIFA Confederations Cup in Brazil, a precursor to the World Cup the following summer.
A quick look at the 18th day in the Gold Cup:
LANDON AND FREDDY SHOW:
Donovan came off the bench again and
Freddy Adu
made his first appearance in the tournament, and they teamed with Dempsey to propel the U.S. to avenge its group-stage loss to Panama and advance to its eighth final since CONCACAF went to the Gold Cup format in 1991.
June, 12, 2011
6/12/11
9:59
PM PT
By
Scott French
| ESPNLosAngeles.com
None of that U.S.-style underachieving for Mexico.
Sure, El Tri are missing six players -- five of them in doping intrigue -- and Sunday's foe was one of the best they'll come up against in the CONCACAF Gold Cup, but it mattered not at all in a one-sided Group A decider.
Andres Guardado
scored two spectacular goals and the Mexicans netted three by the 26th minute en route to a 4-1 romp over Costa Rica at Soldier Field in Chicago, which nonetheless qualified for the quarterfinals by finishing second in the group.
El Salvador also won big, demolishing Cuba, 6-1, with a series of superb goals to position itself for one of the at-large berths into the tournament's knockout stage.
A quick look at the eighth day of group play in the region's nations championship:
MASTERFUL MEXICO:
El Tri hasn't been slowed by its troubles, looking unbeatable while routing all three Group A foes. Sunday's victory was the most impressive, given the quality of the opposition and their overwhelming dominance in building a 4-0 first-half advantage.
All four goals were outstanding, with
Rafa Marquez
's powerful 17th-minute header from
Pablo Barrera
's corner kick and Barrera's fine finish from a nifty give-and-go with
Carlos Salcido
in the 38th sandwiching Guardado's wonder strikes.
February, 4, 2011
2/04/11
6:52
PM PT
By
Scott French
| ESPNLosAngeles.com
Jose Manuel "Chepo" de la Torre's first Mexico roster features a healthy share of the regular crew -- the Chicharitos and Giovanis and Torados -- a couple of newcomers among those looking to cement their spot in the player pool, and two old standouts returning to El Tri after absences of almost two years.
Zinha
, Toluca's Brazilian-born playmaker, and
Luis Perez
, a midfielder for Monterrey, were part of Mexico's 2006 World Cup team and contributed during the qualifying campaign for last year's World Cup in South Africa, and their presence for Wednesday's clash against Bosnia and Herzegovina in Atlanta (TeleFutura/KFTR Channel 46, 5 p.m. PT) restores international careers that elapsed when
Javier Aguirre
took charge in April 2009.
Zinha last suited up for El Tri in a 5-1 romp over Bolivia on March 11, 2009, in Commerce City, Colo. Perez made his last appearance in a World Cup qualifying loss at Honduras on April 1, 2009, two days before Aguirre replaced Swede
Sven-Goran Eriksson
.
De la Torre, a former Mexican national team midfielder, was hired Oct. 18 to succeed Aguirre, who resigned after guiding Mexico to the World Cup round of 16. Wednesday's match is his first as El Tri manager.
His roster includes 11 players from the team in South Africa -- including star forwards
Javier "Chicharito" Hernandez
and
Giovani Dos Santos
, both based in Europe, and captain
Gerardo Torrado
, the veteran (three World Cups) holding midfielder from Cruz Azul -- and a half-dozen who were on the roster four years earlier in Germany.
A half-dozen players based in Europe have been called in, but not forward
Carlos Vela
, who was just loaned from Arsenal to fellow English Premier League team West Bromwich Albion, or midfielder
Efrain Juarez
, who plays for Scottish powerhouse Celtic FC. Their six-month suspensions, for their involvement in a team party following a Sept. 7 match against Colombia in Ciudad Juarez, expire next month.
Hernandez (Manchester United), Dos Santos (Racing Santander, on loan from Tottenham), midfielder
Pablo Barrera
(West Ham United) and first-choice defenders
Carlos Salcido
(Fulham),
Francisco Javier Rodriguez
(PSV Eindhoven) and
Hector Moreno
(AZ Alkmaar) comprise the foreign legion.
Toluca goalkeeper
Alfredo Talavera
and Monterrey midfielder
Jesus Zavala
hope to make their international debuts. Talavera is expected to back up Cruz Azul's
Jose de Jesus Corona
, who was a backup at the 2006 World Cup. Five others on the roster have played just once or twice for the full national team.