Los Angeles Soccer:

Pablo Cruz
July, 10, 2012
7/10/12
4:59
PM PT
By
Scott French
| ESPNLosAngeles.com
The game of the year for minor league soccer around these parts produced an unexpected result amid huge momentum swings and left one Southern California club joyous and another heartbroken.
Tyler Coombes
' 14th goal of the season lifted FC Santa Clarita, a first-year club born from the ruins of the Lancaster-based Rattlers, past the previously unbeaten San Diego Flash to claim the second Southern Conference berth for the National Premier Soccer League's Western Division playoffs.
Coombes (Palmdale/Palmdale HS and Cal State L.A.) scored twice as the Storm (8-3-3) posted a 4-3 victory Sunday at Canyon High School in Canyon Country, rallying for the winning goal in the 89th minute after the Flash (11-1-2) overcame a three-goal deficit.
Sergio Valle Ortiz
's second goal of the evening pulled San Diego just a minute before Coombes provided the victory.
The goal was a must -- a draw would have given the No. 2 spot to the Fullerton Rangers (8-4-2), whose 4-0 rout of San Diego Boca in Santa Ana, fueled on goals by brothers
Andre
and
Diego Turoldo
(both Torrance/North Torrance HS and Cal State Dominguez Hills), wrapped up about an hour before Coombes struck.
Martin Galvan
scored the first goal and assisted two more for the Storm, who were up, 3-0, when
Alex Harlley
(Rosamond/Rosamond HS) tallied three minutes into the second half.
Santa Clarita will visit Hayward-based Bay Area Ambassadors (9-4-1), the Northern Conference champion for Saturday's Western semifinals. The Flash are home against Sonoma County Sol (7-3-4) in the other semi, and the winners will meet next week for a spot in the NPSL final four.
Fullerton looked likeliest to finish second after beating Santa Clarita, 3-0, on June 24, but it fell to third after a 5-1 loss to the Flash a week later.
It also was a big week for another So Cal side: Pali Blues claimed the W-League's Western Conference title. Another, Beach FC, failed in its bid for the Pacific-South crown in the Women's Premier Soccer League.
The Ventura County Fusion, who are headed to the Premier Development League playoffs for the fourth straight year, can claim the Southwest Division championship Wednesday.
Elsewhere in minor-league soccer:
June, 5, 2012
6/05/12
11:20
PM PT
By
Scott French
| ESPNLosAngeles.com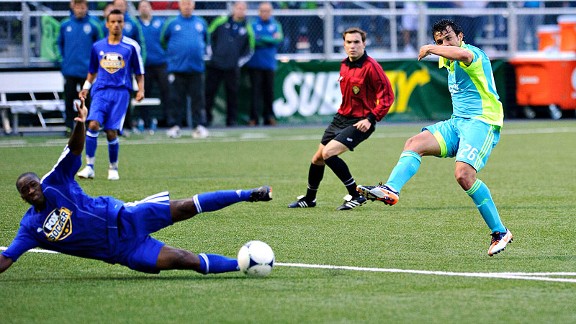 Steven Bisig/US PresswireCal FC defender Michael Randolph falls as Sounders forward Sammy Ochoa takes a shot.

Cal FC caught the fancy of fans across the country -- across the globe -- with its unfathomable run through the U.S. Open Cup, and the Thousand Oaks-based amateur club did its best to give the mighty Seattle Sounders a battle Tuesday night.

It managed to do so for a little more than a half, but a penalty kick opened the gates, and the Major League Soccer powerhouse poured in five goals over roughly 20 minutes to cruise to a 5-0 fourth-round triumph in Tukwila, Wash.

Osvaldo Alonso and Fredy Montero scored two goals apiece and the Sounders, winners of the last three trophies in the 99-year-old tournament, outshot Cal FC, 28-4, to romp into a quarterfinal showdown June 26 against the San Jose Earthquakes in San Francisco.

"I think we bit off more than we could chew, and, obviously, Seattle is a fantastic team," Cal FC manager Eric Wynalda said afterward on Fox Soccer Channel's coverage of the match. "We were talking about it at halftime: Would we be able to stay with them? We got a little unfortunate with the penalty kick -- that certainly didn't help -- but [the Sounders are a] classy team, and I expect Seattle to be a contender to win this whole thing again."

It was scoreless until the 50th minute, when a Montero blast struck Beto Navarro's arm, and Alonso barely beat Cal goalkeeper Derby Castillo to the left post.

The Sounders already were in charge by that point, but Cal FC -- a veteran group of undervalued players, most of them pros, that Wynalda put together in February -- gave an admirable performance, holding off repeated Seattle attacks and moving the ball around nicely without penetrating Seattle's defense. Castillo, midfielder Pablo Cruz and defender Jesus Gonzalez were solid all night.

"We weren't happy with some of the things we did [in the first half], but [Cal FC] played well," Sounders coach Sigi Schmid told FSC, which employs Wynalda as an on-air analyst and served as jersey sponsor for his team Tuesday night. "We weren't worried about a lot in front of our goal, but they did a good job of keeping possession, spreading the ball around. They're quick, they're technical, they're a good team."

Cal FC managed just one shot on goal -- a 17th-minute Danny Barrera drive off of a corner kick sent straight at Seattle goalkeeper Bryan Meredith -- and never looked particularly dangerous.


May, 29, 2012
5/29/12
2:43
PM PT
By
Scott French
| ESPNLosAngeles.com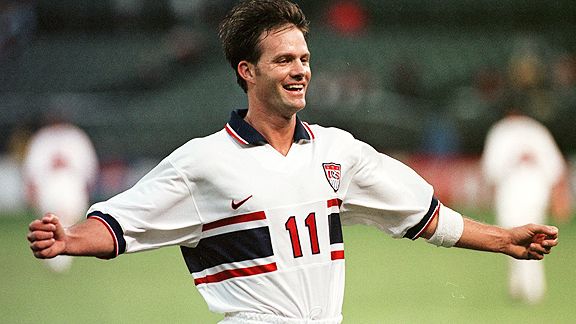 Monica M. Davey/AFP/Getty ImagesEric Wynalda back when he was scoring goals for the U.S. National Team.
Eric Wynalda, one of the finest strikers America ever produced, has built a team somewhat in his own image, and it's taking on America's soccer establishment with impressive results.

Thousand Oaks' Cal FC, a collection of misfit players with undeniable talent, have already conquered two better-fancied clubs in the 99th edition of the U.S. Open Cup, and Major League Soccer's Portland Timbers, on Wednesday night, could be next.

Wynalda, a first-ballot National Soccer Hall of Fame inductee who played in three World Cups, starred in Germany and scored the first goal in MLS history, knows that it's possible.

"We didn't enter this competition because we thought this would be fun," the former goal-getter from Westlake Village, known to a new generation of fans as an at-times acerbic commentator on Fox's soccer coverage, told ESPN Los Angeles. "We really have high hopes. We set goals, we achieve them and we re-set."

Wynalda's got, as he puts it, "a bunch of guys that everybody knows who they are." There's former UC Santa Barbara star Danny Barrera (Thousand Oaks/Westlake HS), who trialed with the Chicago Fire during MLS's preseason after a stint in Serbia. And there's Artur Aghasyan, who has played with Real Salt Lake and been on trial a couple of times with Chivas USA. And Richard Menjivar (Panorama City/Monroe HS), a Cal State Bakersfield standout who impressed with El Salvador's U-23s during CONCACAF's Olympic qualifiers.

UCLA alum Eder Arreola (Chino Hills/Chino Hills HS), who was drafted in January by the Houston Dynamo and trained with Chivas USA, is with the club. So is former Galaxy/L.A. Blues defender Mike Randolph (Chino Hills/Ayala HS) and Cesar Rivera (Pomona/Garey HS and Mt. San Antonio College), who led the Blues in scoring last year. And goalkeeper Derby Carrillo (La Mirada/St. John Bosco HS and Cal State Dominguez Hills), whom El Salvador's national team has targeted.

And hopefuls such as Danny's brother, Diego (Thousand Oaks HS/Loyola Marymount), former U.S. youth national-teamer Pablo Cruz (Azusa), defenders Hector Espinoza (Garden Grove/Santiago HS and Santa Ana College) and Beto Navarro, and others.

They're all good players who have been overlooked or dismissed or something, and Wynalda's goal is to showcase their talents and help them find paths to the professional careers he thinks they deserve.

That's the whole point of Cal FC, which grew out of Wynalda's experiences the past couple of years working with Mexican third-tier club Murcielagos, which employed for a time current Chivas USA forward Cesar Romero.

"I think the one thing I could say," Wynalda said, "is I have a very high opinion of some of these guys, but I'm the minority when it comes to that. People just aren't seeing what I see."


October, 18, 2011
10/18/11
5:02
PM PT
By
Scott French
| ESPNLosAngeles.com
CARSON -- Next season has begun for Chivas USA, which already is in assessment mode -- with Robin Fraser and his staff determining who will return in 2012, who won't, and who might be worth bringing in.

There's still one game left on the schedule, Saturday night against Seattle at Home Depot Center, but it means nothing in the grand scheme, not much more than Tuesday's MLS Reserve League clash with Vancouver, a 1-0 triumph claimed on Victor Estupiņan's goal near the end of the first half.

Most newsworthy was a second-half appearance by French midfielder Nicolas Dieuze, a 32-year-old midfielder who has played alongside assistant coach Greg Vanney and midfielder Laurent Courtois.

Dieuze, out of contract since his pact with Grenoble Foot 38 expired last spring, came on at halftime for Mariano Trujillo and fared well in his first real action for the Goats.

"Where we are, we're open to everything, and we're looking at everyone," Fraser said. "We're going to look at everything we can see, everything we think might be worthwhile. With Nicolas, the opportunity to look at him came up, and we figured we'd take it."

Dieuze played with Courtois at Toulouse from 1999 to 2001, then was Vanney's teammate at Bastia from 2001 through 2003. He then returned to Toulouse for five years, spent a season with Le Havre and two at Grenoble.

"I think he's an excellent two-way midfielder," Vanney said. "He's an interesting player. We're always looking to gain some experience and look at players who can maybe help our team in the future."