Los Angeles Soccer:

Pablo Mastroeni
October, 30, 2011
10/30/11
9:34
PM PT
By
Scott French
| ESPNLosAngeles.com
Higher-seeded road teams won both Eastern Conference playoff openers Saturday, with conference champ Sporting Kansas City using two
Teal Bunbury
goals to knock off defending MLS Cup champion Colorado and Houston scoring twice in the first half en route to a victory at defensive-minded Philadelphia.

Bunbury scored four minutes into the second half and converted a penalty kick 10 minutes later to lead Sporting to a 2-0 triumph at Colorado, which missed injured captain
Pablo Mastroeni
and lost three more players -- forward
Caleb Folan
and defenders
Kosuke Kimura
and
Drew Moor
-- to injury.
Houston beat the Union, 2-1, with
Calen Carr
's 30th-minute strike making the difference after Dynamo defender
Andre Hainault
, from a
Brad Davis
set piece, and Philly's
Sebastien Le Toux
traded goals in the sixth and seventh minutes.
K.C. will be home for the second leg Wednesday, and Houston plays its home leg Thursday. The series winners meet in the Eastern final next Sunday.
Houston's win was its first in five meetings with Philadelphia, which debuted last year in MLS. Sporting's triumph hinged on Colorado defender
Tyrone Marshall
's nightmare of a night -- he was beaten by Bunbury on the first goal, then dragged down the speedy forward in the Rapids box for the PK, picking up a red card in the process.
November, 19, 2010
11/19/10
5:51
PM PT
By
Scott French
| ESPNLosAngeles.com
The Galaxy was mightily impressed by FC Dallas' victory in last weekend's Western Conference final, and a lot of their players think the Hoops' success will continue in Sunday's MLS Cup final against Colorado in Toronto (ESPN and Galavision, 5:30 p.m. PT).
Here's what a few had to say when asked to predict a winner:
GOALKEEPER DONOVAN RICKETTS:
"The team that beat us, 3-0. Dallas. They play pretty good football, so I pick Dallas. But I have to care for my Jamaican man, [Colorado forward
Omar
]
Cummings
. My head tells me Dallas, but my heart goes to Cummings."
MIDFIELDER CHRIS KLEIN:
"I think I would pick Dallas just because they're very difficult to beat. When you have the attacking weapons that they have, I think that maybe they have a little bit of an advantage. But you look at Colorado and you look at their two forwards [Cummings and
Conor Casey
] and you look at who they have in the center of the park [
Pablo Mastroeni
and
Jeff Larentowicz
], and I think it will pose a big challenge for [Dallas]."
DEFENDER TODD DUNIVANT:
"I think it will be a good game, but I would think it will be Dallas. I mean, they've only lost four games this season, and they've kind of done so under the radar. … Not a lot of people were talking about Dallas, and they've only lost four games in, what, 33 now? That's pretty incredible. That's an unbelievable record. That means they have a good team. I think they're obviously the favorites, but when you have Casey and Cummings up top, that's an unbelievable combo that can hurt you any time. It'll be a good game."
FORWARD/MIDFIELDER LANDON DONOVAN:
"It's going to be a good game. Mmmm. There's no two players playing better this season than Conor and Omar together, but in my opinion there's no one player who's more important to a team than [FC Dallas's
David Ferreira
]. It's going to be interesting. My guess is whoever scores first is going to win, because they're both very good counterattacking teams, and if you have to come at them and open yourselves up, Conor and Omar can make you pay, and Ferreira can make you pay going the other way. … Umm. I've got to say Dallas because we lost to them."
November, 13, 2010
11/13/10
9:21
PM PT
By
Scott French
| ESPNLosAngeles.com
A look at Saturday's Eastern Conference final:
IN BRIEF:
Colorado reached its second MLS Cup final -- its first in 13 years -- with a deserved 1-0 triumph over visiting San Jose in sub-freezing temperatures just outside Denver. … Right back
Kosuke Kimura
's cross sneaked into the net in the 43rd minute, but the Rapids would have had more if not for another superb performance by Earthquakes goalkeeper
Jon Busch
. … The Rapids await the winner of the Galaxy-FC Dallas clash in Sunday's Western Conference final at Home Depot Center.
BEST PLAYER:
It's
Omar Cummings
again. The speedy Rapids forward tormented the Quakes with runs through and behind the defense, constantly creating or exploiting space -- had his shot been on, he would have had a hat trick. He doesn't get an assist on Kimura's goal, but he deserves one: His near-post run froze Busch, allowing the in-swinging cross to skip past and inside the far post.
BEST GOAL:
There only was one, and, no, it wasn't a work of art, but who cares? Kimura, the only Japanese player in the league, scored his first goal of the campaign -- and just his third in four seasons -- with a sensational cross from the right flank after a throw-in. With
Bobby Convey
applying pressure, Kimura curled a left-footed ball toward Cummings, who split San Jose's
Jason Hernandez
and
Sam Cronin
to get free at the near post. At first, it looked like Cummings got a touch on the ball, sending it past Busch, but replays indicated the cross had sneaked through on its own, and Cummings acknowledged at halftime that he hadn't gotten a piece of it.
BIGGEST STOP:
Busch had plenty, including two big stops on Cummings and another on
Pablo Mastroeni
, but Brazilian forward
Geovanni
made the biggest, keeping the Quakes in the game by clearing
Drew Moor
's header from a
Wells Thompson
corner kick off the line at the right post in the 70th minute.
WORTH NOTING:
The Rapids are the third successive crossover finalist. New York, sent to the Western Conference bracket in 2008 after finishing fifth in the East, stunned Houston and Real Salt Lake to reach the MLS Cup final, and Real Salt Lake's title run last year went through the East after a fifth-place finish in the West. Colorado was, naturally, fifth in the West this year. … The Rapids upset Kansas City and Dallas en route to the 1997 MLS Cup final, but lost, 2-1, against D.C. United in front of 57,431 at RFK Stadium in Washington.
Jaime Moreno
and
Tony Sanneh
gave D.C., coached by current Galaxy boss
Bruce Arena
, a two-goal lead, and
Adrian Paz
got one back in the 75th minute for Colorado.
QUOTE OF THE DAY:
"I think the goal was maybe a little fortuitous, and he doesn't get on the score sheet all that often. … If there had been a bet on it, you would've had very long odds on Koski scoring the game-winner." -- Colorado head coach
Gary Smith
.
THE RESULTS
at Commerce City, Colo.

Colorado 1 (Kimura 43), San Jose 0
Western Conference final
Sunday: L.A. Galaxy vs. FC Dallas at Home Depot Center, 6 p.m., ESPN and ESPN Deportes
MLS Cup
Nov. 21: at Toronto, 5:30 p.m., ESPN and TeleFutura (KFTR/Channel 46)
All times Pacific

October, 29, 2010
10/29/10
8:45
PM PT
By
Scott French in Seattle
| ESPNLosAngeles.com
Major League Soccer's playoffs kicked off Thursday night, and it went just the way so many of us expected, with Omar Cummings running riot over the Columbus Crew.
Cummings' Colorado Rapids are a popular pick to reach the Eastern Conference final, even go further. That would fit nicely into an enduring (and somewhat aggravating) theme: The rise of the minnow.
The past two MLS Cup finals featured "crossover" clubs -- teams that were shuttled over to the other conference's postseason bracket after finishing outside the top four in its conference, then, somehow, pulled off two upsets to get through.
New York was fifth in the East in 2008, but it was the "Western" champ after stunning defending champ Houston and beating Real Salt Lake before falling to Eastern rival Columbus in the title game at Home Depot Center. Real Salt Lake's championship run last year started in the East -- the Utahns were fifth in the West -- with upsets of the Crew and Chicago before the penalty-kicks triumph over the Galaxy in Seattle.
October, 28, 2010
10/28/10
10:31
PM PT
By
Scott French
| ESPNLosAngeles.com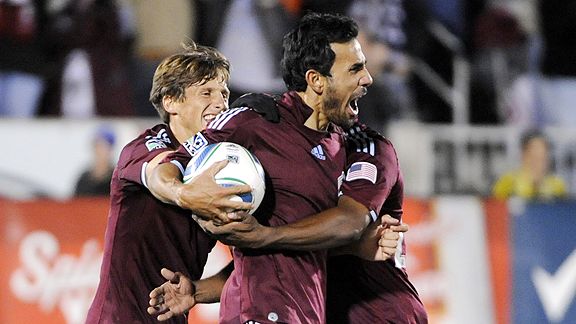 AP Photo/Jack Dempsey
Pablo Mastroeni and his Colorado teammates celebrate the game's only goal against the Crew.
IN BRIEF:
Colorado's first-half dominance paid off with a nifty goal, and the Rapids held off Columbus' late charge to open Major League Soccer's postseason with a 1-0 victory.
BEST PLAYER:
It was never a secret that the key player in this series would be speedy Rapids forward
Omar Cummings
, and he repeatedly tore apart the Crew's backline to run onto balls out of the midfield, most from strike partner
Conor Casey
and from
Brian Mullan
. He found space primarily on the right wing, slicing between big UC Santa Barbara alum
Andy Iro
and rookie left back
Shaun Francis
, then firing across the face of the goal or delivering dangerous balls for, primarily, Casey. He set up one goal and was unfortunate not to produce more.
BEST GOAL:
There was just one, in the 23rd minute, and it told the story of the game. Two quick passes out of midfield, the second a defense-splitting pass from Mullan to Cummings on the right flank, and the Jamaican forward sent in a low cross toward the goalmouth. Casey dragged Crew defender
Chad Marshall
(Riverside/Rubidoux HS) to the near post, then got a back-heel touch to the ball, helping it to the far post for
Pablo Mastroeni
, who raced in ahead of
Robbie Rogers
(Palos Verdes and Huntington Beach/Mater Dei HS) for the last touch.