Los Angeles Soccer:

Panama national team
June, 22, 2011
6/22/11
10:55
PM PT
By
Scott French
| ESPNLosAngeles.com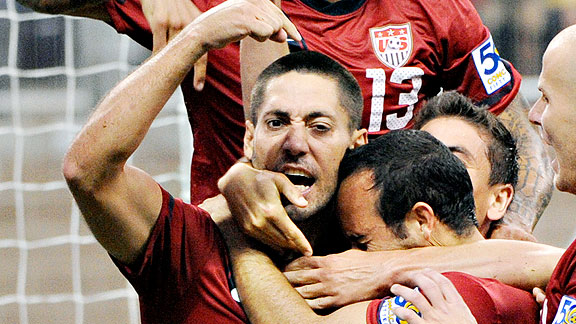 AP Photo/Dave EinselClint Dempsey and his U.S. teammates celebrate his goal in a 1-0 win over Panama.

It wasn't simple, but the U.S. and Mexico came through in Wednesday's CONCACAF Gold Cup semifinals in Houston to confirm their heavily anticipated showdown Saturday evening at the Rose Bowl.

The U.S. pulled out a 1-0 triumph over Panama as Clint Dempsey knocked home a brilliant feed from Landon Donovan in the 77th minute to send the Yanks to a record fourth successive title-game appearance in the region's nations championship.

Mexico needed overtime goals from Aldo de Nigris and Javier "Chicharito" Hernandez to conquer Honduras, 2-0, in the nightcap in front of 70,267 spectators at Reliant Stadium. Will the extra 30 minutes provide a boost for the Americans, who spent less time on the field and were finished 3½ hours earlier than their archrivals?

CONCACAF officials announced Wednesday that the game at the Rose Bowl, slated for a 6 p.m. kickoff, is a sellout. It will be the first meeting between the U.S. and Mexico in Southern California since October 2000.

The teams have met in four previous finals, with Mexico winning in 1993 (4-0), 1998 (1-0) and 2009 (5-0) and the U.S. prevailing four years ago, a 2-1 thriller sending the Yanks to the 2009 FIFA Confederations Cup, where they stunned Spain and nearly toppled Brazil in the final.

Saturday's winner will claim a berth in the 2013 FIFA Confederations Cup in Brazil, a precursor to the World Cup the following summer.

A quick look at the 18th day in the Gold Cup:

LANDON AND FREDDY SHOW: Donovan came off the bench again and Freddy Adu made his first appearance in the tournament, and they teamed with Dempsey to propel the U.S. to avenge its group-stage loss to Panama and advance to its eighth final since CONCACAF went to the Gold Cup format in 1991.


June, 19, 2011
6/19/11
9:24
PM PT
By
Scott French
| ESPNLosAngeles.com
Bob Bradley and the U.S. national team answered their critics Sunday with an exquisite performance, dominating Jamaica to set a rematch with Panama in the CONCACAF Gold Cup semifinals.
Jermaine Jones
' deflected volley at the start of the second half made the difference in the 2-0 triumph, and without the deflection -- and an unfortunate red card -- the opening quarterfinal in Washington would have gone to overtime and perhaps penalty kicks.
Galaxy goalkeeper
Donovan Ricketts
was
that
good -- easily the best player on the field, making six saves ranging from merely great to oh-my-God sensational to prevent the Yanks from ringing up an impressive scoreline.
Clint Dempsey
added a late goal, benefiting from the red card to Houston Dynamo defender
Jermaine Taylor
and the Reggae Boyz's need to push forward in search of an equalizer.
Panama, which stunned the U.S. in group play, did its part in the nightcap, winning on penalties after rallying for a 1-1 draw with El Salvador, which was supported by a vocal crowd of 45,423 at RFK Stadium in Washington.
A ninth-minute hamstring injury to
Jozy Altidore
, who was stretchered off the field with his face buried in his hands, marred a U.S. triumph that should -- but won't -- subside calls to end Bradley's tenure. The Manhattan Beach-based coach has always had his critics, but he's been particularly under fire after a disastrous showing in the pre-Gold Cup friendly with Spain was followed by poor performances against Panama and Guadeloupe.
Some of the criticism is on target. The U.S. has a knack for going behind early -- we saw it at the World Cup last year, and with better finishing Guadeloupe and Jamaica would have joined Panama with a quick lead. In a sport in which comebacks are difficult, it's a major concern, and it points to problems with preparedness.
The U.S. performance against Jamaica answers so many questions, and if it's something Bradley's boys can build upon -- if it is imbedded in the fabric of the team rather than a wonderful one-off -- it could open a path to unprecedented play and, perhaps, success.
But let's not get ahead of ourselves. As good as Jamaica has been in this Gold Cup -- watch out for the Reggae Boyz in World Cup qualifying! -- Mexico is a different animal, and El Tri won't sit back and counter, as the Jamaicans tried to do.
Play with this kind of verve, with all the possession and interchange, against Mexico -- and then against the Europeans and South America's giants -- and we might have something here.
A quick look at the 15th day in the region's nations championship:
SALUTING JONES:
Jones, the German-born and -bred son of an American serviceman, offered a Father's Day military salute after he volleyed Taylor's clearance from 25 yards to give the U.S. a 49th-minute lead.
June, 14, 2011
6/14/11
10:30
PM PT
By
Scott French
| ESPNLosAngeles.com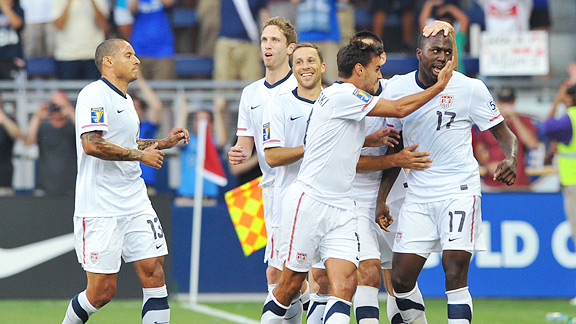 Stan Honda/AFP/Getty ImagesThe U.S celebrates Jozy Altidore's goal in a 1-0 victory Tuesday over Guadeloupe.

The follies in front of the net got worse for the U.S. national team Tuesday night, but they couldn't derail the Yanks from the business at hand: nailing down a CONCACAF Gold Cup knockout-stage berth that should have come far more easily.

Jozy Altidore's stirring strike to the upper-right corner in the ninth minute was enough for a 1-0 victory in Kansas City, Kan., that gave the Americans second place in Group C and a quarterfinal date Sunday with Jamaica in Washington.

El Salvador also got through to the quarters, qualifying when Panama rallied in stoppage time to tie Canada, 1-1, in the first game of the doubleheader. The Canucks were eliminated as all five Central American teams advanced from the group stage.

Panama's surprising victory Saturday over the U.S. had minimal impact on the bracket, merely giving the U.S. a tougher quarterfinal foe (Jamaica rather than El Salvador) but one it will be expected to defeat. Anything other than a U.S.-Mexico final on June 25 at the Rose Bowl would be a surprise, although the Jamaicans were more impressive than the Americans in group play -- and Mexico looks, frankly, unbeatable by anyone else here.

That includes the U.S., which looked far sharper while dominating Guadeloupe than it did against Panama, especially at the back, but was incomprehensibly sloppy in front of the net.

Big news off the field, too, with word that doping tests Friday at UCLA on the five suspended Mexican players all turned out negative for clenbuterol, a drug for treating respiratory diseases in horses that can build muscle. The players are requesting analysis of their "B" samples from the May 21 tests in Mexico.

A quick look at the 10th day of group play in the region's nations championship:

U.S. DOES JUST ENOUGH: Altidore offered a goal-of-the-tournament candidate (actually, a runner-up candidate; nothing will beat Mexican winger Andres Guardado's volley Sunday), but the Yanks could do little else right when they had a chance. They blew at least three sure-thing opportunities -- and those by Landon Donovan and, twice, Clint Dempsey, their surest finishers -- and were thwarted by Guadeloupe's fine goalkeeper Franck Grandel.


June, 11, 2011
6/11/11
9:04
PM PT
By
Scott French
| ESPNLosAngeles.com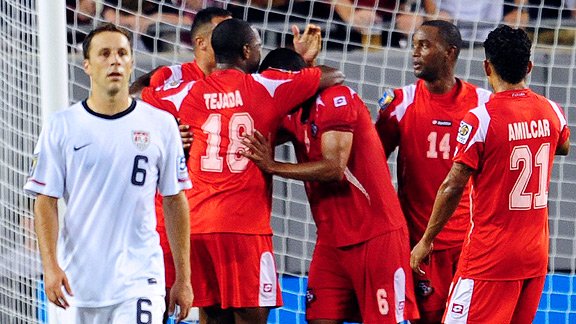 Mark Ralston/AFP/Getty ImagesDespite a second-half surge, the U.S. lost its first group-stage match in Gold Cup history when Panama beat the Americans 2-1 in Tampa, Fla.

A stunning result in Tampa left the U.S. uncertain of reaching the CONCACAF Gold Cup's knockout stage, although it would require an upset more shocking than Panama's 2-1 decision Saturday -- and that's just a start.

The Canaleros scored twice in the first half, the second on a penalty kick, then held on as the U.S. applied heavy pressure the final 45 minutes of the showdown for the Group C lead, halving the deficit through a Clarence Goodson header.

It was the first victory by Panama in nine meetings with the U.S., which had ended the Central Americans' runs in the previous three Gold Cups and had never lost during the group stage in the first 10 tournaments. The teams could meet again in the June 22 semifinals in Houston.

Panama clinched a quarterfinal berth with the victory, and the U.S. almost certainly will join them in the knockout rounds, but if four matches go the wrong way, the Yanks will be finished.

Three of those results -- El Salvador over Cuba in Group A, Guatemala over Grenada in Group B, and Canada tying or beating Panama -- are well within reason. The fourth: Winless Guadeloupe beating the U.S. in Tuesday's Group C finale in Kansas City.

Canada commands its Gold Cup destiny after a 1-0 decision over Guadeloupe on a Dwayne De Rosario penalty kick.

A quick look at the seventh day of group play in the region's nations championship:

YANKS FALL: Second-year pro Tim Ream, thought to be the future at center back for the U.S., endured a first-half nightmare that probably cost the Americans a shot at the Group C title.

Ream lost track of Luis Tejada, who finished Armando Cooper's header from a superb Gabriel Gomez cross to provide Panama a 19th-minute advantage, and brought down Blas Perez in the box to set up Gomez's 36th-minute penalty kick.


June, 7, 2011
6/07/11
8:49
PM PT
By
Scott French
| ESPNLosAngeles.com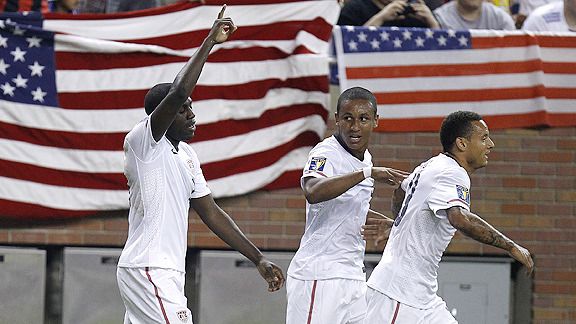 Gregory Shamus/Getty ImagesThe Americans put the Spain debacle behind them with an impressive 2-0 win over Canada in their opening match of the Gold Cup.
Jozy Altidore punctuated a confidence-building performance with a goal and an assist, Tim Howard came up big at the end, and the U.S. national team put last weekend's fiasco against Spain behind them with an impressive start to the CONCACAF Gold Cup.

Altidore scored from a Landon Donovan pass in the first half and set up Clint Dempsey in the second of a 2-0 Group C triumph over Canada in Detroit.

Coupled with an at-times scintillating doubleheader opener, in which Panama held off 10-man Guadeloupe, 3-2, it made for the best day yet in the region's nations championship.

A quick look at the third day of group play:

BACK IN STRIDE: The U.S., so out of sorts against the masterful Spaniards (in everything from lineup to tactics to inability to compete), looked like a title-game shoo-in against a game Canadian side, dominating throughout to take charge in Group C.