Los Angeles Soccer:

Paramount High School
March, 11, 2012
3/11/12
10:08
AM PT
By
Scott French
| ESPNLosAngeles.com
Paramount High School claimed its second CIF Southern California Regional boys' soccer title in three years thanks to first-half precision and suffocating defense.

The Pirates (25-4-3) ended Crescenta Valley's quest for an unbeaten season, holding on for a 2-1 victory in the Division I final Saturday night at Warren High School in Downey.

Jesus Alvarez headed home a Jose Ochoa corner kick in the 30th minute, and Miguel Rueda knocked in a loose ball after a long Ochoa throw-in in the 37th to give Paramount a two-goal advantage by halftime.

Paramount won its third straight CIF Southern Section title last week, beating Oxnard's Channel Islands in the Division 3 final at Warren. Crescenta Valley (22-1-7), from La Crescenta, captured the Division 4 championship.

The Falcons struggled to break down Paramount's defense, which used Alvarez and Tommy Osorio to smother star UC Irvine-bound forward Pavle Atanackovic, who came into the game with 38 goals.

"Our game plan was first of all to stop the middle," Paramount co-coach Rafa Villasenor told the Glendale News Press. "If [Atanackovic] doesn't receive any balls, he pretty much is invisible in the game, and that's what we pretty much did."

Salar Hajimirsadeghi's free kick with seven minutes to play halved the deficit, and Paramount weathered a late Crescenta Valley charge to prevail.

In other games:

Santa Margarita Catholic 2, Bishop Amat: Samantha Trenary scored in the 72nd minute, and the Eagles (18-5-4) pulled out the Division II girls title, making the Rancho Santa Margarita school the second to win Southern California Regional titles in boys and girls soccer.


March, 3, 2012
3/03/12
10:11
PM PT
By
Scott French
| ESPNLosAngeles.com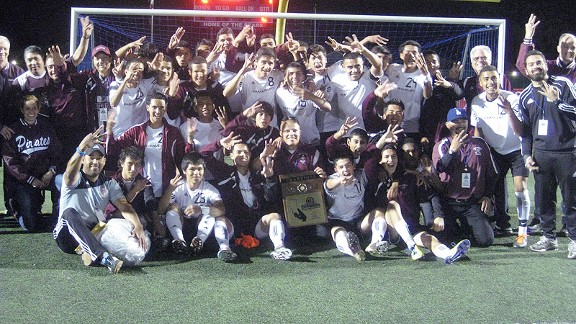 Scott French/For ESPNLA.com The Paramount boys' soccer team won its third consecutive CIF-SS championship Saturday.

DOWNEY -- Paramount High School had just claimed its third successive CIF Southern Section boys soccer title, an achievement that had several Pirates in tears -- and one of them prostrate, in a sort of blubbering ecstasy.

It's just a start.

Paramount became the third school to win three straight boys' soccer titles Saturday evening, rallying from a quick deficit to upend Channel Islands, 2-1, in the Division 3 final at Warren High School.

Frankie Perez and Jesus Alvarez scored the goals for the Pirates (22-4-3), who have their sights set on something bigger.

Two years ago, after their first championship, Paramount marched to the CIF Southern California Regional Division I crown. Last year's group fell short. This year's team has a statement to make.

"After we lost last year in the quarterfinals, it's still here -- in our heart," co-coach Rafa Villaseñor said. "These kids want that bad. They want it real bad.

"I know tomorrow when we find out if we're in [this year's regional field] -- hopefully, you know? And start all over from scratch, and how bad do they want it. And that's been our motto, and they want it bad, as you can see."

Paramount demonstrated how badly they wanted the section championship, dominating Oxnard's Channel Islands (19-3-4) after falling behind less than two minutes after kickoff. A quick counter left Ricardo Blancas alone with Pirates goalkeeper Tony Maldonado, and he did not miss.

It was Paramount's game the rest of the way.


February, 29, 2012
2/29/12
4:01
PM PT
By
Scott French
| ESPNLosAngeles.com
Ventura High School's boys soccer team had scored 99 goals in its first 29 games. Marina's had conceded eight in its first 27. When the teams faced off in Tuesday's CIF Southern Section Division I semifinal, the advantage went to the Cougars.
J.J. Leon
scored a goal and assisted another -- delivering a cross for
Erick Sandoval
-- to send Ventura (23-0-7) to a 2-0 victory over their Huntington Beach-based foe (18-3-7) and into Saturday night's final against second-seeded Millikan (25-2-4).
The Rams, from Long Beach, rallied from a two-goal deficit after just 15 minutes to tie Los Angeles' Loyola (22-4-6) in the other D1 semi, then prevailed on penalties when
Steven Barrera
made two saves in the shootout.
Millikan, in its second final in four years, received goals from
Kyle Nicolau
before halftime and
Jaime Salazar
in the closing minutes.
In other CIF Southern Section boys semifinals:
Capistrano Valley 2, La Sierra 1:
The Cougars (11-12-4), from Mission Viejo, scored twice in the final three minutes to upset Riverside's La Sierra (18-5-5) and reach their second straight Division 2 final.
Kevin Baboiyan
knocking home the rebound when Eagles goalkeeper
Victor Rodriguez
saved
Dylan Browning
's penalty kick, and Browning netted the winner a minute later, appearing to deflect the ball into the net with his upper arm.
Valley View 2, Coachella Valley 1: Danny Rivas
scored with four minutes to go in regulation to tie the score and
Miguel Hernandez
tallied in overtime to lead the second-seeded Eagles (19-2-6), from Moreno Valley, to a 2-1 Division 2 triumph at Thermal's Coachella Valley (14-7-1).
Paramount 3, Santa Ana Valley 1: Tommy Osorio
scored in the fourth minute,
Danny Garcia
in the 15th, and the second-seeded Pirates (21-4-3) continued their quest for a third successive Division 3 championship. It was Paramount's third postseason victory over the Falcons (17-8-2) in three seasons, including a triumph en route to the Southern California Regional championship -- the closest thing California has to a state title -- two years ago.
Channel Islands 2, Palmdale 0: Everaldo Fernandez
converted a 62nd-minute penalty kick and
Hector Mottu
scored nine minutes later as the Raiders (19-2-4), from Oxnard, toppled Palmdale (25-4-0) in a Division 3 clash.
March, 6, 2011
3/06/11
10:24
PM PT
By
Scott French
| ESPNLosAngeles.com
Three Southern California schools will be looking to repeat as, well, the closest thing California has to state high school soccer champions, and they're not the only local teams expecting success.
The fourth edition of the CIF Southern California Regional Championships begins Monday, and teams from the Southern Section are reasonably expected to dominate. All six titles last year were won by teams from the state's largest section, with five of the six losing finalists also from the Southern.
Included among the victors: Paramount (boys Division I), Salesian (boys Division III) and Flintridge Sacred Heart (girls Division III), who have returned to defend their crowns.
They're among 24 Southern Section schools, with six more from the L.A. City Section, in six eight-team brackets leading to title games Friday and Saturday at Warren High School in Downey.
The tournament also includes schools from the San Diego and Central sections. The Central Section is for schools in the southern Central Valley, stretching just north of Fresno.
March, 6, 2011
3/06/11
3:33
PM PT
By
Scott French
| ESPNLosAngeles.com
Cory Hodge delivered to Claremont High School its first CIF Southern Section boys soccer title in 17 years, heading home an overtime throw-in as the Wolfpack posted an improbable 3-2 victory over Capistrano Valley in the Division 2 final Saturday night at Mission Viejo High School.
Hodge outleapt Capo Valley's backline to flick
Brennen Carter
's throw-in into the net 5½ minutes into the extra period as Claremont (21-1-5) weathered a hectic finish to regulation and start to overtime to snare their second boys soccer championship.
Capistrano Valley, from Mission Viejo, twice rallied from deficits, with
Kyle Smith
knotting the score, 2-2, with 43 seconds remaining in regulation. But the Cougars (16-6-7) were twice denied winning goals, with
Mario Soto
's strike hitting the net just after time expired in the second half and a controversial offside call waving off Smith's redirection of
Luis Vasquez
's free kick three minutes into OT.
Steven Barba
gave Claremont a third-minute goal, and
Kevin Baboiyan
pulled the Capo Valley even with a 56th-minute penalty kick after a Hodge hand ball. Carter restored the lead in the 65th.
Southern Section finals Friday and Saturday also were played at Warren High School in Downey.
In other championship games:
DIVISION 1
San Clemente 2, Santa Barbara 1
Kevin Gould
and
Bryan Fouch
scored first-half goals and the Tritons (17-6-6) staved off a second-half surge by Santa Barbara to win their first boys soccer title. Gould knocked home a rebound in the 17th minute and Fouch tallied after a
Fabian Caudillo
takeaway in the final minute of the half. The Dons, who won the Division 2 championship last year and were seeking their seventh boys soccer title, applied heavy pressure throughout the second half and halved the deficit on
Sanford Spivey
's 57th-minute goal.
DIVISION 3
Paramount 2, Fontana 1
The fourth-seeded Pirates (18-2-6) claimed their second successive Division 3 title, holding on for the final half-hour after a red card left them with 10 players.
Edgar Martinez
scored in the first minute and
Salvador Velasquez
made it 2-0 after dispossessing a defender four minutes into the second half, but Fontana, which won three playoff games in overtime, applied heavy pressure after
Alejandro Muñoz
was sent off with 29 minutes to go.
Mishael Cano
tallied in the 78th minute for the Steelers. Paramount goalkeeper
Tony Maldonado
made a diving stop on
Isac Fonseca
's first-half penalty kick.
March, 1, 2011
3/01/11
8:44
PM PT
By
Scott French
| ESPNLosAngeles.com
The Galaxy's youngest player has arrived in Southern California after leading the U.S. under-17 team to the regional championship, and he'll train with the first team for the first time Thursday.
He accomplished more pressing business first, joining his former teammates at Corona del Mar High School for a bus trek to its CIF Southern Section Division 3 semifinal game Tuesday afternoon at Paramount High and cheering on the Sea Kings in a 2-1 defeat.

McBean
Afterward, 16-year-old forward
Jack McBean
said he was excited to be joining the Galaxy and hoped he could reward their faith in him.
"I know I'm not going to go in there and start right away, because they have
Juan Pablo
[
Angel
] and
Landon
[
Donovan
]," said McBean, who signed as a "Home Grown Player" in January but has been with the U.S. U-17s as they prepared for and played in the CONCACAF championship.
"I want to improve my game the best I can, take all the experience I can as a young player, have an open mind to things, try to get better every day and see where that takes me."
McBean's life has been a whirlwind the past few months. He left Corona del Mar to join the U.S. under-17 residency in Bradenton, Fla., then signed with the Galaxy, then played a pivotal role -- assisting two goals and setting up a third -- in the Americans' 3-0 overtime triumph over Canada in Sunday's final in Jamaica.
He's not expected to play much, if any, first-team soccer for the Galaxy this season, instead learning in practice and in reserve games, playing for the club's youth Academy team and featuring for the U.S. U-17s, who are headed to the June 18-July 10 FIFA U-17 World Cup in Mexico.