Los Angeles Soccer:

Patrick Ianni
November, 24, 2010
11/24/10
1:19
PM PT
By
Scott French
| ESPNLosAngeles.com
Chivas USA captain Jonathan Bornstein, who is headed in January to his mother's native Mexico to join UANL Tigres, can no longer call himself a Goat.

The U.S. national team defender was a surprise selection by the Portland Timbers in Wednesday's Major League Soccer expansion draft, although he has no plans to head north.

Bornstein (Los Alamitos/Los Alamitos HS and UCLA) was the 15th selection in the draft, through which the Timbers and Vancouver Whitecaps, making the leap from the second-tier USSF D2 Pro League to MLS, are building their rosters for next season. Each took 10 players from the existing 16 clubs' unprotected lists.

Chivas USA forward Alan Gordon, who played all or part of seven seasons for the Galaxy before an Aug. 5 trade, was taken by Vancouver with the 10th pick. Chivas USA, allowed to add a 12th player to its protected list following Gordon's selection, took defender Mariano Trujillo off the table.

No Galaxy player was taken in the draft.

Chicago Fire midfielder John Thorrington (Palos Verdes Estates/Chadwick School) was the final selection, taken by Vancouver.

Defender Patrick Ianni (UCLA) was added to Seattle's protected list when Vancouver made Sanna Nyassi its first pick. Goalkeeper Chris Seitz (San Luis Obispo/Thousand Oaks HS) was added to Philadelphia's protected list when Vancouver selected Shea Salinas with the eighth pick.

Bornstein, who played for the U.S. at the World Cup in South Africa, has a four-year contract with Tigres, but Portland would hold his MLS rights indefinitely. If the veteran left back/midfielder were to return to MLS, he would return as a Timber.

Bornstein was a Chivas regular from the moment he arrived in the 2006 draft. Then-Goats coach Bob Bradley converted him from a forward/midfielder to left back, and he rewarded the club with an MLS Rookie of the Year performance. He played a club-record 131 MLS games for Chivas, scoring nine goals with 10 assists.

Gordon, 29, scored once with three assists in nine appearances from the Goats after arriving from the Galaxy. He scored 16 goals with 12 assists in 106 MLS games for L.A.

Portland's selections:

1. Dax McCarty (FC Dallas), midfielder
2. Eric Brunner (Columbus), defender
3. Adam Moffat (Columbus), midfielder
4. Anthony Wallace (Colorado), defender
5. David Horst (Real Salt Lake), defender
6. Robbie Findley (Real Salt Lake), forward
7. Peter Lowry (Chicago), midfielder
8. Jonathan Bornstein (Chivas USA), defender/midfielder
9. Jordan Graye (D.C. United), defender
10. Arturo Alvarez (San Jose), forward

Findley, a former Galaxy forward who played for the U.S. in South Africa, has said his intention is to play in Europe. McCarty, taken with the No. 1 overall selection, was a key figure in FC Dallas' run to the MLS Cup final.

Vancouver's selections:

1. Sanna Nyassi (Seattle), midfielder
2. Atiba Harris (FC Dallas), midfielder/forward
3. Nathan Sturgis (Real Salt Lake), midfielder
4. Shea Salinas (Philadelphia), midfielder
5. Alan Gordon (Chivas USA), forward
6. O'Brian White (Toronto FC), forward
7. Alejandro Moreno (Philadelphia), forward
8. Joe Cannon (San Jose), goalkeeper
9. Jonathan Leathers (Kansas City), defender
10. John Thorrington (Chicago), midfielder

Harris is a former Chivas USA player. Sturgis, Moreno and Cannon previously played for the Galaxy.


November, 23, 2010
11/23/10
1:10
PM PT
By
Scott French
| ESPNLosAngeles.com
Twenty-one players with Southland roots will be available to the Portland Timbers and Vancouver Whitecaps in Wednesday's Major League Soccer expansion draft.

The full list of available players can be found at MLS's Web site.

Here are the local guys on the unprotected list:


November, 16, 2010
11/16/10
11:04
AM PT
By
Scott French
| ESPNLosAngeles.com
Two local Premier Development League clubs -- Orange County Blue Star and the Southern California Seahorses -- are being recognized for their longevity by the United Soccer Leagues.
They're among six USL clubs, and three from the PDL, receiving "10+" honors at the organization's Hall of Fame banquet Friday in Tampa, Fla.
Blue Star joined the PDL in 2001 and has helped develop former Chivas USA captain Sacha Kljestan (Huntington Beach/Huntington Beach HS), now with Belgium's RSC Anderlecht, as well as Columbus Crew winger Robbie Rogers (Palos Verdes and Huntington Beach/Mater Dei HS), Kansas City Wizards wing-forward Kei Kamara (Lawndale/Leuzinger HS and Cal State Dominguez Hills), Seattle Sounders midfielder Brad Evans (UC Irvine) and Chivas USA midfielder Sal Zizzo (UCLA). The biggest name to play for the OC team: Juergen Klinsmann, who used the pseudonym Jay Goeppingen, taking the last name from the town of his birth.
The Seahorses, who are based in La Mirada, also debuted in 2001 and are affiliated with Missionary Athletes International, a Christian sports ministry, and a sister club to USL Second Division power Charlotte Eagles. Alumni include Columbus Crew forward Steven Lenhart (Yorba Linda/Esperanza HS and Azusa Pacific), Seattle Sounders defender Patrick Ianni (UCLA) and former Galaxy defender Adam Frye (UCLA) and midfielder Josh Hansen, who plays for USSF D2 Pro League champion Puerto Rico Islanders.
Three clubs with Major League Soccer connections -- the Chicago Fire's PDL side and the Seattle Sounders' and Vancouver Whitecaps' women's teams -- also are being recognized. So is USL Pro club Pittsburgh Riverhounds.
November, 7, 2010
11/07/10
11:56
PM PT
By
Scott French
| ESPNLosAngeles.com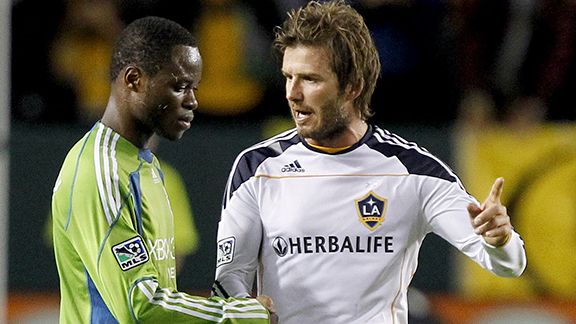 AP Photo/Alex Gallardo
The Galaxy's David Beckham, right, says of his first assist off a corner kick: "The ref pointed over to the side where I went." Seattle coach Sigi Schmid says Beckham outsmarted the referee to give himself a more favorable position.
CARSON, Calif. -- It was certainly a frustrating playoff series for Seattle coach
Sigi Schmid
. The Galaxy's defensive mindset greatly limited what his usually dynamic attack could do, and when chances showed up, the finish left much to be desired.
But the former Galaxy coach, who grew up in L.A. and Torrance, played at Bishop Montgomery High School and played and coached at UCLA, was not in a generous mood after either of the Sounders' losses.
After the first game, in Seattle, he called
Edson Buddle
's sensational strike in a 1-0 Galaxy victory "fortunate," dismissing it as a shot in which "he just turns and hits the ball in basically the direction of the goal. It can go anywhere, and it went in."
After Sunday's loss in another game largely defined by the Galaxy's superb defensive effort over the first hour, he said that he "thought we did more things to ourselves in the first half" than the Galaxy did, then expressed his dismay that referee
Baldomero Toledo
and his linesmen let the craftier Galaxy get away with gamesmanship.
He's right, in part. L.A. was the craftier side, the more veteran side, just as the Galaxy were in the first leg a week ago. It was the foundation of their defensive superiority and their ability to attack more effectively with fewer chances.
Schmid was especially unhappy with the Galaxy's first goal Sunday, a
David Beckham
corner kick that floated over three players -- 6-foot-5 Galaxy defender
Omar Gonzalez
and Sounders defender
Patrick Ianni
and forward
Blaise Nkufo
-- to Buddle, who shook off
Tyrone Marshall
to nod the ball powerfully past goalkeeper
Kasey Keller
and into the net.
November, 7, 2010
11/07/10
10:02
AM PT
By
Scott French
| ESPNLosAngeles.com
Todd Dunivant is ready to go for the Galaxy and Jeff Parke is unlikely to suit up for the Sounders in Sunday's clash at Home Depot Center (ESPN and ESPN Deportes, 6 p.m.)

More important: David Beckham should be at full strength after testing his Achilles' tendon in last week's first leg on Qwest Field's artificial surface. The English midfielder, who missed six months after rupturing the left Achilles' last March while playing for AC Milan, said after the Galaxy's 1-0 victory in Seattle that it was sore throughout the match.

"It's taken me a few days to get over it, I must admit," Beckham said Friday. "It was the first time I played on [artificial] turf since the Achilles'; I'm almost recovered from it. … It's an aching kind of thing for a good few days. After each game, there's an aching effect, but after the game the other day there was more so."

It seems everyone was affected by the Qwest turf in some manner.

"When you play on turf, everyone comes off the field sore," Galaxy coach Bruce Arena said. "A bunch of guys were hurting on Tuesday. The surface is tough. I think the soreness is kind of natural."


November, 3, 2010
11/03/10
7:12
PM PT
By
Scott French
| ESPNLosAngeles.com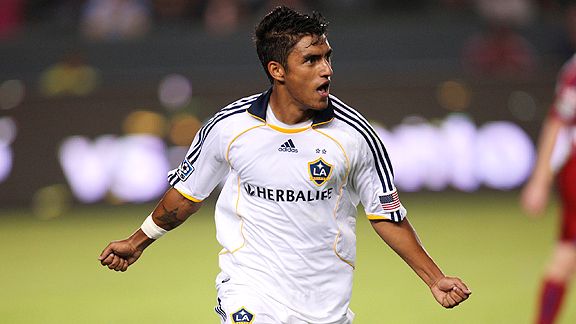 Robert Mora/MLS via Getty Images
A.J. DeLaGarza, above, has teamed on the Galaxy with former college teammate Omar Gonzalez to form a solid tandem along the backline.
The Galaxy expects
Todd Dunivant
and
Gregg Berhalter
to be ready for Sunday's second leg of their first-round playoff series against Seattle. Doesn't mean either will be in the starting XI.
L.A.'s defensive performance in the series opener in Seattle could mean another starting assignment for
Eddie Lewis
, whose expertise in shutting down the Sounders' right-flank attack was vital to last weekend's 1-0 victory, and
A.J. DeLaGarza
, who has partnered
Omar Gonzalez
in central defense in four of the Galaxy's last five games.
Dunivant, who suffered a right hamstring strain in training Thursday and was a game-time decision last Sunday to sit out, said an MRI this week showed no significant damage. He practiced fully Wednesday, the Galaxy's first full training session this week, said he was "very optimistic" he'd be available this weekend.
"I'm trying to be smart about it and ease into the week a little bit, not test it too much," said Dunivant, the Galaxy's first-choice left back. "But I did everything today and didn't have any restrictions. So that's a good sign."
Dunivant likely will return to the lineup if he's fit, although he said the Galaxy was "in good hands either way" coach
Bruce Arena
decides to go.
IN THE MIDDLE:
Berhalter, who has started just once (Oct. 16 in a 3-1 loss to Colorado) since he was hit with what's been described as a mysterious virus in mid-October, was a late substitute in Sunday's game. Asked if he could go 90 minutes if called upon, he said: "That's a tough question. Of course, I'm there to help the team, do whatever the coach asks me to do."
October, 31, 2010
10/31/10
11:14
PM PT
By
Scott French
| ESPNLosAngeles.com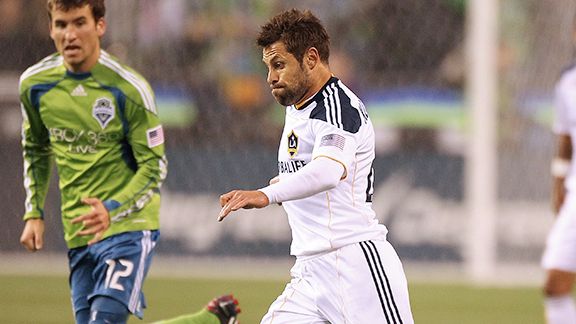 US Presswire
Dema Kovalenko of the Galaxy dribbles against Nathan Sturgis (12) of the Sounders during Sunday's playoff game.
SEATTLE -- The Galaxy heads home for the second leg of their first-round Major League Soccer playoff series against the Seattle Sounders with a 1-0 advantage after a near-perfect performance in an encounter so ugly it was, well, beautiful.
You'll find little agreement on that among anyone who watched -- especially the disappointed 35,521 packed into Qwest Field -- and few who played. Saturday's was a chippy, disjointed affair that favored the Galaxy on two fronts:
Edson
Buddle
's miracle goal in the 38th minute and
Donovan Ricketts
' stalwart performance in the nets.
The beauty was in the precision with which the Galaxy engineered its disrupt-and-disgust game plan and how effectively it took the Sounders out of their game.
How did L.A. pull it off? Here are three reasons:
1. DEMA'S BOOTS
Ukrainian-born
Dema Kovalenko
is the fiercest (opponents might say dirtiest) tackler in MLS, and he was going to kick shins and keep kicking shins until referee
Ricardo Salazar
finally produced a yellow card.
It took Salazar, who had several conversations about tactics with the Galaxy defensive midfielder, until the 65th minute, and by then Kovalenko had forced the Sounders -- looking to play fluid, passing soccer on the slick, quick artificial turf -- completely off their game.
"I think they thought they'd have an easy game," Kovalenko said. "You know, [
Osvaldo
]
Alonso
likes to get the ball and spray and this and that, but not today, my friend. Not today."
Sounders coach
Sigi Schmid
declined to talk about the brutality -- "The refs are the refs," he offered -- but he had a word with Salazar.
"This guy went to the referee and said I should be out of the game. I heard him saying it, you know what I mean?" Kovalenko said. "He can say what he wants, it doesn't matter."
Frustratring foes is Kovalenko's game. It's, he said, "what I had to do. It's physical. … If the referee thinks its a yellow card, it's a yellow card. But you don't have to tell him what's going on. So I told [Schmid] something, too, you know what I mean?"
Once cautioned, Kovalenko's effectiveness was done. A second yellow is a red card, and he'd have been out of next Sunday's second leg at the Home Depot Center. Galaxy coach
Bruce Arena
pulled him five minutes later.
October, 31, 2010
10/31/10
8:46
AM PT
By
Scott French in Seattle
| ESPNLosAngeles.com
There are, as Seattle Sounders coach Sigi Schmid put it, "games within the game" that will determine the outcome in the first leg of the Galaxy's first-round Major League Soccer playoff series Sunday at Seattle.
Here are three of those "games":
1. STEVE ZAKUANI VS. SEAN FRANKLIN, ET AL
Zakuani, whom Seattle made the top overall pick out of NCAA powerhouse Akron in the 2009 draft, has every tool and has learned in two professional campaigns how to use them. Now there's talk in England about bringing him home.
The Congolese-born, London-raised winger has immense speed, skill, power and self-confidence -- lots and lots of self-confidence -- and he delights in running at defenders, beating them one-on-one, then feeding teammates or scoring himself. He has a superb relationship with
Fredy Montero
, the Sounders' attacking engine, and benefits from striker
Blaise Nkufo
's ability to hold the ball.
Zakuani plays on the left, meaning that
Sean Franklin
, the Galaxy's fastest backliner, will have foremost responsibility to, uh, slow him down.
"It's impossible to slow him down, because he's so quick," said
David Beckham
. "But I've always said the game's not about pace all the time. It's about making the right passes and being clever about things. We know that if we pass the ball around well and we play our own football, then I don't see it being a problem."
October, 31, 2010
10/31/10
12:43
AM PT
By
Scott French in Seattle
| ESPNLosAngeles.com
The Galaxy's dominance of its series with Seattle this season has some of the Sounders clamoring for revenge. Bruce Arena doesn't think a whole lot of that kind of talk.
L.A.'s 4-0 rout May 8 at Qwest Field was comprehensive. The 3-1 triumph July 4 at Home Depot Center was nearly as one-sided.
"I wanted L.A. from the beginning," Sounders winger
Steve Zakuani
said
earlier this week in The Seattle Times
. "Of course, it's going to be very tough. They beat us twice in the regular season, but I think we owe them one, and we're ready."
The Sounders of May and July bear little resemblance to today's team:
Gone is Swedish midfielder Freddie Ljungberg, sent to Chicago in a midseason trade after dividing the Sounders' locker room.
October, 30, 2010
10/30/10
11:14
PM PT
By
Scott French in Seattle
| ESPNLosAngeles.com
Some things will mean more than others when the Galaxy and Seattle Sounders open their Major League Soccer first-round playoff series Sunday at Qwest Field (ESPN2 and ESPN Deportes, 5 p.m.):
1. WINNING … OVERRATED
At least for the Galaxy it is. For Seattle? Winning is a must.
Think of the opener in the two-game, total-goals series not as a 90-minute game but, rather, as the first half in a 180-minute game. The final score is all that matters, and the first leg is all about positioning for next Sunday's second leg at Home Depot Center.
That doesn't mean the Galaxy doesn't want nor won't be aiming for a win -- but a draw in the first leg is victory, and even a one-goal defeat isn't catastrophic.
"The pressure's on Seattle to get three points," Galaxy coach
Bruce Arena
notes. "We leave with a point, it's good. Generally in these series, the home team has to go out and try to win the first game."
How might that affect what L.A. does? If it's, say, 1-1 in the 80th minute, there will be no need to press forward in search of a winning goal. If down, 1-0, the Galaxy aren't going to leave things too open at the back as they look for an equalizer. Other than that, not a whole lot.
"You'd like to win the game, ideally," captain
Landon Donovan
says. "You don't want to go home having to score more than a goal to win [the series]. … We're not coming here to sit back and defend. We're going to play the game to win the game."