Los Angeles Soccer:

Patrick Kanyuka
March, 28, 2012
3/28/12
11:22
PM PT
By
Scott French
| ESPNLosAngeles.com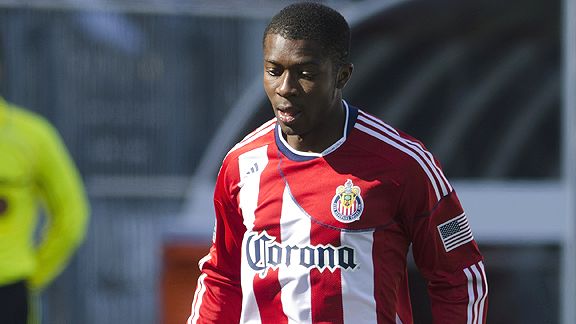 Rich Lam/Getty ImagesInjured midfielder Michael Lahoud is hoping to return to the Chivas USA lineup on April 7 or the week after.

CARSON -- Chivas USA's attacking troubles might not be so distinct had Michael Lahoud not strained his right hamstring two days before its Major League Soccer opener.

The fourth-year midfielder had a new job, on the right flank in a new 4-2-3-1 alignment that emphasized wing play in ways the Goats haven't, and was coming off an excellent preseason.

He was sprinting and working with the ball Wednesday morning for the first time since he was hurt in training three weeks ago, and he hopes to be back on the field by the April 7 game at Portland or the following week at Toronto FC.

"For sure, [I'm] close," Lahoud said after the training session at Home Depot Center. "Just to be able to come out and do a little bit of sprinting, to be involved in some of the drills, to pass the ball … to put these studs back on, it does a wonder for your mind and your sanity."

Robin Fraser was pleased to see him doing more.

"It's good to see Michael come out and do some ball work," Chivas' coach said. "He's on the mend."


March, 20, 2012
3/20/12
4:56
PM PT
By
Scott French
| ESPNLosAngeles.com
Still no decisions on most of the trialists still in camp with Chivas USA, but Santa Ana's
Kevin Huezo
will not become a Goat.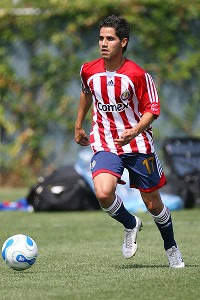 Juan Miranda/MLS/Getty ImagesRodrigo Lopez has been with Chivas USA before and is again on trial with the Goats.
Huezo (Segerstrom HS), who has played in Pachuca's system and was in camp with Colorado during preseason, has been released from Chivas' camp, head coach Robin Fraser reported, but seven players remain in the running for roster slots -- with more possibly to come.

"We're still looking, still looking at different players, different positions," Fraser told ESPN Los Angeles on Tuesday. "Still looking around the world."

Chivas has 26 players on their roster, with five more additions possible. The Major League Soccer maximum is 30, including players away on loan (such as forward Tristan Bowen, who is in Belgium), but midfielder Marvin Iraheta is on the disabled list because of a torn anterior cruciate ligament, and his spot is open.

The Goats are in pursuit of a South American player, according to a source with knowledge of the situation, and expect to sign him within the next week or so. Another source said the player was from Colombia, the top foreign provider of MLS talent, with 28 players, 14 of them newcomers this season. Chivas striker Juan Pablo Angel is Colombian.

Defenders Matt Dallman, Patrick Kanyuka and Mario Ledesma, midfielders Rodrigo Lopez, Cameron Artigliere and Ernesto Hutchinson, and forward John Owoeri remain in camp on trial. Fraser said he planned to make decisions "within a day or two" on Owoeri, a former Nigerian youth international who scored three goals in Sunday's 6-1 rout of UC Riverside, and Ledesma (Woodland Hills/El Camino Real HS), who has been in camp from the start.


March, 18, 2012
3/18/12
7:44
PM PT
By
Scott French
| ESPNLosAngeles.com
CARSON -- Chivas USA's struggles in front of the net were forgotten -- for the time being, at least -- during Sunday afternoon's reserve friendly against UC Riverside. The Goats scored three times in three minutes and four in eight to pull away in a 7-1 romp.

Cesar Romero and trialist John Owoeri scored hat tricks for the Goats, whose lack of attack has been costly in successive Major League Soccer defeats, both by 1-0 scorelines, to Houston and Vancouver.

Owoeri, a former Nigerian youth international who has demonstrated great energy but subpar finishing skills since joining camp two weeks ago, tallied in the 60th, 62nd and 67th minutes as Chivas turned a two-goal advantage into a 6-0 game. He assisted Romero's finale, in the 85th.

Romero has seven goals since joining Chivas at the end of January. He had four during preseason.

Head coach Robin Fraser used the match to give six trialists -- three of them newcomers -- a look in advance of this week's expected roster decision. Left back Kevin Huezo (Santa Ana/Segerstrom HS) and former Goats midfielder Rodrigo Lopez, who was with the Portland Timbers last year, were most impressive, until Owoeri took charge after narrowly missing three times.

Lopez, 24, who was born in Mexico but grew up in Santa Barbara, played eight games in 2005-07 with Chivas but made no league appearances last year with the Timbers. He just joined camp, along with 24-year-old Congolese defender Patrick Kanyuka and 21-year-old, San Fernando Valley-bred midfielder Cameron Artigliere (Winnetka/El Camino Real HS).