Los Angeles Soccer:

Paul Caligiuri
July, 11, 2012
7/11/12
5:39
PM PT
By
Scott French
| ESPNLosAngeles.com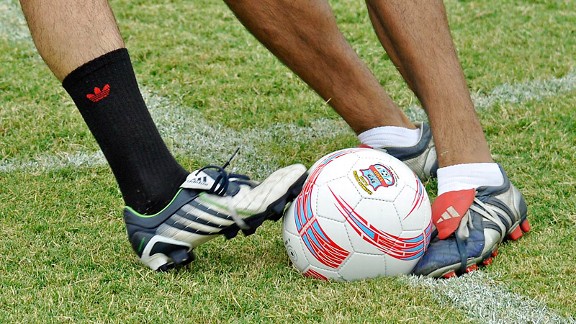 Courtesy of H2O overdriveThe "Ultimate Soccer Player" one-on-one competition is designed to build young players' skills.

IRVINE -- The competition is about finding the "ultimate" in soccer talent, and with the weight of two Hall of Famers behind it, the first one-on-one tournament in American soccer might be a step toward that aim.

That's sort of the point.

No Lionel Messi or Cristiano Ronaldo, as "ultimate" as they come these days, is expected to be unearthed at next month's finals at UC Irvine, but the first-year Ultimate Soccer Player and Ultimate Soccer Goalie event is, ultimately, about improving skills.

Winning is nice, but it's the competition -- and the drills introduced -- that World Cup veterans Paul Caligiuri and Thomas Dooley hope will have the greatest impact on helping young players grow.

"What's the combination [of skills] needed to win a one-v-one contest? It's the same as in a one-v-one situation [in a game]," said Caligiuri, a UCLA alum from Walnut who played in the 1990 and 1994 World Cups and starred in Germany and with the Galaxy. "Is it a combination of speed along with skill? Is it the grit? Is it creativeness? It's a little bit of everything. You have to be creative, you definitely have to have the skill level, you definitely have to have quickness -- not just speed, but the change of speed, the change of direction. And you have to have the ideas."

The German-born Dooley, who captained the U.S. at the 1998 World Cup, notes that the event is about players having "to prove their striking, dribbling, defending and goaltending skills. This is not just any competition -- this is the ultimate challenge: a one-on-one battle to prove that you are the best."

The Ultimate competitions, produced by hydration-drink producer H2O Overdrive -- Caligiuri and Dooley are ambassadors for the company -- are for boys and girls in the U-14 through U-18 age groups. Preliminary rounds have been staged in Coronado, Irvine, Ontario and Pasadena, and an additional round will be held Aug. 11 at Irvine Valley College, with semifinals and finals the following day. More information is available at H20 Overdrive's website.


April, 16, 2012
4/16/12
10:25
AM PT
By
Scott French
| ESPNLosAngeles.com
CARSON -- The scoreline in Sunday's U.S.-Mexico "legends" reunion at Home Depot Center might have been inevitable, given how everything else seemed to fall right into line.

Big crowd? Check. Rooting for El Tri? Of course. Early Mexican domination? Just like in series history. Lights-out goalkeeping? Shades of Tony Meola, Kasey Keller and Brad Friedel. An American triumph on home ground? Bingo.

"Same old same old, right?" Eric Wynalda chirped afterward. "2-0. That's the way these games finish."

This one did, lending a red, white and blueish glow to a surprisingly delightful evening at the Clasico de Leyendas match between great U.S. and Mexican players of yesteryear, primarily the 1990s and early 2000s, when the rise of American soccer created the region's greatest national teams rivalry.

These games do finish 2-0, as most everyone on the field noted.

"Reminds me of the [2002] World Cup," said Cobi Jones, who like former Westlake High School teammate Wynalda played in three World Cups for the U.S. "Same score, always fabulous."

2002 is the apex of the rivalry, the only World Cup encounter in 59 meetings, but it was 2-0 U.S. in the home qualifier for the last three World Cups, in the 1991 Gold Cup -- the first of 13 U.S. victories in the past 21 years -- and in 2000 and 2007 friendlies.

The goals came from Roy Lassiter (Major League Soccer's first scoring champion) and Brian McBride (a legend in the U.S. and parts of England), and both arrived in the second half, after Galaxy goalkeeper coach Ian Feuer (capped just once, in 1992) had made the best of eight fantastic saves -- on Francisco Palencia, Ramon Morales, Jared Borgetti twice, Alberto Garcia Aspe, Ramon Ramirez and Luis Hernandez twice -- that kept the Yanks in what had been a very one-sided game.


April, 15, 2012
4/15/12
11:04
AM PT
By
Scott French
| ESPNLosAngeles.com
CARSON -- They're friends now, in some cases connected beyond the rivalry they've seen grow from nothing into one of the world's most heated, so Sunday evening's "Clasico de Leyendas" benefit match is more reunion than anything else.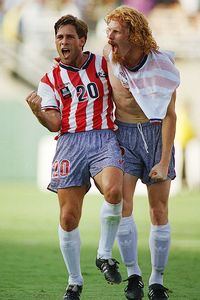 AP Photo/Michael CaulfieldPaul Caligiuri, left, and Alexi Lalas celebrate a victory over Mexico at the Rose Bowl in 1994.
But that spark of what was -- the intensity of the battles, the hatred of the foe -- figures to color what occurs on the Home Depot Center turf, even if the duels aren't so bloody nor the pace so quick.

More than a dozen legends from the U.S. and Mexican national teams, most of them veterans of the 1990s showdowns that created the rivalry between CONCACAF's twin powers, along with other pros will meet up again in a 70-minute match to benefit Hispanic college scholarships.

Some of the biggest names from the era -- Cobi Jones, Eric Wynalda, Alexi Lalas and Paul Caligiuri for the U.S.; Claudio Suarez, Ramon Ramirez, Jorge Campos and Luis Hernandez for Mexico -- are slated to play in the 6 p.m. game, which sounds as much celebration as competition.

"I remember my first game against Mexico was in Azteca Stadium [in the 1993 CONCACAF Gold Cup final], and we lost, 4-0," said Thomas Dooley, the German-born midfielder who played in the 1994 World Cup and captained the U.S. at the 1998 World Cup. "My first experience that I have was with [defender and current Guadalajara head coach Ignacio] Ambriz, and we almost had a fight on the field, kicking each other, boxing each other.

"That's what the rivalry is all about, going after each other. And after the game, we looked for each other and we traded jerseys and we actually became friends whenever we saw each other. I think that's a big part of our games against Mexico. It's a competition on the field, and after the game, it doesn't matter if Mexico wins or the U.S. wins, we'll always be friends."


April, 5, 2012
4/05/12
11:20
PM PT
By
Scott French
| ESPNLosAngeles.com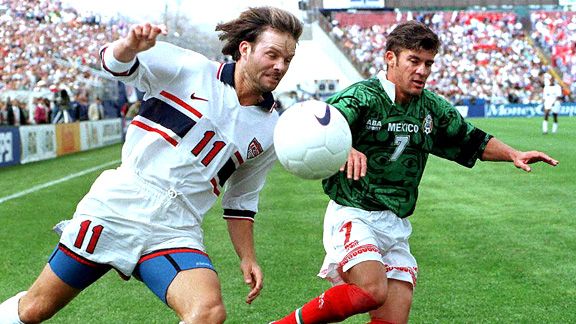 John Mottern/Getty ImagesEric Wynalda, left, shown playing Ramon Ramirez and Mexico in 1997, will be part of a Legends game at Home Depot Center.

Ever wish you could travel back in time to see some of the region's greats of yesteryear? American stars such as Cobi Jones and Eric Wynalda, Alexi Lalas and Paul Caligiuri, or Mexicans Jorge Campos, Jared Borgetti, Luis Hernandez or Alberto Garcia Aspe?

Circle a week from Sunday on the calendar. The Legends Classic, featuring some of the biggest names in the North American game, is scheduled for April 15 at Home Depot Center, with a 6 p.m. kickoff. Tickets start at $15, and the game will be officially announced any moment.

The U.S. roster, according to the PRIMETIME Sports, the event's organizer, features National Soccer Hall of Famers Jones, Wynalda, Lalas, Caligiuri and Thomas Dooley, all key figures on the U.S. World Cup sides of the 1990s (and 2002, with Jones).

Also on the list: John O'Brien, who played in two World Cups; Cle Kooiman, a defender on the 1994 World Cup team; former Galaxy stars Clint Mathis, Chris Klein and Jovan Kirovski, plus longtime pros Roy Lassiter, Ted Eck and Christopher Sullivan.

Hall of Famer-to-be Brian McBride and Galaxy goalkeeper coach Ian Feuer are on the list but unconfirmed, and Galaxy assistant coach Curt Onalfo will guide the American "legends."

The Mexican roster will feature Campos and Hernandez, both former Galaxy standouts, plus Garcia Aspe and Roberto Luis Alves, better known as Zague, the organizers confirmed. Hoy Los Angeles reports that Borgetti and former Chivas USA star Francisco Palencia also will play.

UPDATE (April 6, 5:40 p.m.): The game has been announced, and with it Mexico's roster, which includes former Chivas USA stars Claudio Suarez, Ramon Ramirez and Mariano Trujillo. Organizers report that also suiting up for El Tri, in addition to the players listed above, are Martin Zuniga, Carlos Reynoso, German Villa, Ramon Morales, David Oteo, Joel Sanchez, Missael Espinoza, Marco Antonio "Chima" Ruiz and Jesus Olalde.
December, 9, 2011
12/09/11
10:26
AM PT
By
Scott French
| ESPNLosAngeles.com
UCLA has been to a dozen NCAA men's soccer final fours, played in eight finals and won four championships.

A look back at the titles:


UCLA 1, American 0 (8 OT)
UCLA had lost in three finals, all to St. Louis, back in the early 1970s -- the last two during coach Sigi Schmid's playing days. When the Bruins finally prevailed, they had to wait for it. Little-used defender Andy Burke was the hero, scoring in the 167th minute -- his first collegiate goal -- to overcome American at the Kingdome in Seattle. UCLA went 20-1-4, winning its final dozen games behind forward Dale Ervine (15 goals), defenders Paul Caligiuri and Paul Krumpe, and goalkeeper David Vanole.


UCLA 0, Rutgers 0 (4 OT)
(UCLA wins on penalties, 4-3)
What a team the Bruins put together in 1990: future World Cup picks Brad Friedel, Joe-Max Moore and Mike Lapper, plus 1990 World Cup reserve Chris Henderson. The hero, it turned out, was current Bruins coach Jorge Salcedo, a freshman who had missed three times in penalty-kick shootouts at Cerritos High School but came through when it mattered, converting the decisive shot to topple Alexi Lalas and Rutgers in Tampa, Fla. UCLA (17-1-6) also needed spot kicks to get past North Carolina State in the semifinals.


UCLA 2, Virginia 0
Matt Reis gave one of the most phenomenal performances in NCAA history, making 20 mostly spectacular saves to beat No. 1 Indiana in the semifinals and Virginia in the title game and lead the Bruins to their third title. UCLA (22-2-0) needed Reis' heroics after injuries took away team MVP Peter Vagenas, star midfielder Sasha Victorine and All-Mountain Pacific Sports Federation defender Kevin Coye during the postseason, but McKinley Tennyson Jr.'s rebound in the 132nd minute toppled the Hoosiers and Seth George scored twice in the final 10 minutes to beat Virginia in Richmond, Va.


UCLA 1, Stanford 0
The late Tom Fitzgerald was in charge of UCLA for only two seasons, and the first one was spectacular. He guided the Bruins to an 18-3-3 mark, with playoff victories over two of the teams that beat them during the regular season (Loyola Marymount and Cal), a tight triumph in the semifinals over No. 1 Maryland and the title-game victory over Pac-10 rival Stanford, their third 1-0 win over the Cardinal of the season. The championship, captured in Dallas, arrived in most dramatic fashion: Aaron Lopez first-timed Ryan Futagaki's free kick into the net with 62 seconds to go until overtime.


November, 15, 2011
11/15/11
1:42
PM PT
By
Scott French
| ESPNLosAngeles.com
The best thing about the U.S. national team's 3-2 victory Tuesday in Slovenia -- and there were a lot of good things -- might have been the opening whistle. It gave U.S. captain Carlos Bocanegra his 100th cap, a threshold only 11 American men had previously reached.

The central defender from Alta Loma (Alta Loma HS/UCLA) went the full 90 as the Yanks improved to 2-4-1 under Jurgen Klinsmann with their first victory in Europe in 3½ years.

Clint Dempsey forced a turnover that former Galaxy striker Edson Buddle finished from distance in the ninth minute, and Dempsey's header from Michael Bradley's corner kick restored the U.S. advantage in the 41st minute. Jozy Altidore converted a penalty kick two minutes later after Fabian Johnson was dragged down.

Tim Matavz's second goal of the night, in the 61st minute, pulled Slovenia closer.

Other L.A. area players seeing action were Bradley (Manhattan Beach), who started in midfield, and Maurice Edu (Fontana/Etiwanda HS) and Robbie Rogers (Palos Verdes and Huntington Beach/Mater Dei HS), who came off the bench.

Bocanegra debuted for the U.S. in December 2001 and has served as the team's captain since June 2007.

"It was a special night," Klinsmann told reporters afterward. "The team was pumped up all day, and they wanted to do well for him."

Five of the top seven on the all-time U.S. caps list are from Southern California -- Cobi Jones (Westlake Village/Westlake HS and UCLA), Landon Donovan (Redlands/Redlands East Valley HS), Marcelo Balboa (Cerritos/Cerritos HS), Paul Caligiuri (Diamond Bar/Walnut HS) and Eric Wynalda (Westlake Village/Westlake HS) -- and Bocanegra is joined at 100 caps by Joe-Max Moore (Irvine/Mission Viejo HS and UCLA).

U.S. Soccer has put together a "infographic" -- a poster, more or less -- commemorating Bocanegra's 100 maches, and a PDF is available for download.

U.S. CENTURY CLUB
(100 international appearances)
1. Cobi Jones 164
2. Landon Donovan 138
3. Jeff Agoos 134
4. Marcelo Balboa 128
5. Claudio Reyna 112
6. Paul Caligiuri 110
7. Eric Wynalda 106
8. Kasey Keller 102
9. Earnie Stewart 101
10. Carlos Bocanegra 100
Tony Meola 100
Joe-Max Moore 100


December, 31, 2010
12/31/10
5:40
PM PT
By
Scott French
| ESPNLosAngeles.com
Our countdown of 2010's top 10 soccer stories and newsmakers -- from a Southern California slant -- continues.
Newsmakers/No. 1: Landon Donovan
America's biggest soccer star enjoyed his finest year in 2010.
Landon Donovan
offered compelling evidence that he, indeed, is suited for the rigors of the European game; followed his Major League Soccer MVP campaign with a more complete performance; and emerged as one of the stars of the World Cup.
The 28-year-old forward/midfielder from Redlands (Redlands East Valley HS) has been pegged as something special since his teens. He won the Golden Ball, as top player, at the 1999 FIFA U-17 World Cup, was part of the U.S.'s semifinal team at the 2000 Sydney Olympics and was a pivotal figure as the Americans reached the quarterfinals at the 2002 World Cup, the furthest the U.S. has progressed on the game's biggest stage since reaching the semifinals in 1930 (an achievement not nearly as impressive).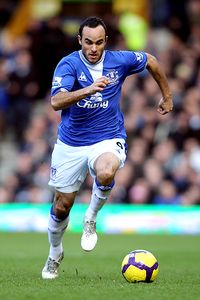 Ross Kinnaird/Getty Images Landon Donovan spent part of his year in England playing for Everton.
But he's climbed new heights since a poor outing at the 2006 World Cup, maturing into a true leader, taking on responsibilities he once avoided while devoting himself to his craft. He's been MLS's best player, by a significant margin, ever since.

Doubts about how he'd fare in a top European league -- remnants of his failures at Bayer Leverkusen and a disappointing loan stretch with Bayern Munich in 2009 -- were gone after a superb 10-week stint on loan with Everton in the English Premier League to start the year. He scored twice in 13 games, won a club Player of the Month honor and had legions of fans begging him to stay in Liverpool -- or, at the least, return.

After winning MLS's scoring title in 2008 and MVP award in 2009, he had arguably his finest league campaign in 2010, stepping back into midfield, where he was needed, and playing chief provider (his 16 assists led the league) and making a massive impact defensively. He led the Galaxy to the Supporters' Shield (as regular-season champion) and within one win of a second successive MLS Cup title-game appearance.

His year primarily will be remembered for his play at the World Cup. He was the Americans' top player -- and one of the best attackers in the tournament -- with an all-around performance marked by goals to help the U.S. rally for a 2-2 draw with Slovenia, to beat Algeria in the dying moments (securing the Group C title and a round-of-16 berth), and to forge a tie with Ghana before succumbing in overtime.

Donovan's international totals: 45 goals and 45 assists -- both U.S. records -- in 128 appearances.


December, 26, 2010
12/26/10
7:23
PM PT
By
Scott French
| ESPNLosAngeles.com
Our countdown of 2010's top 10 soccer stories and newsmakers -- from a Southern California slant -- continues.
Newsmakers/No. 6: Kevin Hartman and Amy Rodriguez
One was a veteran goalkeeper dumped by the club he'd served admirably for three seasons. The other was a promising young striker who hadn't lived up to the acclaim and expectations.
Both delivered breakthrough campaigns in 2010.
Kevin Hartman
(Palos Verdes/Peninsula HS and UCLA) had the finest year of his career -- the finest year any Major League Soccer netminder has posted -- to lead FC Dallas to its first MLS Cup title game.
Amy Rodriguez
(Lake Forest/Santa Margarita Catholic HS and USC) asserted herself as one of the best forwards in the women's game, leading the expansion Philadelphia Independence to Women's Professional Soccer's championship game and making a real impact for the U.S. women's national team.
November, 24, 2010
11/24/10
9:55
PM PT
By
Scott French
| ESPNLosAngeles.com
L.A.'s already got the Galaxy and Chivas USA. Here comes a third professional men's team, set to begin play next year, likely at Cal State Fullerton's Titan Stadium.
Blue Star LLC, which had a stake in the late L.A. Sol, will announce next month formation of a club to play in the United Soccer Leagues' First Division, the second tier of American pro soccer. The enterprise was confirmed by
Charlie Naimo
, the group's technical director -- and possibly (probably?) the club's soon-to-be head coach.
"We're still working on a couple final things before [announcing]," Naimo, who attended last week's USL annual general meeting in Florida, said Wednesday. "I think we're shooting [to have] everything in line in a couple of weeks. We want to announce this for real, that we've got a team, this is our first player, this is where we'll play, who coach is. We want it to be complete."
Blue Star, which is run by husband-and-wife team
Ali
and
Maryam Mansour
and has a connection with Australian actor
Anthony La Paglia
and Hollywood United FC, operates the Pali Blues women's club (which plays in the USL's W-League) and was co-owner with Anschutz Entertainment Group of the Sol, which posted the best regular-season record in Women's Professional Soccer's inaugural season and folded earlier this year after AEG pulled out.
The organization is awaiting USL approval of the L.A. Blues name -- the name used by its former team in the USL's semiprofessional Premier Development League -- and is working to reach an agreement to use the 10,000-seat stadium in Fullerton.
"It's certainly one of the venues we're very keen on, and it's a strong possibility we'll get a deal done," Naimo said. "It's the best stadium in the area for anything other than MLS."
Naimo, who was the Sol's general manager, is head coach and president of operations for the Pali Blues -- he guided the team to W-League titles in 2008 and 2009, its first two seasons -- and a consultant for the Chicago Red Stars, a WPS club facing a Dec. 15 deadline to attract funding for the 2011 season.