Los Angeles Soccer:

Paulinho Le Petit
July, 31, 2011
7/31/11
7:55
PM PT
By
Scott French
| ESPNLosAngeles.com
VANCOUVER, British Columbia -- Let's be clear about this up front: The Galaxy wants to win its games in Major League Soccer's Reserve League.
That it has done so just once in seven outings isn't a problem.
Victory No. 2 probably should have arrived Sunday, when the Galaxy let a two-goal advantage disappear in a draw with the Vancouver Whitecaps.
Curt Onalfo
, L.A.'s reserve-team coach, liked enough of what he saw to consider that a positive result.
"There's a lot of things you're accomplishing with the Reserve League," Onalfo said after the 2-2 draw at Empire Field. "Obviously, any time you step on the field, you want to win. Today's we're disappointed we didn't get three points, because we had a two-goal lead, and we had a chance to bury it, to make it 3-1 or 3-0, for that matter."
That, he says, is "the learning process," which might be the most important of the three primary aims of Reserve League play: developing the younger talent on the roster.
"It's better it happens in reserve games," Onalfo said, "so when you're ready for the first team, you're honed and polished."
The Galaxy (1-5-1) got the opportunity to hone several youngsters, starting a backline with three of the four slots occupied by rookies (
Dan Keat
and
Dustin McCarty
in the middle and
Ryan Thomas
on the left), getting a very good showing from rookie midfielder
Hector Jimenez
and giving two Academy kids -- one a new arrival from Mission Viejo-based Pateadores' U.S. Development Academy championship squad -- a little action against real pros.
They also saw trialist
Paulinho Le Petit
in a game situaton, and he wasn't bad, scoring the first goal, in the 31st minute, and coming close to netting another.
"He's a solid player," Onalfo said. "Strong physically, good in the air. Good technique. Solid player."
Jimenez, the Bell Gardens product out of Cal, was superb while playing in central midfield for the first time with the Galaxy and scored the second goal, from
Jack McBean
's feed, six minutes into the second half.
Long Tan
scored both goals for the Whitecaps (0-3-2), in the 60th and 71st minutes, and
Nizar Khalfan
nearly got a 90th-minute winner, forcing a diving save from second-year goalkeeper
Brian Perk
.
July, 24, 2011
7/24/11
7:34
PM PT
By
Scott French
| ESPNLosAngeles.com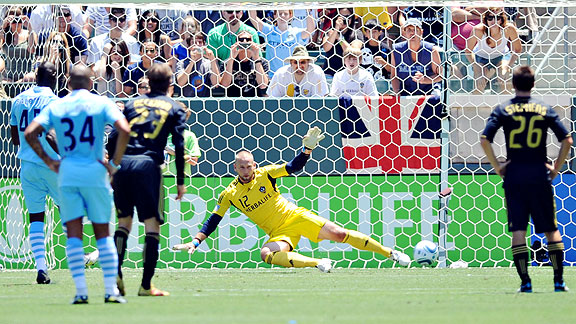 Kelvin Kuo/US PresswireManchester City forward Mario Balotelli shoots a penalty kick against Los Angeles Galaxy goalkeeper Josh Saunder.
CARSON -- Officially, Manchester City won Saturday afternoon's friendly against the Galaxy, prevailing on penalty kicks following a 1-1 draw. But it felt like a victory for L.A., who were the better side in the second half, rallied on a superb Mike Magee goal and accomplished most of what it set out to do.
"I think I saw a little bit more today than I saw in [last week's friendly against Real] Madrid," Galaxy coach
Bruce Arena
said after his team shook off a poor first half to create more than enough chances to beat the English Premier League powerhouse in the World Football Challenge clash at Home Depot Center.
"I think we're gonna have to be playing three games a week for an extended period of time" -- actually, it's twice a week, once CONCACAF Champions League play begins -- "and we need to go deep into our roster. Today were some indications that there are some players we can use, which is a positive."
The best such impression was made by rookie midfielder
Dan Keat
, from New Zealand by way of Dartmouth College, who was slowed by injury early this season but looks like he's ready to contribute now.
Keat played two superb long balls to
Chris Birchall
, the first one leading to Magee's 53rd-minute goal, the second to a
Todd Dunivant
chance two minutes later, and and tested City goalkeeper
Joe Hart
with a blast from Dunivant's rebound. He won balls in midfield and was a solid conduit as the Galaxy took charge over their tiring foe as time wore on.
"I thought Dan Keat played real well," Arena said twice during his postgame news conference. "I was impressed with his composure, his passing. He had a good look at goal. ... His distribution was good, he got around the ball pretty well, won some tackles. ... That was very encouraging."
Said Keat: "Today was all about going out there and showing that I can play at that level and giving a good showing of myself," Keat said. "I think I did that. ... A lot of players stood up and did well. It's good for Bruce to see that everyone performed at that level and showed they can contribute to the second half of the MLS season."
Winger
Hector Jimenez
and defender
Kyle Davies
made their first starts for the first team, and 16-year-old forward
Jack McBean
and midfielder
Dustin McCarty
made their initial first-team appearances.
Frankie Hejduk
returned to the field following a lengthy ankle injury, playing 30 minutes in the second half -- "Huge for us," Arena said -- and reserve forward
Adam Cristman
, midfielder
Jovan Kirovski
and goalkeeper
Brian Perk
got ample time.
Michael Stephens
went the full 90, splitting time in central defense and on the left flank.
Omar Gonzalez
, wearing a mask to protect his fractured nose, played 45 minutes after missing L.A.'s last two games.
July, 23, 2011
7/23/11
8:13
PM PT
By
Scott French
| ESPNLosAngeles.com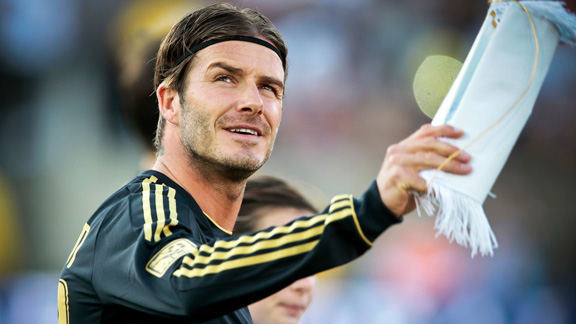 AP Photo/Bret HartmanDavid Beckham's loyalty to Manchester United makes it difficult for him, in a fun way, to give Manchester City too much credit.

CARSON -- The Galaxy's second friendly in eight days against top-class European competition might come at what coach Bruce Arena calls "an awkward time," and it might not mean a whole lot, especially surrounded by so many games that do matter.

But the opportunity to test themselves against the likes of Manchester City FC, which on Sunday visits Home Depot Center for a 1 p.m. clash with L.A., is irreplaceable. What player wouldn't want to go up against David Silva or Gareth Barry? (Or Carlos Tevez, not that's he here -- or long for Manchester, for that matter.)

Big deal, says David Beckham. Man City? Who cares.



"Just a small game," says the Galaxy midfielder, whose identity always will be tied to his first club, Manchester United -- City's archrival. "But I am looking forward to the [Major League Soccer] All-Stars' game against the best team in Manchester and the best team in England.
That
's going to be a great game."
Is it not special just to go up against one of English Premier League's present powerhouses, the reigning F.A. Cup champion?
Beckham's all smiles.
"No, because it's Man City," he says. "At the end of the day, I'm a Man United fan."
If you can't see Beckham's tongue firmly in cheek, look closer.
"All joking aside," he says, "it's going to be a great occasion for the fans to see some of their great players ... great for our young players to play against a team and the players the caliber of the City players."