Los Angeles Soccer:

Port Vale
February, 23, 2012
2/23/12
11:21
PM PT
By
Scott French
| ESPNLosAngeles.com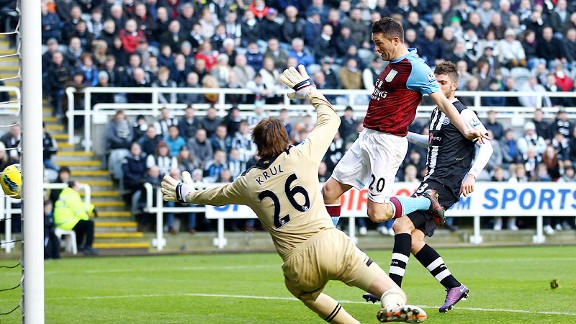 Julian Finney/Getty ImagesReports in British newspapers are hinting Robbie Keane might want to stay and not return to L.A.
Robbie Keane
's six-week loan to Aston Villa ends with Saturday's game at Wigan Athletic, but Villans boss
Alex McLeish
sounds as if he wouldn't mind bringing back the Irishman full-time.
Keane, 31, rejoins the Galaxy following Ireland's friendly Wednesday against the Czech Republic in Dublin, but his impact with Villa -- and the enjoyment he has derived playing for the American-owned, Birmingham-based club -- has endowed speculation that he'd like to return to the English Premier League.
Keane joined the Galaxy in August and scored four goals in 11 MLS regular-season and playoff and CONCACAF Champions League matches (and four more in the three-game postseason tour of Asia and Australia). He has three goals in four EPL starts for Villa, and British tabloid
The Sun
reported last week that he was homesick and considering a return to England, where he has spent the vast majority of his career.
"When I go back to L.A., it could be totally different,"
The Sun
quoted Keane. "At this moment in time, I can't tell what will happen. It's a case of watch this space. But people have seen over the years with the clubs I've been at, how quickly I leave if I don't think I fit in."
McLeish was asked if he'd consider bringing Keane back in the summer transfer window.
"I don't know," he replied, according to the
Birmingham Mail
. "We have to get through this season and then see where we are in terms of recruitment for the summer. ... I think Robbie's had a good influence on the place. There's his movement, his ability to get on the ball or lose a defender, and his appetite for getting in the box.
"I'd like to think that other players who have got their own qualities that are different from Robbie's will see one or two of the things in his game that they can use to enhance their game as well."
McLeish said he had no insight into Keane's thoughts about the Galaxy and the EPL.
"Has he missed the Premier League? Maybe. I don't know," McLeish said. "Where he is right now, there's probably a pretty glamorous feeling about it, jetting to play in L.A. and then jetting to play over in New York and places like that. It sounds like there's a kind of world-class connotation to that.
February, 20, 2012
2/20/12
5:21
PM PT
By
Scott French
| ESPNLosAngeles.com
Midfielder Chris Birchall is still searching for a home after the Galaxy effectively cut ties with him two weeks ago, and it's not coming easy.

The humble Englishman is training with his former club Port Vale and set to sign a month-to-month contract as he looks for a bigger and better opportunity, but part of him would like to be in L.A.

Birchall, 27, told Stoke-on-Trent-based daily The Sentinel that his 2012 option with the Galaxy, including a pay raise, would have kicked in had he made 20 league starts. He made 18, one in a playoff game, plus single starts in the CONCACAF Champions League and U.S. Open Cup. It wasn't good enough.

"The option was taken out of my hands, and it was then up to Galaxy to make me an offer," Birchall told the newspaper. "I knew they weren't going to offer me an increased wage, but I didn't expect to be offered less money than what I was already earning.

"There are no hard feelings because we ended up winning everything last season, plus I have a good relationship with the management and coaching staff. The manager knew my intention to come back to England even if I had been offered the better option because I wanted to see what my options are."

Birchall made $144,000 in base salary last year, but the Galaxy -- needing to clear cap space to make the kind of moves they've been making since winning the MLS Cup title -- declined the option on his contract. Talks continued into January, but Birchall wanted to see what his options were at home, and by the end of the month, the Galaxy's roster was virtually finished.

Birchall announced via Twitter two weeks ago that it was certain he would not return to L.A. That's not entirely a bad thing. His greatest difficulty in L.A. was visa issues that prevented his fiancee, Lucy, and their son, Ashley, from spending more than 90 days with him at a time.