Los Angeles Soccer:

Preki
June, 25, 2011
6/25/11
10:07
AM PT
By
Scott French
| ESPNLosAngeles.com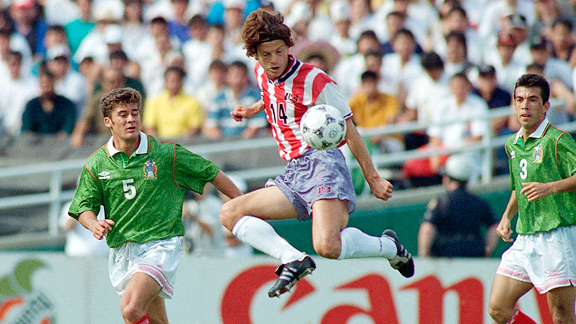 AP Photo/Mark J. TerrillFrank Klopas of the U.S. leaps in front of Mexico's Ramon Ramirez during a 1994 friendly at the Rose Bowl.

The U.S. and Mexico haven't met in the L.A. area since a 2000 friendly at the Coliseum, and if you want to lay blame for that, target CONCACAF (just one Gold Cup final in L.A., until this one, and Mexico didn't make it) and U.S. Soccer (no desire to play in front of 85,000 or so El Tri fanaticos).

So Saturday's Gold Cup final at the Rose Bowl hearkens back to a tradition that went strong for a decade -- seven meetings here from 1991 through 2000, four of them friendlies) -- and dates to 1957, when Mexico drilled the Yanks, 7-2, in a World Cup qualifier in Long Beach.

In all, they've played a dozen times in L.A., Pasadena or Long Beach. Here are five of the best showdowns:

Nov. 6, 1960
United States 3, Mexico 3
Salvador "Chava" Reyes, the great Mexican hero of the 1950s and '60s (later part of Chivas USA's academy administration), scored twice as El Tri took a 3-0 lead in the first 21 minutes of a World Cup qualifier first leg before 8,000 at old Wrigley Field. The U.S. rallied as Helmut Bicek, Carl Fister and Al Zerhusen scored goals, then fell, 3-0, a week later in the second leg in Mexico City.

July 5, 1991
United States 2, Mexico 0
The Americans' triumph in the first Gold Cup was fueled by a surprise victory in a Coliseum semifinal as John Doyle (now GM of the San Jose Earthquakes) and Peter Vermes (head coach of Sporting Kansas City) netted second-half goals in front of 41,103 fans. El Tri's lineup included Jose Manuel "Chepo" de la Torre, now its coach.


October, 27, 2010
10/27/10
10:39
PM PT
By
Scott French
| ESPNLosAngeles.com
Wednesday's dismissal by Chivas USA of Martin Vasquez isn't all that surprising except for vice president of soccer operations Stephen Hamilton's insistence Saturday that the club's head coach definitely would return in 2011, that "the things we saw in him previously, we still see in him, and I think he's going to benefit from a year of experience as a head coach."
Perhaps so, just not with the Goats. Looking for potential candidates? There are, at least on the surface, hundreds of them. No, thousands. Which are viable and which are not depends on how much Chivas wants to spend -- both on a coach and on players -- and how wide a net Hamilton and the club's "soccer committee" choose to cast.
Some possibilities:
THE BIG NAMES:
The biggest, at least in local circles, is German legend
Juergen Klinsmann
, one of the premier strikers of his (or any) generation -- and an innovative coach who took an unfancied Germany side to the 2006 World Cup semifinals, ran into problems at tradition-minded Bayern Munich (where Vasquez was among his assistants) and twice broke off talks with U.S. Soccer about taking the reigns of our national team, both times over control issues.
Klinsmann lives in Huntington Beach, is between coaching jobs, and is familiar with MLS through his years in the U.S. and history with the Galaxy, for which he served as consultant during
Sigi Schmid
's reign. He might find the opportunity to build with Chivas most attractive: the club's anti-corporate style stands in stark contrast to their neighbors down the hall, and it wouldn't surprise us if he and President/CEO
Shawn Hunter
got along famously.
October, 26, 2010
10/26/10
7:41
AM PT
By
Scott French
| ESPNLosAngeles.com
Until it cleared up so nicely on Saturday, Major League Soccer's playoff scenarios were complicated, to be sure. The Galaxy might have ended up with a first-round series with Colorado or San Jose or FC Dallas; that they'll face Seattle is fine with them.
Not that it's perfect.

"Seattle's not going to be easy. It never is," Galaxy coach
Bruce Arena
said after Sunday's victory over FC Dallas set up encounters with the Sounders on Sunday in Seattle and Nov. 7 at Home Depot Center. "But I think the choices were … what were the choices? I think they were Dallas … none of the choices were real good, to be honest. I wouldn't want to be going into Dallas either.
"I do prefer going to Seattle than going into altitude. There was always a chance at some point we could go to Colorado or Salt Lake, and the altitude is an issue, and the one thing we've assured ourselves is that we're not going to be playing in altitude. Not that guarantees anything, but I think that's good. It's a lot easier for the players to adjust to the artificial field [in Seattle] than to altitude. So In think that's a positive out of this."
Perhaps so. If L.A. and Real Salt Lake win their first-round series, they'll meet in Carson. Toronto, where MLS Cup will be played Nov. 21, has a lower elevation than downtown L.A. But the Galaxy are hardly happy they'll start their home-and-home, total-goals series on the fake turf at Qwest Field.
"I don't like it," said
Edson Buddle
, who led the Galaxy with 17 goals. "I'm not a big fan. I never was. But I have to deal with that and get over it."
Said
David Beckham
: "At the end of the day, it is what it is. We have to go there, and we have to play. It's the same for both teams. Obviously, it's an advantage for them, because they play on it every other week, but it is what it is."