Los Angeles Soccer:

Puebla
September, 20, 2011
9/20/11
6:36
AM PT
By
Scott French
| ESPNLosAngeles.com
That's not a misprint atop Mexico's Primera Division standings. Unfancied Jaguares, the Chiapas club that dropped 12 of 17 games and finished last during the spring Clausura, is, indeed, No. 1.

A 5-3 triumph Saturday over visiting America, with Edgar Andrade scoring two goals and setting up another, vaulted Jaguares (5-2-2) to the top spot, ahead of giants Cruz Azul and Guadalajara on goal difference, following a third successive victory.

Since dropping its first two Apertura matches, to Monterrey and Guadalajara, Jaguares has been Mexico's finest club, going 5-0-2 to climb from 18th -- last -- to 16th to 12th to sixth to fourth to first.

Previous leader Guadalajara (5-2-2) did its part, losing to Puebla, and No. 2 Tigres (4-1-4) suffered its first loss, a 1-0 decision at Atlante.

Jaguares also leapt past Cruz Azul (5-2-2), which toppled Monterrey, 2-1, in the week's featured match.



1. ANOTHER CHANGE AT AMERICA

America's disastrous campaign finally hit bottom -- or close enough.

The Aguilas' loss at Jaguares cost technical director Carlos Reinoso his job, no surprise, and club legend Alfredo Tena has been brought in and asked to make things right.

There's plenty wrong at the Mexico City giant, which has won just one of its last eight league games -- and that over last-place Atlas -- and sits 16th of 18 clubs with the worst defensive record in the Apertura.

Reinoso, who took over for Manuel Lapuente last January after America opened last spring's Clausura with a 0-2-1 mark, was facing the ax when he submitted his resignation following the defeat in Tuxtla Gutierrez.


August, 22, 2011
8/22/11
11:50
PM PT
By
Scott French
| ESPNLosAngeles.com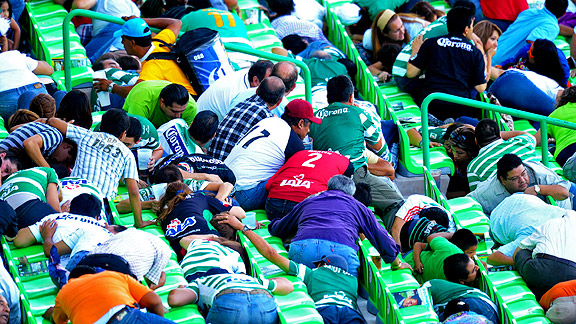 AP Photo/El Siglo de TorreonFans of soccer club Santos take cover between the stadium seats as they hear shooting outside the stadium in Torreon, Mexico.

Scenes of terror and turmoil unfolded at Santos Laguna's Estadio Corona in the most newsworthy event in the Mexican Primera Division last weekend, as gunshots rang out during the Guerreros' showdown with Morelia.

Players dropped to the turf, then scrambled off the field, and fans escaped from the stands and onto the stadium floor or ducked under seats after a series of explosions -- from outside the Torreon stadium, it turned out -- went off late in the first half Saturday.

Nobody at the game was hurt, but the stadium was evacuated and the match suspended amid great chaos. No word yet on when it will be rescheduled.

According to Mexican media, the trouble began when a pickup truck, allegedly carrying drug-cartel members, sped through a checkpoint and was chased by police. Once the truck was cornered, outside the stadium, a gun battle broke out. Part of the stadium afterward was pockmarked by bullet holes.
1. UPGRADE AT TIGRES:
UANL Tigres has one of the deepest, most talented sides in Mexican soccer and -- under former Chivas USA youth director
Dennis te Kloese
, who has brought to suburban Monterrey a handful of very promising players from Southern California -- possibly the country's best development set-up, although those connected to Pumas UNAM and Guadalajara can make convincing arguments otherwise.
No question, the club will contend for the Primera Division's fall Apertura title, especially once the attack catches up, as it should, to Brazilian manager
Ricardo Ferretti
's masterful defensive plan.
April, 13, 2011
4/13/11
12:33
AM PT
By
Scott French
| ESPNLosAngeles.com
Herculez Gomez has been looking to make his mark with Pachuca, among Mexico's finest clubs the past decade, after leading the Mexican Primera Division in scoring a year ago at Puebla.

It has not been easy. The Los Angeles-born, Las Vegas-raised forward, who emerged as team MVP when the Galaxy won the 2005 MLS Cup title, has struggled to make an impact off Pachuca's bench after scoring 10 goals, most of them as a substitute, in last year's Clausura, or spring, tournament.

Gomez, whose exploits at Puebla led to a roster spot for the U.S. at last year's World Cup, scored just once during the fall Apertura and had been held without a goal this Clausura as the Tuzos slumped near the bottom of the standings. Until last weekend.

The 29-year-old forward came off the bench, naturally, to score twice and set up a third goal as Pachuca (4-5-4) routed last-place Jaguares, 3-0, to vault from 16th to 12th overall and within three points of the playoff zone.

Gomez came on in the 63rd minute for Edgar Benitez, gave Pachuca a 70th-minute lead on a near-post header, then struck a sensational free kick for a 2-0 advantage in the 78th. A minute later, he assisted Franco Arizala.

"Thanks for never loosing [sic] faith," Gomez tweeted after the game. "I know this is just the beginning for us. Feels great to score but it feels even better to win at home."

This does seem familiar. Pachuca, which has won five Primera Division titles since 1999 and last year claimed its third CONCACAF Champions League titles in four years and fourth since 2002, won its final three regular-season games to get into the Apertura playoffs, exiting after holding to-be-champion Monterrey to two draws.

The schedule is pliable. The Tuzos, still last in Group 2, have a real test Wednesday night at Group 1 leader UANL Tigres, but their final three foes (Atlas, Gallos Blancos and Necaxa) are minnows in unremarkable form.

A FEW ANSWERS: Gomez celebrated his big day by holding a Q&A with fans on his Facebook page. A few highlights:

Q: Do you have a pregame pump-up song?
A: Journey, "Don't Stop Believin'."

Q: Which comes first, the U.S. national team or your club team?
A: My club pays me, but my country made me.


February, 14, 2011
2/14/11
11:41
PM PT
By
Scott French
| ESPNLosAngeles.com
Jonathan Bornstein has brought UANL Tigres some needed luck. Give Danilinho and Hector Mancilla some credit, too.
The club from suburban Monterrey, known more for its disappointments than its triumphs, are atop the Primera Division's Clausura standings after Danilinho set up one goal and scored another in a 2-0 victory Saturday over visiting Cruz Azul.
Up next: Clasico Regiomontano rival Monterrey, which won the Apertura crown in December and has prevailed in three of its last four games.
Bornstein, who joined Tigres after five seasons with Chivas USA, made his fourth start (going 45 minutes) for UANL (4-1-1), which is 4-0-0 with the UCLA/Los Alamitos High School product in the lineup and winless when he's left on the bench.
Danilinho, a Brazilian midfielder who arrived from Jaguares, and Mancilla, a Chilean forward acquired from Toluca, have been huge additions, and their partnership proved too much for Cruz Azul (3-2-1), which fell from third to fifth overall with the loss.
Mancilla scored the first goal, a one-touch finish in the 69th minute after Danilinho burst past two defenders to the right byline and sent in a cross. The Brazilian added the second deep into stoppage, setting up his shot with a superb first touch.
Monterrey (3-3-0, in ninth overall) also won, routing Jaguares, 4-1, as Chilean World Cup star
Humberto Suazo
had a hat trick -- giving him 19 goals for the fall/spring campaign -- and
Dario Carreņo
set up two goals, one my
Aldo de Nigris
.
FALL FROM FIRST:
Pumas UNAM's time atop the overall standings was short. The Mexico City club dropped to third overall after an error by goalkeeper
Alejandro Palacios
and missed penalty kick by former Chivas USA forward
Francisco Palencia
allowed Guadalajara to escape with a 1-1 draw.
February, 8, 2011
2/08/11
3:06
PM PT
By
Scott French
| ESPNLosAngeles.com
America has righted things in a hurry, reeling off two more wins in the past week to leap into the overall top five and all but push the horrid-by-club-standards 0-2-1 start out of mind.
Matias Vuoso
scored three goals as the Aguilas (3-2-1) routed San Luis, 3-0, and dominated Gallos Blancos de Queretaro, 3-1, to push Chilean coach
Carlos Reinoso
's mark to 3-0 in his third stint in charge of the Mexico City giant.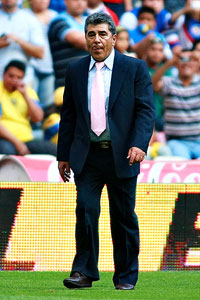 Francisco Estrada/Getty ImagesCarlos Reinoso, in his third go-around with America, has his 11 with a 3-0 record under his guidance.

"We've gotten good results, but we've been at this just 10 days," Reinoso told media as America began preparations for Friday's match at last-place Necaxa. "Suddenly, people are asking us to be more offensive ... but we're improving little by little, and what makes me happy is that the players have received [my] message."

The Aguilas dismissed Manuel Lapuente in a panic after sandwiching home losses to Pachuca and UANL Tigres around a draw with Jaguares, but the move worked as well as hoped. America responded to the firing with a 2-0 victory over previously perfect Atlas on Jan. 29, and it was more impressive in Wednesday's win over San Luis, a forward makeup -- the match was initially scheduled for April 13.

Vuoso converted two penalty kicks against San Luis and scored the second goal, just before halftime, against Gallos Blancos. Sunday's win wasn't assured until Aquivaldo Mosquera's 86th-minute goal.

"We went back to basics," Vuoso, who has five Clausura goals and 15 for the fall/spring season, explained to the Mexican media. "[Lapuente] had nothing to do with [the poor start] -- it was us, the players. We had forgotten the basics, forgotten to play as before, as we usually do. ... It was the fault of the players, not the fault of other people."

IN MONTERREY: Los Alamitos' Jonathan Bornstein, making his third start of the season for Group 1 leader UANL Tigres (3-1-1), set up Hector Mancilla's eighth-minute opener in a 2-0 victory at Santos Laguna. The home side was without top scorer Christian Benitez, who has an ankle injury.

Tigres' crosstown rival Monterrey (2-3-0) also posted a 2-0 victory, over Pachuca on Aldo de Nigris and Neri Cardozo goals, to vault to 11th in the overall standings. The Rayados have shutouts in four of their past five home games. Pachuca turned to former Galaxy forward Herculez Gomez and fellow U.S. World Cup pick Jose Francisco Torres, giving each his first Clausura start, but the Tuzos (1-2-2) fell to the bottom of Group 2 after failing to score for the third time in four games.


January, 11, 2011
1/11/11
11:59
AM PT
By
Scott French
| ESPNLosAngeles.com
Atlas, the worst team in the fall, opened the second half of the Mexican Primera Division season with a stunning romp that underscores coach Benjamin Galindo's savvy eye for talent.
The Guadalajara-based club, which made several major additions to its roster during the winter break, opened the spring Clausura on Saturday with a 5-0 domination of visiting Morelia.
Gerardo Espinoza
matched his Apertura goals total, scoring twice, to lead the Zorros. Former Chicago Fire defender
Wilman Conde
scored in his Mexican League debut, and 19-year-old
Christian Diaz
(in his first top-tier game in more than a year) and
Daniel Osorno
(with his first of the season) also tallied.
"I congratulated the guys in the locker room because [there was] not a single player who did not have a good performance. It speaks well of the commitment that exists with the team," Galindo told reporters afterward.
"It's a good win which gives us confidence, but that's all. What we have to do is keep working with the same commitment that we had during the preseason."
Atlas went through three coaches in a 3-10-4 fall campaign, but Galindo, a former Mexican national-teamer, went shopping in four countries to strengthen the club. Conde, Brazilian midfielder
Lucio Flavio
(from Botafogo) and midfielder
Lucas Ayala
(from UANL Tigres) contributed to the win Saturday.
BIG BOYS BEATEN:
America got robbed. Monterrey got jobbed.
America, a sure title contender, saw two perfectly good goals erased on mistaken offside calls in a 2-0 home loss to Pachuca, which got goals midway through each half by
Yulian Anchico
and then
Edgar Benitez
.
Monterrey, which last month won the Apertura title, was outclassed at home by San Luis, also 2-0 -- with the Gladiadores' first goal, by
Osmar Mares
in the 71st minute, clearly offside.
Juan Carlos Medina
's sweet chip in stoppage, with the Rayados down a man, doubled the advantage.
November, 9, 2010
11/09/10
12:07
PM PT
By
Scott French
| ESPNLosAngeles.com
America is peaking at the best possible time. Toluca is crumbling when it counts. The impact on the Mexican Primera Division's Apertura campaign is massive.
The Aguilas clinched a berth in the eight-team playoff
Liguilla
with a 1-0 victory at Atlante, courtesy of
Matias Vuoso
's eighth goal of the season, and head into their final regular-season outing -- against Mexico City rival Pumas UNAM -- with three-game winning and six-game unbeaten streaks.
They've pulled through last month's attacking drought, in which they were shut out by first-place Cruz Azul, second-place Monterrey and archrival Guadalajara, scoring seven times in their past three games -- and that should be eight.
Pavel Pardo
converted a stoppage-time penalty kick against Atlante, but referee
Paul Delgadillo
ordered a retake for encroachment, and Potros goalkeeper
Moises Muņoz
saved Pardo's second attempt.
America, which is atop Group 2 and fourth overall, behind Santos Laguna on goal difference (plus-8 to plus-7), appears to have shored up its defensive problems, and the relationship among Vuoso, playmaker
Daniel Montenegro
and former Toluca star
Vicente Sanchez
has solidified just when it most matters.
"We're there, and we were able to get there," America coach
Manuel Lapuente
said after Saturday night's victory, according to
Reforma
. "We're playing well … we've finished the league well, although we have a game against Pumas to play, and we cannot lose at home. We're going to put a lot of effort into that game. This isn't over until it's over, and we're going to fight to climb one spot higher."