Los Angeles Soccer:

Rafa Villaseņor
March, 11, 2012
3/11/12
10:08
AM PT
By
Scott French
| ESPNLosAngeles.com
Paramount High School claimed its second CIF Southern California Regional boys' soccer title in three years thanks to first-half precision and suffocating defense.

The Pirates (25-4-3) ended Crescenta Valley's quest for an unbeaten season, holding on for a 2-1 victory in the Division I final Saturday night at Warren High School in Downey.

Jesus Alvarez headed home a Jose Ochoa corner kick in the 30th minute, and Miguel Rueda knocked in a loose ball after a long Ochoa throw-in in the 37th to give Paramount a two-goal advantage by halftime.

Paramount won its third straight CIF Southern Section title last week, beating Oxnard's Channel Islands in the Division 3 final at Warren. Crescenta Valley (22-1-7), from La Crescenta, captured the Division 4 championship.

The Falcons struggled to break down Paramount's defense, which used Alvarez and Tommy Osorio to smother star UC Irvine-bound forward Pavle Atanackovic, who came into the game with 38 goals.

"Our game plan was first of all to stop the middle," Paramount co-coach Rafa Villasenor told the Glendale News Press. "If [Atanackovic] doesn't receive any balls, he pretty much is invisible in the game, and that's what we pretty much did."

Salar Hajimirsadeghi's free kick with seven minutes to play halved the deficit, and Paramount weathered a late Crescenta Valley charge to prevail.

In other games:

Santa Margarita Catholic 2, Bishop Amat: Samantha Trenary scored in the 72nd minute, and the Eagles (18-5-4) pulled out the Division II girls title, making the Rancho Santa Margarita school the second to win Southern California Regional titles in boys and girls soccer.


March, 3, 2012
3/03/12
10:11
PM PT
By
Scott French
| ESPNLosAngeles.com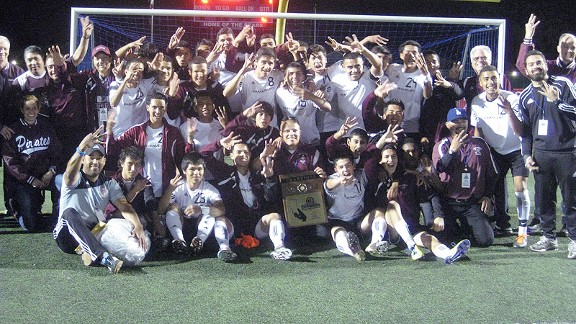 Scott French/For ESPNLA.com The Paramount boys' soccer team won its third consecutive CIF-SS championship Saturday.

DOWNEY -- Paramount High School had just claimed its third successive CIF Southern Section boys soccer title, an achievement that had several Pirates in tears -- and one of them prostrate, in a sort of blubbering ecstasy.

It's just a start.

Paramount became the third school to win three straight boys' soccer titles Saturday evening, rallying from a quick deficit to upend Channel Islands, 2-1, in the Division 3 final at Warren High School.

Frankie Perez and Jesus Alvarez scored the goals for the Pirates (22-4-3), who have their sights set on something bigger.

Two years ago, after their first championship, Paramount marched to the CIF Southern California Regional Division I crown. Last year's group fell short. This year's team has a statement to make.

"After we lost last year in the quarterfinals, it's still here -- in our heart," co-coach Rafa Villaseņor said. "These kids want that bad. They want it real bad.

"I know tomorrow when we find out if we're in [this year's regional field] -- hopefully, you know? And start all over from scratch, and how bad do they want it. And that's been our motto, and they want it bad, as you can see."

Paramount demonstrated how badly they wanted the section championship, dominating Oxnard's Channel Islands (19-3-4) after falling behind less than two minutes after kickoff. A quick counter left Ricardo Blancas alone with Pirates goalkeeper Tony Maldonado, and he did not miss.

It was Paramount's game the rest of the way.