Los Angeles Soccer:

Rafael Marquez
July, 24, 2012
7/24/12
11:57
PM PT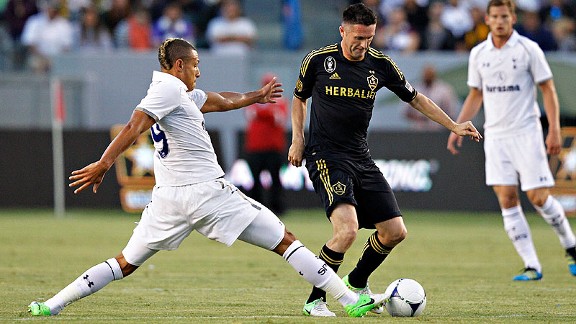 Ric Tapia/Getty ImagesWith players like Robbie Keane, above, coming to play for the Galaxy, it has helped raised the team's profile.
CARSON, Calif. -- The mission had been accomplished long before the teams even took the field Tuesday night.
The final score was irrelevant to the larger goals for the Los Angeles Galaxy, which, if you must know, played to a 1-1 draw against Tottenham Hotspur of the English Premier League in front of a near sellout crowd at the Home Depot Center.
As nice as it was to see an undermanned Galaxy team (playing without
David Beckham
and
Landon Donovan
) hold their own against a Tottenham side, which finished fourth in the English Premier League last season, the Galaxy's goal have always been larger than one game, one player and one country.
The vision of
Tim Leiweke
, president and CEO of AEG, has always been to make the Galaxy a global brand that would be easily recognizable around the world. He wanted fans to be familiar with the Galaxy and be able to rattle off two or three players on the team no matter what continent they were on.
It was a lofty goal, especially considering Major League Soccer's place in the global soccer landscape and soccer's place in the United States' sporting pecking order.
Yet, five years after Beckham arrived in Los Angeles, Leiweke's dream for the Galaxy has come true.
When Tottenham arrived in Los Angeles on Saturday to play the first of three exhibition matches in the U.S., they didn't come for a sun-kissed vacation on the beach and to walk over an unknown side filled with unfamiliar players.
Everyone on Tottenham was quite familiar with the Galaxy and their surging status in the soccer world. It began when the Galaxy signed Beckham in 2007 but for many who play at White Hart Lane it grew when Los Angeles signed their old friend and teammate
Robbie Keane
last year.
Keane played at Tottenham from 2002 to 2011 with a brief stint at Liverpool in 2008 and still captains the Ireland national team.
"A lot more players overseas know about the MLS now," said Tottenham winger
Gareth Bale
, who scored a first half goal on Tuesday.
November, 6, 2011
11/06/11
11:17
PM PT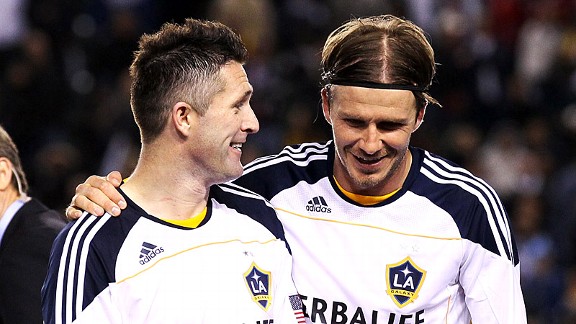 Stephen Dunn/Getty ImagesRobbie Keane, left, and David Beckham have helped take MLS to the next level in terms of recognition.
CARSON, Calif. -- This is what Philip Anschutz must have had in mind as he dipped into his deep pockets time after time over the last 15 years and continuously wrote blank check after blank check to a sport most in this country couldn't have cared less about and specifically to a team no one in Los Angeles knew much about.
On a cold November night that was far more reminiscent of London than Los Angeles, it wasn't just the scarves and chants that evoked images of our neighbors across the pond. Major League Soccer may never be confused with the top-flight leagues in Europe but when the highlights of the Los Angeles Galaxy's 3-1 win over Real Salt Lake in the Western Conference final are shown abroad, the names of the high-priced players will be just as impressive as their play Sunday night.
There was
David Beckham's
perfectly placed cross that was headed home by
Mike Magee
, who has quickly become Beckham's favorite target on set pieces. There was
Robbie Keane's
ankle-breaking run and shot past the outstretched arms
Nick Rimando
. And there was, of course,
Landon Donovan's
powerful penalty kick into the back of the net to start it all off in the first half.


As the trio celebrated the team's second Western Conference title in three years, AEG president and CEO
Tim Leiweke
put on a championship hat, looked at the 20,000 confetti-soaked fans at the Home Depot Center and said, "They thought this sport would never make it here."
Not only has the sport made it here; it is beginning to thrive here. A recent report placed the average attendance of MLS games this past season (17,872) slightly ahead of the average attendance at NBA games (17,319) and NHL games (17,126) thanks in large part to the 10 soccer-specific stadiums that have been built for MLS teams since 1999. Fans are not just coming out to games but supporters in Seattle, Portland, Toronto, Vancouver and Philadelphia would rival those in any league when it comes to sheer loyalty and fanaticism.
The play on the field and the fervor in the stands is something Beckham had hoped to see when he signed a five-year deal with the Galaxy back in 2007. When he first arrived in Los Angeles and would go back to Europe for games or other obligations, he admits he would hear the snickers when they would talk about the league. That has slowly changed as international players such as Keane,
Thierry Henry
,
Rafael Marquez
and
Juan Pablo Angel
have not only come signed with the league but have done so with plenty left in the tank.
"This league is being noticed now around the world," Beckham said. "That's important. That's important for the game in this country and important for the game around the world that this league gets noticed. We're starting to get that now and we're enjoying that. They're taking us seriously now."
May, 27, 2011
5/27/11
4:36
PM PT
By
Scott French
| ESPNLosAngeles.com
The Galaxy's friendly with Real Madrid could force Southern California soccer fans into a tough decision. Do you want to see
Cristiano Ronaldo
or
Thierry Henry
?
That's the situation after Major League Soccer, through its marketing arm, confirmed an evening start on July 16 at the Coliseum for the Galaxy's clash with the Spanish giant.


Chivas USA also is playing that night, against Henry,
Rafa Marquez
and the mighty New York Red Bulls at Home Depot Center, a dozen miles south on the Harbor Freeway. It's one of the few money games on the calendar for the Goats, who have not nearly the following the Galaxy does, and the conflict could cost them thousands of fans.
The Galaxy-Real Madrid game is part of this summer's World Football Challenge, featuring MLS clubs against big-name European opposition in a series of exhibitions produced by Soccer United Marketing, MLS's marketing arm, and CAA Sports.
Major League Soccer officials responded to an interview request with a statement: "We are aware of the situation. At this time, we are analyzing options."
Primary among those options would appear to be moving Chivas' game from Saturday night to Sunday, July 17. An MLS spokeswoman said in an email Friday that the "overlap is still being examined."
Tom Payne
, the Galaxy's president of business operations, acknowledged that the conflict was considered "for a minute, to be frank" while setting up the date.
"At the end of the day, sometimes these games are almost dictated for you," he said. "This is the time Real Madrid could play. … We certainly didn't mean it to fall on that day. We didn't have any choice in the end."
Real Madrid, which will be conducting preseason training in Southern California for the second straight year under noted Angelenophile
Jose Mourinho
, had strict timeframes with which to work. The Merengues also are playing Guadalajara on July 20 at Qualcomm Stadium in San Diego, a date that doesn't please the Galaxy.