Los Angeles Soccer:

Rafael Marquez Lugo
September, 29, 2011
9/29/11
12:03
AM PT
By
Scott French
| ESPNLosAngeles.com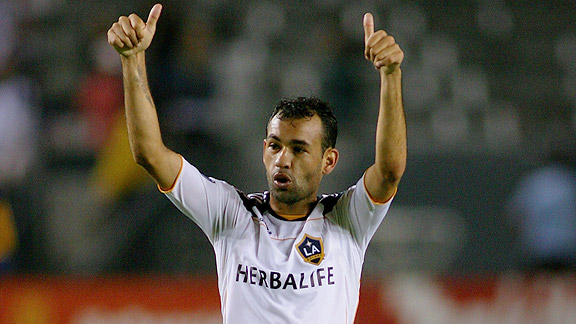 Jeff Golden/Getty ImagesJuninho scored the game-winner in stoppage time to give the Los Angeles Galaxy a thrilling 2-1 victory over Morelia.
CARSON -- The Galaxy found redemption when they most needed it Wednesday night, washing away the frustration and injustice of the past few weeks with a stoppage-time goal that delivered a must-have victory in their biggest showdown of the season.
And, of course, everyone took a gander at the linesman, just to make sure.
Juninho
's end-of-the-game finish from a corner kick delivered a 2-1 triumph over Morelia at Home Depot Center, exorcizing whatever demons remained from a controversial defeat to the Monarcas in Mexico and leaving L.A. 90 minutes from a berth among the final eight when CONCACAF's Champions League reaches the knockout stage early next year.
"It felt like poetic justice," said left back
Todd Dunivant
, who made the feed for
Mike Magee
's first-half opener, then played a pivotal role in corralling Morelia's counterattack as the Galaxy gambled heavily in the final 10 minutes or so. "I mean, it was pretty ironic the way it happened. Essentially, a tale of two games, and this time it worked out for us and not for them."
L.A. needed a bit of fortune, a lot of resolve and a series of corner kicks at the end to poke home the winner and put behind them the phantom call that erased
Robbie Keane
's would-be winner in a 2-1 defeat at Morelia two weeks ago.
It came from the last of three corner kicks near the end, with
Chad Barrett
rising to nod
Landon Donovan
's serve into the goalmouth, and Juninho's shot found its way through diving Monarcas goalkeeper
Federico Villar
and into the net.
The Galaxy, with
David Beckham
suspended and Keane out with a gluteal injury, was the aggressor from the start, and it paid off with Magee's 21st-minute goal.
A
Michael Stephens
long ball cleared a scrum at the top of the Morelia box, and Dunivant tracked it down on the left byline and played the ball through defender
Marvin Cabrera
's legs to Magee. He side-footed it first-time, and Villar, partially screened by
Adam Cristman
, couldn't keep it from its path inside the far post.
The Monarcas got the equalizer with help from some sloppy defending in the 60th minute.
Bryan Jordan
cut off a
Damian Manso
ball into L.A.'s box for
Yasser Corona
, but
Rafael Marquez Lugo
got to the ball before Galaxy goalkeeper
Josh Saunders
or defender
Omar Gonzalez
, and he was able to slip it past them.
Saunders immediately raced toward Jordan, chastising him for the play, but Corona would have had an open net had Jordan not intervened.
September, 27, 2011
9/27/11
10:23
PM PT
By
Scott French
| ESPNLosAngeles.com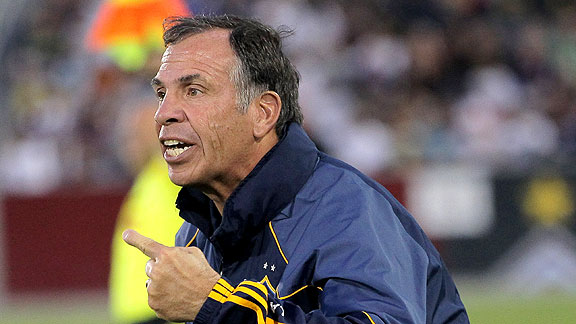 Doug Pensinger/Getty ImagesGalaxy coach Bruce Arena has not been a fan of the referees in the CONCACAF Champions League games.

CARSON -- The Galaxy's failure to reach the knockout stage of the CONCACAF Champions League would be remembered primarily for the phantom offside call that cost them a would-be winning goal two weeks ago at Morelia.

If they do move on, it will be Wednesday's rematch with the Mexicans at Home Depot Center that will play largest in the tale -- it's the first truly must-win game L.A. has played this year, and they know what's waiting if victory escapes them.

"This is an elimination game," captain Landon Donovan noted as the Galaxy (2-2-0) wrapped up preparations for their fifth Group A clash in the region's club championship. "If we lose the game, we're done."

Well, nearly so, but if they win, they're probably through to next year's quarterfinals, one of the club's primary goals this season. That would require one more victory -- Oct. 20 against winless Motagua in Tegucigalpa, Honduras -- but any tiebreakers are going to favor L.A.

Morelia (3-1-0) will clinch a final-eight berth with a victory, and Costa Rican champion Alajuelense (3-1-0) could then grab the group's other spot with a win or draw Thursday against Motagua (0-4-0).

A draw would keep the Galaxy alive if Alajuela loses or ties Thursday, but they'd need help in the group finales from Morelia, which is home Oct. 18 against Costa Ricans.

"You don't want to deal with that," Donovan said. "And it's unfortunate [we're where we are], because after two games we were in the power position. The third game [at Morelia] really hurt. The missed call really hurt us. And then playing a poor game [in last week's loss at Alajuelense] in the fourth game hurt us. So this becomes essential."

The Galaxy will be without David Beckham, who is suspended after receiving his second yellow card of the tournament last week, and might be missing Robbie Keane, who is recovering from a gluteal injury and will be a game-time decision.

'ROBBED OF POINTS': Keane played a huge role in the first meeting with the Mexican club, scoring L.A.'s first goal and netting another in the 90th minute that should have provided a 2-1 lead. An errant offside call -- Keane was at least three yards onside -- erased the goal, and Miguel Sabah's finish two minutes later gave Morelia the victory.

"I think using the word 'we were cheated' is too strong a word, it's not fair," Galaxy coach Bruce Arena said. "But we were robbed of points there. By anybody's imagination. That was very strange. It's been a strange tournament in terms of officiating for us."


September, 14, 2011
9/14/11
6:32
AM PT
By
Scott French
| ESPNLosAngeles.com
MORELIA, Mexico -- As one press-box wit noted following L.A.'s loss to Morelia in a CONCACAF Champions League clash, there is a substantial crime rate in Michoacan.

The Galaxy learned this the hard way Tuesday night, when it was robbed of one goal -- and Morelia was possibly given another -- in a 2-1 decision that raised some extraordinary questions about CONCACAF's policy for assigning officials for its most important matches.

Robbie Keane's would-be winner in the 90th minute was waved off by a phantom offside call, flagged by Honduran linesman Oscar Velasquez, as a flurry of late decisions went against L.A.

It was, frankly, criminal.

"I really don't know what to say," Galaxy coach Bruce Arena said to begin the postgame news conference. "I thought some difficult decisions went against us to decide the game. ... I thought we were on the end of some bad decisions at the end of the game."

It snowballed over the final 10 minutes, when the Galaxy -- holding onto an edge supplied through Robbie Keane in the 52nd minute -- conceded an 83rd-minute equalizer to Adrian Aldrete, saw Keane's second goal wiped away, then absorbed another phantom call, a foul against Frankie Hejduk, that started the sequence leading to Miguel Sabah's stoppage-time winner.

The offside call on Keane was the most egregious of several questionable decisions, all favoring Morelia.

Omar Gonzalez, about 8 yards out, sharply headed Landon Donovan's corner kick. Monarcas goalkeeper Federico Villar made the save, and Keane deposited the rebound. Who knows what Velasquez saw -- or thought he saw.

When Gonzalez made contact with the ball, the critical moment in the offside ruling, Keane was at the top of the 6-yard box and was stepping toward the net. Gerardo Lugo was in the 6, about 3 yards off the goal line -- meaning Keane was about 3 yards onside.

"It didn't look offside," Keane said. "I didn't think I was offside, but I have to look back [at the tape] to see that."


September, 13, 2011
9/13/11
12:42
AM PT
By
Scott French
| ESPNLosAngeles.com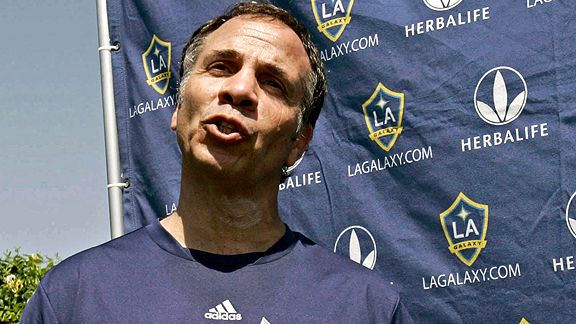 AP Photo/Nick UtGalaxy coach Bruce Arena says his team will be in for a much tougher battle in Mexico than two recent MLS teams that won games south of the border.

MORELIA, Mexico -- FC Dallas and the Seattle Sounders made history, and if that was good for Major League Soccer, it wasn't so grand for the Galaxy.

MLS is 2 for 2 in CONCACAF Champions League clashes in Mexico this summer, quite an achievement -- at least at the surface -- after the league's teams failed to win south of the border in its first 21 tries.

The Galaxy tries to make it three in a row Tuesday night, when it takes on Morelia in a Group A showdown at Estadio Morelos that figures to be much tougher than what Dallas or Seattle had to overcome.



"I think that the results that Seattle and Dallas got don't help us, because I think Morelia will come close to playing a full [first-choice] team," said Galaxy head coach
Bruce Arena
, whose team won its first two CCL games, over Honduran champion Motagua and Costa Rican titlist Alajuelense, at Home Depot Center. "Dallas played against reserves and youth players [in a victory last month at Pumas UNAM], Seattle didn't play against [defending champion Monterrey's] first team either.
"We're going to play against the first team. In my mind. ... I would think they're going to play their best team."
It's a fine team, too, featuring Mexican national team forwards
Rafael Marquez Lugo
and
Miguel Sabah
, former national-teamer
Jaime Lozano
, Ecuadoran star
Joao Rojas
and center back
Joel Huiqui
, among others. The Monarcas, 1-1-0 in Group A, are rounding into top form and coming off a 1-0 triumph Saturday over mighty Cruz Azul in Mexico City.
"Having gotten a result this weekend makes it a little easier [for Morelia]," Arena said. "They're under a little pressure [at 3-3-1] in their league, and I think they would have been thrilled to come home with a point, and they got three. So that takes a little pressure off them. They can say this week this game is a little more important than [Friday's Primera Division encounter against Gallos Blancos de Queretaro]."
FC Dallas opened its CCL campaign Aug. 17 with a 1-0 win, on
Marvin Chavez
's goal, in Mexico City over Pumas. The reigning Primera champs left out most of their first-teamers. Seattle stepped up six days later for a 1-0 win, on a superb
Alvaro Fernandez
finish, at Monterrey.
"We don't talk about any of that stuff," Arena said. "I think the players are aware of it. I think they go into these games believing they can get a result. I mean, that's half the battle. I would think for a number of years that teams in this league didn't even think they could get a result."
There was good reason for that. From 1997, the first year MLS clubs were eligible for CONCACAF's club tournament, until 2008, Mexican foes won all nine meetings played on Mexican soil. They outscored the MLS teams, 29-3, and scorelines included 6-1, 6-0 and 5-0.
May, 15, 2011
5/15/11
9:36
PM PT
Pumas UNAM and Morelia took care of business at home Sunday, posting emphatic victories to advance to the Primera Division's Clausura final.
Pumas overcame a slow start, with goalkeeper
Alejandro Palacios
making three huge saves in the first 23 minutes, to topple Guadalajara, 2-0, making for a 3-1 aggregate triumph in the two-games, total-goals semifinal series.
Morelia stunned Cruz Azul, 3-0, rallying from a two-goal disadvantage after the first leg to advance on 3-2 aggregate.
The final is tentatively slated for Thursday in Morelia and next Sunday in Mexico City, but Mexico's soccer federation will finalize plans Monday.
Rafael Marquez Lugo
erased Morelia's deficit with goals in the ninth and 12th minutes, then set up
Jaime Lozano
for a late strike moments after
Joel Huiqui
made a series-saving stop on the goal line. Had the game ended 2-0 (and the series at 2-2), Morelia would have advanced as the higher seed.
Javier Cortes
curled a free kick inside the right post just before halftime to give Pumas command, and
Dante Lopez
tallied in the 76th minute following a superb
Dario Veron
run.
Pumas, which was atop the regular-season standings through most of the winter/spring Clausura, was expected to push through after a 1-1 draw in the first leg Thursday in Zapopan, Jalisco. Morelia's triumph was not anticipated, not after Cruz Azul scored twice in the first half in a 2-0 first-leg win.
Sunday's game in Morelia turned ugly at the end, after a fan ran onto the field and tried to shake Cruz Azul captain
Gerardo Torrado
's hand. The Mexican national team veteran refused the request, and his teammates attacked the fan. That prompted some Morelia players to intervene, and a brawl quickly broke out, with Cruz Azul's
Christian Gimenez
trading punches with the fans and two Cruz Azul goalkeepers, backup
Yosgart Gutierrez
and starter
Jose de Jesus Corona
, attacking a member of Morelia's technical staff.
Referee
Francisco Chacon
red-carded Gimenez, his Cruz Azul teammates
Julio Cesar Dominguez
and
Isaac Romo
, and Morelia's
Miguel Sabah
. Corona, who escaped punishment, faces a lengthy ban for head-butting the Morelia staffer.
May, 8, 2011
5/08/11
10:05
PM PT
By
Scott French
| ESPNLosAngeles.com
Guadalajara fans are celebrating this weekend: Their heroes knocked off the top seed in the Mexican Primera Division's playoffs, and hated rival America is out.
Mexico City's Cruz Azul and Pumas UNAM, and Morelia, a favorite in Santa Ana, also advanced to the Clausura final four, and Club Tijuana took another step toward joining Mexico's top league this summer.
Chivas completed its first-round upset of top seed UANL Tigres with a 1-1 draw Saturday in San Nicolas, outside Monterrey, advancing to a semifinal showdown with No. 2 Pumas UNAM on 4-2 aggregate. It's the third straight season in which the No. 1 seed failed to advance from the quarterfinals.
Hector Reynoso
scored for Guadalajara, knocking home the rebound after
Marco Fabian de la Mora
followed up off the post after his penalty kick was saved.
Morelia tamed America, Mexico's biggest club, using two
Joao Rojas
goals and a
Rafael Marquez Lugo
penalty kick in a 3-2 triumph Sunday nioght to finish a 5-3 aggregate triumph.
Morelia will face Cruz Azul, which held Atlante scoreless in Cancun after a 2-1 win in the midweek opener.
March, 8, 2011
3/08/11
8:54
PM PT
By
Scott French
| ESPNLosAngeles.com
Michael Orozco Fiscal's status remains uncertain after his odd departure from Major League Soccer's Philadelphia Union, with the defender from Orange apparently back with San Luis.
The Mexican club hasn't placed Orozco on the roster on its website, but Union coach
Peter Nowak
said in a news conference last week that Orozco had returned to Mexico.
It was a strange announcement by the second-year MLS club's coach. Orozco (Magnolia HS in Anaheim) arrived in Philadelphia on loan last season, started 29 of 30 games, was No. 2 on the team in minutes played, and was instrumental in tightening the Union backline after moving to the middle for the final eight matches.
Orozco was in camp with the Union and played in preseason matches during the team's camp in Orlando, Fla., and assistant coach
John Hackworth
had reported that the club was on the verge of a new agreement to keep him with the team in 2011.
The MLS' roster-compliance date arrived, and Orozco was gone. No word, no nothing, until Nowak -- a former Polish national-teamer, Chicago Fire icon, title-winning D.C. United coach and 2008 Olympic team manager -- finally admitted the defender had left the team.
"Why do we need to announce it? End of story, he's back in Mexico," Nowak said. "Simply, his loan was up, and it seemed like this stuff was already done. There is no need to explain anything about Michael Orozco Fiscal."
Orozco, who last year began using Fiscal as part of his name (in the Latin fashion) to honor his mother, hadn't been part of the team since Jan. 1, but he also hasn't been with San Luis, which is sixth overall in the Primera Division Clausura standings with a 3-2-5 mark and at the bottom of its Copa Libertadores group at 0-2-1. No indication he will be any time soon.
BIG SCORE, BIG GAME:
Morelia's electric form took it roaring past host Toluca, 6-1, in one of the more stunning scorelines of the season, boosting the Monarcas to second overall (and in Group 3) with their fourth successive victory and extending their unbeaten streak to eight games since that 5-0 loss to Atlas in the Clausura opener.
Rafael Marquez Lugo
netted a second-half hat trick for Morelia (5-1-3), which has a showdown this week at home against Pumas UNAM (6-0-3), the overall leader. Marquez Lugo is the top Clausura scorer with six goals.
February, 22, 2011
2/22/11
4:51
PM PT
By
Scott French
| ESPNLosAngeles.com
Calexico's
Isaac Acuņa
is starting to flower, following his first Primera Division appearance in nearly a year with a game to remember.
Acuņa, 21, scored in his first start in Mexico's top league to lead Gallos Blancos de Queretaro (2-4-1), who started the week at the bottom of the Clausura standings, to a stunning 2-0 triumph at Santos Laguna (3-3-1).
Acuņa scored in the third minute -- he took a pass from
Eder Borelli
as he slipped past the backline, dribbled past goalkeeper
Oswaldo Sanchez
and knocked the ball into the open net -- and fed
Carlos Bueno
for the second goal just before halftime.
Santos' fans answered with jeers after a second successive 2-0 home loss, and coach
Ruben Omar Romano
, who guided the Torreon-based club into the Apertura final, was dismissed after cameras caught him making an offensive gesture to fans, after which he criticized the supporters.
"His behavior went against the values that the club stands for and promotes, which is why the decision was taken to end our working relationship with immediate effect," the club said in an announcement on its Web site. Said club president
Alejandro Irarragorri
: "This is a deeply hurtful decision, but we must be consistent with our values and responsibility as a model team. Ruben reacted negatively to pressure from the fans, and that's something we can't cover up."
Fellow Argentine
Diego Cocca
, 38, was hired to replace Romano. Cocca, a former right back who counts Atlas, Veracruz and Gallos Blancos among the nearly dozen clubs for which he toiled, previously has managed three Argentine clubs, most recently La Plata's Gimnasia y Esgrima.
Acuņa, who is with Queretaro on loan from America, played 35 minutes in a 5-0 loss Feb. 12 to Toluca. He made his debut last April 10, playing five minutes for America in a victory over Jaguares.
SINCE 5-0:
The most alarming result of the Clausura occurred in week one, when Atlas, the worst team in the fall Apertura, throttled a decent (or so we thought) Morelia side, 5-0. After three games, Atlas had matched its fall win total and sat atop the overall table.