Los Angeles Soccer:

Rahman Rezaei
July, 9, 2012
7/09/12
1:08
PM PT
By
Scott French
| ESPNLosAngeles.com
FULLERTON -- Charlie Naimo has never been one to hide his emotions, but after his L.A. Blues hit bottom Sunday evening, dropping their fifth in a row with a 4-0 debacle against Orlando City SC, he made it clear that he's ready to dump some of the more useless players under his command.

The Blues' head coach/general manager railed against his team's penchant for costly errors, its naļvete, lack of "mental strength" and shortage of "resourceful guys," and said if all USL Pro contracts weren't guaranteed, "I would cut so many guys from this team right now. ... Do you think I'd keep some of these guys around here? You kidding me?"

The Blues (5-8-2) were done after conceding two goals to Dennis Chin in first 17 minutes, both following turnovers, then gave up two more near the end, to Jean Alexandre in the 70th and Matt Luzunaris in the 78th minutes, Alexandre's also after a giveaway in the back.

"It's beyond frustrating to me at this point. The bottom line is we make too many mistakes right now," Naimo told ESPN Los Angeles. "Nobody scores a hard-earned goal against us. It's always a gift. I don't know, I don't have any answers. It's my fault. I picked the team. I'm the one who signed some of these guys that are allowing these things to happen, so, whatever. It's on me."

The Blues have in a week and a half fallen from fifth to eighth in the third-division league, and they haven't scored in their last three games, including back-to-back losses at Cal State Fullerton to first-place Orlando City (12-1-4), the defending champion.

They were without striker Bright Dike, who has six goals in 10 games after arriving on loan from Major League Soccer's Portland Timbers but tweaked a hamstring in Friday's loss.

Dike might be done with the Blues; he's set to return to the Timbers early this week, but what exactly that means is uncertain.

"He's supposed to go back tomorrow," Naimo said. "It could be for good, we don't know. We discussed about him going back [to Portland] short-term, coming back [to qualify before] out roster freeze" date in two weeks. "We're working pretty well with Portland right now. I'm sure we'll get another player or two [from them]."

They're getting another defender Monday, with Josh Suggs, who played for the Blues last year and has been with MLS's San Jose Earthquakes this season, arriving on a free transfer. Suggs "is going to give us another winner, winning mentality, good athlete. Helps you in a game like that. I would have played him [rather than Corey Miller] at left center back today, and I promise you the first two goals don't get scored."


June, 14, 2012
6/14/12
10:46
PM PT
By
Scott French
| ESPNLosAngeles.com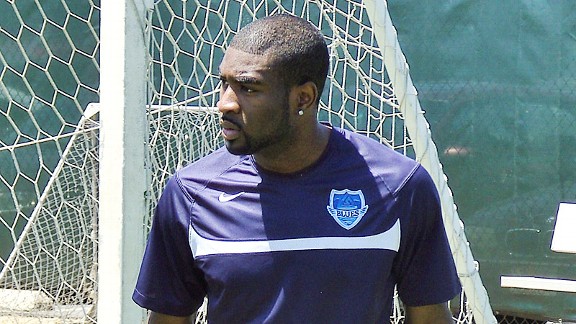 L.A. BluesBright Dike has scored twice for the Blues since arriving on loan.
The message out of Fullerton is simple: Don't overlook Dayton.

Ohio's Dutch Lions haven't won a USL Pro game this year, and they only won two of 24 last year, but the L.A. Blues are leery as they prepare for a two-game set this weekend.

"It's not going to be easy," Blues head coach Charlie Naimo told ESPN Los Angeles in advance of Friday night's 7:30 meeting at Cal State Fullerton. "The USL Pro is pretty tight this year. There are no blowouts. We've seen enough now and know [Dayton] is as good as anybody."

Dayton, it should be noted, is 0-5-5. That makes the second-year club 2-21-11 in almost a season and a half -- numbers that hardly seem frightening -- but the number combination that matters most, that demonstrates what the Lions can do, is 2-1: the score in their U.S. Open Cup upset at Major League Soccer's Columbus Crew.

The Dutch Lions are 3-0 in the Open Cup and set for a quarterfinal showdown June 26 at Sporting Kansas City. They're 3-1-2 in all competitions over the past 3½ weeks -- the lone loss by a goal to second-place Charleston -- after halting the Rochester Rhinos' string of shutout victories with a 1-1 draw nearly a month ago.

The Blues (3-3-2), who are returning to action after a three-week break, won the season's first meeting May 11, a 1-0 decision in Ohio, and Dayton had the better of play for good stretches of the action. It's a possession team with some dynamism, as the name might suggest -- rather like the Blues.

"Thinking of Dayton, the first thing that comes to mind is the Dutch philosophy of keeping possession and knocking the ball around, which is somewhat similar to ours," Blues winger George Davis IV, who played last year for Dayton, told his club's website. "That seems to have worked really well for them lately, given the run they're on with those Open Cup wins and having been so tough to beat in the league.

"When you add in the fact that they haven't won a league game, that makes them very dangerous. They have every reason to believe in themselves and at the same time are dying to get their first three points, which is a powerful combination."

Former Chivas forward Maykel Galindo will play his first match at full strength after using the break to recover from a foot injury, and Naimo is looking forward to seeing him teamed up front with Bright Dike, who has tallied twice in four games since joining the Blues on loan from MLS's Portland Timbers.


May, 22, 2012
5/22/12
1:21
AM PT
By
Scott French
| ESPNLosAngeles.com
Proceeding in the U.S. Open Cup is a priority for the L.A. Blues, who enter the competition Tuesday against the Ventura County Fusion, and they'd love to take a shot next week at Chivas USA if they win.
Getting there won't be easy. The Blues (3-2-1), if they beat the Fusion in the in a second-round game at Fullerton College, face four games in eight days on two coasts. The USL Pro contests between the Open Cup dates are against two of the third-division league's best clubs, defending champion Orlando City SC (6-0-1) and Charleston Battery (4-2-0).
Something's got to give.
"I'd like a different schedule, let's leave it at that ...," Blues head coach/general manager
Charlie Naimo
told ESPN Los Angeles on Monday. "Really, it is out of my control. Out of the organization's control. You can't worry about what you don't control, you just have to go out and do it. I have to decide based on what happens [Tuesday] how I want to play Thursday and Saturday. I have to choose."
Orlando City's situation is the same as the Blues', with four games in eight days if it wins its Open Cup opener Tuesday, but the Lions would sit at home until next week's third-round game at Sporting Kansas City, provided they beat K.C. Athletics, a U.S. Adult Soccer Association side. Charleston also has an Open Cup game but plays just once on the weekend.
Naimo's approach will be fairly straightforward. Beating the Fusion is important, but it likely won't require a first-choice lineup -- Ventura, amateurs from the USL's Premier Development League is playing its fourth game in eight days -- and the goal is victory in Orlando.
"I'm thinking our guys will be up to play the defending champions," Naimo said. "We're going after that game. We're not going in to try to steal a point. We want to win that game."
Do so and, if the date with Chivas is on for May, the Blues "might not put in guys who won't be able to play against Charleston and Chivas. It's tough to do that. ... My goal is winning [Tuesday], have a good result against Orlando. Can't think much beyond that point."
May, 3, 2012
5/03/12
10:18
PM PT
By
Scott French
| ESPNLosAngeles.com
The L.A. Blues will have to wait a little longer before
Maykel Galindo
and
Rahman Rezaei
suit up, and
Charlie Naimo
has only so much patience. He could use both of them -- for the intangibles, more than anything else -- for this weekend's USL Pro games against the Wilmington (N.C.) Hammerheads.

Galindo, a former star forward for Chivas USA who played last season with FC Dallas, was expected to make his Blues debut in Friday's 5 p.m. game at Fullerton College, but an ankle sprain will sideline him this weekend -- game two is Sunday at Cal State Fullerton -- and perhaps for next weekend's trip to play Dayton and Pittsburgh.

Rezaei, a center back who played in Italy's Serie A and for Iran at the 2006 World Cup, has his visa but is going through a final background check before he can enter the country.

They'll provide needed skill and experience up front and at the back for the Blues (0-2-0), who were shut out twice at home by Rochester in the first two weeks of the USL Pro season. More so, they will demand accountability of their teammates, which Naimo, the head coach and general manager, wants to see.

"It still really remains to see who our best 11 is," Naimo said. "That's the biggest mystery, the biggest stresser, is who should be playing. We have a lot of similar players, and there's really not that much of a hierarchy. It's been very hard to find consistency in our team because of that fact."

The Blues' first season veered off course last year after Argentine playmaker Walter Gaitan departed in mid-June, after just 2½ months with the club, leaving them without, Naimo says, "the leader by example that nobody wanted to cross." Galindo and Rezaei will be those guys this year.

"No question in my mind," Naimo said. "I just can't wait for that to happen. Everyone will be more confident players with those guys on the field. Accountability will be difference, and so will confidence."