Los Angeles Soccer:

Ramon Ramirez
April, 16, 2012
4/16/12
10:25
AM PT
By
Scott French
| ESPNLosAngeles.com
CARSON -- The scoreline in Sunday's U.S.-Mexico "legends" reunion at Home Depot Center might have been inevitable, given how everything else seemed to fall right into line.

Big crowd? Check. Rooting for El Tri? Of course. Early Mexican domination? Just like in series history. Lights-out goalkeeping? Shades of Tony Meola, Kasey Keller and Brad Friedel. An American triumph on home ground? Bingo.

"Same old same old, right?" Eric Wynalda chirped afterward. "2-0. That's the way these games finish."

This one did, lending a red, white and blueish glow to a surprisingly delightful evening at the Clasico de Leyendas match between great U.S. and Mexican players of yesteryear, primarily the 1990s and early 2000s, when the rise of American soccer created the region's greatest national teams rivalry.

These games do finish 2-0, as most everyone on the field noted.

"Reminds me of the [2002] World Cup," said Cobi Jones, who like former Westlake High School teammate Wynalda played in three World Cups for the U.S. "Same score, always fabulous."

2002 is the apex of the rivalry, the only World Cup encounter in 59 meetings, but it was 2-0 U.S. in the home qualifier for the last three World Cups, in the 1991 Gold Cup -- the first of 13 U.S. victories in the past 21 years -- and in 2000 and 2007 friendlies.

The goals came from Roy Lassiter (Major League Soccer's first scoring champion) and Brian McBride (a legend in the U.S. and parts of England), and both arrived in the second half, after Galaxy goalkeeper coach Ian Feuer (capped just once, in 1992) had made the best of eight fantastic saves -- on Francisco Palencia, Ramon Morales, Jared Borgetti twice, Alberto Garcia Aspe, Ramon Ramirez and Luis Hernandez twice -- that kept the Yanks in what had been a very one-sided game.


April, 15, 2012
4/15/12
11:04
AM PT
By
Scott French
| ESPNLosAngeles.com
CARSON -- They're friends now, in some cases connected beyond the rivalry they've seen grow from nothing into one of the world's most heated, so Sunday evening's "Clasico de Leyendas" benefit match is more reunion than anything else.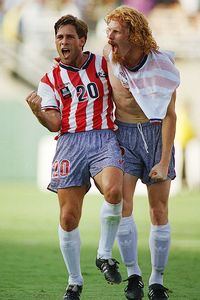 AP Photo/Michael CaulfieldPaul Caligiuri, left, and Alexi Lalas celebrate a victory over Mexico at the Rose Bowl in 1994.
But that spark of what was -- the intensity of the battles, the hatred of the foe -- figures to color what occurs on the Home Depot Center turf, even if the duels aren't so bloody nor the pace so quick.

More than a dozen legends from the U.S. and Mexican national teams, most of them veterans of the 1990s showdowns that created the rivalry between CONCACAF's twin powers, along with other pros will meet up again in a 70-minute match to benefit Hispanic college scholarships.

Some of the biggest names from the era -- Cobi Jones, Eric Wynalda, Alexi Lalas and Paul Caligiuri for the U.S.; Claudio Suarez, Ramon Ramirez, Jorge Campos and Luis Hernandez for Mexico -- are slated to play in the 6 p.m. game, which sounds as much celebration as competition.

"I remember my first game against Mexico was in Azteca Stadium [in the 1993 CONCACAF Gold Cup final], and we lost, 4-0," said Thomas Dooley, the German-born midfielder who played in the 1994 World Cup and captained the U.S. at the 1998 World Cup. "My first experience that I have was with [defender and current Guadalajara head coach Ignacio] Ambriz, and we almost had a fight on the field, kicking each other, boxing each other.

"That's what the rivalry is all about, going after each other. And after the game, we looked for each other and we traded jerseys and we actually became friends whenever we saw each other. I think that's a big part of our games against Mexico. It's a competition on the field, and after the game, it doesn't matter if Mexico wins or the U.S. wins, we'll always be friends."


December, 22, 2010
12/22/10
9:00
PM PT
By
Scott French
| ESPNLosAngeles.com
Chivas USA officials (majority owner
Antonio Cue
, primarily) made up their minds a few weeks ago on a new head coach, we're told, and plan to
announce their decision
after Christmas.
Former Chicago Fire and New York Red Bulls head coach
Juan Carlos Ososrio
is the choice, several sources (including one inside the club) have told ESPN Los Angeles, but Chivas USA has been forced to wait until the close of the Colombian season before it could make an announcement.

Osorio, a Colombian-born coach who was educated in the U.S. (and received much of his coaching education while serving as conditioning coach at Manchester City in 2001-06), last weekend won the Colombian championship with Once Caldas.
The other finalists, the sources say, were Real Salt Lake assistant coach
Robin Fraser
, a former star defender for the Galaxy and other clubs, and
Denis Hamlett
, who succeeded Osorio as head coach of the Fire.
Cue, also Chivas' president, and interim general manager
Jose L. Domene
were in Mexico and unavailable for comment.
Others considered for the job were former U.S. national team striker
Eric Wynalda
, whose staff would have included Chivas legends
Ramon Ramirez
and
Claudio Suarez
, and former Chivas USA captain
Jesse Marsch
, an assistant coach for the U.S. national team. Wynalda withdrew his name from consideration three weeks ago.
Osorio, who attended Southern Connecticut State University and began his coaching career with long-defunct minor-league side Staten Island Vipers in 1998, was an assistant to MetroStars coach
Octavio Zambrano
in 2000-01. After his time at Man City, he took charge of Colombia's Millonarios, his first head-coaching job.
He resurrected a struggling Chicago side in 2007, guiding it to a 6-3-6 record the second half of the season and into the Eastern Conference final before bolting to the Red Bulls (the rebranded MetroStars). He took New York to the 2008 MLS Cup title game, but resigned about two-thirds into a horrid 2009 campaign, stepping down with the Red Bulls 2-16-4 and without a win in more than three months.
December, 13, 2010
12/13/10
4:18
PM PT
By
Scott French
| ESPNLosAngeles.com
Chivas USA's search for a head coach is in its final stages, and a club source says management has trimmed the pool of candidates to three.
No word on whether former Chicago Fire and New York Red Bulls head coach
Juan Carlos Osorio
is one of the three.
Osorio, a Colombian coach who went to college and has coached extensively in the U.S., is currently in charge of Once Caldas in Colombia. He was in charge of the Fire in 2007 and left the club after the season to become coach of the Red Bulls. He resigned in August 2009 with New York holding the worst record in MLS.
Speculation in the U.S. coaching community is that Osorio might get the job, but Chivas USA spokesman
David Lindholm
said the club would not comment on specific candidates.
"The process is in the final stages, and there is a smaller list of candidates" being considered, Lindholm said. "
Stephen
[
Hamilton
, Chivas USA's director of soccer] has said that he's hopeful to have a hire by Christmas, and that is still the case."
Lindholm wouldn't confirm nor deny that three candidates remain. Hamilton was not made available.
"What I can tell you," Lindholm said, "is we've not made an offer to anyone and we've not made a decision on a specific candidate."
The initial list of about a dozen candidates included Real Salt Lake assistant coach
Robin Fraser
, a former star defender for the Galaxy; former Chivas USA midfielder
Jesse Marsch
, who retired after the 2009 season to join U.S. national team coach Bob Bradley's staff; and former U.S. national team striker
Eric Wynalda
, who plans to include Chivas legends
Ramon Ramirez
and
Claudio Suarez
on his staff if he's hired.
Chivas USA also is believed to have spoken to several candidates in Mexico, including some involved with Club Deportivo Guadalajara, Chivas' parent club.
November, 15, 2010
11/15/10
6:27
PM PT
By
Scott French
| ESPNLosAngeles.com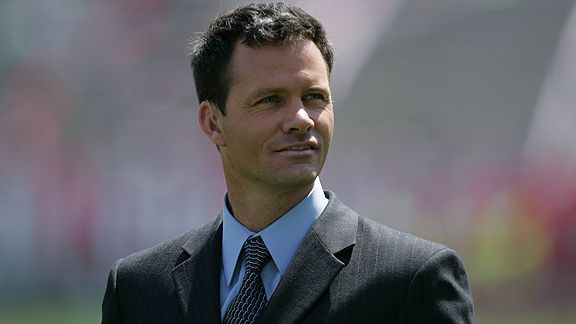 John Todd/MLS
Eric Wynalda, a former U.S. national team player, is one of the more intriguing coaching candidates for Chivas USA.
Chivas USA managing partner
Antonio Cue
has said he'd like to have a new head coach in place before this week is over, and whether or not the Goats meet that deadline, there no question they've got some interesting candidates.
Former Chivas midfielder
Jesse Marsch
, who retired after the 2009 season to join U.S. national team coach
Bob Bradley's
staff, has talked to club management, and
The Washington Post
reported Monday that former Galaxy defender
Robin Fraser
, an assistant coach for Real Salt Lake, has had conversations about the job.
A club source earlier this month said there were a dozen names on the team's list of candidates and that some belonged to Mexicans, hardly a surprise given Chivas' roots -- with Club Deportivo Guadalajara -- and chief owners Cue and
Jorge Vergara
, who are Mexican.
Perhaps the most intriguing candidate is former U.S. national team star
Eric Wynalda
, 41, who has two of the biggest names in Mexican soccer on his side.