Los Angeles Soccer:

Reed Williams
May, 4, 2012
5/04/12
2:06
PM PT
By
Scott French
| ESPNLosAngeles.com
The local clubs in the USL's Premier Development League take the league's name to heart. The objective is developing talent, far more so than winning trophies, although those are nice, too.

There are five L.A.-area teams in the PDL's Southwest Division, including 2009 national champion Ventura County Fusion, which figures to battle defending division titlist Fresno Fuego for the top spot this season, which kicks off in earnest this weekend after Fresno-L.A. Misioneros games the past two weekends.

Most of the clubs are loaded with college players, a few amateurs looking to showcase their talents for the next level and, in some circumstances, pros hoping to step up into one of the country's three fully professional leagues or to a club to the south or overseas. The Southwest Division, along with its conference partner in the Northwest, is a standard-bearer for the PDL, in terms of competition and development.

"First and foremost, [the priority] is to prepare players for the next level," said Fusion coach Ole Mikkelsen, a 1978 UCLA All-American who played in the old North American Soccer League. "We select players primarily on whether or not we think they have the tools to play at the MLS level. We prepare the players first, and win second. It's hard to disconnect the two -- winning gives visibility to get you exposed."

The Fusion and fellow PDL power Orange County Blue Star have sent scores of players on to Major League Soccer and other pro leagues. So has the La Mirada-based Southern California Seahorses, a Christian club that expects to battle the Fusion, Blue Star and Fuego for the division title and two postseason berths.

"All the guys who come to our team are interested in that development part of the league and the team," Seahorses coach Todd Elkins said. "They know they get better. The level is consistently good. Just making the team -- making a team in our region -- you're going to be challenged. We take that very seriously. We want to maximize their time during the summer, making sure [a player] gets everything he can from us.

"We look at it as being a bit of a testing ground. If progressing the ranks is a goal for you, this is a good test to see if that's realistic or not."


December, 9, 2011
12/09/11
10:40
AM PT
By
Scott French
| ESPNLosAngeles.com
There are 16 players from L.A., Orange, Riverside, San Bernardino, Ventura and Santa Barbara counties playing in the NCAA College Cup this weekend in Hoover, Ala.
Almost all of them, no surprise, play for UCLA. (And not all of them, to be fair, actually play.)
The number is impressive, given that the Bruins recruit nationally, with their biggest names coming from Alabama (
Chandler Hoffman
), Washington (
Kelyn Rowe
), Oregon (
Brian Rowe
) and England (
Andy Rose
).
UCLA's starting lineup includes a winger from Chino Hills (
Eder Arreola
), and two defenders and a forward from Orange County (
Patrick Matchett
,
Joe Sofia
and
Reed Williams
). Another starting back from Bakersfield, in Kern County, and the first forwards off the bench are from Fontana (
Victor Chavez
) and Calabasas (
Evan Raynr
).
Second-ranked Creighton has two local products, both starting midfielders, both juniors, both All-Missouri Valley Conference second-team selections:
Dion Acoff
(Upland/Damien HS) and
Jose Gomez
(Santa Ana/Century HS and Cal State Fullerton).
December, 9, 2011
12/09/11
10:10
AM PT
By
Scott French
| ESPNLosAngeles.com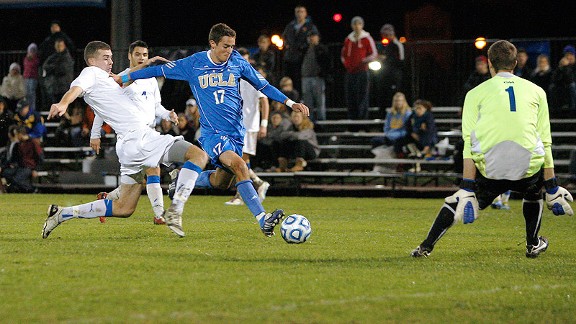 Courtesy of Jeff SipseyChandler Hoffman of UCLA is returning home to Alabama to help lead the Bruins in the College Cup.

LOS ANGELES -- Chandler Hoffman was heading home to Birmingham, and he was bringing a couple dozen of his best college buddies with him.

They hope to return to L.A. with an NCAA trophy.

Hoffman, a sure-to-be All-American striker, leads UCLA into this weekend's College Cup men's soccer final four in Hoover, Ala., where the Bruins figure to be a fan favorite, with all of his family and friends filling seats.

"Man, my phone has been blowing up. Facebook has been blowing up," Hoffman said as the Bruins prepared for Friday night's semifinal showdown with top-seeded North Carolina. "Everyone's excited to come out. It should be like a home game for UCLA."

This is what Hoffman has envisioned since word arrived earlier this year that the College Cup would be played in Birmingham's suburbs. Now that it's here -- and the Bruins are there -- he can barely contain his excitement.

"I'm so waiting for someone to pinch me and wake up," he said. "It just feels like a dream."

That dream comes true if UCLA (18-4-1) overcomes the Tar Heels (20-2-2), then knocks off second-seeded Creighton (21-2-0) or Charlotte (16-4-3) in Sunday's final. It would be the fifth NCAA men's soccer title in school history, and it would fulfill Jorge Salcedo's dream, too.

The Bruins' head coach has been part of three UCLA titles -- as a ballboy in 1985, a freshman midfielder in 1990 and an assistant coach in 2002 -- and came close to winning another in his third season in charge of the program.

"It would mean so much," said Salcedo, who played for four Major League Soccer clubs, including the Galaxy, and Morelia in Mexico. "I quietly always hope that it's going to happen, and now, once again, we have another chance. The loss [to UC Santa Barbara in the final] in 2006 left a bitter taste in my mouth, because we were a good team back then, I think ready to win a championship. But I think we're even more ready now as a program to win one."

The Bruins have ample talent, extraordinary depth -- especially in attack -- and solid upperclass leadership, and there's that destiny thing at work, too. At least Hoffman believes so.


December, 3, 2011
12/03/11
10:04
PM PT
By
Scott French
| ESPNLosAngeles.com
UCLA is headed to its 13th NCAA College Cup after Reed Williams' goal in overtime paid back Louisville for last year's quarterfinal thriller.
Williams (Newport Beach/Corona del Mar HS) scored 91 seconds into the second extra period to send the fourth-ranked (but 13th-seeded) Bruins (18-4-1) to next weekend's final four in Hoover, Ala., just outside Birmingham.
They'll face top-seeded North Carolina (20-2-2), a 2-0 winner over St. Mary's (11-7-5), in the semifinals. The other game will pair Sunday's winners, with third-seeded Connecticut (19-3-2) or Charlotte (16-4-2) facing second-seeded Creighton (20-2-0) or seventh-seeded South Florida (13-3-4). The game at Creighton was postponed by snow Saturday.
Williams fired from the top of the box through a thicket of defenders and inside the left post after
Patrick Matchett
(Laguna Niguel/Dana Hills HS) made a run from midfield, then played a give and go with
Ryan Hollingshead
on the right flank.
It led to a wild celebration for the Bruins, who watched two two-goal leads slip away and lost, 5-4, to Louisville in the closing seconds of last year's quarterfinal, which was played in a snowstorm.
This time, the conditions were mild -- low 50s drifting into the high 40s -- and UCLA did a superb job of absorbing pressure, pushing forward when the opportunity arrived, then forcing the issue once overtime arrived.
Louisville (14-7-2), which lost to Akron in last year's title game, had the better of the play much of the game but struggled to find chances when i got to the Bruins' box. All-American
Chris Rolfe
had several opportunities, but he fired high with an open shot in the 16th minute, poked the ball just wide of the right post while battling UCLA goalkeeper
Brian Rowe
in the 48th, then forced Rowe to parry a blast in the 85th.
That was all Rowe needed to tie a school record with his eighth straight shutout, extending his goal-less streak to 747 minutes, 40 seconds.
UCLA nearly tallied several times. A
Fernando Monge
header from a long throw-in by
Joe Sofia
(Dove Canyon/Mission Viejo HS) forced an early save from Cardinals goalkeeper
Andre Boudreaux
, who also made big stops on
Eder Arreola
(Chino Hills/Chino Hills HS) in the 75th minute and, with a diving save, on Williams' header just a minute before the goal.
In other men's action:
Michael Salazar (Moreno Valley/Canyon Springs HS) scored twice, with the winner in the 81st minute, to lead Cal Baptist (17-5-1) past Geneva (Pa.), 2-1, in the National Christian Collegiate Athletic Association title game in Kissimmee, Fla. Salazar's 18th minute goal was answered by Jake McCracken's header eight minutes into the second half, and he netted the winner from a feed from Alex Anderson (Palmdale/Palmdale HS).
In women's action:
Bernadette Witz
(Temecula/Temecula Valley HS) scored just before halftime and again midway through the second half as Cal Baptist (18-2-1) rallied from an early deficit to beat Trinity International (Ill.), 2-1, and win the NCCAA championship in Kissimmee, Fla. The Lancers outshot TIU, 22-2, and took 14 corner kicks to none for their foe, but they were behind after Kelly Streekstra's long-distance drive in the 17th minute. Witz scored from a feed by
Channing Perea
(Riverside/Riverside Poly HS)'s feed to tie the score and from tournament MVP
Fabiola da Silva
's pass to net the winner.
June, 14, 2011
6/14/11
10:58
PM PT
By
Scott French
| ESPNLosAngeles.com
The L.A. Blues dodged an early red card with the aid of a newcomer. The Ventura County Fusion overcame an early deficit and weathered several crises.

Both survived first-round encounters Tuesday night in the U.S. Open Cup to set up a showdown next week at Ventura College.

The Blues, down to nine men by the finish, held on to beat Hollywood United FC, 3-1, as Iranian wing-back Mehrshad Momeni scored goals each side of halftime at Riverside Community College's campus in Norco. The Fusion got goals from UCLA's Andy Rose, Mark Magee and UCLA's Reed Williams to overcome West-side amateurs Doxa Italia, 3-1, in Ventura.

The winner in next Tuesday's game will take on a Major League Soccer club -- almost certainly the Galaxy -- in a third-round clash June 28. The U.S. Open Cup is America's oldest and most prestigious cup competition, contested since 1914.

A quick look at the first round:

BLUES JOIN PRO MARCH: The Blues were among 10 teams from the third-tier USL Pro to advance, opening a two-goal lead after Leonard Griffin was sent off in the 19th minute and netting a third after Josh Tudela saw red in the 89th.

Momeni, who signed with the Blues before the season began but didn't arrive until recent weeks, scored in the 37th and 55th minutes. Carlos Morales halved the deficit in the 67th for HUFC -- he was red-carded in the 86th -- and Gerardo Bravo scored the finale for the Blues.


May, 17, 2011
5/17/11
7:09
PM PT
By
Scott French
| ESPNLosAngeles.com
Hollywood United FC is awaiting word on a National Premier Soccer League rival's appeal of sanctions for fielding an ineligible player to find out, for sure, that it is headed to the U.S. Open Cup.
The Hitmen are set to take one of four NPSL slots in the annual competition after the San Diego Flash, an ambitious club led by former English pro and current Fox Soccer analyst
Warren Barton
, forfeited two games for using an ineligible player, Englishman
Lee Underwood
.
Early-season games in the NPSL double as qualifiers for the Open Cup, which dates to 1914 and features clubs from all strata of American soccer -- amateur to Major League Soccer -- and the forfeits gave the Flash's berth to HUFC. First-round games are slated for June 14.
It's all pending appeal, but the Hitmen's record becomes 7-0-1 after a 3-1 loss to San Diego (now 5-2-0) in their opener was changed to a 3-0 victory. The winless Bay Area Ambassadors also picked up a win.
HUFC's five-game winning streak was stopped Saturday in a 1-1 draw with visiting Sacramento Gold.
Elsewhere in the NPSL:
Santa Ana Winds (5-1-0) won their fifth in a row, beating San Diego Boca, 3-1, on goals by Chong Yong Park, Torrance's Diego Turoldo (North Torrance HS/Cal State Dominguez Hills) and Carlos Godinez. That puts them on top in the Southwest Flight, because, it turns out, Hollywood United is in the Northwest Flight. That's according to HUFC, who learned of it only on Monday. The Hitmen were listed in the Southwest on the league's website until last week.
Thousand Oaks' FC Hasental (2-4-1) toppled Boca, 3-1, the day after a wild, 5-4 loss loss to Sonoma County Sol. Los Conejos let a 4-2 lead slip away in the last half-hour.
Lancaster's Rattlers FC won its first NPSL game, winning, 2-1, at Real San Jose on an 82nd-minute goal by Roberto Mariscal (Palmdale/Palmdale HS). Miguel Guillen (Rosamond/Rosamond HS) also scored for the Snakes.
PDL: Defending Southwest Division champ Ventura County Fusion (3-0-1) grabbed first place with shutout victories over L.A. Blues 23 and Southern California Seahorses in the USL Premier Development League. Former UC Santa Barbara standout David Walker (Orange/Villa Park HS), a 2010 Houston Dynamo draft pick, scored and set up two more goals in Friday's 4-0 romp over the Blues, then assisted UCLA's Reed Williams (Newport Beach/Corona del Mar HS) to start Sunday's 2-0 win against the Seahorses.
December, 24, 2010
12/24/10
4:00
PM PT
By
Scott French
| ESPNLosAngeles.com
Our countdown of 2010's top 10 soccer stories and newsmakers -- from a Southern California slant -- continues.
Stories/No. 8: UCLA's fabulous freshmen
It was an odd (and some might say off) year for college soccer in the Southland:
UCLA's women didn't come close to an eighth straight trip to the NCAA College Cup final four (USC's disappointed, too)
UC Santa Barbara's men never got a chance to try to win a championship at home (deserving Akron celebrated on the Gauchos' field)
UC Irvine's stirring fall finished just short (what a run by the Anteaters' women) and with a stunning snub (how did their men, top 10 all year, not get an NCAA Tournament bid?)
Let's not even mention the lower divisions, Azusa Pacific's women (NAIA semifinalists) aside.
The best team in these parts, and that wasn't clear until season's end, was UCLA's men, who needed nearly half the season to figure things out, then came up just shy of the program's 13th final-four appearance.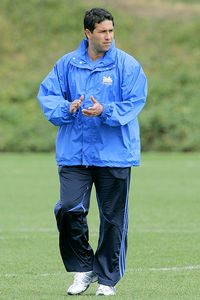 Courtesy of UCLA Athletics
UCLA coach Jorge Salcedo has one of the most talented collection of young players in the nation.

No surprise they needed time to find their feet: The Bruins had the finest collection of freshmen in the country, and their sophomores were pretty good, too. They might be the NCAA's No. 1 team when the season opens next fall, but their window for winning a title ought to be short: The players Bruins coach (and former Galaxy and UCLA midfielder)
Jorge Salcedo
brings to Westwood are so good, they rarely last more than a couple of years before going pro.
And this year's youngsters might be the Bruins' best. Included were an All-American midfielder (
Kellyn Rowe
), a forward who turned down pro offers to come to UCLA (Fontana's
Victor Chavez
) and another forward coveted by top programs everywhere (Newport Beach's
Reed Williams
). Two top defenders (Dove Canyon's
Joe Sofia
and Laguna Niguel's
Patrick Matchett
) sneaked in under the radar. And maybe the best of the lot (goalkeeper
Earl Edwards
) saw no action, sitting behind a top veteran (junior
Brian Rowe
).
Seven freshmen played considerably and the class accounted for most of the goals (23 of 40, with Chavez's 10 tops on the team) and assists (27 of 52, with Rowe's 10 tops on the team).
UCLA went 16-5-1, absorbing a big loss early (5-1 to Indiana) and another defeat in front of the biggest crowd ever to watch a soccer game at a university field (2-0 to UC Santa Barbara in front of 15,896), then taking off on a 14-2 spree into the NCAA quarterfinals. They held two two-goal leads before succumbing, 5-4, to No. 1 Louisville in the snow.
November, 28, 2010
11/28/10
10:43
PM PT
By
Scott French
| ESPNLosAngeles.com
Eder Arreola
's second goal Sunday night couldn't have come at a better time.
The junior midfielder with extensive U.S. youth national team experience, tapped home from close range after a long throw-in just eight seconds before the end of overtime to lift UCLA past visiting Dartmouth, 2-1, and into the NCAA Division I men's quarterfinals.

The Bruins (15-4-1) will play Saturday at top-ranked Louisville (18-0-3), with the winner advancing to the College Cup final four Dec. 10 and 12 at UC Santa Barbara.
Arreola (Chino Hills/Chino Hills HS), whose blast to the upper-right corner gave the Bruins (16-4-1) a 26th-minute lead, had scored only once in the first 19 games of the season.
"It's unreal," Arreola told UCLA's athletics website after a throw-in into the Dartmouth box by freshman
Joe Sofia
(Dove Canyon/Mission Viejo HS) was headed onto his path by a Big Green defender. "Words cannot describe this feeling right now. It's a dream come true. I've been waiting for this day when I could score at Drake Stadium, and today I was able to score for the team and help us get to the next round."
Eight more seconds, and the game would have been decided on penalty kicks.
November, 22, 2010
11/22/10
12:48
AM PT
By
Scott French
| ESPNLosAngeles.com
Chandler Hoffman
tallied twice as UCLA rolled into the third round of the NCAA Division I men's tournament Sunday, scoring four second-half goals in a 4-1 victory over visiting Sacramento State.

The eighth-seeded Bruins (15-4-1) will be home next Sunday against Dartmouth (12-6-1), which beat Notre Dame, 2-1, in overtime.
UCLA took command of a tight game as Hoffman scored in the 55th minute and freshman
Reed Williams
(Newport Beach/Corona del Mar HS) in the 58th. Hoffman, who has scored in four straight games, got his second in the 73rd, and freshman
Victor Chavez
(Fontana/A.B. Miller HS) made it 4-0 in the 85th.
Ernesto Carranza
scored for Sacramento State (11-5-7) in the 87th.
"We started out the game a little bit slowly," UCLA coach
Jorge Salcedo
told the school's website. "I thought some of the guys seemed nervous, and it took us a little bit to get going, but in the second half, how can you not be happy with four goals? Our production in front of goal in the second half was very good."
November, 13, 2010
11/13/10
11:00
PM PT
By
Scott French
| ESPNLosAngeles.com
Elise Britt and Sydney Leroux scored on each side of halftime, and UCLA held off Central Florida, 2-1, Saturday night at Drake Stadium to reach the final 16 in the NCAA Division I women's tournament.
The Bruins (13-7-2), who have struggled this season and weren't one of 16 national seeds in the tournament, are two wins from an eighth successive College Cup final four berth.
It's an unlikely prospect; UCLA likely is headed to No. 1 Stanford for next weekend's third-round match. The Cardinal (19-0-2) face Santa Clara (13-6-2) in a second-rounder Sunday.
Britt, a senior, scored her first collegiate goal in the 42nd minute, heading home a
Dana Wall
corner kick. Leroux, on the cusp of the U.S. women's national team, netted her 13th goal of the year in the 49th, heading in a cross from
Lauren Barnes
(Upland/Upland HS) after a quick restart near midfield.