Los Angeles Soccer:

Ricardo Ferretti
October, 11, 2011
10/11/11
5:55
PM PT
By
Scott French
| ESPNLosAngeles.com
The best team in Mexican soccer this year, even without a trophy to show for it, has been UANL Tigres, which under Brazilian coach
Ricardo "Tuca" Ferretti
has conceded just 18 goals while posting a 16-3-11 mark in regular-season action since the Primera Division's Clausura kickoff last January.
The club from suburban Monterrey is back atop the Apertura after crushing previous leader Pumas UNAM on the weekend, scoring four first-half goals en route to a 4-1 decision.
Tigres (5-1-6) is even on points with Cruz Azul (6-3-3), which was denied two should-be penalty kicks before
Javier Orozco
netted two second-half goals in a 2-0 win over Puebla.
Jaguares (5-3-4), which was ahead two weeks ago, fell from second to sixth with a 1-0 loss at Pachuca (6-4-2), which climbed to fourth, just one point off the lead, after its third win (with a tie) in four games since the 5-0 disaster Sept. 10 at Tigres.
Santos (6-3-2), still with a game in hand over everybody except Morelia, and Pumas (6-4-2) also are two points back.
The biggest surge forward this week was made by Monterrey (5-5-2), which won in league for the first time since August -- early goals from
Neri Cardozo
and
Dario Carreņo
starting the Rayados toward a 3-2 victory at Estudiantes Tecos -- to jump from 13th to eighth, into the playoff zone.
1. WHITHER JOHNNY B.?
Local hero
Jonathan Bornstein
's time in his mother's native land isn't going as planned. He's an afterthought at Tigres -- and given the club's success, who can say Ferretti is wrong -- with not one minute of league time since the Apertura began in July.
Bornstein (Los Alamitos/Los Alamitos HS and UCLA), the former Chivas USA captain, has made Tigres' 18-player game roster just once, at the end of August, and has seen action only in three games with the club's under-20 side.
"It's definitely frustrating," he told Major League Soccer's website. "I keep plugging away in training and doing the work, and, hopefully, when the times comes, I'll get the opportunity."
September, 27, 2011
9/27/11
8:54
PM PT
By
Scott French
| ESPNLosAngeles.com
No change in the Mexico's Primera Division standings this week after all the big showdowns ended in draws.
Four of nine games in the 10th "jornada" in the fall Apertura finished at 1-1, including meetings between first-place Jaguares and fourth-place UANL Tigres and between Cruz Azul and Guadalajara, who sit in second and third.
Surprising Jaguares (5-2-3) rallied after conceding a late goal to
Lucas Lobos
, pulling even with Tigres (4-1-5) on
Jorge Rodriguez
's 89th-minute strike.
Omar Arellano
tallied in the first half for Guadalajara (5-2-3) and
Edixon Perea
in the second for Cruz Azul (5-2-3).
Fifth-place Pumas UNAM (5-3-2), the spring Clausura winner, won at Estudiantes Tecos to pull more or less even with the teams above it. The top three have 18 points, Tigres and Pumas 17, and Atlante sits just two points further behind after its fourth successive one-goal victory.
Another four teams have 14, and three more have 13. Sixteen of 18 clubs are firmly in the battle for eight playoff berths.
It's the makings for an incendiary finish.
1. TUMBLING RAYADOS
Monterrey has won the last two Apertura titles and last spring captured its first CONCACAF Champions League crown. The Rayados aren't playing like champions now.
They're 1-4-1 in league play since early August, and a 2-1 loss Saturday to Gallos Blancos in Queretaro dropped them from sixth to 11th in the table. The Champions League campaign also has been a trudge, with shutout losses at home against the Seattle Sounders and at Comunicaciones in Guatemala threatening to keep them from next year's quarterfinals and beyond.
September, 13, 2011
9/13/11
12:54
PM PT
By
Scott French
| ESPNLosAngeles.com
The most important moments were at the end for three Mexican Primera Division teams over the weekend. Stoppage-time strikes delivered a huge win for Morelia and gave Club Tijuana and Monterrey a share of the points in their matches.
Morelia (3-3-1), which still has a game in hand over most of the field stemming from the gunshots-halted clash last month at Santos Laguna, vaulted from 15th to 10th with a stunning 1-0 decision at Cruz Azul.
Joao Rojas
scored the 92nd-minute decider from Aldo Ramirez's penetrating feed.
Tijuana (1-4-3), which has been hamstrung by bad luck more so than bad form, was set to go down at Toluca after conceding another questionable penalty kick, but
Jose Sand
headed home
Richard Ruiz
's cross in the 92nd to provide a 1-1 draw.
Monterrey's push for a point was more dramatic. The Rayados (4-3-1), down to 10 men after
Jesus Zavala
's 21st-minute red card surrendered a two-goal advantage against Puebla as former Chivas USA forward
Isaac Romo
tallied twice in the second half. They were redeemed by a controversial penalty-kick call, and
Luis Perez
slotted home from the spot in the 94th for a 3-3 tie.
1. TALE OF TWO ROUTS
UANL Tigres was the top team in the spring Clausura, winning the regular-season title before an upset loss in the first round of the playoffs. Pumas UNAM was crowned champion. They were on different sides of blowouts that appear to confirm their destinies this fall.
August, 30, 2011
8/30/11
10:06
PM PT
By
Scott French
| ESPNLosAngeles.com
Monterrey paid tribute to those who lost their lives in last week's brazen drug-cartel attack on a casino in the city, organizing a white-out for its Mexican Primera Division showdown with Santos Laguna.
The Rayados, playing just two days after the arson attack, encouraged fans to wear white and the players released white balloons to honor the 52 killed and send a message that Mexicans are tired of the violence and want to see positive, peaceful change.
It worked for the club, too. Goals by
Luis Perez
and
Humberto Suazo
led Monterrey to a 2-0 triumph, ending a four-game stretch in which it was beaten by San Luis and Guadalajara in league play and the Seattle Sounders in the CONCACAF Champions League.
1. CHANGING AMERICA?
Seems about time for Club America's bosses to cut ties with
Carlos Reinoso
, whether or not that would be the wisest move. The underachieving Aguilas, riding a string of disappointments despite always possessing some of Mexico's best talent, have won just two of six games in the Apertura and slipped to 11th overall with a 2-0 defeat at Pachuca.
It's too early to panic -- America (2-2-2) is just one point out of the top eight with 11 games to go -- but that hasn't stopped the club before, and there's a growing disillusionment with the Chilean Reinoso, who is in his third stint as Aguilas boss.
Rumors are swirling, but he says he's going nowhere, that the speculation that he'll be dismissed is "normal" and doesn't bother him.
"I work here for free because I love America. Who wouldn't want to be here?" he told Mexican media this week. "I'm not leaving. We know and believe and want to succeed -- and we will succeed. We will achieve the objectives, which is to qualify for the playoffs and then fight for the title. ... America fans want the best for America, and the dream of all America fans is to be champion. So we are aware that we need to improve, that we must be in the final."
February, 18, 2011
2/18/11
9:15
PM PT
By
Scott French
| ESPNLosAngeles.com
Jonathan Bornstein
's Mexican adventure has been a hoot, he says, and not just on the soccer field, where he's helped UANL Tigres to the top of the Primera Division.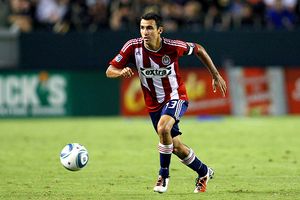 Victor Decolongon/Getty ImagesJonathan Bornstein, now playing in Mexico, has adjusted well playing for Tigres after a successful MLS stint with Chivas USA.


The defender/midfielder from Los Alamitos (Los Alamitos HS/UCLA) has been absorbing the culture of his mother's homeland while learning a new style of soccer with Tigres, based in suburban Monterrey.

He's made four starts in the club's first six games in the Primera Division's spring Clausura championship, contributing an assist and nearly scoring goal as Tigres (4-1-1) have won all four.

"I would probably say the soccer aspect has taken over the majority of my life," Bornstein, preparing for Saturday's Clasico Regiomontano showdown with Monterrey, said in a Q&A with U.S. Soccer earlier this week. "Getting my first start was pretty uplifting for me, just being able to feel like I'm part of the team and contributing."

Bornstein, 26, whose mother is Mexican, signed a pre-contract last summer with Tigres and joined the club following five seasons with Chivas USA. He had grown with the Goats from an MLS-draft afterthought (2006, fourth round) to World Cup defender, departing as captain and having played the most games in team history.

Now he's experiencing a different brand of soccer -- and in a new position. Coach Ricardo "Tuca" Ferretti has used him as one of two "contencions," defensive midfielders, in a 4-2-2-2 scheme.


January, 24, 2011
1/24/11
11:35
PM PT
By
Scott French
| ESPNLosAngeles.com
UANL Tigres has teased before with poor returns, so nobody is proclaiming the club from suburban Monterrey as some new-found power, least of all manager Ricardo Ferretti.
"I think it's premature -- we are on day three, and things have gone well, but I think it's premature to talk of this is our tournament …," Ferretti told the Medio Tiempo Web site after Tigres' last-minute 2-1 victory Sunday over Club America at Estadio Azteca. "This dream is based on a lot of hard work, dedication, dedication, commitment."
Ferretti is in his third stint as Tigres boss -- the took them to the 2001 Invierno final and 2003 Clausura semifinals -- and knows well the their spotty history. They haven't won a playoff game since 2005, a span of 10 seasons, and haven't qualified for the postseason the last four seasons, falling just short in the fall Apertura.
With Los Alamitos'
Jonathan Bornstein
(Los Alamitos HS/UCLA) already contributing, Tigres is atop Group 1 and third in the overall standings with a 2-0-1 mark. The former Chivas USA captain has started the last two games, playing in midfield, and nearly scored Sunday.
Tigres toppled America (0-2-1) when
Hector Mancilla
finished a great burst by
Damian Alvarez
in stoppage time. They rallied from a two-goal deficit to tie Gallos Blancos, 2-2, in the Clausura opener and topped Necaxa, 1-0, on a PK in their second game.
HOT FOOT:
Pumas UNAM tops Group 3 with a 1-0-2 record behind
Juan Carlos Cacho
, the deadliest striker in the Primera Division. Cacho scored two more superb goals -- volleying home
Martin Bravo
's feed and with a smash to the upper-left corner -- as Pumas UNAM rallied from a two-goal deficit but couldn't hold on in a 3-3 draw with Cruz Azul.