Los Angeles Soccer:

Richard Menjivar
June, 22, 2012
6/22/12
4:18
PM PT
By
Scott French
| ESPNLosAngeles.com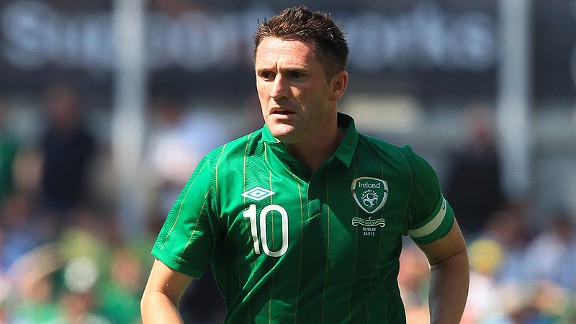 Peter Muhly/Getty ImagesRobbie Keane is back from Euro 2012 and ready to play for the Galaxy if called upon.

CARSON -- Robbie Keane returned to training Friday with the Galaxy, just four days after wrapping up his involvement at the European Championship, and although he wishes he were in Ukraine preparing for a quarterfinal Saturday or Sunday, he says he's happy to be back.

And ready to go, should he be called upon for Saturday night's Major League Soccer clash with Vancouver at Home Depot Center.

"It's nice to be back amongst the lads and look forward to being involved tomorrow," the Irish striker said following Friday's training session at HDC's Track and Field Stadium. "[I'm ready to] play as long as I can. I'd be happy to play 90 minutes."

He's hoping to "get minutes under my belt tomorrow to sort of get all the stiffness out" as he looks to move on from a very disappointing Euro 2012 campaign. Ireland lost all three of its Group C matches, to Croatia, Italy and Spain, and finished last in the 16-nation tournament.

Asked what he takes from the Euros, Keane replied: "Nothing, really. It was a good experience. It was obviously great to play in the European Championship, but if you don't win ... sometimes you just have to hold your hand up and say the team you played were superior than you were. Simple as that, really."

It was a frightful group for the Irish, who are capable battlers without the depth or talent of the continent's powers, a roster that includes the Spaniards -- defending European and World Cup champs -- and the Italians and, on occasion, the Croats, too.

The gap might be growing between decent teams, such as Ireland, and "people like Spain, who's probably on a different planet at the moment [from] anyone else I've ever played against," Keane said. "You're just basically chasing shadows for 90 minutes."

The only positive for Ireland was the Green Army supporters, a jovial lot who charmed everybody and won great plaudits for serenading their team with the Irish folk song "Fields of Athenry" as Spain rolled to a 4-0 victory Monday.

"That's normal for Irish fans," Keane said. "They've been fantastic over the years, and especially in Poland I think they've been a credit to the country in the way they behaved and the way they supported the team. That's how every team should be supported."


May, 30, 2012
5/30/12
11:36
PM PT
By
Scott French
| ESPNLosAngeles.com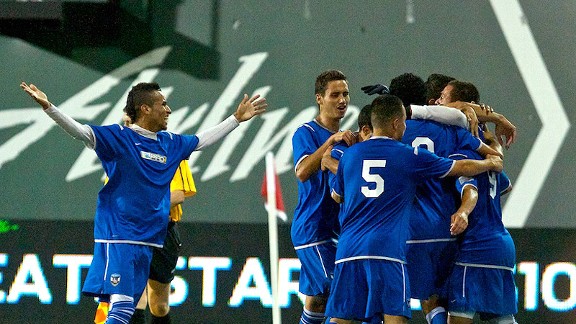 Leah Parr/Portland Timbers Cal FC players celebrate with Artur Aghasyan after his overtime goal against the Portland Timbers.

Cal FC's stirring run through the U.S. Open Cup hadn't been all that unexpected -- this is a team filled with pros, remember, even if they're amateurs here, or at least close to it.

But what the Thousand Oaks club pulled off Wednesday night defied belief.

Artur Aghasyan finished a breakaway five minutes into overtime, and Cal FC fended off wave after wave of attacks by the Portland Timbers to stun the Major League Soccer side, 1-0, in a third-round clash at Jeld-Wen Field, a result that shook the foundations of American soccer.

Eric Wynalda's side was outshot, 43-11, conceded 11 corner kicks and dodged more than a dozen bullets to pull off what might be the greatest upset in this country's premier knockout tournament since MLS's formation 16 years ago.

The reward: a showdown next week in Tukwila, Wash., with three-time defending champion Seattle Sounders, which routed the second-tier Atlanta Silverbacks, 5-1, on Wednesday to advance to the round of 16.

"I think we are the ultimate Cinderella story -- that's for sure," Wynalda told reporters in Portland. "A bunch of misfit kids who did something unbelievable. This is what this Cup is about."

Cal FC is the first U.S. Adult Soccer Association team to defeat an MLS club in the Open Cup, although Texas' Roma FC toppled Chivas USA on penalties following a 0-0 third-round draw in 2006. The Galaxy took care of the amateurs in the following round.

Timbers Army, Portland's fanatical supporters group, serenaded Cal FC when it was over with chants of "You deserve it!" and "Beat Seattle!" The game drew 5,489 fans to the stadium a few blocks west of downtown Portland.

Wynalda, a veteran of three World Cups and a star striker in Germany and in MLS, had on his mind the UEFA Champions League final a week and a half ago in Munich, which he covered as a studio analyst for Fox Sports. Chelsea upset Bayern Munich on penalties in that one after being outshot, 43-9, and outcorner-kicked, 20-1.


May, 29, 2012
5/29/12
2:43
PM PT
By
Scott French
| ESPNLosAngeles.com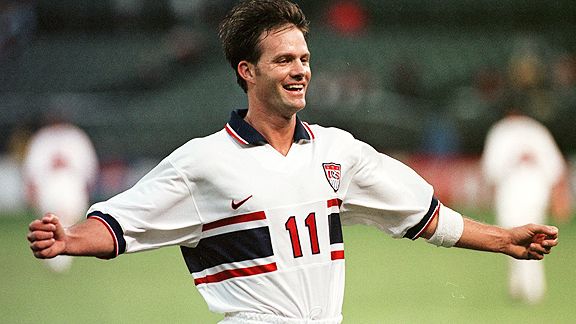 Monica M. Davey/AFP/Getty ImagesEric Wynalda back when he was scoring goals for the U.S. National Team.
Eric Wynalda, one of the finest strikers America ever produced, has built a team somewhat in his own image, and it's taking on America's soccer establishment with impressive results.

Thousand Oaks' Cal FC, a collection of misfit players with undeniable talent, have already conquered two better-fancied clubs in the 99th edition of the U.S. Open Cup, and Major League Soccer's Portland Timbers, on Wednesday night, could be next.

Wynalda, a first-ballot National Soccer Hall of Fame inductee who played in three World Cups, starred in Germany and scored the first goal in MLS history, knows that it's possible.

"We didn't enter this competition because we thought this would be fun," the former goal-getter from Westlake Village, known to a new generation of fans as an at-times acerbic commentator on Fox's soccer coverage, told ESPN Los Angeles. "We really have high hopes. We set goals, we achieve them and we re-set."

Wynalda's got, as he puts it, "a bunch of guys that everybody knows who they are." There's former UC Santa Barbara star Danny Barrera (Thousand Oaks/Westlake HS), who trialed with the Chicago Fire during MLS's preseason after a stint in Serbia. And there's Artur Aghasyan, who has played with Real Salt Lake and been on trial a couple of times with Chivas USA. And Richard Menjivar (Panorama City/Monroe HS), a Cal State Bakersfield standout who impressed with El Salvador's U-23s during CONCACAF's Olympic qualifiers.

UCLA alum Eder Arreola (Chino Hills/Chino Hills HS), who was drafted in January by the Houston Dynamo and trained with Chivas USA, is with the club. So is former Galaxy/L.A. Blues defender Mike Randolph (Chino Hills/Ayala HS) and Cesar Rivera (Pomona/Garey HS and Mt. San Antonio College), who led the Blues in scoring last year. And goalkeeper Derby Carrillo (La Mirada/St. John Bosco HS and Cal State Dominguez Hills), whom El Salvador's national team has targeted.

And hopefuls such as Danny's brother, Diego (Thousand Oaks HS/Loyola Marymount), former U.S. youth national-teamer Pablo Cruz (Azusa), defenders Hector Espinoza (Garden Grove/Santiago HS and Santa Ana College) and Beto Navarro, and others.

They're all good players who have been overlooked or dismissed or something, and Wynalda's goal is to showcase their talents and help them find paths to the professional careers he thinks they deserve.

That's the whole point of Cal FC, which grew out of Wynalda's experiences the past couple of years working with Mexican third-tier club Murcielagos, which employed for a time current Chivas USA forward Cesar Romero.

"I think the one thing I could say," Wynalda said, "is I have a very high opinion of some of these guys, but I'm the minority when it comes to that. People just aren't seeing what I see."


May, 6, 2012
5/06/12
5:01
PM PT
By
Scott French
| ESPNLosAngeles.com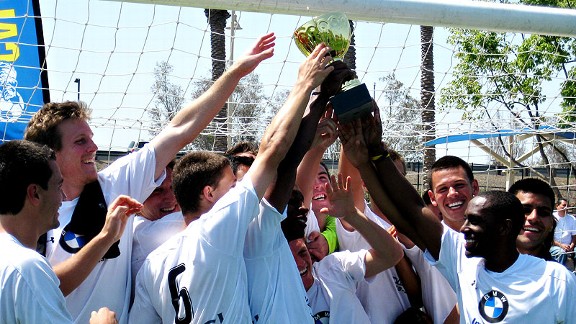 Scott French/ESPNLosAngeles.com PSA Elite celebrates with the cup.
ONTARIO -- There were lot of familiar names on the turf at Ontario Soccer Park for Sunday morning's USASA regional title game, but the biggest name of all actually wasn't anywhere nearby.

Eric Wynalda, the former U.S. national team star and a first-ballot National Soccer Hall of Fame inductee, had to follow his Cal FC team's clash with PSA Elite via constant text messaging while on the air in his main gig in West L.A., as studio analyst at Fox Soccer Channel.

The news he received wasn't good.

A missed penalty kick and a red card proved costly for Thousand Oaks-based Cal FC, which dropped a 2-0 decision to their Orange County-based foe in the U.S. Adult Soccer Association's Region IV championship.

PSA Elite, bolstered by players from Premier Development League power Orange County Blue Star, scored twice in the second half to qualify for the USASA National Cup final four July 20-22 at the Chicago Fire's Toyota Park.

The club from Irvine also got to choose its first-round opponent in the U.S. Open Cup -- well, perhaps -- and decided to play against PDL power Portland Timbers U-23 at Jeld-Wen Stadium, the Timbers' Major League Soccer team's home, in the May 15 opener. That sends Cal FC, which also qualified for the Open Cup, to play reigning PDL champion Kitsap Pumas in Bremerton, Wash.

U.S. Soccer, which runs the nearly 99-year-old tournament, has in the meantime scheduled a coin flip Monday to determine which team plays where.

Andrew Riemer scored in the 63rd minute and set up an 83rd-minute rocket by fellow Blue Star forward Christian Ramirez (Garden Grove/La Quinta HS and UC Santa Barbara/Concordia University).

"Oh, well," Wynalda, Cal FC's head coach, messaged after he was informed of Ramirez's goal. "I have qualified [for the Open Cup]. Time to strengthen the squad."

Both sides came in plenty capable.


March, 24, 2012
3/24/12
9:01
PM PT
By
Scott French
| ESPNLosAngeles.com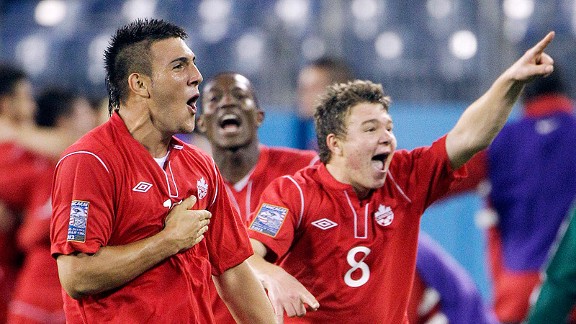 AP Photo/Mark HumphreyLucas Cavallini, left, and Doneil Henry celebrate one of Canada's goals against the U.S.

The bad news arrived for the U.S. under-23 national team before kickoff, and it just got worse. And now the Americans' qualification for this summer's London Olympics is in doubt.

U.S. Soccer announced before the game that star forward Juan Agudelo had suffered a torn meniscus and was returning to the New York Red Bulls for rehab. The team responded with a listless performance against Canada, marked by criminal defensive work on two set pieces that irretrievably altered CONCACAF's Olympic qualifying tournament.

The expected outcome -- that the Americans and Mexico would be the region's representatives in London -- appears almost certainly dead.

Canada tallied twice off corner kicks for a stunning 2-0 victory Saturday in Nashville, and it can win the Group A title with an expected victory Monday over last-place Cuba, a 4-0 loser to El Salvador.

The U.S. needs a victory over the Salvadorans to finish second, which likely would set up a clash with Mexico with an Olympic berth on the line. Form (and Agudelo's absence) suggests the Americans would struggle in such a matchup; one of two upsets -- Cuba over Canada or, Sunday at Home Depot Center, Honduras over Mexico -- would be necessary to avoid the showdown.

Only the semifinal winners March 31 in Kansas City, Kan., qualify for the Olympics.

Keeping tabs on the road to London:
The Americans lacked spark, were outbattled and fell apart defensively, and that was enough for Canada to claim a deserved triumph.
Both goals came from corner kicks on which D.C. United goalkeeper
Bill Hamid
's shortcomings were key.
March, 22, 2012
3/22/12
7:00
AM PT
By
Scott French
| ESPNLosAngeles.com
CARSON -- The rosters for CONCACAF's Olympic qualifying tournament are finally out, and just in time: Group A, which includes the United States, kicks off this afternoon in Nashville, Tenn.
We're concerned more with Group B in these parts. Mexico, with a dynamic side starring rising Guadalajara stars
Erick Torres
and
Marco Fabian de la Mora
, is the marquee team at Home Depot Center, where the first of three under-23 doubleheaders is slated for Friday night.
Mexico's roster is filled with Primera Division talent: 14 of the 22 players on El Tri's roster are regular starters in the country's top league, and several -- Marco Fabian, Toluca midfielder
Nestor Calderon
, Pumas UNAM midfielder
Javier Cortes
, Monterrey defender
Darvin Chavez
and UANL Tigres defender
Israel Jimenez
-- are downright veterans. A dozen have seen time with Mexico's full national team, and a half-dozen played for Mexico's U-20 team at last year's World Cup.
Calderon, who turned 23 last month, has been a first-choice player for Toluca since 2008 and has scored 22 goals in 133 Primera Division games. Marco Fabian netted 17 goals in last two tournaments and has 27 in 123 games for Guadalajara.
One Amercan-born player on the roster, too: Guadalajara's
Miguel Angel Ponce
, a Sacramento-born, Tijuana-raised left back who played in San Ysidro during his development.
Mexico is looking to qualify as simply as possible after its stunning failure to advance from group play in the Beijing qualifiers four years ago.
The top two teams advance to this summer's London Games, and the U.S. -- which has 14 MLS players, five from Europe and Club Tijuana's
Joe Corona
-- and Mexico are expected to fill the slots.
Honduras, which includes D.C. United's
Andy Najar
, the 2010 MLS Rookie of the Year, figures to test Mexico in Group B. The teams meet in the second game of Sunday's doubleheader. Panama, also in Group B, features four players from the Gold Cup semifinalists last summer.
El Salvador, in Group A, includes Panorama City's
Richard Menjivar
(Monroe HS), a senior last fall at Cal State Bakersfield. He played for the U.S. under-18 national team in 2008.
Here are the rosters for the Group B teams: