Los Angeles Soccer:

Robert Warzycha
September, 24, 2011
9/24/11
11:23
PM PT
By
Scott French
| ESPNLosAngeles.com
COLUMBUS, Ohio -- The Galaxy were going to be very pleased to escape Crew Stadium with a draw Saturday night, especially after the onslaught they withstood over the final frightful minutes.
Then they demonstrated, again, why they're Major League Soccer's premier club.
In the matter of seconds, a midfield header fed a
Landon Donovan
volley, the rebound fell to
Chad Barrett
, and his volley in the third minute of stoppage turned a scoreless tie into a most improbable 1-0 triumph over the Columbus Crew.
And it also might have settled the Supporters' Shield race.
The Galaxy, with a makeshift lineup missing
David Beckham
,
Robbie Keane
and, until the 62nd minute, Donovan, gave a game effort but needed some late magic to claim their 17th victory, maintain a seven-point lead in the Western Conference and create an opportunity, with just a little aid, to clinch the regular-season trophy next weekend with a victory at Home Depot Center over Real Salt Lake.
It required another huge game from goalkeeper
Josh Saunders
, a save on the goal line by
Michael Stephens
, some heady play by homecoming king
Frankie Hejduk
and Barrett's finish at the end.
"Let me tell you," head coach
Bruce Arena
said, "between the 85th and 92nd [minutes], if you tell me would you take a point, I would have gladly taken it."
Barrett, who came off the bench in the 84th minute, overshadowed a superb performance by another second-half substitute,
Emilio Renteria
, who spearheaded a Crew attack that created eight scoring chances -- to none by L.A. -- between the 70th and 90th minutes and was unfortunate not to find the net.
Saunders made five superb stops, the two best on
Andres Mendoza
, and Stephens kept out a
Chad Marshall
header from a corner kick that beat Saunders in the 48th minute -- the play of the game before Barrett's strike.
"Sometimes I'm there to save it, sometimes they're their to save it," Saunders said. "I can't say enough about his concentration on the play. Calm and collected, and just played the ball away."
Arena, coming off a tough CONCACAF Champions League loss three nights earlier in Costa Rica and facing a must-win clash with Mexico's Morelia on Wednesday in the regional championship, heavily rotated his lineup. Beckham headed home to L.A. after the team arrived Thursday in Columbus, Keane was kept out with a strained gluteal muscle, and iron-man left back
Todd Dunivant
was given a rest, his first minutes off all season.
Donovan and first-choice midfielder
Mike Magee
also started on the bench, although both came on in the second half.
September, 24, 2011
9/24/11
9:40
AM PT
By
Scott French
| ESPNLosAngeles.com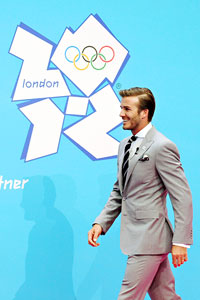 Eamonn McCormack/Getty ImagesDavid Beckham and Robbie Keane won't be participating in this match with the Columbus Crew.
COLUMBUS, Ohio -- It's a month until Major League Soccer's regular season concludes, and the conference leaders are facing off. One of the season's premier showdowns, right?

Wrong.

The Galaxy won't say so publicly, but Saturday night's clash with the Columbus Crew ranks only so high among their priorities -- well below next week's CONCACAF Champions League meeting with Morelia at Home Depot Center.

So expect to see a secondary lineup at Crew Stadium, one without David Beckham and Robbie Keane -- and perhaps Landon Donovan.

Beckham has returned to L.A., Keane is unlikely after straining a guteal muscle in Wednesday's Champions League loss at Alajuelense, and Donovan could use a day off during a difficult stretch of two-a-weeks that continues through the Oct. 4 makeup match at New York.

Dasan Robinson, acquired from Toronto FC at the roster-freeze deadline, figures to make his Galaxy debut, probably at right back, and rookie Justin McCarty also could play his initial league minutes for L.A.

That's not something head coach Bruce Arena was prepared to discuss.

"We're going to put a team on the field that we believe can win the game. Whatever combination of players that is," he said Friday. "I'm not going to sort out the lineup until [Saturday]. We'll see how guys come through the game [in Costa Rica], the travel, all that, before we make a decision."

The only definite is Beckham is out, and that comes as a surprise only to those not paying attention. The star midfielder went the full 90 on Alajuela's unforgiving artificial surface, and it took its toll. His legs swelled afterward, his left shoulder was hurting after a tumble, and there was the expected impact on his ailing back.

"It's never easy to play on [a surface like that]," he said. "It's not a surface I like to play on -- or any other player likes to play on."

The plan all along was for Beckham to head home after the team's charter arrived in Columbus. He played in last week's league win over Vancouver, and, as Arena noted: "He hasn't played three games in a week the whole year. ... We've done this the entire year."

No sense in risking further injury to Keane, either. And as well as Donovan, left back Todd Dunivant -- he's played every minute of the MLS and CCL slates -- could use a night off.


April, 9, 2011
4/09/11
2:08
PM PT
By
Scott French
| ESPNLosAngeles.com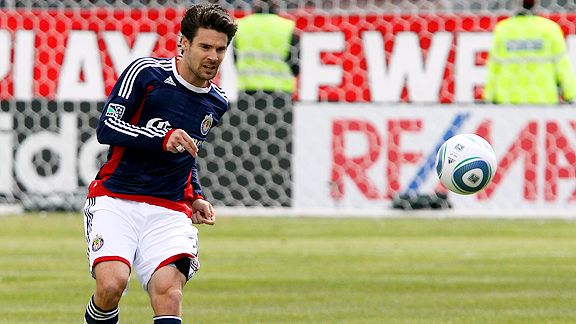 Abelimages/Getty ImagesChivas USA's Heath Pearce is versatile enough to play all four backline positions for the Goats.
Chivas USA's injury crisis and tentative start to its new era has forged a deeper side with more options in every sense, and the Goats hope -- no, expect -- to take a big step forward in Saturday night's Home Depot Center clash with the Columbus Crew.
Coach
Robin Fraser
and his staff have been forced to juggle things, especially on the backline, and their solutions have worked mostly.
Michael Lahoud
has slid seamlessly into the right-back slot -- "I think he's tailor-made to be an outside back," Fraser says -- and
Heath Pearce
, in last week's draw in Toronto, took to center back like an old hand.
Pearce, a natural left back who has been the Goats' starting right back, has played in Europe and for the U.S. national team -- he was on the U.S.'s 30-man preliminary World Cup roster last year -- and so he understands the game. Perhaps it's not so surprising that he's adapted to the new position, one he says he'd previously played only in a couple of training sessions with the national team, without the least struggle.
"As left or right back, you're playing next to a center back, and it's imperative that you know the center-back position to understand where you're supposed to be," said Pearce, who was acquired in a preseason trade from FC Dallas. "So I don't think the learning curve is that big. It's a position I'm definitely comfortable with. Anywhere that they feel that I can help the team the most, I'm willing to do that."
Fraser said the move sparked signs of leadership from Pearce that he's been waiting to see emerge.
"A player in his situation isn't going to step in an impose himself. He's going to learn the lay of the land and that sort of thing," Fraser said. "I think he'd been through enough situatioins where he's starting to recognize the leadership void that we have had. And I'll tell you, the second he jumped into center back, it's almost like he slid into the driver's seat."
Chivas (0-2-1) gets rookie
Zarek Valentin
back from the U.S. under-20 national team. He started the opener at center back before leaving for the CONCACAF U-20 Championship, but it's uncertain that he'll start against Columbus. Backline leader
Jimmy Conrad
remains out with a concussion.
MARSHALL'S MENTOR:
Fraser and Crew defender
Chad Marshall
, who's from Riverside, teamed together for Columbus in 2004 (Marshall's rookie year) and 2005 (Fraser's final season). Fraser, who was MLS's 2004 Defender of the Year, served as a mentor to the big, young center back.
February, 23, 2011
2/23/11
10:28
PM PT
By
Scott French
| ESPNLosAngeles.com
Chivas USA's playoff hopes increased dramatically Tuesday. Major League Soccer added two teams to the postseason mix.
The league boosted its playoff participants to 10 teams with the addition of two single-game wild-card showdowns, which should be welcomed by Chivas and Columbus, Chicago and D.C., K.C. and New England, even Toronto FC.
The Galaxy and the like? Are you kidding?
Here's how the postseason works this year:

The top three teams in each conference qualify for the main draw, which is just like before: home-and-home conference semifinals, one game conference finals, MLS Cup. The next four best teams, regardless of conference, take the wild-card slots, with the No. 7 seed playing 10 and 8 playing 9 and the winners advancing to play the regular-season champs, and … well, you know how it works.
This system will cut down on all that confusing cross-conference movement in the playoffs, which led to an all-West showdown in last year's Eastern Conference final, an Eastern Conference title (en route to MLS Cup glory) by Real Salt Lake in 2009, and a Western championship by New York in 2008.
Had this system been in place last year, K.C. would have been the No. 3 seed in the East and opened against Columbus, which the then-Wizards might have won. Which would have left them 90 minutes from MLS Cup.
One wild-card battle would have matched Colorado against San Jose. ... Hey, they did play -- in the Eastern Conference final. The Rapids prevailed, then won the MLS Cup crown. (The other wild-card matchup would have been Seattle-Chicago; the Galaxy likely would have opened against Colorado.)
MLS has had eight playoff teams since its 1996 start, when there were only 10 clubs. As the league slowly grew to 16 teams by 2010, eight playoff berths seemed sufficient. Portland and Vancouver make for 18 teams this season and Montreal for 19 next year, and eight still sounds perfect.
L.A. would have reached the 2006 playoffs had this format been in place, but nothing could have saved the Galaxy in 2007 and 2008. And forget Chivas last year or in 2005.
October, 27, 2010
10/27/10
10:39
PM PT
By
Scott French
| ESPNLosAngeles.com
Wednesday's dismissal by Chivas USA of Martin Vasquez isn't all that surprising except for vice president of soccer operations Stephen Hamilton's insistence Saturday that the club's head coach definitely would return in 2011, that "the things we saw in him previously, we still see in him, and I think he's going to benefit from a year of experience as a head coach."
Perhaps so, just not with the Goats. Looking for potential candidates? There are, at least on the surface, hundreds of them. No, thousands. Which are viable and which are not depends on how much Chivas wants to spend -- both on a coach and on players -- and how wide a net Hamilton and the club's "soccer committee" choose to cast.
Some possibilities:
THE BIG NAMES:
The biggest, at least in local circles, is German legend
Juergen Klinsmann
, one of the premier strikers of his (or any) generation -- and an innovative coach who took an unfancied Germany side to the 2006 World Cup semifinals, ran into problems at tradition-minded Bayern Munich (where Vasquez was among his assistants) and twice broke off talks with U.S. Soccer about taking the reigns of our national team, both times over control issues.
Klinsmann lives in Huntington Beach, is between coaching jobs, and is familiar with MLS through his years in the U.S. and history with the Galaxy, for which he served as consultant during
Sigi Schmid
's reign. He might find the opportunity to build with Chivas most attractive: the club's anti-corporate style stands in stark contrast to their neighbors down the hall, and it wouldn't surprise us if he and President/CEO
Shawn Hunter
got along famously.