July, 24, 2012
7/24/12
11:57
PM PT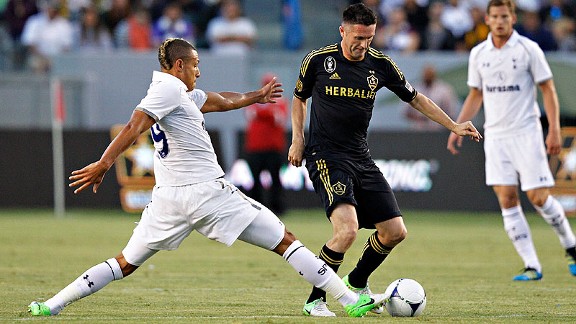 Ric Tapia/Getty ImagesWith players like Robbie Keane, above, coming to play for the Galaxy, it has helped raised the team's profile.

CARSON, Calif. -- The mission had been accomplished long before the teams even took the field Tuesday night.

The final score was irrelevant to the larger goals for the Los Angeles Galaxy, which, if you must know, played to a 1-1 draw against Tottenham Hotspur of the English Premier League in front of a near sellout crowd at the Home Depot Center.

As nice as it was to see an undermanned Galaxy team (playing without David Beckham and Landon Donovan) hold their own against a Tottenham side, which finished fourth in the English Premier League last season, the Galaxy's goal have always been larger than one game, one player and one country.

The vision of Tim Leiweke, president and CEO of AEG, has always been to make the Galaxy a global brand that would be easily recognizable around the world. He wanted fans to be familiar with the Galaxy and be able to rattle off two or three players on the team no matter what continent they were on.

It was a lofty goal, especially considering Major League Soccer's place in the global soccer landscape and soccer's place in the United States' sporting pecking order.

Yet, five years after Beckham arrived in Los Angeles, Leiweke's dream for the Galaxy has come true.

When Tottenham arrived in Los Angeles on Saturday to play the first of three exhibition matches in the U.S., they didn't come for a sun-kissed vacation on the beach and to walk over an unknown side filled with unfamiliar players.

Everyone on Tottenham was quite familiar with the Galaxy and their surging status in the soccer world. It began when the Galaxy signed Beckham in 2007 but for many who play at White Hart Lane it grew when Los Angeles signed their old friend and teammate Robbie Keane last year.

Keane played at Tottenham from 2002 to 2011 with a brief stint at Liverpool in 2008 and still captains the Ireland national team.

"A lot more players overseas know about the MLS now," said Tottenham winger Gareth Bale, who scored a first half goal on Tuesday.