Los Angeles Soccer:

Roy Miller
November, 4, 2011
11/04/11
12:14
AM PT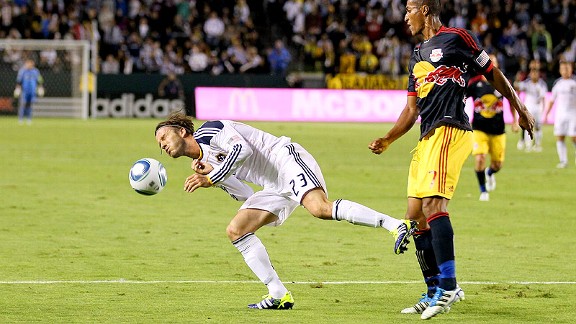 Stephen Dunn/Getty ImagesDavid Beckham, who seemingly willed the Galaxy to victory Thursday, drew a penalty kick on this play that led to L.A.'s second goal.

CARSON, Calif. -- David Beckham is probably thinking the same thing you are as you watch him play this postseason.

Will he be back next season? Are these his final games in Los Angeles? Will he gather wife Victoria and their four children next month, having completed his five-year commitment to the Los Angeles Galaxy and Major League Soccer, and fly back to Europe for good?

"To be honest, I haven't even thought about what's after this," Beckham said Thursday night as he stood in front of his locker after the Galaxy defeated the New York Red Bulls, 2-1, to advance to the Western Conference championship. "Right now I'm concentrating on the moment and us progressing and getting a championship. My time here has been great. I've had a lot of highs playing for this organization, playing with this team and this year has definitely been the most enjoyable."




Beckham is not being coy when he says he honestly does not know what he will do. His next move will not simply be for a paycheck; it will likely influence where he spends his foreseeable future as his children grow up to be adults. His sons, who are 12, 9 and 6 years old, and his infant daughter, have only known Los Angeles as home. A move back to England would likely mean he has left the States for good while a new deal would further root him and his family to Southern California.

People move to L.A. for "just a couple of years" all the time. The next thing you know, 20 or 30 years later they're still here living or chasing the dream. This city is like a bad reality show you love to hate. You can knock it publicly all you want, but when it comes time to program your DVR in private, you know you can't quit it.

Beckham is at a crossroads in his life right now. He is still young enough to chase his dream, but what exactly is that dream?

Is it to win trophies in the States or is it to play for a European power again and represent his country on the international stage?

No one could blame Beckham if he were leaning toward the latter. There's enough evidence to suggest he has often been leaning that way even during his five years in Los Angeles when he trained with Arsenal and Tottenham and was loaned to Milan twice; trying to stay there as long as he could to secure a roster spot for the English National team.


November, 3, 2011
11/03/11
10:06
PM PT
By
Scott French
| ESPNLosAngeles.com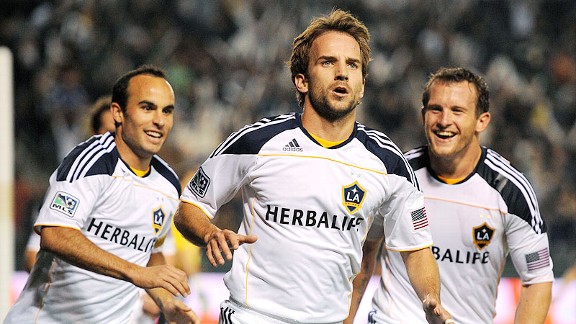 Kelvin Kuo/US PresswireMike Magee celebrates his first-half goal with teammates during the Galaxy's 2-1 win Thursday night.

CARSON -- The Galaxy saw their advantage disappear quickly Thursday night, with Luke Rodgers finishing an exquisite through ball from Thierry Henry, but the real advantage -- that right foot of David Beckham's -- held sway at the end.

Beckham found Mike Magee to head home a corner kick late in the first half and drew a second-half penalty kick that Landon Donovan converted, and L.A. claimed a 2-1 victory over the New York Red Bulls to win their first-round playoff series and advance to the Western Conference final for the third successive season.




Magee, who scored the lone goal in the Galaxy's first-leg victory Sunday afternoon in Harrison, N.J., nodded Beckham's 42nd-minute serve over New York goalkeeper Frank Rost and into the ceiling of the net to answer Rodgers' fourth-minute finish.

Donovan made it 2-1 in the 74th minute, beating Rost from the spot after Red Bulls left back Roy Miller kicked Beckham from behind in the New York box.

Rodgers gave New York a fourth-minute lead, angling inside Omar Gonzalez and beating onrushing Josh Saunders to Henry's ball, clipping it past the goalkeeper and inside the right post.

The Galaxy had several opportunities to tie the score before Magee did so, mostly through Robbie Keane, but Rost made three superb saves, the best in succession on a 40-yard bomb by Chris Birchall, who stepped in for suspended midfielder Juninho, and Keane's rebound.

The Galaxy will be home for Sunday's Western Conference final at 6 p.m. against Real Salt Lake, with the winner advancing to face Sporting Kansas City or the Houston Dynamo in the Nov. 20 MLS Cup final at Home Depot Center.


October, 30, 2011
10/30/11
8:45
PM PT
By
Scott French
| ESPNLosAngeles.com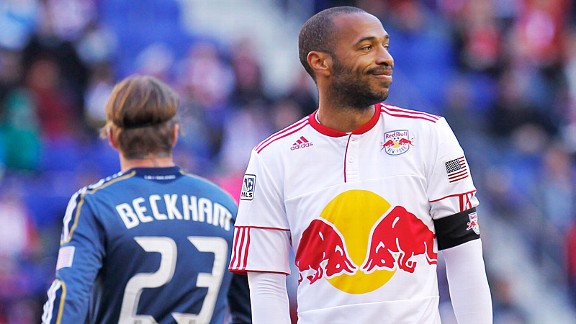 Mike Stobe/Getty ImagesThierry Henry and the Red Bulls still have hope they can come back on David Beckham and the Galaxy.

HARRISON, N.J. -- Hans Backe's take on the Galaxy's triumph Sunday: The Red Bulls were in command the whole way.

David Beckham's: The Galaxy played their game and got the result they were after.

Mike Magee's: L.A. isn't going to win an MLS Cup with many more performances like that one.

The opener of the first-round Major League Soccer playoff series served as a "Rashomon" experience for those involved, with no two versions of what occurred on the Red Bull Arena turf quite alike.




What can be agreed upon is this: The Galaxy is halfway to the Western Conference final following a gritty 1-0 decision over New York in which one beautiful Beckham ball, one tremendous Magee finish and plenty of lights-out defending by the visitors in the second half added up to an often invigorating and unquestionably intense battle.

Part II comes Thursday night, when L.A. takes its advantage into the second leg of the two-game, total-goals matchup at Home Depot Center knowing that a draw will be enough to send it to its third successive conference title game.

Magee scored the goal, firing home from a tough angle after his late run for a superb long ball by Beckham beat the Red Bulls' offside trap, and the Galaxy's backline -- led by center back Omar Gonzalez and goalkeeper Josh Saunders, both impeccable -- absorbed heavy pressure the final 45 minutes to notch the club's 21st shutout in 43 games this season, all competitions.

"Listen, we're not happy with the way we played," Magee said afterward. "We're extremely happy with the points, but we stopped playing for some reason, which is uncharacteristic of us this season. That [kind of play is] not why we're here. I think we're well aware that if we have a similar performance and a similar effort, we might not get three points. We need to play better.

"We had some chances to score, to put a second one away. We gave them chances to score. We're well aware that performance isn't going to win us MLS Cup."

Divide the game in half. The first half belonged to the Galaxy, which dictated the pace with an elegant possession game -- despite a heavy, pockmarked field damaged somewhat in the snow-removal process following Saturday's storm -- and created two chances, both from Beckham long balls, that should have provided a two-goal lead by the 15th minute.

The second half was all about the Red Bulls, who finally found a way to get wide -- primarily on the left, through Joel Lindpere and Roy Miller -- and quickly set a tone with three superb chances in the first four minutes after the break, the first two from Rafa Marquez balls over the top.

Saunders slapped away two of them, denying Dane Richards and, even better, Lindpere, and the backline, with Gonzalez doing much of the dirty work, was resolute the rest of the way.

Better aim by New York might have made for a different result. The Bulls put just five of 17 shots on target, and Marquez managed just one of six on frame, a stoppage-time grass-burner that Saunders leapt to corral.