Los Angeles Soccer:

Ryan Giggs
August, 2, 2012
8/02/12
11:44
PM PT

CARSON, Calif. -- David Beckham says he's happy to be back in Los Angeles.

He's happy to be back home with his wife and kids. He's happy to be back with his Los Angeles Galaxy teammates. He's happy to be enjoying the Olympics in London, like the rest of America, on tape delay from the comfort of his living room.

But you can tell he's not really happy, and he has every right to feel that way.

On Thursday night, Beckham was on the field at the Home Depot Center to take on his former team, Real Madrid, in front of 30,317, the largest soccer crowd ever at the stadium. It was, as expected, a lopsided affair that Madrid won 5-1. Beckham set up the Galaxy's only goal with a picture-perfect serve off a free kick that went off the head of David Junior Lopes and past Real Madrid goalkeeper Iker Casillas.

Beckham, however, should be in England, preparing for Great Britain's quarterfinal match against South Korea on Saturday.

After all, Beckham was instrumental in bringing the Olympics to London, calling it "one of the proudest moments I've been involved with." Giving one of the most famous and influential figures in English sports history a spot on the 18-man roster seemed like the right thing to do. Given the way Beckham, 37, has been playing of late, few would have seen it as a courtesy gesture. Beckham had every right to be on the team for on- and off-the-field reasons.

That is, of course, not how Great Britain manager Stuart Pearce felt in June when he opted to fill the three over-23 slots on his team with Liverpool's Craig Bellamy, Manchester City's Micah Richards and Manchester United's Ryan Giggs, who will turn 39 in November.

"Of course, I'm disappointed, but life goes on," Beckham said. "My family is healthy, I'm pretty healthy, so at the end of the day, I'll be there to support the Great Britain team."

Instead of being an Olympian at the Summer Games he helped attract to his country, Beckham played a central figure in last week's opening ceremonies and will again play a part in the closing ceremonies. He helped bring the torch to the Olympic Stadium while wearing one of his custom suits and driving a speed boat, in a scene that looked straight out of a James Bond film.

"I was out on the boat for a few hours, so it was good," Beckham said. "I had a few days during the week so I was prepared. It was good times. … Obviously being an East End boy and growing up there, having the Olympics in that part of London is a very proud moment for us all. But it was a great experience being part of it, being part of such a historic moment for England. It was special."


June, 28, 2012
6/28/12
11:32
AM PT
By
Scott French
| ESPNLosAngeles.com
David Beckham will not be playing for the unified Great Britain team at the London Olympics.
Manager
Stuart Pearce
, who was at Home Depot Center to watch Beckham in L.A.'s 1-0 victory 11 days ago, had been expected to select the 37-year-old legend along with Liverpool's
Craig Bellamy
and Beckham's old Manchester United teammate
Ryan Giggs
as the three over-23 players for the "Team GB" men's soccer roster. Manchester City's
Micah Richards
is expected to get the nod instead of Beckham.
"Everyone knows how much playing for my country has always meant to me," Beckham said in a statement. "So I would have been honored to have been part of this unique Team GB squad. Naturally, I am very disappointed, but there will be no bigger supporter of the team than me. And like everyone, I will be hoping they can win the gold."
Beckham, who played 115 times and in three World Cups for England, had hoped to cap his career at his hometown Olympics. He played a vital role in the London organizers' bid to win the games and has served as an ambassador since. A role on Pearce's 18-man roster was expected to be his reward.
"He's been a great ambassador, but that's no guarantee he'll get in the squad. I'm picking on form and merit alone," Pearce, who made two trips to the U.S. to scout Beckham, said in April. "David Beckham will be treated exactly the same as any other individual, whether it is young or overage. I have a duty of care to the Great Britain squad to try to win a gold medal. I will pick the strongest squad I can."
The Olympic men's soccer tournament is for under-23 teams, but each nation may include three overage players.
Beckham is expected to have a role at the July 27 opening ceremonies.
May, 27, 2011
5/27/11
12:17
PM PT
By
Scott French
| ESPNLosAngeles.com
The climax of the European soccer season comes Saturday when Manchester United and Barcelona, two of the game's real giants, face off for the second time in three seasons in the UEFA Champions League final at Wembley.
It's a classic matchup, pitting Barcelona's gorgeous possession-heavy attack -- fueled by
Lionel Messi
,
Xavi
and
Andres Iniesta
, three of the game's most fertile stars -- against Manchester United's rugged explosiveness that features
Wayne Rooney
and Mexican star
Javier "Chicharito" Hernandez
.
No matter the result, Barca will continue to be thought of as the finest side on the planet -- nobody's really all that close -- and Man United will be considered overachievers if they can accomplish what they couldn't two years ago in Rome.
In that one,
Samuel Eto'o
and Messi scored in a 2-0 victory for the Catalans, who claimed their third title, equal to Manchester United.
Nobody on this continent will be watching as closely as Galaxy midfielder
David Beckham
, who grew up in Man United's youth system, played a decade with its first team and pulled on a Red Devils jersey earlier this week for
Gary Neville
's testimonial at Old Trafford.
Beckham, as they say, is a Red through and through.
"Barcelona are such a great team," he said. "They're the best team of this generation, such great player, great experience. … But if anyone can beat Barcelona, Sir
Alex Ferguson
knows how to do it."
May, 24, 2011
5/24/11
6:05
PM PT
By
Scott French
| ESPNLosAngeles.com
David Beckham surely looked at home. The Galaxy midfielder, back in a Manchester United shirt for best pal Gary Neville's testimonial match Tuesday at Old Trafford, received the loudest ovation and was serenaded with "Fergie, sign him up" chants in his return to his original club.
He also saw a lot more action than he expected, and more than the Galaxy would have preferred. The 36-year-old midfielder, given permission by L.A. to miss Wednesday's game at Home Depot Center against Houston, played the full 90 minutes in a 2-1 loss to Italian giant Juventus.
Beckham, making his first appearance for Man United since leaving for Real Madrid in 2003, played in his trademark spot on the right flank, just in front of Neville, and delighted the crowd with his touch, passing and two shots. He forced a diving save from Juventus goalkeeper
Marco Storari
just before halftime, and blistered a free kick just over the crossbar in the 68th minute.
"Definitely won't be any more than 45 minutes," Beckham said when asked Saturday how long he'd play in the match. "I think it will be a walk on, play for a bit, then walk off."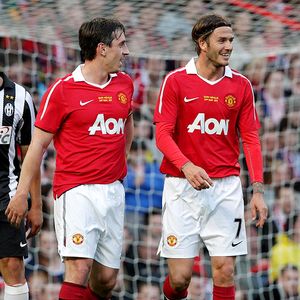 John Peters/Man Utd via Getty ImagesGary Neville (L) and David Beckham of Manchester United in action during Gary Neville's testimonial match between Manchester United and Juventus at Old Trafford.


Not quite. Although the pace and intensity -- and certainly defensive bite -- of friendles are nothing like in a competitive match, running around for 90-plus minutes three days after helping the Galaxy beat Chivas USA and four days before a match at New England is of no help to his current club. Oh, and throw two cross-Atlantic flights in there, too.

But the occasion was special, as befitting as loyal a servant as Neville has been to Man U. Including his youth days, the former England national-teamer has spent more than 20 years with the club.