Los Angeles Soccer:

Ryan Johnson
April, 14, 2012
4/14/12
6:29
PM PT
By
Scott French
| ESPNLosAngeles.com
Sometimes it takes a bit of skill, sometimes a bit of luck. Chivas USA needed both on a windy afternoon in Toronto to pull out another road victory Saturday, its third in a row.
Oswaldo Minda
's first Major League Soccer goal, two clearances off the goal line and another outstanding 90 minutes from goalkeeper
Dan Kennedy
made the difference in a game, just like last week's, that changed its tale after halftime.
A week ago, the Goats answered a horrid opening 45 minutes with a superb second half to overcome Portland. This time, they held off a Toronto FC barrage following the break to claim a 1-0 victory, their third in three road games to push their record to 3-3-0 and climb, however early it might be, into the Western Conference playoff zone.

"I still don't think we're putting out a convincing performance, but as long we we get the three points," defender
Heath Pearce
, who knocked away a late
Ryan Johnson
shot headed for the net to ensure the victory, told ESPN Los Angeles afterward. "We don't want to get complacent. It's another three points, but it's a long season, and we have to be consistent. That was the biggest [problem] last season, and we want that to be a thing of the past."
Consistency was difficult in the conditions. A strong, cold wind blew off Lake Ontario, and when it was at Chivas' back to start, the game belonged to the Goats. They deserved more than just Minda's 31st-minute header from fellow Ecuadoran
Miller Bolaños
' corner kick, but created virtually nothing once headed into the breeze.
"It was pretty significant," said head coach
Robin Fraser
, who has guided the Goats to back-to-back wins for just the second time in his 15½-month tenure. "It wasn't that it was impossible to play against, but it definitely helped the team that had it."
Toronto utilized it more effectively than did Chivas -- they had 10 second-half corner kicks (Chivas had seven in the first half) and created a half-dozen genuine chances, with Pearce, Bolaños and Kennedy making heroic stops to keep intact the club's second shutout of the season. Johnson called Toronto's failure to score "mind-boggling. ... We could have had four or five goals."
"I really think certainly in very, very important places tonight a lot of guys stood up and did very well," Fraser said. "There were a lot of corners coming in late, and the guys were winning battles, winning headers ... Dan had a couple big saves again."
March, 14, 2012
3/14/12
11:43
PM PT
By
Scott French
| ESPNLosAngeles.com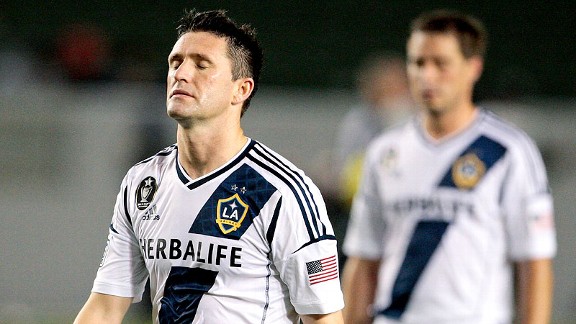 AP Photo/Bret HartmanRobbie Keane had a frustrating game in the Galaxy's 2-1 loss to Toronto on Wednesday.

CARSON -- The Galaxy's unexpected exit Wednesday night from the CONCACAF Champions League exposed, or perhaps confirmed, weaknesses at the back while illustrating that it's not how many chances are created but rather what is done with them.

L.A. dictated nearly every facet of its quarterfinal second leg against Toronto FC, but it failed in the most vital areas, and so it's adventure in this competition is done while the Reds, after a 2-1 triumph at Home Depot Center provided a 4-3 aggregate victory over two games, are headed to the region's final four.




Rookie Tommy Meyer was schooled twice by Ryan Johnson and the Galaxy failed to turn its opportunities into goals, sparking some serious hand-wringing over what's missing and what needs to be done.

The biggest issue, no matter how often head coach Bruce Arena protests otherwise, continues to be Omar Gonzalez's absence and L.A.'s inability to find an adequate replacement, but something else is afoot.

"It's more mentality," said midfielder Mike Magee, whose go-ahead goal a little more than midway through the first half was wiped away by a possibly errant offside call. "We have the defenders. Obviously, you can't replace Omar, but the mentality is not right. It's not the defenders, it's not the goalie, it's all of us. We're kind of lacking a bite, which is something that won us a championship last year.

"If you don't have a bite as a team, you're not going to beat anyone."

The Galaxy did enough to advance to a semifinal against Mexico's Santos Laguna, but it managed to find the net just once -- when former L.A. defender Ty Harden, sliding to break up a Landon Donovan pass for Robbie Keane, knocked the ball into his net for an own goal 10 minutes into the second half -- despite creating at least a dozen good opportunities.

They weren't sharp when it mattered, especially Keane, who was stopped twice by TFC goalkeeper Milos Kocic in one-on-one opportunities, the most frustrating in the 74th minute, when his chip after Donovan played him into the box was slapped away.


March, 14, 2012
3/14/12
9:09
PM PT
By
Scott French
| ESPNLosAngeles.com
CARSON -- An own goal started the Galaxy's downfall in their Major League Soccer opener last weekend. Another gave them life in the CONCACAF Champions League.
Ultimately, it wasn't enough, as L.A. sputtered out of the regional club championship Wednesday night despite dominating Toronto FC more or less from start to finish, a 2-1 setback sending the Canadians to the semifinals on 4-3 aggregate.


Ryan Johnson
scored against the run of play in the first half and
Nick Soolsma
in the second as the Reds, Major League Soccer's lone survivor in the competition, twice took advantage of rookie defender
Tommy Meyer
.
The Galaxy have lost back-to-back games at Home Depot Center for the first time in five years.
Former Galaxy defender
Ty Harden
knocked a cross from
Landon Donovan
into Toronto FC's net 10 minutes into the second half as L.A. rallied to tie the score, and, had nothing changed, the Galaxy would have advanced on away goals. Had Harden not slid into the ball,
Robbie Keane
was behind him for what surely would have been a simple finish.
Mike Magee
scored in the 27th minute from Keane's feed, but Panamanian linesman
Jaime Smith
judged him offside, a call that replays did not support.
Johnson escaped Meyer's mark at the left post to head home Soolsma's cross in the 35th minute. Soolsma volleyed a chip in the 67th from Johnson, who beat Meyer on the left side of the Galaxy box.
June, 13, 2011
6/13/11
10:31
PM PT
By
Scott French
| ESPNLosAngeles.com
Jamaica finished a perfect run through Group B, notching its third shutout in a showdown Monday night with Honduras, and Guatemala romped to claim one of two third-place berths in the CONCACAF Gold Cup's quarterfinals.
San Jose Earthquakes forward
Ryan Johnson
scored the lone goal in Jamaica's triumph, which also sent the Hondurans to the knockout stage, where they will meet the other Central American power, Costa Rica, in Saturday's quarterfinal opener in East Rutherford, N.J.
Jamaica will face the No. 2 team from Group C in Sunday's quarterfinal doubleheader in Washington. The likeliest foe: United States.
Chicago Fire midfielder
Marco Pappa
scored one goal and set up another to lead Guatemala to a 4-0 rout of Grenada in the opener at Red Bull Arena in Harrison, N.J.
A quick look at the ninth day of group play in the region's nations championship:
ROCKSTEADY REGGAE BOYZ:
Jamaica followed shutout victories over Grenada and Guatemala with a 1-0 triumph over the Hondurans, who started just four first-choice players from last year's World Cup squad and lost star forward
Carlo Costly
to a rib injury midway through the first half.
The group title is another achievement for the Reggae Boyz, who failed to reach the final round of qualifying for last year's World Cup, then bounced back to win the Caribbean Championship in January. Outsiders when the tournament began, they'll likely enter the knockout phase as the Gold Cup's No. 2 team, trailing only Mexico on goal difference.
Johnson netted his second goal of the tournament on a wild sequence in the 36th minute. His blast caromed down off the crossbar, smacked Catrachos goalkeeper
Noel Valladares
in the back of the head, and the ball bounced into the net.
June, 6, 2011
6/06/11
11:27
PM PT
By
Scott French
| ESPNLosAngeles.com
Jamaica met expectations but Honduras couldn't, even with a two-man advantage for a good 15 minutes, as the CONCACAF Gold Cup opened Group B play Monday night at Home Depot Center.
The Reggae Boyz hammered Grenada, 4-0, and could have had several more goals in a simple exercise that gave them command of the group heading into encounters with the Central Americans.
Guatemala, which lost two players in the second half to second yellow cards, thrilled most in a crowd of 21,507 by holding off World Cup finalists Honduras in a 0-0 draw.
A quick look at the second day of group play in the region's nations championship:
CARIBBEAN CLUBBING:
On the eve of the Group B openers, New York Red Bulls winger
Dane Richards
said Jamaica was "thinking we're going to play Spain tomorrow. That's how we're looking at the Grenada team."
The Reggae Boyz weren't nearly as sharp as they'll need to be when they come up against the bigger boys in the tournament, but if either team was carrying the World Cup champs' mantle, it was Jamaica.
Ryan Johnson
scored three goals, but only one of them counted as the Jamaicans dominated their Caribbean rival, running up a 23-2 advantage on shots and making Galaxy goalkeeper
Donovan Ricketts
' evening most uneventful.
June, 5, 2011
6/05/11
11:10
PM PT
By
Scott French
| ESPNLosAngeles.com
CARSON -- There's a lot of chatter that this team Jamaica has brought to the CONCACAF Gold Cup might be the best it's ever fielded, even better than the side that won a game at the 1998 World Cup in France.
Dane Richards
doesn't want to hear it. He just wants to spur some more.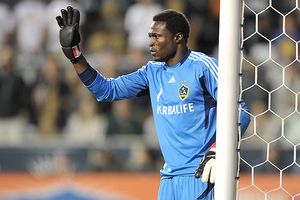 Drew Hallowell/Getty Images Donovan Ricketts

"All the talking, we can't pay attention to that," the New York Red Bulls winger said on the eve of the Reggae Boyz's CONCACAF Gold Cup opener Monday at Home Depot Center. "We just got to go there and do the job and make the people keep talking positive stuff."

They'll start their business in the region's nations championship against Caribbean rival Grenada, kicking off a Group B doubleheader at 6 p.m. Honduras, with a dozen players from last year's World Cup roster, faces Guatemala at 8. It's the only group-stage games in Southern California; the June 25 final is set for the Rose Bowl.

Jamaica, guided by former Reggae Boyz midfielder Theodore Whitmore, has big aspirations.

"Jamaica, we have special players," said Donovan Ricketts, the Galaxy's goalkeeper. "We are blessed with people that are very quick, so hopefully we can utilize that in the tournament and see how it goes."

What's special about this team?

"I don't know," he replied. "We're just special people, man. We have a fighting spirit. As you see, it's a small country, and anything you put [in front of us], we Jamaicans, we can do it.

"We don't have snow in Jamaica, yet we do bobsled."

March, 4, 2011
3/04/11
9:42
PM PT
By
Scott French
| ESPNLosAngeles.com
Striker
Steven Lenhart
's debut with the San Jose Earthquakes will have to wait.
The big striker from Yorba Linda underwent arthroscopic surgery Thursday to repair a slight tear in the meniscus in his right knee and is expected to be out as long as four weeks. The Quakes, who acquired him in draft-day trade from Columbus, open the Major League Soccer season March 19 at home against Real Salt Lake.

Lenhart (Esperanza HS/Azusa Pacific) apparently hurt his knee during the Quakes' 10-day preseason trek to England, and an MRI exam Wednesday disclosed the extent of the injury.
"It's not really, really bad, but it's one of those things where it was going to linger," San Jose coach
Frank Yallop
told the league's website
. "He wanted to get it done. It's his knee, and he felt it wasn't right."
The 6-foot-1, 190-pound forward is slated to be the target man in the Quakes' new 4-3-3 alignment.
Ryan Johnson
was slated to play the position in San Jose's exhibition Friday night against MLS champion Colorado in San Luis Obispo.
"It is [disappointing], because he's played well and trained well in preseason, but that's the reason we have a squad of players," Yallop said. "Hopefully, we won't miss him too much."
November, 4, 2010
11/04/10
10:15
PM PT
By
Scott French
| ESPNLosAngeles.com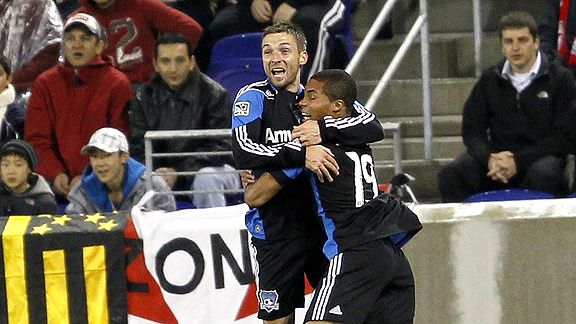 Chris Trotman/Getty Image
Bobby Convey's two goals helped lead San Jose to an upset of New York.
A look at Thursday's MLS postseason action:
IN BRIEF: Bobby Convey
scores twice and sets up MVP finalist
Chris Wondolowski
's decisive header, and San Jose -- the lowest seeded team in the tournament -- pulls out a 3-2 aggregate stunner over Eastern Conference regular-season champion New York to reach the Eastern title game. The Earthquakes, just one win from their first MLS Cup final appearance since their 2008 restoration, score goals five minutes apart for the 3-1 second-leg victory, with Convey providing a would-be winner in the 76th minute and Wondolowski the actual winner in the 81st.
BEST PLAYER:
Convey, a one-time teen phenom who was part of the 2006 U.S. World Cup team, was sensational on the left flank, in midfield for the first half and as left back after
Ramiro Corrales
departed just before halftime with a hamstring injury. Convey, allowed alone into the Red Bulls box by New York midfielder
Rafa Marquez
, side-footed San Jose to a sixth-minute lead after
Ryan Johnson
's cross wasn't adequately dealt with, turned
Tim Ream
at the top of the box to blast home
Arturo Alvarez
's feed for a 2-0 (and 2-1 aggregate) lead, then played a pefect cross for Wondolowski to nod home. His forays forward terrorized New York all night and enabled the Quakes, although outplayed much of the game, to maintain control from start to finish.