Los Angeles Soccer:

San Bernardino Valley College
November, 26, 2011
11/26/11
11:28
PM PT
By
Scott French
| ESPNLosAngeles.com
Mt. San Antonio College will again have a chance to defend its state championship, but getting there took longer than expected.
The Mounties (20-0-3), winners of the past two state community college men's soccer champions, needed 5½ hours Saturday to pull out a 2-0 triumph over visiting Oxnard (15-2-6) in a Southern California Regional final and claim a spot in their fifth straight California final four.
The game, which began at 2 p.m., was delayed for nearly four hours after a nearby gas leak forced an evacuation on the Mt. SAC campus in Walnut.
Javier Castro
(Pomona/International Poly HS) scored early for Mt. SAC, the nation's No. 1-ranked non-scholarship JC team, and
Luis Fuentes
(Baldwin Park/Sierra Vista HS) netted his 19th of the season after the break.
The game was halted in the 38th minute, with Mt. SAC ahead, 1-0, when a Mt. SAC equipment manager accidentally drove a campus cart into an "old gas tank" adjacent to the soccer field, Mounties coach
Juan Sanchez
said. The area was cleared, the gas company summoned, the torn line repaired, and play started anew at about 6:15. The game ended a little before 7:30.
"It was one of those weird games," Sanchez said. "They were all over us just before it happened -- they had just hit the post and were attacking us. ... We wanted to finish it [Saturday], because if we had to play later, we'd have to start over, and we would have lost our advantage."
Mt. SAC will face City College of San Francisco (19-4-2), a 3-0 winner at Los Altos Hills-based Foothill, in a state semifinal Friday afternoon at Cosumnes River College in Sacramento.
In other men's action:
Duran Stanley and Rodrigo Perez scored overtime goals to lift Santa Barbara City College (18-1-4) to a 2-0 victory over visiting Golden West (13-6-4), from Huntington Beach. The Vaqueros will face Hartnell (18-2-3), from Salinas, in Friday's semifinals.
WOMEN: Cypress topples San Bernardino Valley on PKs
CYPRESS --
Michelle Mendez
came off the bench at the end of overtime and made two saves in the penalty-kick shootout to lead Cypress College back to the state final four after a four-year absence.
November, 23, 2011
11/23/11
12:04
PM PT
By
Scott French
| ESPNLosAngeles.com
No. 1 Cerritos College and No. 2 Santa Barbara City College were upset in the first round of the state community college women's soccer playoffs.
On Tuesday, it was No. 3 Ventura's turn.
Another series of upsets has the Nos. 11 (Cypress), 15 (San Bernardino Valley) and 16 (Orange Coast) seeds playing Saturday for berths in the Dec. 2-4 state finals in Sacramento.
Jacqueline Lara
(Buena Park/Valley Christian HS) scored a hat trick to lead Cypress (14-4-4) in a 4-0 rout of Ventura (18-4-0).
"This year's a weird year," Ventura coach
Steve Hoffman
told the
Ventura County Star
. "I think you have to say Cypress is way better than their record says. I think they'll go to the state title game."
The Chargers, who have won three state championships, the last seven years ago, will be home in one regional final against defending state champion San Bernardino Valley (14-5-4). The Wolverines won, 2-1, at College of the Canyons (14-4-3) as
Mariela Ortega
(Desert Hot Springs/Desert Hot Springs HS) and
Milan Galloway
(Rialto/Carter HS) scored in the first six minutes of the second half.
The other semifinal will match Cypress' Orange Empire Conference rivals Santiago Canyon (20-1-1), from Orange, and Orange Coast (14-4-4), from Costa Mesa. Santiago Canyon won the first meeting, 3-1; the second was a 1-1 tie.
November, 20, 2011
11/20/11
3:53
PM PT
By
Scott French
| ESPNLosAngeles.com
Cerritos College was No. 1 in the nation. Santa Barbara City was No. 2 in the seeds. Both are gone just one game into the state community college playoffs.

No. 16 seed Orange Coast (13-4-4), from Costa Mesa, stunned top-seeded Cerritos (20-2-0), winning, 1-0, as Jessica Parker (Fountain Valley/Fountain Valley HS) scored from a 24th-minute corner kick by Nicole Vanderlaan (Aliso Viejo/Aliso Niguel HS).

Santa Barbara (16-2-1) lost on penalties after a scoreless draw with 15th-seeded San Bernardino Valley (13-5-4), the defending state champion coming off an end-of-regular-season upset of Cerritos. Wolverines goalkeeper Jennifer Keats (Moreno Valley/Canyon Springs HS) stopped Katie Voss' attempt in the second round of the shootout.

The Cerritos result might be the biggest upset in the annals of the state JC tournament. The Falcons, who won titles in 2007 and 2008 and reached the semifinals last year, were considered can't-miss for the Dec. 2-4 final four in Sacramento.

"We honestly felt that we could play with this team because we have had plenty of experience playing against teams of this caliber," Orange Coast coach Kevin Smith told his school's athletics website. "We have [fellow regional semifinalists] Cypress and Santiago Canyon in our conference, and even though we didn't beat either team, we felt like we could compete with them, and that confidence carried over into today's game."

The beneficiary could be Orange's Santiago Canyon (19-1-1), which is ranked third nationally but was seeded fourth for the Southern California Regionals. The Hawks, who romped to a 5-0 opening-round win over Long Beach City (13-7-1), are the highest remaining seed in that bracket. Two teams from Southern California will advance to the final four.


December, 5, 2010
12/05/10
5:02
PM PT
By
Scott French
| ESPNLosAngeles.com
SANTA CLARITA -- When star forward Evelyn Calderon went down with a knee injury just nine games into the season, San Bernardino Valley's women's soccer team could have given up.
Calderon's 25 goals had fueled the Wolverines' unprecedented run to a regional final last year, and as they set their sights on something more, she was expected to be the hero.
So SBVC's triumph in Sunday's state junior college title game -- a 1-0 decision over Santa Rosa at College of the Canyons -- had to feel awful special, right?
"Right now, this feels great," Wolverines coach
Kristin Hauge
said. "Tomorrow, I start recruiting. Well, as soon as I get off the field, I'll start texting."
Title-game MVP
Crystal Sanchez
(Bloomington/Bloomington HS) converted a 72nd-minute penalty kick to provide the difference in a defensive standoff that saw just one shot -- Sanchez's PK -- placed on target.
Mariela Ortega
(Desert Hot Springs/Desert Hot Springs HS) earned the spot kick, bumped down from behind by Santa Rosa's
Lauren Romano
after running onto a space-finding pass by
Angela Young
(San Bernardino/Cajon HS).
"I knew we were good defensively, but I knew they're very good defensively," Hauge said. "We knew that one goal, whoever got it, had a real good chance of winning."
December, 4, 2010
12/04/10
7:59
PM PT
By
Scott French
| ESPNLosAngeles.com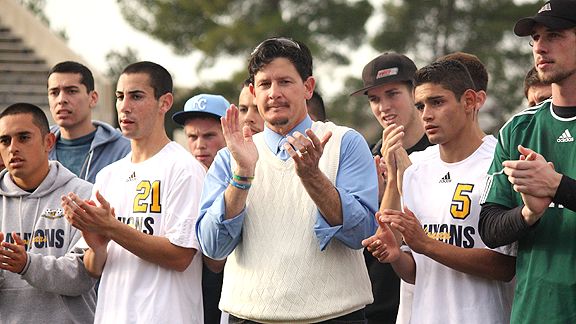 Celina Baguiao/College of the Canyons athletics
Coach Phil Marcellin started the College of the Canyons' women's program in 1998 and the men's team in 2003.
SANTA CLARITA -- A 1-16-6 campaign had been followed by a 4-16-3 season, and College of the Canyons men's soccer coach
Philip Marcellin
and his staff sat in their home stadium and watched Cerritos College capture and celebrate the 2008 state junior college championship.
It left them with a most sour taste -- and a resolution.
"We said: We're not hosting [the state final four] again," Marcellin said, "without making every effort we can to get in it."
Jump forward two years. The state finals have returned to Canyons, and Marcellin's Cougars are on the cusp of history.
Riding an 11-game winning streak and improbable, or so it seemed, romps over state powers Santa Ana and Fresno City, they've made it to their first state title game and will take on reigning California champion Mt. San Antonio, from Walnut, Sunday morning at 10.
It is, Marcellin notes, "a dream matchup: Home field, defending state champs. … Whatever side we end up on, I don't think we can ask for anything more than that."
December, 3, 2010
12/03/10
11:08
PM PT
By
Scott French
| ESPNLosAngeles.com
San Bernardino Valley and Cerritos colleges gave dominant performances Friday night, but only one of them is headed to the state junior college women's title game.

Araceli Sanchez set up a first-half goal, then delivered a death blow with 15 minutes to go as SBVC (19-1-3) reached its first state final with a 2-0 triumph over Fresno City College (19-3-2) at College of the Canyons in Santa Clarita.

Cerritos (21-2-2) applied heavy pressure throughout the second half but couldn't find the net, falling, 1-0, to Santa Rosa (18-0-5), Northern California's No. 1 team.


December, 3, 2010
12/03/10
6:40
AM PT
By
Scott French
| ESPNLosAngeles.com
The state's junior college soccer championships kick off Friday morning at College of the Canyons in Santa Clarita. Mt. San Antonio men's coach
Juan Sanchez
is seeking a second successive title. Cerritos women's coach
Ruben Gonzalez
is aiming for his third trophy in four years.
Their link goes far deeper than that.
Sanchez was a midfield creator and Gonzalez a backline anchor for Cal State L.A.'s men's team in the early 1990s -- a breeding ground, it turns out, for outstanding coaches.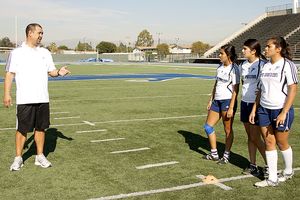 Kelly Kwan/Courtesy of Cerritos CollegeCerritos College coach Ruben Gonzalez.
They're among several Golden Eagles from the era, all prodigies of former Mexican national-teamer Leo Cuellar, who have gone on to guide title-winning teams, and the jobs they've done this year -- no matter what occurs this weekend -- have been among their best.

Sanchez returned just five players from last year's champions for what was supposed to be a "restructuring" campaign. His Mounties are 17-1-4, ranked second in the state and fourth in the nation, and one victory -- Friday morning at 10 against Northern California's West Valley College (16-4-2) -- from an opportunity to defend their title on Sunday.

Gonzalez's Falcons (22-1-2) have more experience but are somewhat of an underdog, forced to knock off the nation's Nos. 1 and 3 teams to reach the final four. They're no favorite at Canyons, either: NorCal powerhouse Santa Rosa (17-0-5), the state's lone unbeaten side, is their foe in Friday's 4 p.m. semifinal.

The other games: Canyons (16-5-2) vs. Fresno City (15-4-3) in a men's semi at 1 p.m., and San Bernardino Valley (17-1-3) vs. Fresno City (19-2-2) in a women's clash at 7 p.m.


November, 28, 2010
11/28/10
12:21
AM PT
By
Scott French
| ESPNLosAngeles.com
Cerritos College is heading to the state JC women's soccer final four for the third time in four years after ousting top-seeded L.A. Pierce on Saturday in Woodland Hills.
Miranda Madrid
(Lakewood/St. Joseph HS) set up goals by
Daniela Martin
(La Puente/La Puente HS) in the 22nd minute and
Liliana Leos
(Sylmar/South East HS) in the 26th to lead the Falcons (21-1-2), who won state titles in 2007 and 2008, to a 2-1 victory.
Third-seeded San Bernardino Valley (18-1-4) also advanced to next weekend's state finals at College of the Canyons in Santa Clarita, scoring three times in the first half en route to a 4-2 victory at No. 2 seed Ventura (17-3-2). Cerritos will face Santa Rosa (17-0-5), Northern California's top seed, and SBVC will take on Fresno City (19-2-2) in Friday's semifinals.
Defending champion Mt. San Antonio and Canyons advanced to the men's final four. The Mounties (17-1-4), the state's top-ranked team, routed San Diego City, 3-0, and will face West Valley (16-4-2) in the semis. Canyons (16-5-2) scored a 3-1 upset of second-seeded Santa Ana (15-4-4) and will meet Fresno City (15-4-3), NorCal's No. 1 seed.
November, 18, 2010
11/18/10
12:03
AM PT
By
Scott French
| ESPNLosAngeles.com
The state junior college brackets are out, and here's a group of death for you: L.A. Pierce (19-0-2), Cerritos (18-1-2) and Santiago Canyon (18-1-1). They're competing for one slot at the Dec. 3-5 final four at College of the Canyons in Santa Clarita.
Pierce, from Woodland Hills, is the top women's seed in the Southern California. Cerritos, the No. 4 seed from Norwalk, won state titles in 2007 and 2008.
Defending state champ Santiago Canyon, from Orange, has been No. 1 in the National Soccer Coaches Association of America Division III (non-scholarship) poll since preseason, but a loss Nov. 9 to sixth-seeded Cypress (17-1-3) knocked it down to a fifth seed.
Second-seeded Ventura (15-3-2) and third-seeded San Bernardino Valley (16-1-3) join Cypress in the other So Cal bracket. Two teams from the South and two from NorCal advance to the final four. First round games are Saturday.
In the So Cal men's brackets, top-seeded Mt. San Antonio (15-1-4), from Walnut, and second-seeded Santa Ana (14-3-4) have first-round byes.