Los Angeles Soccer:

San Clemente High School
March, 2, 2012
3/02/12
11:24
PM PT
By
Scott French
| ESPNLosAngeles.com
MISSION VIEJO --
Randy Dodge
wasn't concerned when his team fell behind San Clemente High School in the first half of Friday night's CIF-Southern Section girls soccer final. He knew he had the depth and the skill to overcome anything thrown his way, and more than that, there was belief within the squad.
Aliso Niguel rallied for two goals in the final 15 minutes to claim a 2-1 triumph over their South Coast League archrival to win the Division 1 title at Mission Viejo High School.
[+] Enlarge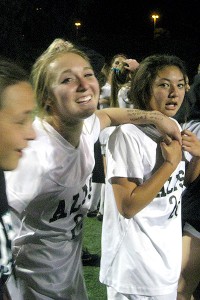 Scott French for ESPNLA.comAliso Niguel players celebrate their 2-1 victory over San Clemente in the CIF-SS Division 1 final.
"Dudes, this is frickin' awesome ...," Dodge exclaimed as the Wolverines (19-1-5) collected their trophy. "We weathered their storm, and our kids just believed. Our kids just believed. One thing we talked about was no regrets ever."
Sophomore forward
Dominique Bond-Flasza
netted the winner with a little more than seven minutes to go, poking home a loose ball after
Ashley McCutcheon
's header from
Ashley Ramirez
's corner kick was blocked on the goal line by San Clemente's
Ally Lynn
.
It gave Aliso Niguel, from Aliso Viejo, its second CIF soccer crown and ensured its participation in next week's CIF Southern California Regional Championship, the closest thing California has to a state tournament. The Wolverines are fifth in ESPNHS's Fab 50 national rankings.
San Clemente (18-3-7), the only team to beat Aliso this season, lost in the final for the third straight year. The Tritons were making their fifth successive title-game appearance and seeking their sixth championship in 11 years.
"We always play great soccer," said San Clemente coach
Stacey Finnerty
, whose team, No. 4 on ESPNHS's list, went 1-2-1 against Aliso this year and hadn't lost since a Mater Dei tournament defeat to the Wolverines in mid-December. "You play against a team that kicks it constantly and [is] physical, it got to us at the end of the game. It wasn't quality soccer, but it worked today. We couldn't keep our quality game."
Nikki Faris
gave the Tritons a 14th-minute lead, catching star Aliso goalkeeper
Sammi Jo Prud'homme
off her line, but the Wolverines started taking control at the end of the first half, were unfortunate not to equalize shortly after halftime and received a goal-saving clearance from
Jordan Ansara
midway through the second half.
February, 29, 2012
2/29/12
11:04
PM PT
By
Scott French
| ESPNLosAngeles.com
San Clemente High School makes its fifth successive CIF Southern Section Division I girls soccer title-game appearance this weekend, and the Tritons will have to go through a familiar foe if they're to win their sixth title in 11 years.

South Coast League rival Aliso Niguel (18-1-5) will look for its second victory this season over San Clemente (18-2-7) in Friday's championship match at Mission Viejo High School. The teams have played three times already, each winning once along with a scoreless draw.

San Clemente advanced with a 2-0 semifinal victory Tuesday over Dana Hills (16-6-1), from Dana Point. Danielle Mellem provided a sixth minute lead for the Tritons, who are unbeaten in 17 games since a 3-1 loss Dec. 19 to Aliso in Mater Dei's tournament. Jamae Cousineau added an insurance goal with three minutes to go.

Aliso Niguel, from Aliso Viejo, beat Santa Margarita Catholic (16-5-3), from Rancho Santa Margarita, on penalties following a 1-1 draw in the other Division 1 semifinal. Lindsay Doyle gave the Wolverines a 15th-minute lead, and Santa Margarita pulled even with nine minutes remaining on Kassidy Gorman's goal.

Aliso had lost five times on penalties in semifinals.

In other CIF Southern Section girls semifinals:

Sunny Hills 2, Great Oak 1: Maribell Morales and Megan Villaescusa netted first-half goals, and the top-seeded Lancers (30-1-0), from Fullerton, edged Great Oak (15-6-4), from Temecula, in a Division 2 game.

Los Osos 4, Upland 0: The second-seeded Grizzlies (21-0-3), from Rancho Cucamonga, received goals from Ifeoma Onumonu, Chloe Watson and Victoria Pina in an eight-minute span of the second half to pull away to a Division 2 triumph over Upland (13-7-3). Los Osos, ranked No. 1 in the nation by MaxPreps, won all three meetings this season.

Bishop Amat 4, Chino Hills 1: April Juarez and Nayeli Requejo scored two goals apiece and the fourth-seeded Lancers (22-4-4), from La Puente, romped to a Division 3 victory over Chino Hills (17-5-6). Juarez, the division's reigning Player of the Year, won a penalty kick Requejo converted, and her goals have her 25 this season and 117 in her prep career.

February, 25, 2012
2/25/12
2:15
PM PT
By
Scott French
| ESPNLosAngeles.com
South Orange County's reputation as the epicenter of girls soccer has been burnished during these CIF Southern Section playoffs. All four schools in the Division 1 semifinals are south of Irvine.

Santa Margarita Catholic (16-5-2) upset top-seeded Corona del Mar of Newport Beach in Friday's quarterfinals, and Nos. 2-4 seeds San Clemente (17-2-7), Dana Hills (16-5-1) and Aliso Niguel (18-1-4) joined the Eagles in the final four.

Add St. Margaret's (16-4-5) of San Juan Capistrano, which reached the Division 6 semifinals, and that's five South County teams playing Tuesday for title-game berths next weekend.

Santa Margarita, from Rancho Santa Margarita, beat Corona del Mar, 1-0, when Taylor Klawunder volleyed home a cross from her twin sister, Kaitlin, in the 74th minute.

San Clemente, aiming for a fifth straight trip to the final, overcame Harvard-Westlake of Studio City on penalties after a 0-0 draw. Freshman Amanda Gerrain delivered the knockout blow on the sixth round of kicks.

Breanne Chilton-Eddy scored twice to lead Aliso Niguel, from Aliso Viejo, in a 3-0 romp over Santa Ana's Mater Dei. Dana Hills, from Dana Point, was a 2-0 winner over Orange Lutheran.

Seven of the eight Division 1 quarterfinalists (and 11 of 16 second-round teams) were from Orange County.

It's a similar story, but different geography, in Division 3. Three of the four semifinalists -- third-seeded Claremont (25-1-4), St. Lucy's Priory (18-8-2) of Glendora and Chino Hills (17-4-6) -- are from the Sierra League. A fourth Sierra team, Ayala of Chino Hills, was five minutes from joining them.

The Sierra League is 11-1-1 in the tournament, the lone loss Ayala's on Friday against defending champion Bishop Amat (21-4-4) of La Puente. Amat scored three times in the final six minutes, with Jamie Peters netting the winner, to pull out a 4-3 victory.


March, 12, 2011
3/12/11
10:24
PM PT
By
Scott French
| ESPNLosAngeles.com
San Clemente High School's reputation as a girls' soccer powerhouse took a beating of sorts Saturday night, but Tritons coach Stacey Finnerty certainly didn't mind.
"Give him a big kiss for me," she texted as a few reporters prepared to greet giddy
Mike Pronier
after his boys' team added to the school's haul of soccer trophies with a victory over Buchanan, from Clovis, in the Southern California Regional Division I final.
This kind of success is expected from Finnerty's girls, who have won seven CIF Southern Section championships, plus the 2008 regional title -- with a victory over Buchanan -- and fell just short this year, losing in the section Division 1 title game and the regional semifinals.
The boys are tasting it for the first time.
"I'm speechless," Pronier said after an impressive 4-1 triumph at Warren High School in Downey over a team that hadn't conceded a playoff goal. "It's, like, when we started, we knew we had a good team. We went through some ups and downs, and you can do all the coaching in the world, but it wasn't until they got together at the end of our league season, dyed their hair and did mohawks that we really turned the corner on the season.
"I don't know what that means, but they came together and got better and better, and to finish in this style, with a great offensive performance, is indicative of the team they are."
Star forward
Steve Palacios
, sporting a brick-red mohawk, was the catalyst, scoring one goal, sending in a cross for another and crashing shots off the crossbar and left post in an inspired performance despite playing with a slightly separated left shoulder.
"He kept bringing it with the shoulder," Pronier said. "Some people may not have played [with the injury], but we've gone back and forth over the years, because I knew he had that in him, and sometimes he brought it and sometimes he didn't, but he did nothing but bring it every game in the playoffs. Once we got to the playoffs, he brought his best every day, and I'm proud of it."
Palacios, who's headed to Cal Poly San Luis Obispo, noted the unity that spurred the Tritons (20-5-5) to five one-goal victories en route to their first Southern Section boys' soccer title, then three more wins -- by an 8-1 margin -- in the regional playoffs.
"As ridiculous as we look," Palacios said, "it's all about team bonding, doing something together. If we look stupid, we look stupid together. … And we win together."
March, 6, 2011
3/06/11
3:33
PM PT
By
Scott French
| ESPNLosAngeles.com
Cory Hodge delivered to Claremont High School its first CIF Southern Section boys soccer title in 17 years, heading home an overtime throw-in as the Wolfpack posted an improbable 3-2 victory over Capistrano Valley in the Division 2 final Saturday night at Mission Viejo High School.
Hodge outleapt Capo Valley's backline to flick
Brennen Carter
's throw-in into the net 5½ minutes into the extra period as Claremont (21-1-5) weathered a hectic finish to regulation and start to overtime to snare their second boys soccer championship.
Capistrano Valley, from Mission Viejo, twice rallied from deficits, with
Kyle Smith
knotting the score, 2-2, with 43 seconds remaining in regulation. But the Cougars (16-6-7) were twice denied winning goals, with
Mario Soto
's strike hitting the net just after time expired in the second half and a controversial offside call waving off Smith's redirection of
Luis Vasquez
's free kick three minutes into OT.
Steven Barba
gave Claremont a third-minute goal, and
Kevin Baboiyan
pulled the Capo Valley even with a 56th-minute penalty kick after a Hodge hand ball. Carter restored the lead in the 65th.
Southern Section finals Friday and Saturday also were played at Warren High School in Downey.
In other championship games:
DIVISION 1
San Clemente 2, Santa Barbara 1
Kevin Gould
and
Bryan Fouch
scored first-half goals and the Tritons (17-6-6) staved off a second-half surge by Santa Barbara to win their first boys soccer title. Gould knocked home a rebound in the 17th minute and Fouch tallied after a
Fabian Caudillo
takeaway in the final minute of the half. The Dons, who won the Division 2 championship last year and were seeking their seventh boys soccer title, applied heavy pressure throughout the second half and halved the deficit on
Sanford Spivey
's 57th-minute goal.
DIVISION 3
Paramount 2, Fontana 1
The fourth-seeded Pirates (18-2-6) claimed their second successive Division 3 title, holding on for the final half-hour after a red card left them with 10 players.
Edgar Martinez
scored in the first minute and
Salvador Velasquez
made it 2-0 after dispossessing a defender four minutes into the second half, but Fontana, which won three playoff games in overtime, applied heavy pressure after
Alejandro Muñoz
was sent off with 29 minutes to go.
Mishael Cano
tallied in the 78th minute for the Steelers. Paramount goalkeeper
Tony Maldonado
made a diving stop on
Isac Fonseca
's first-half penalty kick.