Los Angeles Soccer:

Santa Ana College
December, 4, 2010
12/04/10
7:59
PM PT
By
Scott French
| ESPNLosAngeles.com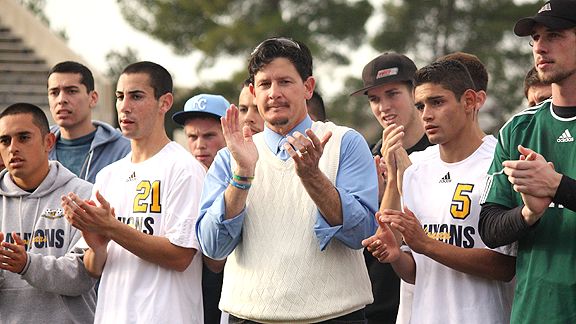 Celina Baguiao/College of the Canyons athletics
Coach Phil Marcellin started the College of the Canyons' women's program in 1998 and the men's team in 2003.
SANTA CLARITA -- A 1-16-6 campaign had been followed by a 4-16-3 season, and College of the Canyons men's soccer coach
Philip Marcellin
and his staff sat in their home stadium and watched Cerritos College capture and celebrate the 2008 state junior college championship.
It left them with a most sour taste -- and a resolution.
"We said: We're not hosting [the state final four] again," Marcellin said, "without making every effort we can to get in it."
Jump forward two years. The state finals have returned to Canyons, and Marcellin's Cougars are on the cusp of history.
Riding an 11-game winning streak and improbable, or so it seemed, romps over state powers Santa Ana and Fresno City, they've made it to their first state title game and will take on reigning California champion Mt. San Antonio, from Walnut, Sunday morning at 10.
It is, Marcellin notes, "a dream matchup: Home field, defending state champs. … Whatever side we end up on, I don't think we can ask for anything more than that."
November, 24, 2010
11/24/10
6:54
AM PT
By
Scott French
| ESPNLosAngeles.com
Cerritos College might be seeking a fourth straight women's state title had it brought its best game to Santiago Canyon a year ago. The Falcons fell, 1-0, in Southern California Regional second-rounder, ending their bid for a third successive title.
Their path to a third crown in four years remains intact following Tuesday's 1-0 overtime triumph over Santiago Canyon.
Justine Telles
' goal in the 97th minute lifted fourth-seeded Cerritos (20-1-2), which will advance to the Dec. 3-5 state final four (at College of the Canyons in Santa Clarita) with a victory Saturday at So Cal top seed L.A. Pierce (21-0-2).
Santiago Canyon (19-2-1), from Orange, lost to Cerritos in the 2007 state final, but last year's win prodded the Hawks to their first state title. They weathered plenty in Tuesday's regional second-round clash, with the dominant Falcons twice hitting the crossbar -- through
Tatiana Cortes
(La Mirada/La Mirada HS) and
Liliana Leos
(Sylmar/South East HS), both in the second half -- but succumbed to an overtime error.
Telles (Santa Fe Springs/St. Paul HS) curled in a corner kick from the left flank, and Santiago Canyon goalkeeper
Angie Orozco
(Irvine/Irvine HS) misplayed it into her net.
"They're all big, especially in the playoffs," Cerritos coach
Ruben Gonzalez
said, "but Santiago's a well-coached team. We've battled before. Last year they got us, 1-0, and before that, we beat them in the state championship. It's always good to see two top teams battle.
"We played with confidence. For the most part, we were the better team. We held possession, and at the end they made a mistake on the corner kick, but we had opportunities that we didn't put away, and maybe we should have."
The Falcons will be without Cortes against Pierce. She and Santiago Canyon's Janelle Hanna (Orange/El Modena HS) were red-carded after an overtime altercation.
Other first-round heroes:
Gilberto Castaneda (Anaheim/Savanna HS) headed home a cross by Edgar Islas (Santa Ana/Santa Ana HS) midway through the first half to lift second-seeded Santa Ana (15-3-4) past visiting Irvine Valley, 1-0. The Dons' last game, 11 days earlier, was a 6-1 rout of IVC to clinch their 17th straight Orange Empire Conference title.
Victor Rodriguez (Woodland Hills/Taft HS) tallied twice to lead sixth-seeded College of the Canyons (15-5-2) past Cerritos, 2-1, handing the Falcon men their first loss on their 3-year-old field. Cerritos, the No. 3 seed, had been 27-0-6 on the Falcon Soccer Field.
Top-seeded L.A. Pierce (21-0-2) romped in women's play, 3-0, over visiting El Camino as Daisy Alvarenga (Lake Balboa/Birmingham HS), Briana Behrad (Woodland Hills/Taft HS) and Jessica Gonzalez (Mission Hills/Alemany HS) scored goals.
Ventura (17-3-2), the No. 2 women's seed, routed visiting Santa Barbara City, 3-0, on goals by Lindsey Armenta (Camarillo/Rio Mesa HS), Taylor Benton (Camarillo/Camarillo HS) and Hope Weber (Camarillo/Camarillo HS).
SOUTHERN CALIFORNIA REGIONALS
SECOND ROUND
Tuesday's games (Home teams listed first)
Men
Mt. San Antonio 4, Oxnard 0
San Diego City 1, Santa Barbara City 0
Cerritos 1, College of the Canyons 2
Santa Ana 1, Irvine Valley 0
Women
L.A. Pierce 3, El Camino 0
Cerritos 1, Santiago Canyon 0, OT
San Bernardino Valley 1, Cypress 1 (San Bernardino Valley advances on penalties, 9-8)
Ventura 3, Santa Barbara City 0
REGIONAL FINALS
Saturday's games (times tentative)
Men
College of the Canyons (15-5-2) at Santa Ana (15-3-4)
San Diego City (18-2-3) at Mt. San Antonio (16-1-4), 4 p.m.
Women
Cerritos (20-1-2) at L.A. Pierce (21-0-2), 2 p.m.
San Bernardino Valley (17-1-4) at Ventura (17-3-2), 5:30 p.m.
NORTHERN CALIFORNIA REGIONALS
REGIONAL FINALS
Saturday's matchups
Men
Santa Rosa (17-2-2) at Fresno City (14-4-3)
Evergreen Valley (19-1-3) at West Valley (15-4-2)
Women
Cosumnes River (14-4-5) at Santa Rosa (16-0-5)
American River (18-4-0) at Fresno City (18-2-2)
November, 18, 2010
11/18/10
12:03
AM PT
By
Scott French
| ESPNLosAngeles.com
The state junior college brackets are out, and here's a group of death for you: L.A. Pierce (19-0-2), Cerritos (18-1-2) and Santiago Canyon (18-1-1). They're competing for one slot at the Dec. 3-5 final four at College of the Canyons in Santa Clarita.
Pierce, from Woodland Hills, is the top women's seed in the Southern California. Cerritos, the No. 4 seed from Norwalk, won state titles in 2007 and 2008.
Defending state champ Santiago Canyon, from Orange, has been No. 1 in the National Soccer Coaches Association of America Division III (non-scholarship) poll since preseason, but a loss Nov. 9 to sixth-seeded Cypress (17-1-3) knocked it down to a fifth seed.
Second-seeded Ventura (15-3-2) and third-seeded San Bernardino Valley (16-1-3) join Cypress in the other So Cal bracket. Two teams from the South and two from NorCal advance to the final four. First round games are Saturday.
In the So Cal men's brackets, top-seeded Mt. San Antonio (15-1-4), from Walnut, and second-seeded Santa Ana (14-3-4) have first-round byes.