Los Angeles Soccer:

Santa Ana Winds
December, 6, 2011
12/06/11
7:54
PM PT
By
Scott French
| ESPNLosAngeles.com
Club Deportivo Guadalajara's under-20 side has added a third game this weekend during its Southern California trek.
Chivas' youngsters will play Saturday night against the National Premier Soccer League's Santa Ana Winds at Santa Ana Stadium. The game begins at 7 p.m., and tickets are $12 (free for children under 8 accompanied by an adult).
Guadalajara also has games
Friday night against the Ventura County Fusion at Ventura College and Sunday afternoon against Futbol Club Santa Clarita at Valencia High School.
July, 10, 2011
7/10/11
10:39
AM PT
By
Scott French
| ESPNLosAngeles.com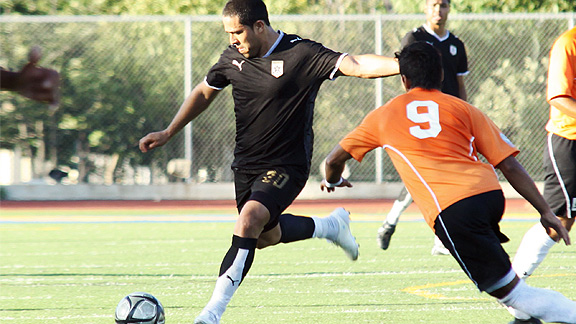 Tony Flores/Hollywood United FC
Hollywood United's Arturo Albarran shoots past Santa Ana's Andre Turoldo during Saturday's Western Conference semifinal.
Hollywood United FC took advantage of an early red card and cruised past the Santa Ana Winds in a National Premier Soccer League playoff opener Saturday night in Los Angeles.
What was happening 100 or so miles to the south might have meant more to the Hitmen's championship hopes.
HUFC's 3-1 victory at Crenshaw High School, on goals from Ghanaian forward
Emmanuel Bentil
, former Chivas USA winger
Brent Whitfield
(Long Beach/Poly HS and Cal State Fullerton) and
Nick Blanco
(Loyola Marymount), sends it to the Western Conference final next Saturday against the Sacramento Gold, which stunned the San Diego Flash -- the best in the West -- in the other conference semifinal.
The winner will advance to the league final four in Alabama at the end of the month.
Santa Ana played a man down from the 11th minute, after goalkeeper
Carlos Alberto Hernandez
was red-carded for handling the ball outside his box. The Hitmen took advantage right away, with Bentil scoring from
Carlos Morales
' corner kick in the 17th minute.
Whitfield headed home Arturo Albarran's cross in the 31st, and Blanco beat three defenders on a run from midfield for the third goal just five minutes into the second half. Greg Piechota (Cal State Dominguez Hills) tallied for the Winds (7-5-1) in the 35th minute.
Hollywood United (12-2-1) was the top seed for the Western final four but really were second-best. The Flash (10-4-1) had lost on the field just once this season -- it forfeited two games, including a 3-1 start-of-the-season triumph over the Hitmen, for using an ineligible player -- was coming off a 5-1 destruction of HUFC in the regular-season finale and were overwhelming favorites to represent the West in Alabama.
Sacramento (8-3-4), the defending NPSL champion, ousted San Diego, 2-1, to set up next week's clash at Crenshaw. Hollywood United won the first meeting this season with the Gold, 3-0, and the second was a 1-1 draw.
HUFC, which in the spring moved from the USL's Premier Development League to the NPSL, had reached the playoffs in both of its previous seasons but failed to advance.
June, 3, 2011
6/03/11
5:54
PM PT
By
Scott French
| ESPNLosAngeles.com
Two local clubs -- the Southern California Seahorses and Santa Clarita Blue Heat -- are enjoying unexpected early success in United Soccer Leagues competitions and will have a better idea of how good they really are following showdowns this weekend.

The Seahorses (3-2-0) are coming off back-to-back Premier Development League wins over longtime power Orange County Blues Star, winning 2-0 last week in Irvine and 2-1 on Wednesday night in La Mirada. Ryan Shaw (La Caņada Flintridge/St. Francis HS) scored three goals -- giving him five in five games -- in the victories.

Now the club, part of a Christian organization that includes the USL Pro league's Charlotte Eagles, looks to bounce back from the 4-0 home loss last weekend to Southwest Division leader Ventura County Fusion (5-0-2). They meet Sunday evening at Ventura College.

The Blue Heat (2-0-1) last week played two-time W-League champ Pali Blues to a scoreless draw, then destroyed archrival L.A. Strikers, 7-2, after scoring three goals -- by Hannah Beard, Portuguese star Edite Fernandes and Cal State Fullerton's Ann Marie Tangorra (Arcadia/Arcadia HS and Cal State L.A.) -- in the first 25 minutes.

Santa Clarita returns home, The Master's College on this occasion, to take on reigning Western Conference champ Vancouver Whitecaps (3-0-1), who have conceded just one goal this season.

More on local clubs and players:


May, 24, 2011
5/24/11
7:13
PM PT
By
Scott French
| ESPNLosAngeles.com
With Hollywood United departing for a rival league, the Ventura County Fusion might have figured they were in a two-team battle for the Premier Development League's Southwest Division title this year.
They would have been correct.
Only the other team isn't Orange County Blue Star.
The Fusion made that clear Friday night with a 7-2 pasting at Ventura College, running their record to 4-0-1. That's only worth second place -- Fresno Fuego, apparently their chief competition, is a point better, at 4-0-2.
The teams drew, 0-0, May 1 in Ventura and meet again June 11 in Fresno.
They're in another battle this week, for the division's berth in the U.S. Open Cup. Fresno won all four of its qualifying matches, and the Fusion is 3-0-0 heading into Saturday's PDL match against the Southern California Seahorses at La Mirada High School. Ventura County will advance if it wins by two or more goals or by one goal while scoring at least three. A 2-1 win forces a coin flip, a 1-0 win, draw or loss sends Fresno through.
Thousand Oaks'
Danny Barrerra
(Westlake HS/UC Santa Barbara) played the key role against Blue Star, setting up two goals -- his league-best fifth and sixth assists -- and scoring the finale.
May, 3, 2011
5/03/11
9:42
PM PT
By
Scott French
| ESPNLosAngeles.com
Hollywood United FC has piled up 23 goals in its past four games, setting scoring standards that could make the Hitmen the class of the National Premier Soccer League's Western Division.
Only San Diego Flash -- not nearly as flashy but just as successful, perhaps more, than HUFC -- seems to stand between the revered L.A. side and the division title.
Hollywood United improved to 5-1-0 last weekend with a 5-3 romp over San Diego Boca as Cuban forward
Jose Miranda
netted a hat trick, the club's second in as many matches. Former Chivas USA winger
Brent Whitfield
(Long Beach/Poly HS and Cal State Fullerton) scored three in the 11-0 destruction of Real San Jose eight days earlier.
Rene Corona
(Corona/Centennial HS and Santa Ana College) also tallied twice as HUFC remained ahead of the Flash (5-0-0) on goal difference -- it's plus-19 to plus-9 -- and impressive wins. HUFC crushed both of the divisions Northern California powers on a mid-April trek north; the Flash beat the Sonoma County Sol, 1-0, in San Diego last weekend.
The victory that matters most was the Flash's over HUFC, which took a first-half lead through Miranda but surrendered two second-half goals in a 3-1 decision.
Elsewhere in the NPSL:
Santa Ana Winds (3-1-0) ran their winning streak to three games, beating Rattlers FC, 3-0, in Palmdale as Diego Turoldo (Torrance/North Torrance HS and Cal State Dominguez Hills) scored his third and fourth goals and Mike Piechota (Cal State Dominguez Hills) added a goal and an assist. The teams meet again Saturday in Santa Ana.
Omar De La Piedra (L.A. Mission College) scored a big goal for the second straight week, lifting Thousand Oaks' FC Hasental (1-3-1) to a 2-2 draw with visiting Bay Area Ambassadors. Johnny Gonzalez netted his third goal for Los Conejos.
PREMIER DEVELOPMENT LEAGUE: UCLA sophomore Chandler Hoffman scored twice and assisted San Diego County high-schooler Adrian Avila's goal as Orange County Blue Star opened its Premier Development League campaign with a 4-0 romp over the L.A. Legends.
April, 25, 2011
4/25/11
10:49
PM PT
By
Scott French
| ESPNLosAngeles.com
Hollywood United FC is finding that the National Premier Soccer League's Western Division not as tough as it hoped it would be.
The Hitmen, atop the Southwest Flight, hammered Real San Jose, 11-0, on Saturday night to improve to 4-1-0. The last three wins, all shutouts over Northwest Flight clubs, have been by an 18-0 margin. HUFC joined the NPSL, primarily for financial reasons, after playing several seasons in the rival Premier Development League, and club management cited the competitiveness of NPSL clubs when they announced the switch.
It's clear the divisional championship, barring something wholly unexpected, will be going to HUFC or the San Diego Flash, who are 4-0-0 after a 3-0 win over Bay Area Ambassadors up in Hayward. The Flash beat the Hitmen, 3-1, on April 9
Former Chivas USA winger
Brent Whitfield
(Long Beach/Long Beach Poly HS and Cal State Fullerton) had a hat trick after 34 minutes, and
Jose Miranda
and
Andy Contreras
pitched in with two goals apiece.
HASENTAL WINS:
Thousand Oaks' FC Hasental claimed its first victory, spoiling Rattlers FC's NPSL debut with a 3-1 victory at Palmdale High School. Romanian forward
Lucian Leu
,
Johnny Gonzalez
and
Omar De la Piedra
(L.A. Mission College) scored for Hasental (1-3-0).
Santa Ana Winds (2-1-0) made it two in a row on the road with a 3-2 triumph at San Diego Boca on a last-minute strike by
Diego Turoldo
(Torrance/North Torrance HS and Cal State Dominguez Hills).
GRIFFIN STRIKES AGAIN: Max Griffin
(Palmdale/Littlerock HS and UCLA) has two two-goal games in three games for Orlando City FC in the third-tier USL Pro. He netted a pair in a 2-2 draw Friday with Puerto Rico United and leads the third-tier league with four goals.
April, 19, 2011
4/19/11
11:17
PM PT
By
Scott French
| ESPNLosAngeles.com
The Santa Ana Winds enjoyed its first victory in the National Premier Soccer League, pulling away early in the second half to a 4-1 triumph over Thousand Oaks' FC Hasental in a Western Division match at Calabasas High School.

Thomas Culver, a former midfielder at Costa Mesa's Former Vanguard University, gave the first-year Winds (1-1-0) an early lead, and Corona's Alex Munoz (Centennial HS/Cerritos College and Cal State Dominguez Hills) doubled the advantage by halftime. Torrance's Diego Turoldo (North Torrance HS/Cal State Dominguez Hills) and teen forward Yohel de Jesus, who has played in Chivas USA's academy, tallied in the first 17 minutes of the second half to put away Hasental (0-3-0), also a first-year side.

BEST IN THE WEST: Early returns suggest So Cal's best NPSL sides are better than NorCal's. At least that seems the lesson from Hollywood United's trek north last weekend. The Hitmen (3-1-0) romped in wins over the two previous NPSL titlists (and the Northwest's top two teams), routing 2009 champ Sonoma County Sol, 4-0, and defending champion Sacramento Gold, 3-0.


April, 5, 2011
4/05/11
12:00
AM PT
By
Scott French
| ESPNLosAngeles.com
Hollywood United FC's money move has strengthened the nascent National Premier Soccer League's status while leaving the better-heeled Premier Development League, the other national semipro/amateur men's soccer league in America, scrambling to reset its schedule.

HUFC, which has several competitive teams in addition to the celebrity side featuring Anthony LaPaglia in the nets, last month departed the PDL to hook up with the Galt, Calif.-based NPSL, a growing outfit that promises owners more freedom and power and far lower costs.

The Hitmen, a professional team coached by former Galaxy forward Jose Botello, debuted in the new league Saturday night, eclipsing the first-year Santa Ana Winds, 1-0. Arturo Albaran's early goal was the difference in the Western Division clash at Santa Ana Stadium.

The PDL season kicks off at the end of the month -- HUFC was supposed to open at Fresno Fuego on April 29 -- and the Tampa, Fla.-based United Soccer Leagues, which administers the PDL and several other national leagues, must alter its Western Conference schedule.

A league spokesman said the plan was to announce a new slate on Wednesday. There are four L.A.-area teams remaining in the PDL -- L.A. Legends (who will play at Huntington Park High School), Orange County Blue Star (Concordia University in Irvine), Southern California Seahorses (Biola University in La Mirada) and Ventura County Fusion (Ventura College) -- after HUFC and, previously, Lancaster-based Rattlers FC, bolted for the NPSL. Thousand Oaks-based FC Hasental also has joined the league, giving it four L.A. teams, too.

"It's an area we've been trying to get into quite a while," said Dan Trainor, the NPSL commissioner. "We know about the teams there. It's a matter of … I'll call it coming of age."