Los Angeles Soccer:

Scott Gordon
July, 6, 2012
7/06/12
3:13
PM PT
By
Scott French
| ESPNLosAngeles.com
CARSON -- Chivas USA made a move toward alleviating its depth problem in central defense Friday, acquiring the rights to Bobby Burling while waiving fellow defender Scott Gordon.

Burling, a 2007 Galaxy draft pick who spent all or part of three seasons with Chivas, has been on trial with the Goats for the past month. Chivas still must sign him after sending a 2013 international roster slot to the Montreal Impact for his rights.

The 6-foot-5 veteran played in two MLS Reserve League games last month for Chivas after featuring in a reserve game with the Colorado Rapids in May. No word on how soon the Goats will have him under contract or whether he will be signed and eligible for Saturday's game against Vancouver at Home Depot Center.

Burling, a former Loyola Marymount star, went from the San Jose Earthquakes to the Impact in last November's expansion draft, but he was unable to reach a deal and has been in limbo since. He was pursuing his MLS options after trials earlier this year with Sint-Truiden in Belgium and Kickers Offenbach in Germany.

"He's a big guy, a great physical presence in the back," assistant coach Greg Vanney, a former U.S. national team defender, said last month. "He's in every challenge and he's strong in the challenge and he wins his challenges, and that's a good thing."

Burling joined Chivas in April 2007, after failing to make the Galaxy roster, and played only in Reserve League games as a rookie. He made 18 MLS starts for the Goats in 2008 but was limited by injury to only three appearances in 2009 before heading to the Earthquakes in a September trade. He made 45 league starts in two years and two months in San Jose.

Gordon, a tall right back, made five first-team appearances with Chivas, going the full 90 in the first two U.S. Open Cup matches. He last played in the June 5 Open Cup victory at Carolina and was last on the bench for the June 20 match against Montreal.

He had signed March 16 following a nearly three-week trial with the club.
March, 25, 2012
3/25/12
12:19
AM PT
By
Scott French
| ESPNLosAngeles.com
Casey Townsend
calls it the "striker instinct," and as a pure striker, he ought to know. It generated the biggest moment of Chivas USA's season so far, delivered to the Goats their first victory.
The rookie's opportunistic half-volley in the 72nd minute and another exceptional performance in the back was enough for Chivas to claim a 1-0 triumph Saturday night over powerful Real Salt Lake in Sandy, Utah, a stirring upset that might be worth a lot more than three points.

The Goats survived a half-hour under relentless pressure in the first half and a late RSL push at the end to give
Robin Fraser
his first victory over his former club and Chivas its first win at Rio Tinto Stadium. The way they did so, and how they turned their first-half turmoil into a fine second-half performance, might prod them along the next step in their evolution under the second-year coach.
"I would like to think so," Fraser told ESPN Los Angeles by phone when he was asked if he thought the victory might be a huge step forward. "In our tenure here, I don't think the results have gone that way for us in this sort of game. When times got tough tonight, our guys dug in and dug deep and defended like nothing else mattered. … These guys just fought, gritted and gutted out a victory."
It wasn't particularly pretty, even with Chivas matching RSL's possession for long stretches of the second half. The Goats created just two real scoring chances -- Townsend's goal followed
Peter Vagenas
' half-volley and
Rauwshan McKenzie
's rebound, both knocked aside by
Nick Rimando
, from a 16th-minute corner kick -- and had to stave off nearly nonstop forays by RSL, which entered the game No. 1 in Major League Soccer's overall standings.
The Utahns (2-1-0) had nearly a dozen scoring opportunities, and at least half of them were good. Former RSL reserve McKenzie was outstanding -- his 42nd-minute takeaway in the box from
Fabian Espindola
was clinical -- and fellow center back
Heath Pearce
and right back
James Riley
were nearly as good. Goalkeeper
Dan Kennedy
was a difference-maker, diving to stop Espindola in the 22nd and 93rd minutes, dominant when coming off his line to attack crosses, a master of his box. He was, Rimando said, "why we had this result."
Townsend delivered the knockout punch following the Goats' best sequence of the night. The final three passes were key:
Ryan Smith
threaded the ball through three defenders to give
Nick LaBrocca
space to head forward, LaBrocca put
Ante Jazic
into open territory on the left flank, and Jazic whipped a cross into the middle for the rookie to battle for against Rimando and big center back
Chris Schuler
.
Schuler was between Rimando, who leaped and had the ball in his hands, and Townsend, who applied the necessary physical pressure in the air. The RSL goalkeeper, a former UCLA star from Montclair, fumbled the ball. Townsend, the No. 5 overall selection in January's MLS SuperDraft, followed the ball with his eyes as it fell to the ground, instinctively kicking at it as it landed. The ball sailed hard and true into the net.
"For a first [professional] goal, it was obviously very cool," said Townsend, who scored 17 last fall as a senior at the University of Maryland. "As far as watching the ball on the way down, that's the striker instinct in me. I just kind of swung at it instinctively toward the net."
March, 20, 2012
3/20/12
4:56
PM PT
By
Scott French
| ESPNLosAngeles.com
Still no decisions on most of the trialists still in camp with Chivas USA, but Santa Ana's
Kevin Huezo
will not become a Goat.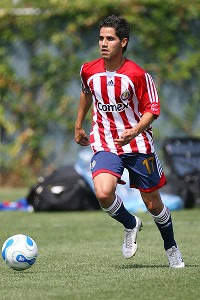 Juan Miranda/MLS/Getty ImagesRodrigo Lopez has been with Chivas USA before and is again on trial with the Goats.
Huezo (Segerstrom HS), who has played in Pachuca's system and was in camp with Colorado during preseason, has been released from Chivas' camp, head coach Robin Fraser reported, but seven players remain in the running for roster slots -- with more possibly to come.

"We're still looking, still looking at different players, different positions," Fraser told ESPN Los Angeles on Tuesday. "Still looking around the world."

Chivas has 26 players on their roster, with five more additions possible. The Major League Soccer maximum is 30, including players away on loan (such as forward Tristan Bowen, who is in Belgium), but midfielder Marvin Iraheta is on the disabled list because of a torn anterior cruciate ligament, and his spot is open.

The Goats are in pursuit of a South American player, according to a source with knowledge of the situation, and expect to sign him within the next week or so. Another source said the player was from Colombia, the top foreign provider of MLS talent, with 28 players, 14 of them newcomers this season. Chivas striker Juan Pablo Angel is Colombian.

Defenders Matt Dallman, Patrick Kanyuka and Mario Ledesma, midfielders Rodrigo Lopez, Cameron Artigliere and Ernesto Hutchinson, and forward John Owoeri remain in camp on trial. Fraser said he planned to make decisions "within a day or two" on Owoeri, a former Nigerian youth international who scored three goals in Sunday's 6-1 rout of UC Riverside, and Ledesma (Woodland Hills/El Camino Real HS), who has been in camp from the start.


March, 18, 2012
3/18/12
12:23
AM PT
By
Scott French
| ESPNLosAngeles.com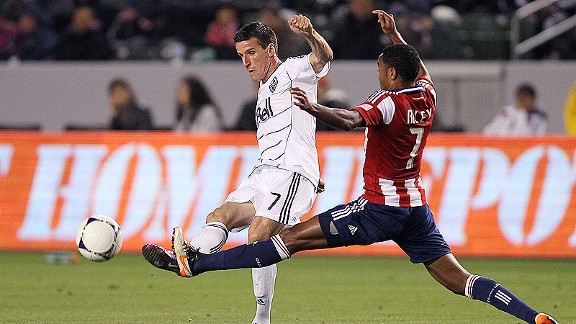 Victor Decolongon/Getty ImagesSebastien Le Toux of the Vancouver Whitecaps sends a cross against the defense of Chivas USA's James Riley.

CARSON -- Two games in and so much is going so well for Chivas USA, enough so that with a just a little more attacking spark the Goats might be streaking toward something special.

Instead, they're 0-2-0, haven't found the net, and have seen two outstanding defensive performances wasted after conceding late goals on set pieces.

Saturday night's 1-0 defeat to the Vancouver Whitecaps was beyond frustrating for Chivas, which managed nearly nothing offensively despite controlling the ball most of the match and lost although it surrendered just two shots on goal all night.




Jay DeMerit got the goal, a 68th-minute header from Camilo's corner kick after Oswaldo Minda, his mark, slipped on the run. The Goats' only real scoring chance, despite several penetrations into dangerous territory, came from rookie Casey Townsend's bending ball toward the top-right corner that Joe Cannon stretched to tip over the crossbar in the 32nd.

"This game can be summed up pretty quickly," Chivas coach Robin Fraser said afterward. "I thought we weren't aggressive enough, weren't aggressive enough to take advantage of some space that was provided to us."

The story was similar in last week's 1-0 loss to Houston, in which Chivas had more possession but created just four decent chances, none of them sharp enough to do any real damage.

"I think we possess the ball well, but in the final third we lacked that punch, that little bit of creativity, just executing plays," Chivas left back Ante Jazic said. "We have a lot of new guys. It's getting guys on the same page. I think the effort is there, just the end product is missing. Hopefully, that comes sooner than later.

"Just disappointing. I thought Vancouver was certainly beatable. What did they have, just one shot on net, aside from the goal, and from distance? If you give up one shot on goal, you should win that game. … Give credit to Vancouver: They defended and they battled, but I thought they were there to be taken tonight, for sure."

Chivas was without Juan Pablo Angel, whose head injury has been diagnosed as a concussion and who is going through Major League Soccer's concussion protocol, which takes a week minimum. Fraser said he thought Angel could be back for next week's game at Real Salt Lake.

They could use him, certainly, especially after failing to get a shot off during one second-half foray, in which Jazic, Ryan Smith and Nick LaBrocca had decent looks. The press-box consensus: Someone has to take that shot.


March, 12, 2012
3/12/12
8:54
PM PT
By
Scott French
| ESPNLosAngeles.com
CARSON -- Jorge Villafaņa celebrated his call-up to the U.S. Olympic qualifying roster Monday with 90 solid minutes in a friendly against the L.A. Blues. The Goats' 1-0 defeat at Home Depot Center's Track and Field Stadium couldn't knock the smile from his face.
"I'm happy to be called up for the qualifiers," said Villafaņa, who as
Jorge Flores
(he legally adopted his mother's name last fall) made Chivas' roster five years ago after winning a television competition for the chance. "Can't wait to be there with my teammates and the national team. It's going to be a great experience and a good opportunity for all the players who will be there."
Villafaņa was among 19 players on University of Akron coach
Caleb Porter
's U.S. under-23 national team roster for the March 22-April 2 qualifying tournament, which will determine CONCACAF's two entrants for the men's soccer tournament at this summer's London Games. Home Depot Center will stage one of the first-round groups, but the U.S. will play in Nashville, Tenn., with the all-important semifinals and the title game in Kansas City, Kan.
Galaxy midfielder
Michael Stephens
, former UCLA midfielder
Amoki Okugo
(with Philadelphia), former Chivas defender
Zarek Valentin
(with Montreal) and San Diego's
Joe Corona
(with Club Tijuana) are part of the group set to convene Tuesday in Nashville. Porter has one player to add before the 20-man tournament roster must be finalized March 20.
Villafaņa, who in the last year has been converted from left-sided midfielder to left back, grew immensely the past two seasons and impressed the U.S. staff during a January camp with the U.S. U-23s and last month's stint in Frisco, Texas, before a Feb. 29 victory over Mexico's U-23s. He's the first-choice backup for
Ante Jazic
with Chivas, and Goats coach
Robin Fraser
likes how he's developing.
"You get picked for a national team, you're obviously doing something right," said Fraser, who made 26 international appearances for the full U.S. national team from 1988 to 2001. "I think he's a determined player who wants to play well wherever he's put on the field. An opportunity arose for him [at left back], and he's taken in and run with it. … I just think his confidence and understanding has grown greatly."
March, 1, 2012
3/01/12
11:31
PM PT
By
Scott French
| ESPNLosAngeles.com
The most exciting newcomer for Chivas USA this year? It might be
Cesar Romero
, the forward from San Diego who has spent his career with little clubs -- one of them indoors -- but has taken his chance with the Goats to heart.
Romero, 22, netted his fourth goal of the preseason Thursday night, and if it wasn't enough to beat the Portland Timbers, it should have been. Lax defending on a corner kick enabled the home side to pull out a 1-1 draw in the second of three doubleheaders in a four-team tournament, a match that drew 15,195 at Jeld-Wen Field.

Romero provided a 21st-minute advantage for Chivas, nodding trialist
Alan Souza
's cross from the right powerfully between the slight space separating Timbers goalkeeper
Jake Gleeson
and the right post.
Romero has been a handful for opposing defenses in nearly every one of his nine preseason-match appearances, and he was rewarded eight days ago with a contract. He's a nice foil for
Juan Pablo Angel
or rookie
Casey Townsend
, especially when Chivas uses a 4-4-2 alignment, as they did Thursday, rather than the 4-2-3-1 head coach
Robin Fraser
has employed during most of the buildup toward its March 11 Major League Soccer opener.
"[The goal] was certainly a result of hard work and desire," Fraser said afterward. "It was the result of good, aggressive team play."
With better fortune, the Goats could have added to their lead. A sharp cross caromed off Townsend's head to challenge Gleeson shortly after Romero struck, and
Rauwshan McKenzie
beat Gleeson to a header following a corner kick that
Chris Taylor
cleared off the goal line.
Portland got its goal in the 78th minute. Chivas' backline was caught flat-footed on a corner kick into the goalmouth, and rookie
Ryan Kawulok
, who signed his contract earlier in the day, beat trialist
Scott Gordon
to push it past Goats keeper
Tim Melia
, who was sharp all night.
"At the end of the day, the guys are getting into 90-minute fitness," Fraser explained. "Set pieces in Portland are always going to be a big part of the story. They have a lot of big guys, and at home they thrive on them."
Portland possesses one of the most rabid fan bases in MLS, and although the crowd was a little smaller than the group that saw the Timbers tie San Jose on Monday night, it provided a glimpse of regular-season atmosphere for, especially, Romero and Townsend.
February, 26, 2012
2/26/12
12:52
PM PT
By
Scott French
| ESPNLosAngeles.com
CARSON -- Chivas USA is heading to Portland a little lighter. The club Saturday released forward Chris Cortez and left two trialists at home when it departed Sunday for the final phase of preseason.
Cortez, 23, lost his battle for a roster spot, dropping further down the depth chart with the additions of first-round draft choice
Casey Townsend
and just-signed
Cesar Romero
. The 6-foot-4 striker from Mission Viejo joined the Goats during preseason last year and made nine Major League Soccer appearances, with one start.
"We had a lot of high hopes for Chris when he came in," Chivas coach
Robin Fraser
told ESPN Los Angeles on Sunday morning. "He's a big, strong man who hits the ball extremely hard. We certainly expected him to develop quite a bit, and while he's come along, probably not as quickly as we would have needed him to.
"He definitely has qualities that will make him a big pro, for sure. It's a matter of time -- we have to make decisions as we get close to the season here, and some of the other forwards have proven to be more dangerous on a daily basis."
Cortez made appearances in six of eight preseason games, all off the bench, and he scored in the victory over Thousand Oaks-based minor-leaguers FC Hasental. The former Cal star played in all 10 MLS Reserve League games last year, scoring five goals.
Fraser must submit by Thursday a roster of as many as 30 players, with the first 18 to 20 counting against the league $2.81 million salary cap. Some decisions likely won't be made until after that date, with trialists fighting for open spots or the club making further roster moves to accommodate additional signings.
The season begins March 11 against Houston at Home Depot Center; the roster freeze date and trade deadline don't arrive until Sept. 15.
Fraser left at home defender
Mario Ledesma
, from Woodland Hills, and Mexican midfielder
Pablo Sandoval
, who have been in camp since preseason began in mid-January. The coach said both had a chance to continue with the club when it returns after a week in Portland.