Los Angeles Soccer:

Sebastien Le Toux
February, 1, 2012
2/01/12
9:37
AM PT
By
Scott French
| ESPNLosAngeles.com
The Galaxy might be picking up former UCLA star Kyle Nakazawa today from Philadelphia. Reports in the Union's market have the midfielder from Palos Verdes Estates headed home in exchange for an international roster slot and two second-round draft choices.

The prospective trade was first reported early Wednesday morning by The Philly Soccer Page, which cited "a source."

(UPDATE, 10:36 a.m.) A Galaxy official said the team would be confirming Nakazawa's acquisition later in the afternoon.

Nakazawa, 23, has started 22 matches in 36 Major League Soccer appearances since joining the Union in 2010 following an All-America senior campaign at UCLA. He's a skilled midfielder with superb dead-ball skills who has scored once and assisted three goals in league play with Philadelphia.

Union coach Peter Nowak has massively revamped his roster after guiding the club to the MLS playoffs in its second season.

Nakazawa (Peninsula HS) played in the 2005 FIFA U-17 World Cup and with the U.S. under-20 national-team. He developed with Irvine Strikers, one of Southern California's top youth clubs.

January, 18, 2012
1/18/12
11:34
PM PT
By
Scott French
| ESPNLosAngeles.com
CARSON --
Ryan Smith
's disappearance was among the oddest occasions in Major League Soccer last season, and the mystery surrounding his departure for England just three months into the campaign led to understandable doubt he'd be around when Chivas USA opened its preseason camp this week.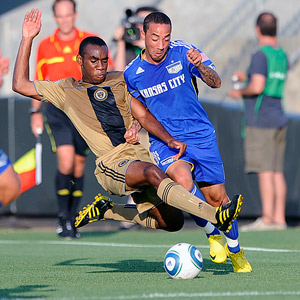 G. Newman Lowrance/Getty ImagesRyan Smith, right, had to leave MLS last season to be with his ailing mother in England.
Turns out that was never in question.

The London-born midfielder, whose rights Chivas acquired from Sporting Kansas City in a November trade, is in great spirits as he begins his tenure in Southern California, and he understands there are questions about why he left last June.

Smith, 25, who came up in his neighborhood club Arsenal's system and played for Leicester City, Derby County, Millwall, Southampton and Crystal Palace, was an immediate hit when he joined K.C. in 2007. He's a creative midfielder with uncommon qualities, and he scored three goals with seven assists that season. Injuries slowed him early last year, and then in mid-June, he was gone.

All Sporting would say: Family reasons.

"I had to leave last summer to return to look after my mum," Smith said. "What a lot of people don't know if the reason why I left is to be close to her because she suffers from lupus, which is an [autoimmune] disease, and it's a permanent illness as well. Nobody knew that apart from the coaching staff at Kansas City, and that was the reason I was sent home."

He went on trial at Real Zaragoza in Spain, but "nothing worked out over there for whatever reason," Smith said. Then he "spoke to the guys here at Chivas, and they wanted to take me, and that was it. It was pretty much done as quickly as I found out."


November, 8, 2011
11/08/11
12:51
PM PT
By
Scott French
| ESPNLosAngeles.com
The first big award has been announced by Major League Soccer, and it's no surprise. Sporting Kansas City forward C.J. Sapong was an expected runaway winner, and he, indeed, was that.

Sapong easily won in each voting bloc -- media, club and player -- for a weighted vote of 106.28 after starting 22 games and contributing five goals and five assists as Sporting captured the Eastern Conference regular-season title. He scored another goal while playing every minute of K.C.'s three playoff games.

He was followed by D.C. United's Perry Kitchen (34.56), Philadelphia's Michael Farfan (33.50), Portland's Darlington Nagbe (28.76) and Houston's Will Bruin (27.44). Kitchen finished second in the media and club votes but fourth among players, who had Nagbe second and Farfan third.

Farfan (Wildomar) starred at Cal State Fullerton for two seasons, then transferred to North Carolina.

Previous winners of the award include Galaxy defenders Sean Franklin (in 2008) and Omar Gonzalez (2009), former Chivas USA star Jonathan Bornstein (2006), Inland Empire products Carlos Bocanegra (2000) and Maurice Edu (2007), U.S. national team star Clint Dempsey (2004) and D.C. United head coach Ben Olsen (1998).

MLS also gave out its Fair Play awards, with Philadelphia forward Sebastien Le Toux repeating as individual winner after committing just 20 fouls with no cards of either color while playing every minute of the season, and the expansion Portland Timbers winning the team honor. Chivas USA was a finalist for the team award.

COACHING NOTES: Two coaching jobs are open now. Colorado has parted ways with Englishman Gary Smith, who guided the Rapids to the MLS Cup title last year but acknowledged near the end of this campaign that he had working conflicts with technical director Paul Bravo. Steve Nicol stepped down as New England coach two weeks ago.



October, 30, 2011
10/30/11
9:34
PM PT
By
Scott French
| ESPNLosAngeles.com
Higher-seeded road teams won both Eastern Conference playoff openers Saturday, with conference champ Sporting Kansas City using two
Teal Bunbury
goals to knock off defending MLS Cup champion Colorado and Houston scoring twice in the first half en route to a victory at defensive-minded Philadelphia.

Bunbury scored four minutes into the second half and converted a penalty kick 10 minutes later to lead Sporting to a 2-0 triumph at Colorado, which missed injured captain
Pablo Mastroeni
and lost three more players -- forward
Caleb Folan
and defenders
Kosuke Kimura
and
Drew Moor
-- to injury.
Houston beat the Union, 2-1, with
Calen Carr
's 30th-minute strike making the difference after Dynamo defender
Andre Hainault
, from a
Brad Davis
set piece, and Philly's
Sebastien Le Toux
traded goals in the sixth and seventh minutes.
K.C. will be home for the second leg Wednesday, and Houston plays its home leg Thursday. The series winners meet in the Eastern final next Sunday.
Houston's win was its first in five meetings with Philadelphia, which debuted last year in MLS. Sporting's triumph hinged on Colorado defender
Tyrone Marshall
's nightmare of a night -- he was beaten by Bunbury on the first goal, then dragged down the speedy forward in the Rapids box for the PK, picking up a red card in the process.
October, 29, 2011
10/29/11
12:40
AM PT
By
Scott French
| ESPNLosAngeles.com
HOBOKEN, N.J. -- The Galaxy and Seattle Sounders were by a great margin Major League Soccer's premier teams this season, and they're on course for a Western Conference final to remember next weekend -- if they can get past difficult first-round playoff series, and there's no guarantee either will.
Their dominance shows up on our MLS Best XI and Second XI selections. Seven players on our first team are Galaxians or Sounders.
GOALKEEPER
Dan Kennedy (Chivas USA): The Goats' MVP was spectacular, and he needed to be. His big saves and solid work with a backline that endured major injuries, plenty of turnover and youngsters learning roles was catalyst for their failed fight for a postseason berth.
DEFENDERS
Omar Gonzalez (Galaxy):
The big center back took a huge step forward in his third pro season, and that after snatching Rookie of the Year and MLS Best XI honors in his first two years. He was virtually flawless in the back and contributed to the attack, too, and not just going forward on set pieces.
George John (FC Dallas):
Another tall center back, John emerged as a force for the Hoops last year, then climbed another level in his third season, providing a foundation for the league's No. 4 team and gaining appreciation in Europe, where he has no shortage of suitors -- and could pursue a spot with Greece's national team if he so chooses.
Todd Dunivant (Galaxy):
The best left back in MLS? Nobody's going to argue that. The veteran always has been known for his consistency, but his quality in 2011 -- both going forward and defending -- has accompanied an iron-man performance that was pivotal in L.A.'s success.
MIDFIELDERS
Osvaldo Alonso (Seattle):
The Cuban veteran slipped into MLS almost as an afterthought, but there is no better defensive midfielder in the league. He shuts down foes, provides a foundation for the Sounders' league-best attack and is widely considered Seattle's true MVP.
David Beckham (Galaxy):
Our choice for MLS MVP finally got a full season in the league and was a difference-maker for the league's best side. His service is impeccable, but as impressive is his leadership, his willingness to do the dirty work and his defensive acumen.
Mauro Rosales (Seattle):
The league's unquestionable Newcomer of the Year orchestrated MLS's best attack, which hardly missed a beat after winger Steve Zakuani's devastating injury.
Brad Davis (Houston):
The best crosser of the ball in MLS not named Beckham won the assists title, getting his 16th in the season finale against L.A. Like several on this list, a should-be U.S. call-up.
Landon Donovan (Galaxy):
The Galaxy's leader saw his numbers fall off this year, and especially later in the year, but he's a master at providing the intangibles necessary to win, and his work off the field was pivotal to L.A.'s second straight Supporters' Shield.
FORWARDS
Sebastien Le Toux (Philadelphia):
A slow start statistically shrouded fine work building the foundation for the second-year Union's playoff run, and his finish -- 11 goals in 11 games -- nearly got Philly a conference crown.
Fredy Montero (Seattle):
The Sounders' primary finisher also started slow, struggling while his arm was in a cast, then took charge the latter part of the season, scoring 11 times in 11 games, all competitions.
October, 11, 2011
10/11/11
11:45
PM PT
By
Scott French
| ESPNLosAngeles.com
Depending on which list you gander at, there appears to be at least 15, perhaps a few more, candidates for Major League Soccer's MVP award. OK, whatever.
It's then most wide-open race in league history, but the length of your list could depend on where you stand on Philadelphia's
Sebastien Le Toux
(struggled half the season, but has been tearing it up the past six weeks or so) or Seattle's
Fredy Montero
(scoring consistently, but overshadowed by teammates) or Chicago's
Dominic Oduro
(a dozen goals, but how many has he missed?) or even the Galaxy's
Omar Gonzalez
(a beast on the league's best defender, but he's, er, a defender).
Some brief thoughts on the true contenders, listed alphabetically:
Osvaldo Alonso (Seattle):
MLS's best defensive midfielder makes Seattle go, but Montero and Mauro Rosales figure to siphon votes away -- Rosales with very good reason.
Kyle Beckerman (Real Salt Lake):
RSL's season turned rocky after Javier Morales' injury, and the Utahns' captain and midfield leader took the club on his shoulders.
David Beckham (Galaxy):
MLS's biggest name has been fantastic in the final year of his five-year contract, providing service opposing teams can only envy. His 15 assists lead the league.
Brad Davis (Houston):
The league's best left-winger has been this season's most effective creative player.
Dwayne De Rosario (D.C. United):
Double-digit goals (14) and assists (12) and could prod D.C. to the playoffs following a three-year absence, but he was unloaded earlier this year by Toronto FC and New York.
Landon Donovan (Galaxy):
Everyone agrees Donovan is MLS's premier talent, and if this hasn't been his best season, it's been very good, and his influence on L.A.'s success -- especially his work off the field -- has been significant.
Omar Gonzalez (Galaxy):
L.A. is the best team in MLS because of its defense. The third-year center back is enjoying a monster campaign.
Thierry Henry (New York):
Is there a silkier player in MLS? No, and the French superstar has 14 goals despite nagging ailments all year. If New York's campaign hadn't been such a disappointment, he'd have a real chance.
Sebastien Le Toux (Philadelphia):
Not so great until the past two months, but he's been one of MLS's two best players -- with De Rosario -- down the stretch. If Philly can pull out an Eastern title, he'll get due consideration.
Mauro Rosales (Seattle):
The shoo-in for MLS Newcomer of the Year has impressively engineered the Sounders' attack.
Brek Shea (FC Dallas):
Lots of European interest in the tall winger, who might have run away with this award if not for the Hoops' nosedive near the finish.
Our vote? Give us a couple of weeks to think about it.
This week's rankings:

1. GALAXY (18-4-10, 64 points), Last week: 1
Week 30:
Idle
Remark:
Only one game -- the Champions League group finale at Motagua -- matters before the playoffs begin
Team MVP:
Three candidates, and we voted in this order: Beckham, Donovan, Gonzalez
Next:
Sunday vs. Chivas USA at Home Depot Center, 6 p.m. (ESPN and ESPN Deportes); Thursday, Oct. 20, in CONCACAF Champions League Group A game at Motagua (Honduras), 7 p.m. (Fox Soccer Channel)
2. SEATTLE SOUNDERS (16-7-9, 57 points), Last week: 2
Week 30:
No Montero? No Rosales? Sounders fall out of Shield race with 2-0 home loss to Philadelphia
Remark:
57,000-plus expected for Saturday's home finale, Kasey Keller's final regular-season game
Team MVP:
Newcomer Rosales, although Alonso will get votes, too
Next:
Saturday vs. San Jose, 7:30 p.m. (Fox Soccer Channel); Tuesday in CONCACAF Champions League Group D game vs. Monterrey (Mexico), 7 p.m. (Fox Soccer Channel)
3. PHILADELPHIA UNION (11-7-14, 47 points), Last week: 5
Week 30: Freddy Adu
,
Brian Carroll
tally as Union wins, 2-0, at Seattle
Remark:
Philly's first West Coast win is a big one, sending it atop the Eastern Conference
Team MVP: Carlos Valdes
' play in the back is worthy, but it's Le Toux's form that has rekindled the Union's Eastern title hopes
Next:
Saturday vs. Toronto FC, 1 p.m. (MLS Direct Kick); Thursday, Oct. 20, at New York, 5 p.m. (ESPN2 and ESPN Deportes)
May, 10, 2011
5/10/11
11:48
PM PT
By
Scott French
| ESPNLosAngeles.com
When the Galaxy takes on the Philadelphia Union in a critical showdown Wednesday, they'll be without their biggest star. David Beckham was left at home when the Galaxy traveled to Pennsylvania, and head coach Bruce Arena says he's just taking a rest, nothing more.
We'd love to believe him, but who can be sure? Arena has been caught lying to media about injuries on a few occasions this season, so when he told a group of Philadelphia-based reporters Wednesday that Beckham was dealing with "fatigue" and would be back on the field Saturday night at Home Depot Center against Sporting Kansas City, there's no telling if it's true or not.
We'll know come Saturday.
Beckham's absence, Arena acknowledged, is "always difficult," and Galaxy captain
Landon Donovan
says L.A. (4-2-4), Major League Soccer's Western Conference leader, won't have it easy against the Union (4-2-1) without him.
"It's obviously going to hurt us," Donovan told media Tuesday. "His qualities aren't easily matched by other people. You can't just throw someone in and expect them to play the same way David plays."
Donovan didn't travel east for a three-game swing last month through D.C., Toronto and Chicago because, Arena said, he was fatigued after playing in two late-March games for the U.S. national team and needed to rest. No injury. Turned out Donovan was sidelined with a knee injury that he termed a "minor sprain."
Arena was less than truthful about goalkeeper
Donovan Ricketts
' injury before the season began and rarely is forthcoming about any player who is ailing. But rather than a "no comment," he seems to prefer to lead media astray.
"We're resting David right now," Arena said Tuesday. "Three games in a week, and we've decided to rest him."
So, he was asked, no injury of any sort? Just resting?
April, 2, 2011
4/02/11
1:54
PM PT
By
Scott French
| ESPNLosAngeles.com
The Galaxy will want to show their home supporters they've put last week's disaster at Real Salt Lake behind them, and David Beckham believes they will when they take on surprise Eastern Conference leader Philadelphia on Saturday night at Home Depot Center.
L.A. (1-1-1) is coming off a 4-1 defeat at RSL that could have, and probably should have, been far worse. L.A. was down, 2-0, by the 10th minute, had surrendered a third before halftime and never provided any real competition for their Western Conference rival. Beckham called it "humiliating" and "kind of embarrassing."
"It was a bad game for us," he said. "I don't think there's an huge separation between our two teams. Obviously, Salt Lake, they're a very good soccer team. They play the ball around well, they work well together, they've got that unity. And we've got all those attributes, but on the day we just didn't perform.
"We turned up and it was a little bit windy, little bit cold, and we wasn't ready to just go at it. That's one of the things we can't have happen. If you're not ready for a fight, not ready to play, you're going to get walked over. And we did. Simple as that."
The Galaxy hopes to be closer to full strength against the Union.
Landon Donovan
is back from U.S. national team duty, and goalkeeper
Donovan Ricketts
and center back
Omar Gonzalez
have been participating more fully in training and might be considered for starting roles.
More important for the Galaxy is to start the game with better concentration. They gave up a goal to New England just 2 minutes, 32 seconds into their home opener, a 1-1 draw; RSL needed only 1:15 to score.
"Obviously, the players are well aware in the last two games, obviously, that we can't concede early and we have to be smart at the beginning of games, and it wasn't accomplished," head coach
Bruce Arena
said. "But it will get accomplished this week. I'm pretty sure of that."
November, 19, 2010
11/19/10
3:58
PM PT
By
Scott French
| ESPNLosAngeles.com
TORONTO -- No surprise when David Ferreira popped out to pick up Major League Soccer's MVP trophy Friday afternoon at BMO Field. The FC Dallas playmaker was the clear frontrunner for the honor -- he got my vote -- and, also, Commissioner Don Garber inadvertently gave it away on his state-of-the-league teleconference the other day.
Ferreira, who scored the first goal in the Hoops' 3-0 romp over the Galaxy in last weekend's Western Conference final, received 20 percent of the vote among MLS players, coaches, GMs and media.
The Galaxy's
Edson Buddle
finished second, with 18.3 percent, and
Landon Donovan
was fourth, with 11.9 percent. San Jose's
Chris Wondolowski
(14.6) was third and Philadelphia's
Sebastien Le Toux
(8.9) was fifth. Strong arguments could be made for all five.
Ferreira, a 31-year-old Colombian who stands just 5-foot-5, 152 pounds, was most deserving because of the skill, vision and inspiration and exceeding class he provided to FC Dallas, which Sunday will become the last of the surviving original clubs to reach the MLS Cup final, taking on the Colorado Rapids (ESPN and Galavision, 5:30 p.m. PT).
"What he brings is a really true professionalism," Hoops head coach
Schellas Hyndman
said. "Every team he's been involved with has found a way to find success. … He's a very quick thinker. I think he thinks ahead of the game. And even though he's 5-foot-5, he's a solid 5-foot-5. Thats why they call him the 'Little Bull.' He's hard to knock off the ball, and he's got a quick couple steps on you, so he'll get in front of you. He plays with a lot of courage as well. ...
"The one area that surpasses everything in a professional athlete is character. And talent can only take you so far; character can kp you there. And he exemplifies that."
November, 16, 2010
11/16/10
12:44
PM PT
By
Scott French
| ESPNLosAngeles.com
Major League Soccer righted a real wrong and awarded Landon Donovan a spot on its Best XI all-league team Tuesday -- as a midfielder.
Donovan, who led the league with 16 assists, is fully deserving the honor, but he was listed on the ballot as a forward, and with only two forward slots on the Best XI -- and teammate
Edson Buddle
and San Jose's
Chris Wondolowski
shoo-ins for those slots -- the Galaxy captain was looking like a no-go.
"We need to do the right thing," MLS Commissioner
Don Garber
said during his state-of-the-league conference call Tuesday morning, "and it's certainly right to have Landon [on the] Best XI."
Donovan, one of four Galaxy players among the 11, played up front and in midfield for the Galaxy this season, seeing nearly twice as much time as a midfielder. The Galaxy submitted his name as a forward.
"Landon's basically played as a forward half the time and as a midfielder half the time," Galaxy coach
Bruce Arena
said late last month. "If we had to nominate two forwards on the ballot, who are we going to nominate? You know the answer."
Donovan had said he would be "bummed" not to make the Best XI.
Buddle, defender
Omar Gonzalez
and goalkeeper
Donovan Ricketts
also are on the all-league team.
November, 3, 2010
11/03/10
3:29
PM PT
By
Scott French
| ESPNLosAngeles.com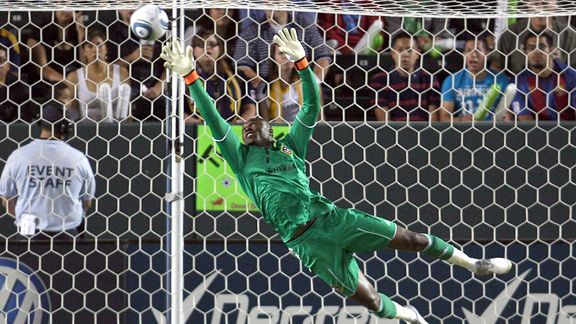 Victor Decolongon/Getty Images
Galaxy goalkeeper Donovan Ricketts was named Major League Soccer's best goalkeeper.
The consensus, it had seemed, was that Major League Soccer's best goalkeeper this season was FC Dallas'
Kevin Hartman
or Real Salt Lake's
Nick Rimando
, SoCal products who starred at UCLA before going on to big things in the pros.
Don't mention that to the L.A. Galaxy. Nor the voters for MLS's awards. The Galaxy's Jamaican netminder,
Donovan Ricketts
, was the surprise winner when the league on Wednesday announced its Goalkeeper of the Year.
"It's a good feeling, you know?" said the soft-spoken Ricketts, who's normally dismissive of individual honors. "The goalkeepers in this league are very high-quality goalkeepers. So to be Goalkeeper of the Year is a very high honor."
Asked where this ranks among his individual honors, Ricketts said: "Well, maybe No. 1, because it's the first time I've been Goalkeeper of the Year in anything. So, No. 1. No. 1 out one. ... I think it's No. 1 for the time being, but it's going to be replaced by the MLS Cup [championship]."
Ricketts certainly has been the best goalkeeper over his first two seasons in MLS -- he was a finalist for the honor when Chivas USA's
Zach Thornton
won last year -- and as such the recognition is most deserved. But the idea that his 2010 campaign was better than those proffered by Hartman (Rancho Palos Verdes/Peninsula HS), an MVP contender until he missed a month late in the season with a knee injury, and Rimando (Montclair/Montclair HS), whose spectacular play was pivotal as RSL set an MLS record for fewest goals conceded, is difficult to reconcile.
"I think all three of those goalkeepers had outstanding years ... and all three of those guys were certainly worthy of winning the honor," Galaxy coach
Bruce Arena
said. "We're real happy it fell to Donovan."
October, 26, 2010
10/26/10
7:41
AM PT
By
Scott French
| ESPNLosAngeles.com
Until it cleared up so nicely on Saturday, Major League Soccer's playoff scenarios were complicated, to be sure. The Galaxy might have ended up with a first-round series with Colorado or San Jose or FC Dallas; that they'll face Seattle is fine with them.
Not that it's perfect.

"Seattle's not going to be easy. It never is," Galaxy coach
Bruce Arena
said after Sunday's victory over FC Dallas set up encounters with the Sounders on Sunday in Seattle and Nov. 7 at Home Depot Center. "But I think the choices were … what were the choices? I think they were Dallas … none of the choices were real good, to be honest. I wouldn't want to be going into Dallas either.
"I do prefer going to Seattle than going into altitude. There was always a chance at some point we could go to Colorado or Salt Lake, and the altitude is an issue, and the one thing we've assured ourselves is that we're not going to be playing in altitude. Not that guarantees anything, but I think that's good. It's a lot easier for the players to adjust to the artificial field [in Seattle] than to altitude. So In think that's a positive out of this."
Perhaps so. If L.A. and Real Salt Lake win their first-round series, they'll meet in Carson. Toronto, where MLS Cup will be played Nov. 21, has a lower elevation than downtown L.A. But the Galaxy are hardly happy they'll start their home-and-home, total-goals series on the fake turf at Qwest Field.
"I don't like it," said
Edson Buddle
, who led the Galaxy with 17 goals. "I'm not a big fan. I never was. But I have to deal with that and get over it."
Said
David Beckham
: "At the end of the day, it is what it is. We have to go there, and we have to play. It's the same for both teams. Obviously, it's an advantage for them, because they play on it every other week, but it is what it is."
October, 25, 2010
10/25/10
6:00
PM PT
By
Scott French
| ESPNLosAngeles.com
It's simple to say that Galaxy striker Edson Buddle and midfielder/forward Landon Donovan deserve spots on Major League Soccer's Best XI all-league team. They're the only Galaxy players who belong.

Don't count on both of them being there.

Balloting for the team and all the individual awards wrapped up Monday, and the problem area was the Best XI ballot -- it's far too regimented, and as a result at least one and possibly two players who deserve the honor will have to go without.

Donovan has played up top on occasion for L.A. this season, but he's primarily been used as a wide midfielder -- on the right until David Beckham's arrival, on the left since -- with the freedom to move wherever he sees fit to go. The Galaxy have been a more effective team when he's in midfield, and as the primary creator and inspirational force, he's the most important element in the club's success this season.