Los Angeles Soccer:

Sergio Arias
February, 8, 2012
2/08/12
9:34
PM PT
By
Scott French
| ESPNLosAngeles.com
The L.A. Blues' preparations for their second season in the USL Pro league will include two games against Mexican opposition.
The Blues will face Mexico's under-20 national team on Feb. 25 and Mexican second-tier club Irapuato on March 10, both of them 7 p.m. starts at Cal State Fullerton's Titan Stadium.
El Tri's U-20s include Cruz Azul's
Martin Galvan
, who has attracted interest in Europe after making his first-team debut 40 days shy of his 15th birthday, Monterrey forwards
Jesus Manuel Corona
and
Luis Madrigal
, and UANL Tigres defender
Juan Pablo Ocegueda
(Riverside/Saddleback HS).
The U-20s also will face UCLA on Feb. 28 at Birmingham High School in Van Nuys.
Irapuato features goalkeeper
Sergio Arias
, who was No. 3 on Chivas USA's depth chart last year.
Tickets for each game are $20 ($10 for 12-under) and available from the Blues at 714-738-8011 or on
the team's Facebook page
.
January, 19, 2012
1/19/12
10:48
PM PT
By
Scott French
| ESPNLosAngeles.com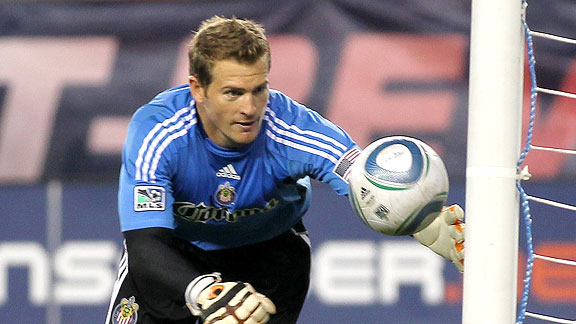 Jim Rogash/Getty ImagesDan Kennedy, last season's team MVP for Chivas USA, will have plenty of competition for the goalkeeper spots.

CARSON -- If any returning Chivas USA player can be guaranteed a starting spot, it's got to be Dan Kennedy, who was a deserved selection as the club's 2011 MVP after a marvelous campaign in the Goats' nets.

Not so fast. Chivas has five goalkeepers in camp, possess the Major League Soccer rights to a sixth, and head coach Robin Fraser and his staff figure competition in the preseason camp will determine which three (or four) make the roster.

Veteran Zach Thornton and Mexican loaner Sergio Arias, Kennedy's backups last season, are gone, and the Goats have signed Tim Melia, a backup the past two seasons in Real Salt Lake when he wasn't on loan to lower-division sides. Kevin Guppy, an MLS pool goalkeeper the last three years who has trained extensively with Chivas and was on the roster after Kennedy suffered a torn biceps tendon in August 2010, is on trial, and so is Patrick McLain, who just completed his college career at Cal Poly.

The Goats took UCLA's Brian Rowe, a second-team All-American, in Tuesday's MLS supplemental draft, but he's on trial in Finland with VPS Vaasa.

Kennedy, 29, a former UC Santa Barbara star from Yorba Linda, was a revelation last year, bouncing back from the biceps injury and supplanting Thornton, a two-time MLS Goalkeeper of the Year (the second time in 2009 with Chivas), two games into the season. He didn't leave the field the rest of the season.

"Coming off last year, you have to say Dan's No. 1 ...," Fraser said after some prodding. "It's a battle between everyone for all the spots. We have a number of keepers in, and the competition is what we want to have in order to push everyone as hard as we can."

That's fine with Kennedy, who joined Chivas in 2008 after stints with the MetroStars, Puerto Rico Islanders and Chilean club Municipal Iquique.

"That's the way it's been my whole career, wherever I've been," he said following Chivas' fitness session -- nothing but running -- Thursday at Home Depot Center. "As a player, you should never expect anything. You have to work hard for everything you earn. [The competition for jobs] should spread through the team. You need to be on top of your game to be on the field, and that's what we're going to need from everybody to be a winning club."


January, 15, 2012
1/15/12
10:12
PM PT
By
Scott French
| ESPNLosAngeles.com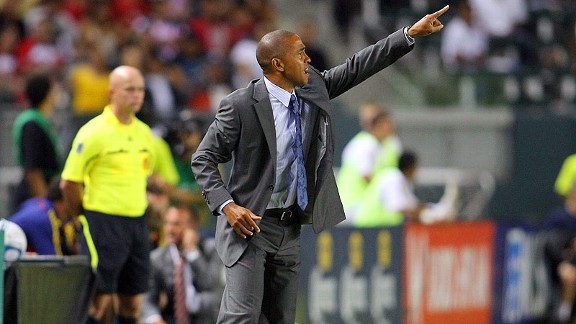 Victor Decolongon/Getty ImagesRobin Fraser is rebuilding his roster again this winter.
CARSON -- Chivas USA's preparations for the 2012 season began with medical exams Sunday and moves onto good, old Field 6 at Home Depot Center on Monday morning, with head coach Robin Fraser welcoming a lot of new faces -- and not all of them, by any means, under contract.

The Goats have unloaded nearly half their 2011 roster and added a half-dozen or so new names, and if Fraser's second preseason in charge is anything like the first, plenty of trialists will get a look.

Chivas brass last year looked at more than 80 players, including academy kids, as Fraser and general manager Jose Domene presided over a rebuild that the coach said was more building "from scratch."

Fraser's idea this year is to have a team in place as the preseason starts, but he's got roster spots to fill and areas of great need and not all negotiations are finished. Five players will be added in Tuesday's supplemental draft, and another overseas signing is possible.

Here's a quick look at the Goats as their campaign begins:
Chivas endured the kind of up-and-down season common to rebuilding years in 2011, playing some exceptional possession soccer but suffering from inconsistency at both ends. The Goats won back-to-back games just once, in April, and watched .500 slip away over the last two-thirds of the season. Playoff hopes died with a seven-game winless streak in August and September.
Nonetheless, Fraser and his staff built a strong foundation, several players -- especially goalkeeper
Dan Kennedy
, midfielder
Nick LaBrocca
and defender
Heath Pearce
-- enjoyed remarkable seasons and the addition of
Juan Pablo Angel
, in an August trade from the Galaxy, gave the Goats their first top-class MLS striker since
Ante Razov
.
January, 4, 2012
1/04/12
9:33
PM PT
By
Scott French
| ESPNLosAngeles.com
Chivas USA has severed ties with four players, two of them starters last season, it was reported on Major League Soccer's website.

Costa Rican defender Michael Umaña and Argentine midfielder Marcos Mondaini have been released, and so have Mexican goalkeeper Sergio Arias and Ecuadoran forward Victor Estupiñan.

The club has not announced the changes, but head coach Robin Fraser confirmed the moves on the league website.

Umaña, 29, has signed with Guatemalan power Comunicaciones. The center back, in his second stint in MLS, was a starter for the Goats in 2010 and the latter half of last season. He was out of contract.

Mondaini, a 26-year-old winger who made 24 appearances for Chivas on loan from Uruguayan club CA Fenix, has joined Ecuadoran club Emelec, where he played in 2006-07.

Chivas declined to pick up the option on 23-year-old Estupiñan's loan from Ecuadoran powerhouse LDU Quito and he made just nine league appearances. Arias, 23, who was on loan from Guadalajara, was the Goats' No. 3 goalkeeper and did not make a first-team appearance.
April, 24, 2011
4/24/11
8:42
PM PT
By
Scott French
| ESPNLosAngeles.com
The Galaxy's dominance of the Portland Timbers extended into Sunday afternoon's MLS Reserve League meeting, but it lasted less than a half-hour.
Once
Michael Stephens
, the most influential player to begin the match, was sent off for a last-man foul in the 28th minute, the Timbers found their legs, started linking passes and took advantage of their opportunities for a 3-1 victory in a league opener at Home Depot Center's Track and Field Stadium.
Rookie forward
Spencer Thompson
, out of UC Irvine, scored two of the Timbers' goals, and former Santa Barbara High School standout
Rodrigo Lopez
assisted a pair.
Jovan Kirovski
, the Galaxy captain, slotted into central defense, his "first real game" he's played at the position.
"I think I can play there," he said. "We're short on central defenders, and I can do the job there. So it's fun. I had fun playing there."
Both teams used experienced lineups, each with at least a half-dozen players who wouldn't look out of place in the first teams. Included: Galaxy Designated Player
Juan Pablo Angel
, who faded after an energetic first 25 minutes and departed at halftime.
SEEING RED:
Stephens, teamed with
Paolo Cardozo
in central midfield, was outstanding both ways and provided a foundation to the Galaxy's possession game. Until he was red-carded, for dragging down
Ryan Pore
just outside L.A.'s box while trying to make up for a give-away, the game had been played overwhelmingly between the midfield line and Portland's box.
April, 23, 2011
4/23/11
9:14
AM PT
By
Scott French
| ESPNLosAngeles.com
Chivas USA hasn't been a bust on defense, with back-to-back shutouts despite an injury-shuffled backline, and one reason has been the play of goalkeeper Dan Kennedy.
The former UC Santa Barbara star from Yorba Linda snared the starting job at the end of March, using a solid performance in the U.S. Open Cup qualifying loss in Portland to overtake longtime No. 1
Zach Thornton
, MLS's Goalkeeper of the Year in 2009.
Kennedy (El Dorado HS), who has overcome major injuries that ended the past two seasons prematurely, takes a 234-minute shutout streak into Saturday afternoon's Major League Soccer clash at San Jose, where the Goats (0-2-3) will look for their first victory under
Robin Fraser
.
"Dan's been good. I feel like he's maturing," Fraser said. "For a 28-year-old goalkeeper, he's still relatively young 'cause he's not logged a ton of minutes, and I think what we're seeing is Dan going through a learning curve where he's doing some things very well and some things he's continuing to improve at. It's certainly been positive for us."
For Kennedy, too, especially after a knee injury wiped out his 2009 season and a torn biceps tendon halted last season in August. He came into a camp with three quality goalkeepers -- newcomer
Sergio Arias
, on loan from Guadalajara, is the No. 3 -- having played in just 16 league games in three seasons with Chivas after impressing in the second-tier USL First Division and with Chilean second-division side Municipal Iquique.
"Of course, it's rewarding to be back on the field," said Kennedy, who has made several outstanding stops in successive draws with Toronto FC, Columbus and Vancouver, the last two of them scoreless. "It's what I expected. This is just kind of how I saw it working out, how I prepared for it to work out. Just trying now to maintain and help the team get some wins."
He's had to direct a backline that's been plagued by injury, and he's worked with six different combinations in front of him in four matches, and none of those combinations included de facto captain
Jimmy Conrad
. Instead, he's worked with two first-time center backs (
Heath Pearce
and
Ben Zemanski
), a first-time right back (
Michael Lahoud
) and a rookie in the middle and, after Lahoud's concussion, at right back (
Zarek Valentin
). No problem.
March, 9, 2011
3/09/11
7:15
PM PT
By
Scott French
| ESPNLosAngeles.com
Seth Owusu
arrived in L.A. last weekend and immediately joined Chivas USA in training -- he went directly from the airport to a session, coach
Robin Fraser
reported -- but he's not officially with the team yet and won't be until his paperwork clears Major League Soccer's desk.
It took more than a month for approval to arrive on loan deals bringing in goalkeeper
Sergio Arias
and winger
Francisco "Panchito" Mendoza
, a former Goats regular, from Guadalajara, the parent club. Word came down this week on both, and the club finally announced their acquisitions Wednesday.

Mendoza is a likely starter, and Arias figures to back up returning starter
Zach Thornton
-- but let's wait and see. Club president/managing partner
Antonio Cué
called Arias, at 22 one of Mexico's most highly regarded young keepers, "the future of Chivas USA" at a uniform-unveiling party in Los Angeles last month.
The agreement to bring in Owusu, a 22-year-old Ghanaian defender coming on loan from Tarkwa-based Medeama FC, was completed several weeks ago, and he had been awaiting his visa and other paperwork since.
Owusu, whose physique and athleticism make quick impressions, trained with Chivas' reserves Saturday while the first team played a friendly against UCLA, and he trained with the full team for the first time Tuesday. Fraser, who had scouted him for at least a year, is just starting to get a sense of what Owusu will provide.
"He's traveled a long way," Fraser said. "I think it's tough whenever you travel that long and immediately get into a training session. ... I think he's still getting himself adjusted. He's pretty quiet, but he's pretty intense. He came in with a good attitude, wants to do whatever he can to help the team. He listens and works hard. That's pretty much all I can tell you so far."
Owusu, a burgeoning Ghanaian national-teamer who has experience at left back and in central defense, figures to partner
Jimmy Conrad
in the middle of the backline, forcing Costa Rican defender
Michael Umaña
into a reserve role.
Conrad's first impression: "I was like, 'Man, that is a man-mountain.' He's a big dude. He's quick and strong -- it's not even fair, the gene pool he's in and the one I'm playing in."
Fraser had described Owusu to Conrad and others in glowing terms, and Conrad said he's "everything I thought he'd be. ... He's just got to get more comfortable, and I'm sure he'll get a little more vocal, and, obviously, when you play in the back, communication is a big part of it. So I expect that to come slowly as he eases himself in the group."
February, 19, 2011
2/19/11
8:57
PM PT
By
Scott French
| ESPNLosAngeles.com
The fight most anticipated as Chivas USA kicked off preseason preparations last month -- rookie
Zarek Valentin
vs. veteran
Mariano Trujillo
, with the job at right back awaiting the winner -- is a battle no more. Neither has won. Nor lost.
Serious defensive depth, in great contrast to last year, has left new coach
Robin Fraser
a lot of options, and when the Goats trot onto Home Depot Center's field March 19 against Sporting Kansas City, it could be new arrival
Heath Pearce
or trialist
Jimmy Asprilla
on the right flank. Or Valentin.

That's some of what Fraser is considering after the Goats' return from Arizona, where they played three scrimmages in a week-long camp considered productive despite injuries that kept two veteran midfielders --
Paulo Nagamura
and
Simon Elliott
-- and top returning scorer
Justin Braun
out of action.
"I think Arizona was about solidifying some team concepts, and I think in a lot of ways they improved," Fraser told ESPN Los Angeles on Saturday, after the team's return to L.A. "Things they did well prior to Arizona, they did better. Now it's a matter of being consistent at it."
Fraser says he is beginning to get a feel for a starting XI, that he and his staff are "starting to narrow things down, but nothing is etched in stone." He isn't sure how Valentin or Trujillo (or Pearce and Asprilla) fit in, but he's not unhappy with what each brings to the team.
Valentin, taken with the fourth overall pick in last month's draft, has played on the right and at center back during camp. Pearce, acquired Tuesday in a trade from FC Dallas, can play at right back or left back -- or in midfield. Asprilla is a veteran right back, with more than a decade of experience in his native Colombia, Peru and Venezuela.
"Everything is up for grabs at the moment," Fraser said of Valentin. "He's a good young player who can play outside and inside, so [starting in the middle] is a possibility, sure."
February, 18, 2011
2/18/11
10:19
PM PT
By
Scott French
| ESPNLosAngeles.com
Not the best way Chivas USA's week in Arizona could have gone, with certain starter
Blair Gavin
hobbling off a little before halftime of Friday's 1-0 victory over Vancouver in Casa Grande.
No word yet on what Gavin hurt nor how serious it is, but the second-year midfielder missed the last two months of last season because of a hamstring injury that he twice re-tweaked.

Gavin was the primary attacking conduit for the Goats (3-2-0), who had the better of play in their third Arizona match but not the best chances.
Jesus Padilla
got the goal in the 89th minute, streaking between Whitecaps central defenders
Greg Janicki
and
Ryan O'Leary
for a ball over the top from
Michael Umaña
, then slotting past goalkeeper
Jay Nolly
.
Mariano Trujillo
missed a penalty kick after
Jeb Brovsky
fouled
Alan Gordon
at the start of the second half, firing wide left.
Heath Pearce
made his Chivas debut, seeing little of the ball in the game's first half-hour.
"I think every team comes out and has, like, five or six goals they have written on the board: 'This is what we want to accomplish today,' " Chivas defender
Jimmy Conrad
said. "Today maybe we accomplished four of those six things."
Starting goalkeeper
Zach Thornton
made a huge save against Vancouver trialist
Russell Teibert
in the 54th minute, and backup
Sergio Arias
knocked aside Brazilian trialist
Camilo
's first shot on a breakaway in the 76th; Camilo's rebound went wide.
MOVING AROUND:
Gordon started in central midfield, next to Gavin and in front of
Michael Lahoud
, in the 4-1-4-1 formation head coach
Robin Fraser
likes. Trujillo, likely out at right back with Pearce and rookie
Zarek Valentin
on the scene, got another look in midfield, this time on the left flank. He might fit in better here than on the backline.
Valentin started in the middle, and, near as we can tell, moved to right back when Umaña came on for Pearce. Tristan
Bowen
returned to action, playing the final 23 minutes, and trialists
Jimmy Asprilla
and
Guillermo Torres
saw second-half action.
February, 16, 2011
2/16/11
11:56
PM PT
By
Scott French
| ESPNLosAngeles.com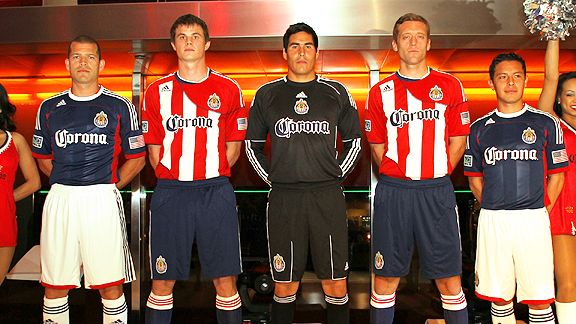 Courtesy Chivas USAChivas USA unveiled its new jerseys for the 2011 MLS season in an event at The Standard on Wednesday.

If you needed concrete proof that Francisco "Panchito" Mendoza is back to stay, it was there on stage Wednesday night at the Standard in downtown L.A.

Chivas USA was unveiling their new jerseys, with the Corona logo on the front, and the club flew in five players from the team's camp in Arizona for the occasion. Among the quintet: Mendoza.

Need more proof: Managing partner and club president and Antonio Cué says the deal is done, that Mendoza has signed, that all the loose ends have been tied.

Not quite: Another Chivas official said the contract has been submitted to the league, which has not yet signed off on it -- and has asked more than once for additional paperwork. That official's understanding is that Mendoza is coming on loan from Guadalajara, which he joined in 2009 after four seasons with Chivas USA. He has played little for the Mexican powerhouse and in loans to Jaguares and second-tier Club Tijuana and last fall for second-tier Indios de Ciudad Juarez.

Also signed, but not yet announced: Mexican goalkeeper Sergio Arias, who is definitely arriving on loan from Guadalajara. (Coach Robin Fraser said when camp opened that the deal was done.) Arias, too, was on display at the Standard, and Cué told him, while introducing him to those on hand: "You're the future of this team. We believe in you."

(Wonder what Zach Thornton and Dan Kennedy, Chivas' other netminders, will think of that.)

Also working as models: defender Jimmy Conrad and forwards Justin Braun and Alejandro Moreno. All head back to Arizona on Thursday morning, and the team returns home after scrimmaging the Vancouver Whitecaps on Friday.

PROGRESS REPORT: Conrad on how the club had progressed in Arizona:

"I would say that we've really started to make concrete the way we're going to move as a team, our team shape. I think having a couple games against quality opponents [in losses to Seattle and Real Salt Lake] has really helped us out because we got to see that what we've been working on really does work.

"And once that belief starts to kick in, that this is the right way to play -- and this is the way we're going to play -- then that becomes a spark. Once you get that spark, I mean … you know, it's limitless. You're bound by nothing by that point."


February, 1, 2011
2/01/11
3:16
PM PT
By
Scott French
| ESPNLosAngeles.com
Alan Gordon and Victor Estupiñan scored goals to lead Chivas USA to victory in its first preseason scrimmage, a 2-0 decision Tuesday morning over the Fresno Fuego in Templeton, north of San Luis Obispo.

Head coach Robin Fraser fielded different teams for each half. Starters were included on both teams, more of them in the first half. Mexican newcomer Sergio Arias was in the nets in the first half, and trialist Kevin Guppy (Chino Hills/Chino Hills HS and Cal State Northridge) took over in the second half.

Gordon headed in a cross from fellow former Galaxy forward Tristan Bowen (Van Nuys) cross to give Chivas a 31st-minute lead. Estupiñan, who entered the game in the 63rd minute, headed home a cross from Carlos Borja (Anaheim/Loara HS) in the 80th.

The Fuego play in the fourth-tier USL Premier Development League, a semipro/amateur outfit that features six L.A.-area clubs.

Reports lauded midfielder Gerson Mayen (Los Angeles/Manual Arts HS), who played in the first half, and the connection Estupiñan, a first-round draft choice, and newcomer Alejandro Moreno established up top in the second half. The Goats dominated possession throughout.

Top draft pick Zarek Valentin, expected to battle for the starting job at right back, partnered Jimmy Conrad in central defense during the first half, with returning starting outside backs Mariano Trujillo to the right and Ante Jazic to the left.

The Chivas lineups:

First half: Sergio Arias, Mariano Trujillo, Zarek Valentin, Jimmy Conrad, Ante Jazic, Paulo Nagamura, Ben Zemanski, Gerson Mayen (Jesús Padilla 31), Francisco Mendoza, Alan Gordon, Tristan Bowen.

Second half: Kevin Guppy, Carlos Borja, Michael Umaña, Yamith Cuesta, Jorge Flores (Bryan de la Fuente 70), Sal Zizzo, Michael Lahoud, Ernesto Carranza, Cesar Zamora, Jesús Padilla (Victor Estupiñan 63), Alejandro Moreno.
January, 21, 2011
1/21/11
2:21
PM PT
By
Scott French
| ESPNLosAngeles.com
Rodolfo Espinoza, Maykel Galindo and Dario Delgado are not returning to Chivas USA, coach Robin Fraser said Friday, but the club is acquiring one of Mexico's most promising young goalkeepers on loan from Club Deportivo Guadalajara.
Sergio Arias
,
Luis Michel
's backup for Guadalajara, is joining Chivas USA for the 2011 season. Fraser said "as far as I know," the loan has been finalized, but Arias said he wants "this to be a deal very soon."
Either way, Arias could challenge starter
Zach Thornton
, 37, and No. 2
Dan Kennedy
, 28, for playing time, and upper management -- Guadalajara owner (and Chivas USA co-owner)
Jorge Vergara
-- might exert some pressure to get him on the field.
Arias, who will be 23 next month, hasn't made his first-team league debut for Guadalajara, but he has extensive youth national team experience -- he starred on the Mexican side that won the FIFA U-17 World Cup in 2005 -- and made 36 appearances on loan to second-tier Dorados de Sinaloa in 2007-08.
"We're getting an opportunity to get a player whose ceiling is very high and a lot of potential and he's been good places as a youth player," Fraser said. "We're excited about seeing how he develops."
Said Arias: "I'm very happy, very motivated to be here. … I've been waiting for an opportunity like this one for awhile."
SO LONG:
The option on Espinoza, a Mexican winger who made a big impact when he joined the club last winter, has been declined, and Chivas also has jettisoned Cuban forward Galindo and Costa Rican defender Delgado.
December, 17, 2010
12/17/10
9:27
PM PT
By
Scott French
| ESPNLosAngeles.com
Of the many spots on the lineup card in which Chivas USA needs an upgrade, goalkeeper isn't one of them -- and, as always, there are a ton of fine netminders in the U.S. if it was.
But
Jorge Vergara
, one of the club's owners -- also owner of big Chivas: Club Deportivo Guadalajara -- says the Goats are getting a new one from Mexico.

Vergara told ESPN Deportes radio that
Sergio Arias
, one of Mexico's most promising young netminders, will be joining Chivas USA next season.
Arias, who will be 23 in February, was one of the backups to Guadalajara starter
Luis Michel
during the Mexican Primera Division's fall Apertura, but he hasn't yet made his first-team league debut for the club.
The 6-foot-2 keeper emerged from Guadalajara's youth system and starred on the Mexican side that won the FIFA U-17 World Cup in 2005 and played for Mexico at the 2007 Panamerican Games. He made 36 appearances on loan to second-tier Dorados de Sinaloa in 2007-08.
Arias was set to join Gallos Blancos de Queretaro in Mexico's Primera Division on loan, but Vergara said the agreement was canceled "because we needed him to go to Chivas USA, we want the goalkeeper at Chivas USA."
Zach Thornton
, 37, has been Chivas USA's No. 1 goalkeeper since 2008; he was MLS's Goalkeeper of the Year in 2009.
Dan Kennedy
(Yorba Linda/El Dorado HS and UC Santa Barbara), who missed the last 2½ months of last season with a torn biceps muscle and all of 2009 with a knee injury, is a worthy backup.
And we like
Kevin Guppy
(Chino Hills/Chino Hills HS and Cal State Northridge), an MLS pool goalkeeper (available to any team requiring one) who saw action for the Goats last year.
Arias clearly has a future with Guadalajara, but he needs games, and Vergara's hope is he'll get them with Chivas USA. This is how the relationship between the clubs should work, with our Goats taking top prospects on loan from the mother club, but a playmaking midfielder, sturdy defender or steady finisher up top would be a better value.