July, 7, 2011
7/07/11
12:04
AM PT
By
Scott French
| ESPNLosAngeles.com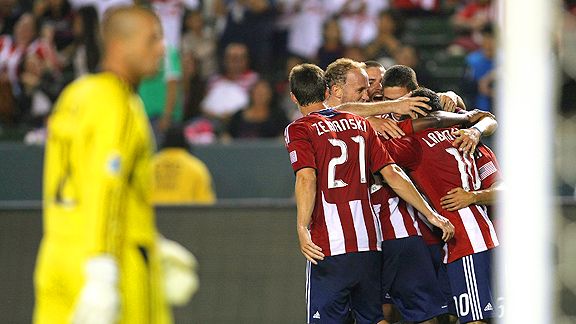 Victor Decolongon/Getty ImagesChivas USA players celebrate behind San Jose goalkeeper Jon Busch after scoring their second goal in 2-0 win.

CARSON -- Chivas USA used two gorgeous goals and its finest defensive performance of the season to score its first victory in more than a month, an impressive 2-0 decision Wednesday night over the San Jose Earthquakes before a sparse gathering at Home Depot Center.

Ben Zemanski came off the bench to score on a bending rocket of a shot from 30 yards in the 64th minute, and Nick LaBrocca's team-best fifth goal in the 84th, from substitute Francisco Mendoza's perfectly weighted pass, sealed the triumph as the Goats (5-7-6) completed a season sweep of the Quakes (5-6-6) and vaulted past them and into sixth place in the Western Conference.

It was a triumph built on defense, with, especially, the backline denying the Quakes even one decent look at the net.

"I thought our defense really answered the challenge and made great decisions tonight," head coach Robin Fraser gushed afterward. "As a result we were able to really prevent too many dangerous opportunities, and we're really excited about the shutout."

Goalkeeper Dan Kennedy was required to make only three saves -- just one of them, an 86th-minute header by Yorba Linda's Steven Lenhart, was the least bit troublesome -- and the Goats took command as they found a rhythm and after Zemanski and then Mendoza came onto the field.

The victory, Fraser said, was "a big boost for us in terms of our concentration. We have to recognize when we are concentrating, defensively we're not giving up the types of things that we have been, and as a result, as long as we're in the game, we give ourselves a chance. ...

"I think for us it was important that we go through the exercise of really focusing on not giving up dangerous opportunities. Ad we didn't [give up dangerous opportunities] and kept ourselves firmly in the game, and as we started to play better, we found a goal."

A quick look at Chivas' victory:

BEST PLAYER: Several candidates, including both goal scorers and central defender Michael Umaña, who was solid from start to finish in helping to minimize the Quakes' opportunities and as a conduit to move the ball through and out of the back.

But our vote goes to central midfielder Simon Elliott, at 37 the oldest man on the field (and the Goats' captain). He indefatigably outbattled San Jose's Brad Ring and Sam Cronin for command in midfield and contributed mightily to Chivas' attack as a point man in possession and in creating opportunities in the final third.