Los Angeles Soccer:

Shalrie Joseph
August, 11, 2012
8/11/12
3:25
PM PT
By
Scott French
| ESPNLosAngeles.com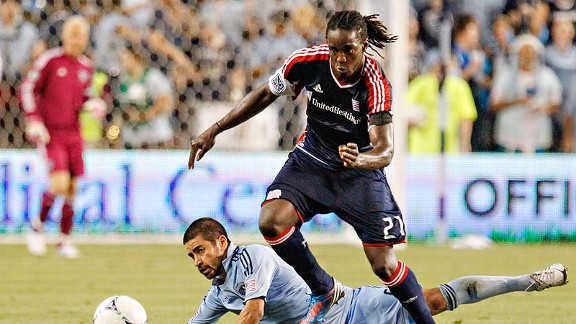 Kyle Rivas/Getty ImagesSharlie Joseph will make his debut for Chivas USA on Sunday night against the Galaxy.

CARSON -- The Galaxy and Chivas USA face off in one of the most meaningful of SuperClasico showdowns, surely the biggest since the 2009 playoffs, and a rivalry first-timer will be playing the wild-card role.

The measure of Shalrie Joseph's impact in his Chivas debut Sunday night (ESPN2 and ESPN Deportes, 8 p.m.) could determine the final regular-season meeting this season, one which could send the Galaxy streaking toward a top-three spot in Major League Soccer's Western Conference or leave the Goats within striking distance -- with games in hand -- in the battle for the West's final postseason berth.

Joseph, 34, was acquired last week in a trade with the New England Revolution, and although the four-time MLS Best XI selection is on the far side of his professional arc, bringing him to L.A. could be be the pivotal step in Robin Fraser's quest to return Chivas to league-power status.

He figures to solidify the Goats' midfield, combine in the middle with Oswaldo Minda in what surely will be MLS's most intimidating central tandem, and provide the link required to connect a fine possession game with a talented frontline that has starved for appropriate service.

"He's a winner, he's a battler ...," Fraser said. "He's a very intelligent player at both ends of the field. Very solid in the defensive end, certainly very competent and potent at the attacking end. We've seen many times in the past where New England needs something, so they put him up front and he scores a goal. They need him to play in the back, he prevents goals. You need him to connect through the midfield, he does that.

"Bringing him into the mix is certainly going to help."

Chivas (7-8-5, 26 points) could use some assistance. It has scored just 14 times in 20 games, by far the worst total in the league, and sits just seven points behind L.A. (10-11-3, 33 points) on the other side of the dividing line for a playoff spot because of defense that has conceded an MLS-low 21 goals.

"It's about me trying to connect the dots, passing forward, trying to get the ball to the talented guys ...," Joseph said. "I just find it unbelievable they haven't been able to score so many goals. World-class forwards they have here. So I look forward to getting them the balls in [dangerous] situations."

The Grenada-born, Brooklyn-bred Joseph is certainly a known quantity. He spent nearly a decade with the Revolution, some of that as captain, and led the club to four MLS Cup title games. He likely would have been a starting midfielder for the U.S. in the 2002, 2006 and 2010 World Cups had he not impatiently turned out for his native island's national team when he was younger.

The Galaxy, who look to bounce back from last week's 4-0 debacle at Seattle without David Beckham, who is in London for the Olympic Closing Ceremonies, certainly know what Joseph can do. Left back Todd Dunivant calls him "one of the best defensive mids, if not the best, in the history of the league," and head coach Bruce Arena predicts "in time he's going to be able to reshape their midfield."


March, 31, 2012
3/31/12
11:44
PM PT
By
Scott French
| ESPNLosAngeles.com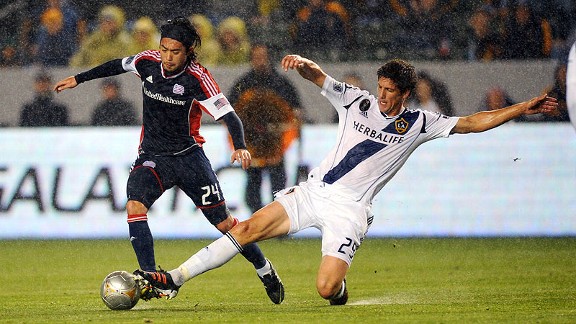 Kelvin Kuo/US PresswireGalaxy defender Andrew Boyens lunges against New England's Lee Nguyen in the first half.

CARSON -- The Galaxy's second shot at a decent start was far worse than the first one, some 3½ weeks ago. After a two-week break in which, the storyline goes, they worked out the kinks that capsized them against Toronto FC and Real Salt Lake, L.A. came out with a real stinker of a show.

New England scored two goals in the first 13 minutes and added a third midway through the second half, easily dismissing the Galaxy, 3-1, on a rainy night at Home Depot Center.




The defensive problems that have plagued L.A. (1-2-0) since the start of preseason have not improved -- both early goals were product of horrendous marking -- and the lack of spark in the Galaxy's game, at least until the second half, set standards the team does not want to repeat.

"I think you always have to be careful about not labeling things that clearly off of one game," head coach Bruce Arena said. "I think our second half [had] a lot more spirit and determination than there was in the first half. The first half was poor. Some bad communication in the early going, and it cost us a couple of goals. We were never sharp on any play in the first half. Sloppy in every aspect of the game on both sides of the ball."

The Galaxy was overrun in midfield and at the back, and goals three minutes apart by rookie Kelyn Rowe, a former UCLA All-American, and Chris Tierney more or less settled things by the 13th minute.

New England got behind L.A.'s defense three times in the first nine minutes, then struck in the 10th, when Rowe drifted behind A.J. DeLaGarza and Todd Dunivant to volley a cross from Shalrie Joseph, then volley the rebound after goalkeeper Josh Saunders parried the first strike.

Tierney made it 2-0 in the 13th, beating Paolo Cardozo to a ball from Kevin Alston, who played a give-and-go with Joseph to penetrate from the right channel.

"We did the exact same thing we've been doing the first three games, conceding sloppy goals," complained striker Robbie Keane, who wore the captain's armband in Landon Donovan's absence because of a quadriceps strain. "Every goal we've conceded so far has been very, very similar. It's stuff you do when you're a kid defending. We didn't do it properly tonight. We have only ourselves to blame. We can't point the finger at anyone else but ourselves. [We need] everyone to pick their heads up and be a man and get on with it."


December, 5, 2011
12/05/11
4:48
PM PT
By
Scott French
| ESPNLosAngeles.com
Chivas USA has decided to invest in veteran winger/forward
Arturo Alvarez
, claiming him in Monday's first-stage draft in Major League Soccer's re-entry process, even with his salary close to $200,000.
Alvarez, 26, a Texan who plays for El Salvador's national team after representing the U.S. at the youth levels, has scored 24 goals and 20 assists in 187 MLS games over nine seasons, but he's coming off an unhappy experience at Real Salt Lake, where he played in just 16 games, starting eight, in 2011.
He has started 20 games in a season just three, in 2007 at FC Dallas, in 2008 between Dallas and San Jose, and in 2009 in San Jose. He scored a career-best six goals in 2008 and five the following season.

"Arturo is a player who I've always thought had a very interesting skill set," Chivas coach
Robin Fraser
told ESPN Los Angeles. "He's very, very comfortable on the ball, good taking players on. The type of player who I think it is very difficult for defenders to deal with."
Alvarez is out-of-contract, and Chivas is forced to make a "Bona Fide Offer" that is at least equal to Alvarez's 2011 salary, which was $192,585 ($201,933.50 average guaranteed compensation). The forward also is believed to be considering options in Mexico.
"I think there is a possibility that Arturo has had an eye for leaving the league for a long time ...," Fraser said. "The word on him is thatt he's always wanting to go overseas. Hopefully, he's interested in staying. Perhaps he goes overseas and doesn't like to options available to him, in which case we have the opportunity to keep him."
Fraser said Alvarez's price tag was not a deterrent.
"There's a negotiation to be had, no matter what," Fraser said. "I think he's a player who can be extremely, extremely dangerous in this league and has shown he's a player who can be very dangerous creating opportunities both for himself and other people. We don't necessarily look at that number and say no way, because we do think he can be very productive."
August, 6, 2011
8/06/11
9:19
PM PT
By
Scott French
| ESPNLosAngeles.com
It was hardly the kind of performance Chivas USA was looking for, but sometimes it's better to be lucky than good. And the Goats were more than lucky Saturday night, pulling out a wild 3-2 triumph at New England, a result that easily could have gone the other way.

Alejandro Moreno, making his first start since returning from Copa America, netted two goals, Nick LaBrocca added a goal and an assist and goalkeeper Dan Kennedy added to his growing legend with two sensational saves as Chivas (7-8-8) held on after the Revolution (4-10-9) twice carved a two-goal deficit in half, the last time in the 86th minute.

"We're happy for the three points, but it wasn't good enough," Chivas coach Robin Fraser told ESPNLosAngeles.com afterward. "The way we played the game and the way we finished the game was not good enough. [I was unhappy with] our inability to close out the game once we went up, 3-1. He should have been able to close out in a slightly more comfortable fashion.

"For us to get to the lofty goals we've set for ourselves, we need to be able to close out a game like that."

Chivas did well finishing their chances -- they put just four shots on goal, three of those hitting the nets -- but struggled to create. New England had far more opportunities but did little with them, and Revs coach Steve Nicol complained to the media afterward that he "could have been standing here with a 6- or 7-3 victory." He wasn't lying.

The Revolution missed at least two, maybe three can't-miss opportunities, and Kennedy made two massive stops on Shalrie Joseph, both to preserve one-goal advantages.

French midfielder Laurent Courtois, who came on in the second half for the Goats, was one of three debutants, along with New England's new Designated Player, Milton Caraglio, and spiky-haired 16-year-old Diego Fagundez.

The teen made the biggest impact among the three, winning the penalty for Joseph's 69th-minute finish from the spot (on a Heath Pearce foul at the top of the box; the Goats thought he dived) and scoring in the 86th (after rookie Zarek Valentin misjudged and then misplayed a long ball from Kevin Alston).

Moreno scored from a superb LaBrocca feed in the 31st and from a nifty four-pass sequence in the 80th. LaBrocca finished his own rebound in the 59th.

"[Moreno] was a huge plus," Fraser said. "He was instrumental in what we were able to do today, to be on the end of dangerous opportunites" and finish them."

A quick look at Chivas' victory:

BEST PLAYER: Kennedy has quietly risen among MLS's best netminders, and he was outstanding again -- without him, the Goats go down.


July, 9, 2011
7/09/11
2:21
PM PT
By
Scott French
| ESPNLosAngeles.com
Major League Soccer will unveil the All-Star First XI at halftime of ESPN's coverage of Sunday afternoon's Portland Timbers-Seattle Sounders game (1 p.m. kickoff), and we expect to hear a few names we know: Landon Donovan, David Beckham, and maybe Omar Gonzalez and Sean Franklin, too.
This isn't the starting lineup for the MLS side that will take on Manchester United on July 27 in Harrison, N.J., just the "First XI" as chosen in a fan vote. New York Red Bulls head coach
Hans Backe
can choose his lineup from any player on the roster, which he with help from Commissioner
Don Garber
will fill, to be announced July 18.
Here's who we'd have in our First XI:
GOALKEEPER
Stefan Frei (Toronto FC):
Montclair's
Nick Rimando
(with Real Salt Lake), Palos Verdes'
Kevin Hartman
(with FC Dallas) or Colombian
Faryd Mondragon
(with Philly) are likelier -- and deserving -- choices, but what Swissman Frei, 25, has done under nearly constant siege deserves reward.
DEFENDERS
Jan Gunnar Solli (New York Red Bulls):
Norwegian newcomer is solid defensively, exceptional going forward. Solli, 30, has quickly become the league's premier right back.
Jamison Olave (Real Salt Lake):
Big Colombian center back was MLS's Defender of the Year last season, when we would have opted for his partner,
Nat Borchers
. Olave, 30, has been better even this year.
June, 7, 2011
6/07/11
12:00
AM PT
By
Scott French
| ESPNLosAngeles.com
It's a tiny Caribbean nation with a population about the size of Downey's, but it's not enough for Grenada just to take the field against bigger countries with better national soccer teams.
The Spice Boys want to achieve far more.
Their primary goal as they begin their second successive CONCACAF Gold Cup campaign is modest -- to be among eight teams, out of 12, to reach the knockout phase -- and it might be out of reach following Monday's 4-0 defeat to Jamaica in a Group B opener at Home Depot Center.
"Realistically, what we came out here to do is get to the second round," said head coach
Mike Adams
, an Englishman with Grenadian roots who has been working with the country's soccer federation and national team most of the past half-dozen years. "Now we have to go back to the drawing board."
It might be different -- far more competitive -- if Adams could draw on "our full deck of overseas players," including midfield general
Shalrie Joseph
, who declined an invitation to play in the region's nations championship so he could remain with the New England Revolution, and two English Premier League strikers: Everton's
Jermaine Beckford
and Blackburn's
Jason Roberts
.
It's not wholly about their skills, either. "The professionalism that gets brought in [when these players are around] would help," Adams said.
Adams, 51, is a former pro himself. He grew up in south London and played at Chelsea until a knee injury halted his playing career at 21. From there, he went into coaching, played a little semipro soccer, and in 2005 began working in his parents' homeland, as an adviser for the Grenadian federation and as head coach of the national team during the 2005 Caribbean Championship.
The federation asked him to guide Grenada again in this Gold Cup, and even without Joseph, Beckford and Roberts, he's got some talent to work with. Five of his players are with mostly smaller English clubs, and there's Sporting Kansas City midfielder
Craig Rocastle
, who was forced off at halftime with a knee injury that could be serious.
May, 28, 2011
5/28/11
11:14
PM PT
By
Scott French
| ESPNLosAngeles.com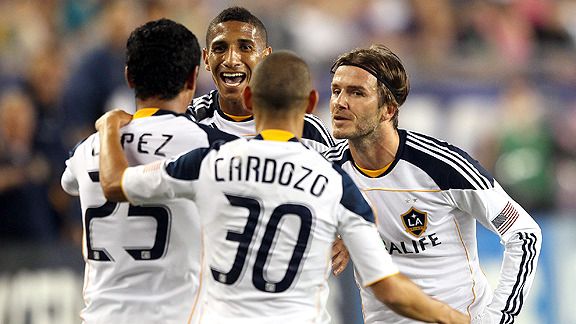 Elsa/Getty ImagesThe Galaxy celebrates Miguel Lopez's goal, which came off a David Beckham cross.

The Galaxy made it three 1-0 victories in eight days Saturday night, using more lights-out defense -- with two big saves at the finish -- and one perfect header to knock out the New England Revolution and run their winning streak to four.

Miguel Lopez scored the goal, his first in Major League Soccer, getting a glancing nod to David Beckham's rifled cross in the 69th minute, and A.J. DeLaGarza and Landon Donovan came up huge in the closing minutes to secure L.A.'s seventh shutout in 15 league matches.

"We've been good all year, with the exception of [a 4-1 loss March 26 at Real] Salt Lake," Galaxy coach Bruce Arena said. "And we've been unlucky … losing some points on the road, as well as [a couple of] shutouts, so we've been very good, I think, over the last 10 games or so defensively."

They've surrendered seven in the dozen games since the RSL debacle, and two were on a faulty penalty kick at D.C. United and a Sean Franklin giveaway in Philadelphia. The Galaxy (8-2-5) had a few questionable moments at Foxborough but cleaned them up after 15 minutes or so and surrendered practically nothing until a blistering sequence just into stoppage.

Jamaican goalkeeper Donovan Ricketts, who like Donovan was playing in his last Galaxy game before heading off to the CONCACAF Gold Cup, came off his line for a long, hopeful ball into the box by Kevin Alston, but he didn't get much of a punch to it and was out of position for Zack Schilawski's half-volley from the fallout. DeLaGarza, backing up the play, made an acrobatic save, falling almost into the goal as Sean Franklin raced in ahead of Shalrie Joseph to clear the ball from the box.

Sainey Nyassi collected the ball on the right flank and sent in a cross into the goalmouth for Schilawski, whose point-blank volley crashed into the underside of the crossbar and back down. Joseph jumped over (and into) DeLaGarza to head the rebound as a crush of bodies swarmed the goal line, and Donovan, in retreat, kicked the ball to safety.

"I assume [Schilawski's volley crossed the line], to be honest," Joseph said. "I'm 90 percent hoping it went across the line. It was so close. I saw the net shaking. I don't know how it was shaking and the ball didn't hit the net. It just didn't go in."

A quick look at the Galaxy's victory:


May, 28, 2011
5/28/11
7:10
AM PT
By
Scott French
| ESPNLosAngeles.com
There's a reason the Galaxy are streaking ahead in Major League Soccer's Supporters' Shield race, and it has nothing to do with wins and losses -- and
Landon Donovan
understands that.
L.A.'s schedule has been heavy early, will be heavy late and isn't all that bad for the next month or so, when the importance of bulking up on points will become apparent.

The Galaxy play their 15th game of the season Saturday, most in the league, when they visit the New England Revolution. It's the last game they'll have Donovan and Jamaican goalkeeper
Donovan Ricketts
, who depart afterward for the CONCACAF Gold Cup, and their captain says it's important to pick up three more points.
And not as insurance while he and the reigning MLS Goalkeeper of the Year are away, for as long as a month.
"I'm not worried about us leaving," said Donovan, MLS's scoring leader, with eight goals. "Our team is accustomed to dealing with absences. We're not a team that plays the same 11 or 12 or 13 guys the whole year. … I don't worry about how we're going to do -- we're going to be fine once we're gone.
"But I think most important is when you've played this many more games than teams, you have to make sure you're getting points and getting ahead so every time they look at the standings, it's daunting. We want to make it so that they have to come catch us."
It looks daunting. L.A. is 7-2-5 for 26 points, and the only side less than nine points back is FC Dallas (6-3-3), which has 21. But two-thirds of the league's teams have played three or fewer games than the Galaxy has, and a couple -- including preseason Western Conference favorite Real Salt Lake -- have six games in hand.
The lead isn't what it appears. If FC Dallas wins both games it needs to catch up, the Galaxy is a point behind. If RSL wins out -- yes, unlikely -- it would have 41 points from 14 games.
May, 23, 2011
5/23/11
11:11
PM PT
By
Scott French
| ESPNLosAngeles.com
There's one early-stage CONCACAF Gold Cup doubleheader slated for the these parts, and now we know who's coming.
CONCACAF released all 12 rosters Monday for its nations championship, which begins June 5 and ends with the final -- U.S.-Mexico is hoped for, certainly -- on June 25 at the Rose Bowl.
A Group B twinbill is coming to Home Depot Center on Monday, June 6, with a Caribbean showdown (Jamaica vs. Grenada) at 6 p.m. and a Central American matchup (Honduras vs. Guatemala) at 8.
Honduras' roster features a dozen players from last year's World Cup team, including four who played every minute for the Catrachos (goalkeeper
Noel Valladares
, defenders
Osman Chavez
and
Maynor Figueroa
, and midfielder
Wilson Palacios
), plus Sporting Kansas City left back
Roger Espinoza
, who was raised in Denver, and former Chivas USA midfielder
Ramon Nuñez
.
Guatemala is led by former Galaxy star Carlos Ruiz, now in Philadelphia, and Chicago Fire midfielder Marco Pappa.
The Jamaicans have eight MLS players, including Galaxy goalkeeper
Donovan Ricketts
and former Galaxy defender
Tyrone Marshall
, and 11 based in Europe, nine of them in Sweden or Norway. Grenada has Brooklyn-raised New England Revolution midfielder
Shalrie Joseph
, who would have played in two World Cups already had he chosen to play for the U.S.
April, 30, 2011
4/30/11
1:55
PM PT
By
Scott French
| ESPNLosAngeles.com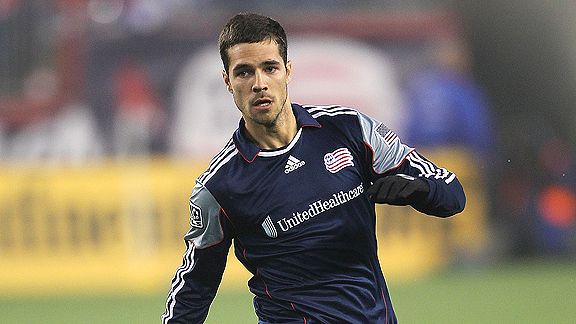 Jim Rogash/Getty ImagesBenny Feilhaber is excited to be playing in front of friends and family Saturday night at the Home Depot Center.
Benny Feilhaber is coming home, just not like he thought he would.

The Irvine-bred midfielder, who signed eight days ago with Major League Soccer after six years in Europe, thought he'd be making his home debut for Chivas USA (1-2-3) on Saturday night. He got the venue right -- he will be on the field at Home Depot Center -- but he'll feature for the New England Revolution, who won his services in as dramatic an allocation process as MLS has seen.

Feilhaber went to bed one night thinking he was going home and woke up the next morning bound for Massachusetts.

As luck, and agile scheduling, would have it, Chivas' next guest was Feilhaber's new team.

"Well, you're eventually going to play Chivas," Feilhaber noted following the Revs' practice Friday at HDC. "Obviously, they had the first opportunity to take me and passed up on me, but I'm really more excited to be playing in front of my friends and family [this weekend]. There will be plenty of people I know in the stands, and all rooting for New England."

Those would have been Chivas fans had the Goats claimed Feilhaber, a creative midfielder expert at possession and setting up teammates. They had first dibs on him the allocation process and spent four days mulling it over and listening to trade offers before deciding it didn't work financially for the club.

By passing, Chivas retained the top spot on the allocation list -- they'll have first say on the next player to enter the league through that mechanism -- and Philadelphia stayed at No. 2 when it passed, too.

So Feilhaber fell to No. 3 New England, and he made an immediate impact, setting up Marko Perovic's goal just 12 minutes in and drawing a red card that changed the tenor of play in last week's 3-2 victory over Sporting Kansas City.

"You see the quality he has," Revolution coach Steve Nicol said afterward. "And that affects the opposition, as well, because they don't know whether to stand off or close him down. And, obviously, with his teammates, it's good knowing you're getting a guy the ball who's, nine times out of 10, he's not losing it."


March, 20, 2011
3/20/11
9:01
PM PT
By
Scott French
| ESPNLosAngeles.com
The conditions that greeted the Galaxy for their opener in Seattle earlier this week might not have been conducive to good possession soccer, but they weren't worse than what L.A. had to endure in its home opener Sunday.

Heavy winds and frigid rain made Home Depot Center's big, green space almost as difficult to traverse as the slippery artificial turf in Seattle, and the Galaxy's dominance wasn't worth more than a 1-1 draw -- and could have been gained considerably less.

L.A. saw three goals waved off, New England twice hit the goal frame, and Juninho's second goal of the season, late in the first half, answered Shalrie Joseph's third-minute header as L.A. went atop the Western Conference with a 1-0-1 record.

A quick look at L.A.'s victory:

BEST PLAYERS: Joseph's status as MLS's premier central midfielder is in no danger. The Grenada-born star was the dominant figure for a Revolution side that offered little else and rarely made much from what he provided.

David Beckham was particularly sharp on the ball, whipping in several crosses that caused Reis fits and an 11th-minute free kick that the New England keeper barely kept from the upper-right corner.

BEST GOAL: Juninho's goal featured a beautiful finish, a bullet from the top of the box that left Revs goalkeeper Matt Reis no chance. It was product of a mistake, of course, a poor clearance after a corner kick by New England rookie defender A.J. Soares.

Juninho's first goal, in Tuesday's victory, followed two mistakes by Seattle's Erik Friberg -- a giveaway and poor positional defense afterward -- and Joseph's header from Marko Perovic's cross was enabled by L.A.'s inability to close space when Perovic's corner kick was knocked back wide to him nor mark Joseph at the far post.


February, 23, 2011
2/23/11
10:28
PM PT
By
Scott French
| ESPNLosAngeles.com
Chivas USA's playoff hopes increased dramatically Tuesday. Major League Soccer added two teams to the postseason mix.
The league boosted its playoff participants to 10 teams with the addition of two single-game wild-card showdowns, which should be welcomed by Chivas and Columbus, Chicago and D.C., K.C. and New England, even Toronto FC.
The Galaxy and the like? Are you kidding?
Here's how the postseason works this year:

The top three teams in each conference qualify for the main draw, which is just like before: home-and-home conference semifinals, one game conference finals, MLS Cup. The next four best teams, regardless of conference, take the wild-card slots, with the No. 7 seed playing 10 and 8 playing 9 and the winners advancing to play the regular-season champs, and … well, you know how it works.
This system will cut down on all that confusing cross-conference movement in the playoffs, which led to an all-West showdown in last year's Eastern Conference final, an Eastern Conference title (en route to MLS Cup glory) by Real Salt Lake in 2009, and a Western championship by New York in 2008.
Had this system been in place last year, K.C. would have been the No. 3 seed in the East and opened against Columbus, which the then-Wizards might have won. Which would have left them 90 minutes from MLS Cup.
One wild-card battle would have matched Colorado against San Jose. ... Hey, they did play -- in the Eastern Conference final. The Rapids prevailed, then won the MLS Cup crown. (The other wild-card matchup would have been Seattle-Chicago; the Galaxy likely would have opened against Colorado.)
MLS has had eight playoff teams since its 1996 start, when there were only 10 clubs. As the league slowly grew to 16 teams by 2010, eight playoff berths seemed sufficient. Portland and Vancouver make for 18 teams this season and Montreal for 19 next year, and eight still sounds perfect.
L.A. would have reached the 2006 playoffs had this format been in place, but nothing could have saved the Galaxy in 2007 and 2008. And forget Chivas last year or in 2005.
October, 26, 2010
10/26/10
7:41
AM PT
By
Scott French
| ESPNLosAngeles.com
Until it cleared up so nicely on Saturday, Major League Soccer's playoff scenarios were complicated, to be sure. The Galaxy might have ended up with a first-round series with Colorado or San Jose or FC Dallas; that they'll face Seattle is fine with them.
Not that it's perfect.

"Seattle's not going to be easy. It never is," Galaxy coach
Bruce Arena
said after Sunday's victory over FC Dallas set up encounters with the Sounders on Sunday in Seattle and Nov. 7 at Home Depot Center. "But I think the choices were … what were the choices? I think they were Dallas … none of the choices were real good, to be honest. I wouldn't want to be going into Dallas either.
"I do prefer going to Seattle than going into altitude. There was always a chance at some point we could go to Colorado or Salt Lake, and the altitude is an issue, and the one thing we've assured ourselves is that we're not going to be playing in altitude. Not that guarantees anything, but I think that's good. It's a lot easier for the players to adjust to the artificial field [in Seattle] than to altitude. So In think that's a positive out of this."
Perhaps so. If L.A. and Real Salt Lake win their first-round series, they'll meet in Carson. Toronto, where MLS Cup will be played Nov. 21, has a lower elevation than downtown L.A. But the Galaxy are hardly happy they'll start their home-and-home, total-goals series on the fake turf at Qwest Field.
"I don't like it," said
Edson Buddle
, who led the Galaxy with 17 goals. "I'm not a big fan. I never was. But I have to deal with that and get over it."
Said
David Beckham
: "At the end of the day, it is what it is. We have to go there, and we have to play. It's the same for both teams. Obviously, it's an advantage for them, because they play on it every other week, but it is what it is."