Los Angeles Soccer:

Stern John
March, 1, 2011
3/01/11
10:31
PM PT
By
Scott French
| ESPNLosAngeles.com
Marcos Mondaini celebrated his new pact with Chivas USA by playing atop a diamond midfield Tuesday and showing off his playmaking skills. Not too shabby, either, even if it led to nothing concrete in a 2-0 loss to Canada's under-23 national team.
"Basically, we threw him in there without much instruction at all," Goats head coach Robin Fraser said. "We just wanted to see what his instincts were."
And?
"I think that he was very calm on the ball, very calm first touch, has good ideas in the attacking end."
A fine start for the 26-year-old Argentine midfielder, who was acquired in a loan deal announced Tuesday from Uruguayan club CA Fenix. The move have Chivas a full allotment of 30 players, at least until 23-year-old defender
Carlos Borja
(Anaheim/Loara HS) was waived a few hours later.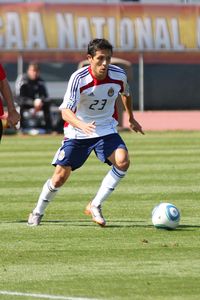 Courtesy of Chivas USA Chivas USA midfielder Marcos Mondaini, who signed Tuesday, in action against Canada's U-23s at Home Depot Center.


The two biggest names among trialists are gone, too. Colombian defender Jimmy Asprilla fell victim to numbers -- too many backliners on the roster, not enough international spots to use on another -- and Trinidadian striker Stern John, the former MLS star who spent the past decade or so in England, just wasn't ready to go after surgery last year to repair a torn anterior cruciate ligament.

"You could see he had some very good moments," Fraser said. "You could see he's Stern John -- he's as comfortable in the box as any forward. But physically he wasn't quite ready yet, and so we left it open-ended, saying we'd love to see him get healthy and see what happens at that point."

MORE ON MONDAINI: He has two friends with MLS experience: Real Salt Lake forward Fabian Espindola and former Columbus forward Guillermo Barros Schelotto, whom he knew while at Argentine powerhouse Boca Juniors.

"I know it's a hard league, very competitive," he said Tuesday, and of the league's physical nature: "That's what I was talking about when I was talking to Fabian. In 2007, with Boca, we made a tour and played against MLS teams, and I noticed that here is very physical, very strong." And, yes, he said, he can deal with it.

"He's good. Obviously, he has a lot of tactical awareness: He knows where he should be," said Chivas defender Jimmy Conrad, who went the full 90 against the Canadians. "Athletically, he might run into problems. You know, he's not the biggest guy, and our league is built on athleticism. He's going to have to really use his brain to find space and to make a difference."


March, 1, 2011
3/01/11
9:39
AM PT
By
Scott French
| ESPNLosAngeles.com
Chivas USA is bringing in Argentine midfielder Marcos Mondaini on loan from Uruguay's CA Fenix, filling out the squad, at least for the moment, on Major League Soccer's roster-compliance date.
Mondaini's acquisition, it turns out, was a done deal when he arrived in camp last week. He played 29 minutes on the right flank in the Goats' 0-0 draw Friday against D.C. United.
Mondaini, 25, is from Boca Juniors' system and also has played for Emelec and Barcelona in Ecuador, Nacional in Uruguay and Atletico Nacional in Colombia.
The club expects to announce the loan deal before Tuesday's noon scrimmage against Canada's under-23 team at Home Depot Center's track and field stadium, a team official said.
Chivas has a full allotment of players -- 30, including Ghanaian defender
Seth Owusu
, who had not arrived in camp as of Monday -- and four trialists. Coach
Robin Fraser
has said Colombian defender
Jimmy Asprilla
is a possible signing, if he fills a genuine need. Trinidadian striker
Stern John
, a former MLS star who spent more than a decade in England, just joined camp, but we're hearing whispers he isn't likely to stay.
All teams must have no more than 30 players, six in developmental slots, and be under the $2.675 million salary cap.
The Galaxy, which has 28 players on its roster, are expected to make no moves.
LAHOUD HURT:
Midfielder
Michael Lahoud
will be out for about three weeks after undergoing surgery to repair a deep cut on his right knee sustained in a collision goalkeeper
Dan Kennedy
in training Sunday.
Lahoud, a third-year pro out of Wake Forest, played all over Chivas' midfield under former coaches
Preki
and
Martin Vasquez
but is being groomed for the defensive midfielder role by Fraser's staff.
February, 25, 2011
2/25/11
9:37
PM PT
By
Scott French
| ESPNLosAngeles.com
The guy hammering balls to the upper-V in Chivas USA's postgame training session Friday afternoon looked vaguely familiar, but putting a name with a face wasn't so simple. Good thing Goats coach
Robin Fraser
was around.
"You joking?" Fraser said when asked the identity of the club's newest trialist. "None of you [media] guys know? ... Uh, helluva goal scorer in this league 12 years ago."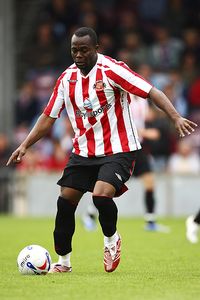 Michael Steele/Getty ImagesStern John is back in MLS trying to earn a spot with Chivas USA.
Ah. Trinidadian striker Stern John, probably the finest forward to play in Major League Soccer's first half-decade, when he netted 44 goals over the 1998 and 1999 seasons for the Columbus Crew. John, now 34, took off for England after the '99 campaign and has suited up for nine clubs there, mostly below the Premier League, and scoring at a decent rate in stints with Nottingham Forest, Birmingham City, Coventry City and Southampton.

John, who played last season for Crystal Palace and on loan for Ipswich Town, is coming off a knee injury and not yet ready for game action, but there was no questioning the power and accuracy of his shot.

"He was really looking for an opportunity to get in with a club," Fraser said. "As you can tell, he doesn't look like he's necessarily quite ready, but when a guy who's scored goals in places he has [comes along], you take a look at him."

John, who as a young MLS player impressed with his quickness, power and knack in front of the net, was just fantastic in 1998, scoring an MLS-best 26 goals. He then tied for the league lead with 18 in 1999.

"One of [MLS's best]. Absolutely one of them," said Fraser, who was a center back for the Galaxy when John was in the league. "I know I had my battles with him, and it was funny: Carlos [Llamosa, a Chivas USA assistant coach and former MLS defender] said the same thing, and then Jimmy [Conrad] afterwards said the same thing. We've all had to deal with him for sure."

Also new in camp is Argentine midfielder Marcos Mondaini, 26, who came out of Boca Juniors' academy and has played, on loan from the Buenos Aires giant, for Ecuadoran clubs Emelec and Barcelona, for Nacional in Uruguay and most recently for Colombia's Atletico Nacional. He played the final 29 minutes on the right flank in Friday's 0-0 draw with D.C. United at Home Depot Center.

"He's just a player I've kind of watched for a while," Fraser said. "Quick, crafty ... definitely an interesting player who's done pretty well in a couple different countries. We're just going to see where it goes and see how it is and see how he fits into the group and how he does."

A club official said Friday night that Mondaini likely will be signed in the next few days.