Los Angeles Soccer:

Steve Nicol
January, 10, 2012
1/10/12
11:20
AM PT
By
Scott French
| ESPNLosAngeles.com
Miguel Lopez's loan assignment with the Galaxy has ended, and has the Argentine midfielder/forward has returned to Quilmes, the suburban Buenos Aires club has confirmed.

Paolo Cardozo's situation isn't so clear.

Lopez began training last week with Quilmes, which is preparing for next month's start to the Clausura campaign in the second-tier Nacional B Division. The Galaxy, which signed Lopez on loan last January, has not announced any move involving the player, who told an Argentine newspaper that his time in L.A. was most beneficial.

"The experience was very positive," Lopez said, according to reports in Diario Perspectiva Sur. "The city, the people, the club, everything was very good -- both on and off the field. And the experience helped me grow as a player, taught me another kind of football that can help me contribute here. Because it is a very physical football [in MLS], and that helped me a lot."

Cardozo, whom the Galaxy selected in the first round of last year's MLS SuperDraft, also was set to return to Quilmes, according to Diario El Sol, which quoted head coach Ricardo Caruso Lombardi as saying he needed "to see the two players. If I like them both, then they'll be welcomed here."

Lopez was on the roster for Quilmes' camp this week in Mar del Plata, but Cardozo is not on the list.

Lopez, 23, started 14 and played in 24 league games for the Galaxy last season, scoring a goal and adding three assists. He played in 32 first-team games in all.

Cardozo, who impressed last season with extraordinary skill on the ball -- he was the Galaxy's most technical player -- started eight and played in 18 league matches and featured in 27 first-team games. He also played in all nine MLS Reserve League matches, scoring two goals.

UPDATE (3:30 p.m.): Galaxy coach/GM Bruce Arena confirmed Tuesday that Lopez has returned to Quilmes but that he anticipates Cardozo, who is on loan from Quilmes, will return to the Galaxy this season.

He also said New Zealander defender Andrew Boyens, selected from Chivas in the re-entry draft, has been signed and that the club is looking to extend the loan agreement with Sao Paulo for central defender Leonardo.
NO CONWAY: Goalkeeper Jon Conway, whom the Galaxy selected in last month's second-stage re-entry draft, announced his retirement Tuesday after 12 seasons in MLS.


August, 18, 2011
8/18/11
9:36
PM PT
By
Scott French
| ESPNLosAngeles.com
CARSON -- "This is a funeral, of course. You guys are at the wake of my career. So I appreciate you guys coming. I hope you're enjoying the food at the back."
With that,
Jimmy Conrad
was off and roaring in the most entertaining news conference we've seen at Home Depot Center -- and we've seen plenty.
The Chivas USA defender had plenty to say during his retirement announcement Thursday:

On whether there is a sense of relief that the battle to come back is over:
"I think the biggest relief aspect to it is that I can now tell everybody what's happening, and there's been some closure, and that I can get on with my modeling career. ... Did I say that out loud? Sorry.
"There's some days I'd go in to
Robin
[
Fraser
, the Goats' head coach], I'd be like, 'I really want to play today.' And he's like, 'How's your head doing?' 'Yeah, maybe I still do have a headache, but I really want to play today.' And he's like, 'Nah, we're not going to let you play.' Without their guidance throughout this and really pulling the reins on me and making sure I'm making a good, smart decision -- day in and day out, because your emotion does take over -- I don't know if I would have been able to get through it."
On seeking advice from players who retired because of concussions, such as former New England star striker Taylor Twellman, now an analyst for ESPN's soccer coverage:
"I have a good relationship with Taylor. Sometimes, it's hard to navigate through the waters of his ADD. But I did that. I tried. I tried to get something substantial from him, some substance. ... I'm sure you're going to write that one up. It will be fun to apologize to him for that."
On the secret to his success:
"I don't know if there are any shortcuts. When I coach kids or any time I'm involved with kids, or if I'm running my own camps or whatever, I let them know that there's no magic pill you can take. Nothing I say is magically going to make you better. If you're willing to put the work in, then you're going to reap the rewards. It's that simple.
"I mean, all these parents out there want all this stuff, they want it to happen right away, and it just doesn't work that way. Sometimes it has to simmer before it gets to where you have to go.
"For me, I didn't get my first cap with the national team until I was 28. I'll state publicly: I hated [then-U.S. coach]
Bruce Arena
for a long time. Because I was just like, 'What's the deal, man? What else do I have to do?' I thought I put together a couple of good seasons, and he still just glossed me over, never really considered me. ... But now we're best friends. It's all good.
August, 6, 2011
8/06/11
9:19
PM PT
By
Scott French
| ESPNLosAngeles.com
It was hardly the kind of performance Chivas USA was looking for, but sometimes it's better to be lucky than good. And the Goats were more than lucky Saturday night, pulling out a wild 3-2 triumph at New England, a result that easily could have gone the other way.

Alejandro Moreno, making his first start since returning from Copa America, netted two goals, Nick LaBrocca added a goal and an assist and goalkeeper Dan Kennedy added to his growing legend with two sensational saves as Chivas (7-8-8) held on after the Revolution (4-10-9) twice carved a two-goal deficit in half, the last time in the 86th minute.

"We're happy for the three points, but it wasn't good enough," Chivas coach Robin Fraser told ESPNLosAngeles.com afterward. "The way we played the game and the way we finished the game was not good enough. [I was unhappy with] our inability to close out the game once we went up, 3-1. He should have been able to close out in a slightly more comfortable fashion.

"For us to get to the lofty goals we've set for ourselves, we need to be able to close out a game like that."

Chivas did well finishing their chances -- they put just four shots on goal, three of those hitting the nets -- but struggled to create. New England had far more opportunities but did little with them, and Revs coach Steve Nicol complained to the media afterward that he "could have been standing here with a 6- or 7-3 victory." He wasn't lying.

The Revolution missed at least two, maybe three can't-miss opportunities, and Kennedy made two massive stops on Shalrie Joseph, both to preserve one-goal advantages.

French midfielder Laurent Courtois, who came on in the second half for the Goats, was one of three debutants, along with New England's new Designated Player, Milton Caraglio, and spiky-haired 16-year-old Diego Fagundez.

The teen made the biggest impact among the three, winning the penalty for Joseph's 69th-minute finish from the spot (on a Heath Pearce foul at the top of the box; the Goats thought he dived) and scoring in the 86th (after rookie Zarek Valentin misjudged and then misplayed a long ball from Kevin Alston).

Moreno scored from a superb LaBrocca feed in the 31st and from a nifty four-pass sequence in the 80th. LaBrocca finished his own rebound in the 59th.

"[Moreno] was a huge plus," Fraser said. "He was instrumental in what we were able to do today, to be on the end of dangerous opportunites" and finish them."

A quick look at Chivas' victory:

BEST PLAYER: Kennedy has quietly risen among MLS's best netminders, and he was outstanding again -- without him, the Goats go down.


April, 30, 2011
4/30/11
1:55
PM PT
By
Scott French
| ESPNLosAngeles.com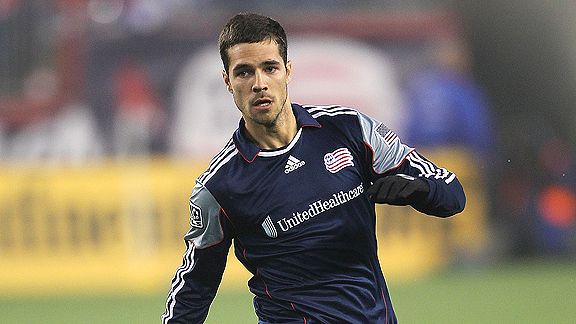 Jim Rogash/Getty ImagesBenny Feilhaber is excited to be playing in front of friends and family Saturday night at the Home Depot Center.
Benny Feilhaber is coming home, just not like he thought he would.

The Irvine-bred midfielder, who signed eight days ago with Major League Soccer after six years in Europe, thought he'd be making his home debut for Chivas USA (1-2-3) on Saturday night. He got the venue right -- he will be on the field at Home Depot Center -- but he'll feature for the New England Revolution, who won his services in as dramatic an allocation process as MLS has seen.

Feilhaber went to bed one night thinking he was going home and woke up the next morning bound for Massachusetts.

As luck, and agile scheduling, would have it, Chivas' next guest was Feilhaber's new team.

"Well, you're eventually going to play Chivas," Feilhaber noted following the Revs' practice Friday at HDC. "Obviously, they had the first opportunity to take me and passed up on me, but I'm really more excited to be playing in front of my friends and family [this weekend]. There will be plenty of people I know in the stands, and all rooting for New England."

Those would have been Chivas fans had the Goats claimed Feilhaber, a creative midfielder expert at possession and setting up teammates. They had first dibs on him the allocation process and spent four days mulling it over and listening to trade offers before deciding it didn't work financially for the club.

By passing, Chivas retained the top spot on the allocation list -- they'll have first say on the next player to enter the league through that mechanism -- and Philadelphia stayed at No. 2 when it passed, too.

So Feilhaber fell to No. 3 New England, and he made an immediate impact, setting up Marko Perovic's goal just 12 minutes in and drawing a red card that changed the tenor of play in last week's 3-2 victory over Sporting Kansas City.

"You see the quality he has," Revolution coach Steve Nicol said afterward. "And that affects the opposition, as well, because they don't know whether to stand off or close him down. And, obviously, with his teammates, it's good knowing you're getting a guy the ball who's, nine times out of 10, he's not losing it."


October, 27, 2010
10/27/10
10:39
PM PT
By
Scott French
| ESPNLosAngeles.com
Wednesday's dismissal by Chivas USA of Martin Vasquez isn't all that surprising except for vice president of soccer operations Stephen Hamilton's insistence Saturday that the club's head coach definitely would return in 2011, that "the things we saw in him previously, we still see in him, and I think he's going to benefit from a year of experience as a head coach."
Perhaps so, just not with the Goats. Looking for potential candidates? There are, at least on the surface, hundreds of them. No, thousands. Which are viable and which are not depends on how much Chivas wants to spend -- both on a coach and on players -- and how wide a net Hamilton and the club's "soccer committee" choose to cast.
Some possibilities:
THE BIG NAMES:
The biggest, at least in local circles, is German legend
Juergen Klinsmann
, one of the premier strikers of his (or any) generation -- and an innovative coach who took an unfancied Germany side to the 2006 World Cup semifinals, ran into problems at tradition-minded Bayern Munich (where Vasquez was among his assistants) and twice broke off talks with U.S. Soccer about taking the reigns of our national team, both times over control issues.
Klinsmann lives in Huntington Beach, is between coaching jobs, and is familiar with MLS through his years in the U.S. and history with the Galaxy, for which he served as consultant during
Sigi Schmid
's reign. He might find the opportunity to build with Chivas most attractive: the club's anti-corporate style stands in stark contrast to their neighbors down the hall, and it wouldn't surprise us if he and President/CEO
Shawn Hunter
got along famously.