Los Angeles Soccer:

Steve Sampson
November, 19, 2011
11/19/11
1:22
PM PT
By
Scott French
| ESPNLosAngeles.com
CARSON -- The first instinct was to flee.
That's how bad the Galaxy were when
Bruce Arena
arrived in Los Angeles back in August 2008 to discuss a rebuild of a rusting giant, a once-proud champion that had descended into circus fare during a woeful nine months under Dutch icon Ruud Gullit's stewardship.
"When I came in and looked at the team," Arena says now, gleam in his eye, "I thought about maybe going back home again. Going back to the East Coast."
He followed his second instinct instead, found nice digs near the ocean, then dug in, meticulously transforming the Galaxy from punchline to powerhouse. That path has led here, to Sunday's MLS Cup final against the Houston Dynamo at Home Depot Center -- and a potential coronation, whatever it's worth, as "greatest Major League Soccer team of them all."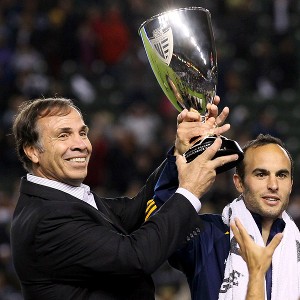 Stephen Dunn/Getty ImagesBruce Arena and Landon Donovan celebrate the Western Conference championship earlier this month.
That designation means nothing to Arena, 60, but winning the championship is everything. It was in the blueprint the moment he decided not to turn and run.

"The goal was to bring the Galaxy back where we could compete for championships, so I guess the blueprint has been partially successful," he said this week. "To get it right requires a win on Sunday. If we win on Sunday, I think we have the blueprint right."

Arena's accomplishments are legend in American soccer. He won five NCAA championships at Virginia, guided D.C. United to the first two MLS Cup crowns (plus a CONCACAF Champions' Cup title), then directed the U.S. national team through its most successful eight-year span, highlighted by a quarterfinal run at the 2002 World Cup. He was inducted last year into the National Soccer Hall of Fame.

What he's done in L.A. perhaps tops everything else. He took a franchise at its lowest point and in 15 months had it playing for a title. The next two seasons -- last and this -- were rewarded with Supporters' Shields, for winning regular-season titles. Now the club's third MLS Cup championship sits 90 minutes away.

"Everybody knows I'm a big believer in Bruce," says Galaxy assistant coach Curt Onalfo, who played for Arena at Virginia and with D.C. and was one of his assistants with the national team. "It's not the first time I've said he's the best in the business. And he just is. He's proven it time and time again in a league that's extremely difficult, where there's enormous parity. The fact that his teams have been in first place basically for two years running, it's just a remarkable accomplishment."

Arena this season guided the Galaxy to that second Shield (with 19 victories and modern-era record 67 points), into CONCACAF's Champions League (as the only non-Mexican group winner) and through three tight playoff games, all victories, against teams every bit as talented as his. He's done this while refashioning the attack; enduring dozens of injuries, to nearly every important player on the roster; and herding the team through an exhausting series of games, two a week for most of two months, during the season's final stretch.

It's been, says associate head coach Dave Sarachan, who has worked alongside Arena for many of the past 27 years, "by far his best work."

September, 21, 2011
9/21/11
12:17
AM PT
By
Scott French
| ESPNLosAngeles.com
ALAJUELA, Costa Rica -- The Galaxy's trek this week to Costa Rica, for Wednesday night's CONCACAF Champions League clash with Alajuelense, has brought back memories of their last trip to the country, and they're not happy ones.

It was 5½ years ago, and the Galaxy watched a two-goal halftime lead disappear in the second leg of a Champions' Cup series against Saprissa -- Alajuelense's archrival -- then lost in overtime after a phantom foul gave the Costa Ricans a free kick near the corner flag.

That wasn't what hurt.

"I remember starting really well, being up two goals, and then I remember us giving up a few bad goals and then losing eventually, 3-2," Galaxy captain Landon Donovan said Tuesday. "But mostly what I remember was that that was the trip when Doug Hamilton passed away."

Hamilton, just 43, was the Galaxy's esteemed general manager. He suffered a fatal heart attack flying home from the game as the team headed to Tamarindo, on Costa Rica's west coast, for four planned days of rest and relaxation.

The excursion was head coach Steve Sampson's idea. He had been Costa Rica's national team boss a couple of years earlier and knew that his players, preparing to defend their 2005 MLS Cup championship, would love the chance to see one of the world's most beautiful spots.


July, 29, 2011
7/29/11
12:30
PM PT
By
Scott French
| ESPNLosAngeles.com
Jürgen Klinsmann's appointment Friday to succeed Bob Bradley as U.S. national team head coach is the only "sexy" move that makes sense, and it signals that U.S. Soccer president Sunil Gulati finally has agreed to concede control of the squad to his coach, who had twice declined offers to take charge because he wouldn't be, ultimately, in charge.

The German legend, among the finest strikers of his generation, was announced on the heels' of Bradley's dismissal Thursday, and his hiring keeps the job in Southern California, for what that's worth. (Home Depot Center, on which Klinsmann consulted on stadium design when he was working as a Galaxy adviser, likely remains the primary training base for the Yanks.)

Klinsmann, 47 on Saturday, lives in Huntington Beach with his wife, Debbie, who is from Northern California, and their two children. He understands American culture and our soccer better than any other foreign coach, and that's important. American players are wired differently than Europeans, largely because of culture and how players are developed here.

Southern California has been the headquarters, so to speak, of American soccer in the way St. Louis and New Jersey had been previously, providing a foundation of playing and coaching talent for the national teams. Last year's World Cup side included Landon Donovan (Redlands), Carlos Bocanegra (Alta Loma), Steve Cherundolo (San Diego), Benny Feilhaber (Irvine) and Jonathan Bornstein (Los Alamitos).

They followed in a long line, a thick line over the past two decades or so, that featured Hall of Famers Eric Wynalda (Westlake Village), Marcelo Balboa (Cerritos) and Cobi Jones (Westlake Village).

Every U.S. head coach since 1991 except Bruce Arena, who now lives in the South Bay as Galaxy head coach, was based in Southern California:

Bora Milutinovic: The Serbian maestro with Mexican roots still maintains a home in Laguna Niguel, dating from the year-and-a-half national team residency in Mission Viejo leading to the 1994 World Cup. Milutinovic provided the foundation for the modern U.S. team.

Steve Sampson: Milutinovic's successor, who rose within the program as one of Bora's Boys on the 1994 coaching staff, had a tumultuous tenure marked by captain John Harkes' dismissal (because of an alleged affair with Wynalda's wife, which was made public only last year) and a last-place finish at the 1998 World Cup in France. Sampson lives in Calabasas.

Bob Bradley: Arena's successor took the job first on an interim basis after Klinsmann turned down Gulati, leaving his post as Chivas USA's head coach for the assignment. He brought advanced professionalism, greater team unity and growing international respect to the program. Bradley has been based in Manhattan Beach since taking the Chivas job in 2006.

It will be interesting to see whom Klinsmann selects as his assistant coaches -- and which current assistants are retained. Two of Bradley's assistants (goalkeeper coach Zak Abdel and former Chivas USA captain Jesse Marsch) are So Cal residents.

When Klinsmann was in charge at Bayern Munich, he took with him as assistants Martin Vasquez, who moved from Mexico to Alhambra as a child, and former UCLA star Nick Theslof. Vasquez's next job was Chivas USA head coach (he was just appointed director of soccer at Real Salt Lake AZ's academy program)%
June, 24, 2011
6/24/11
8:20
PM PT
By
Rafael Ramos Villagrana
| ESPNLosAngeles.com
Editor's note: The article below was translated from Spanish by ESPNDeportesLA.com.

LOS ÁNGELES -- The CONCACAF Classic. It's baptism is born like all rivalries. It's born the way great challenges are born. That is, in the unsubmittable heat of battle.

It's born without trickery, without marketing, without secondary interests, with no voracious godfathers, without promoters of fixed combats.

It is born out of blood. It is born in blood. It is born with blood.

The best summary is made by a veteran in these hardened battles.
Fernando Quizarte, a defender for Chivas, and a World Cup player for Mexico, explains it like this: "These games can't be lost ever, never. It was never necessary to tell that to the players. We knew it, we felt it," said the scorer of two goals in the Mexico's 1986 World Cup.

The other side of the story is no different. Nobody told them that you had to shake a yoke that had extended all over the court, the only subjugation that Mexico could perpetuate in sports, and pretended to, over the United States.

And that hurt. Landon Donovan said it before an elimination game, when Ricardo LaVolpe was "El Tri's" head coach, and the date was set in Columbus, Ohio. Donovan had his most fervent speech in front of the U.S. media.

"I want them on their knees, I want them humiliated, I want them suffering. They are arrogant and I can't stand them," screamed Donovan before that game, making clear the hostility, that shirt-to-shirt hatred, 90 minutes long, because he can't forget his addiction to soccer and that his best partners in the long gone fields of infancy were Mexicans, many of whom he still consider friends.

"Every time we beat Mexico, my phone is flooded with messages of my Mexican friends who fight with me, who love me, but love Mexico more, but the moment goes by and everything is back to where it was," remembered Donovan of one of those glorious journeys.


December, 15, 2010
12/15/10
10:38
PM PT
By
Scott French
| ESPNLosAngeles.com
So much is changing in the wake of Chivas USA's worst season since its horrid start in 2005 that's it simple to think the club is making a new start.
Antonio Cue
, the Goats' managing partner, doesn't disagree.

"I do think things are happening and changing," Cue (pronounced "quay") said Wednesday. "We're very excited about it. It's a great opportunity to do a lot of things we want to do. It is kind of a new beginning, for sure."
And so Cue is reaching back to the club's beginnings. He has resumed his former position as club president, a job he held until
Shawn Hunter
was brought aboard in September 2007, and says he he has no plans to relinquish the title.
So: One vacancy filled and two to go.
The club ostensibly had been looking for a new president since Hunter stepped down last month, and there remains openings for a head coach and, following vice president of soccer operations
Stephen Hamilton
's resignation Tuesday, for a general manager on the technical side.
Hamilton, who will continue to work with the club for "the next couple months" as an adviser, said Wednesday that he had "a couple of things I'm looking at" within the soccer world and that this "seemed like the right time for me" to step down.
"For me, personally," he said, "it felt like the right time to go in a different direction."
November, 21, 2010
11/21/10
11:28
AM PT
By
Scott French
| ESPNLosAngeles.com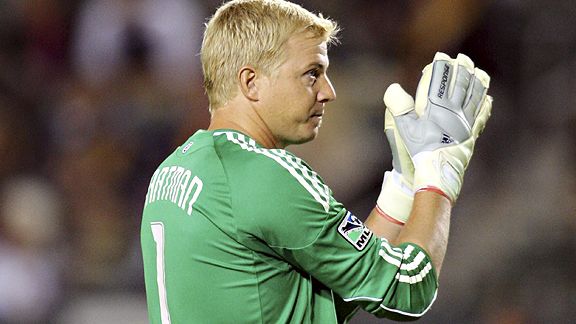 Victor Decolongon/Getty Images
Goalkeeper Kevin Hartman of FC Dallas applauds the fans after the Western Conference Finals of the MLS playoffs against the Galaxy at Home Depot Center.
TORONTO -- Kevin Hartman thought it might be time to go on to something else when the Kansas City Wizards told him as kickoff neared for the new season late last winter that his services no longer were required.
The veteran goalkeeper had few options: The other Major League Soccer clubs' goalkeeping hierarchies were in place, and most weren't looking to make a chance, no matter the former UCLA star's pedigree.
Schellas Hyndman
, who had what he believed a title contender after a 21-month rebuild of FC Dallas' roster, was intrigued. And Hartman thought he had more to give.
Theirs turned out to be the perfect partnership, and it's led to Sunday night's MLS Cup in Toronto (ESPN and Galavision, 5:30 p.m. PT), where the Hoops or Colorado Rapids will claim their first league title in what could be the most dynamic of the league's 15 championship games.
Hartman could be -- should be -- the difference.
The Palos Verdes product, who played at Palos Verdes and Peninsula high schools and started his college career at Cal State Dominguez Hills, was the final, and perhaps most important, piece of Hyndman's remake. He rewarded the coach with often spectacular play that sparked a league single-season record 19-game unbeaten streak, saw FC Dallas lose just four times -- tying an MLS mark -- and took the club into its first MLS Cup final, the last of the surviving remaining original clubs to do so.
October, 27, 2010
10/27/10
10:39
PM PT
By
Scott French
| ESPNLosAngeles.com
Wednesday's dismissal by Chivas USA of Martin Vasquez isn't all that surprising except for vice president of soccer operations Stephen Hamilton's insistence Saturday that the club's head coach definitely would return in 2011, that "the things we saw in him previously, we still see in him, and I think he's going to benefit from a year of experience as a head coach."
Perhaps so, just not with the Goats. Looking for potential candidates? There are, at least on the surface, hundreds of them. No, thousands. Which are viable and which are not depends on how much Chivas wants to spend -- both on a coach and on players -- and how wide a net Hamilton and the club's "soccer committee" choose to cast.
Some possibilities:
THE BIG NAMES:
The biggest, at least in local circles, is German legend
Juergen Klinsmann
, one of the premier strikers of his (or any) generation -- and an innovative coach who took an unfancied Germany side to the 2006 World Cup semifinals, ran into problems at tradition-minded Bayern Munich (where Vasquez was among his assistants) and twice broke off talks with U.S. Soccer about taking the reigns of our national team, both times over control issues.
Klinsmann lives in Huntington Beach, is between coaching jobs, and is familiar with MLS through his years in the U.S. and history with the Galaxy, for which he served as consultant during
Sigi Schmid
's reign. He might find the opportunity to build with Chivas most attractive: the club's anti-corporate style stands in stark contrast to their neighbors down the hall, and it wouldn't surprise us if he and President/CEO
Shawn Hunter
got along famously.