Los Angeles Soccer:

Stuart Holden
January, 3, 2012
1/03/12
7:23
PM PT
By
Scott French
| ESPNLosAngeles.com
Landon Donovan is hopeful his second loan stint with Everton can begin in earnest Wednesday, when the Toffees take on Bolton at Goodison Park (Fox Soccer Plus, 11:55 a.m.).
The Galaxy's captain, who enjoyed a memorable stint two years ago with the Liverpool-based club, is with Everton until Feb. 25, when he'll join L.A.'s preparations for the 2012 Major League Soccer season.
He began training Friday with the Toffees' first team and was eligible to play in Sunday's victory at West Bromwich Albion, although he did not dress for the match.
"I was a little disappointed that I couldn't play on New Year's Day, but that's just the way it goes," Donovan said in a interview video posted on Everton's website. "But it's nice to be here and start training, and my hope is that I'll feet fit enough and ready and the manager wants to use me against Bolton. It would be nice to start back at Goodison and get going."
Donovan was revelatory his first tenure with the Toffees, quickly emerging as a fan favorite with a player-of-the-month performance right after arriving on a 10-week loan in January 2010. He scored twice and assisted three more goals in eight league appearances, winning acclaim throughout the English Premier League.
He said arriving at Everton last week was "a little bit like Christmas morning" and that social media, especially Twitter, had enabled him to continue a dialogue with many among the club's fans.
"I follow [Everton] kind of like a die-hard fan now," Donovan said. "I can't always watch every game, but as many games as I can, I watch, and keeping in touch with some of the guys is nice. I feel like it's a part of me now, and I don't think that's ever going to go away."
Donovan's first stint wrapped up with a superb goal in a victory over Hull City, with
Jack Rodwell
carrying him to the corner so he could be saluted by supporters -- captain
Phil Neville
leading the charge -- who chanted, "USA! USA!"
Donovan called it a "fantastic memory."
October, 23, 2011
10/23/11
10:35
PM PT
By
Scott French
| ESPNLosAngeles.com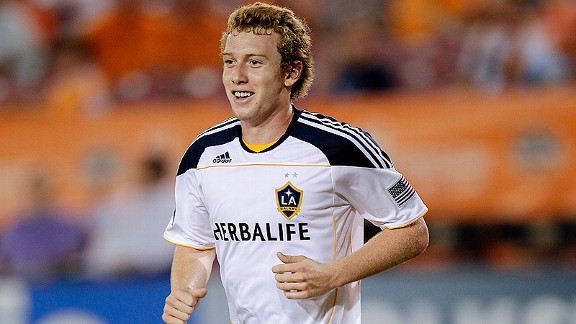 Bob Levey/Getty ImagesJack McBean, 16, is all smiles after scoring his first goal in his MLS debut for the Galaxy.

HOUSTON -- The game had long been over, since Bobby Boswell's shot inside the right post less than three minutes into the second half provided the dominant Houston Dynamo a two-goal cushion, but the Galaxy found something to like -- to really, really like -- near the finish of a 3-1 defeat in their regular-season finale Sunday night.

Rookie forward Jack McBean, a 16-year-old high school junior making his first Major League Soccer appearance -- in the starting XI, no less -- took a square ball from Chad Barrett, following Michael Stephens' through ball, with a virtually open net staring him down.

He took a touch, lined up, and fired into the net.

There are a lot more goals due from the teen sensation from Newport Beach, but most of them are still a few years off. This one wasn't beautiful and it meant nothing in terms of the result, but McBean is going to remember this night the rest of his life. So might his teammates.

McBean's strike in the 88th minute was the most visible reward for L.A. (19-5-10) in a match that mattered little but offered a big opportunity to rest key players in advance of next weekend's playoff opener and give some youngsters some first-team action.

Gregg Berhalter called it "something special" and said everyone was "ecstatic on the bench," and fellow rookie Dan Keat, a midfielder who was impressive in his first MLS start, agreed.

"It's fantastic," Keat said. "He's a great kid, and he's worked hard since he's come in. Seeing him play in his first game and getting a goal, it's great for him. And, hopefully, he keeps pushing on from here and uses it as a building block for a long career."

McBean, of course, was thrilled.

"I took that touch, which if I'd missed it, it could have been not the best decision, but, thankfully, it went in," he said. "I was happy to score, but bittersweet because we didn't get the win."

McBean has played in MLS Reserve League games and for the Galaxy's Academy sides, and he said playing at the league's top level was "obviously a lot different from the level I'm used to playing in. The atmosphere, the players, everything was a lot more intense, a lot more physical play. It's going to take me awhile to get used to, but to get out there was a lot of fun."