Los Angeles Soccer:

Sun-Hyung Cho
April, 20, 2012
4/20/12
12:46
PM PT
By
Scott French
| ESPNLosAngeles.com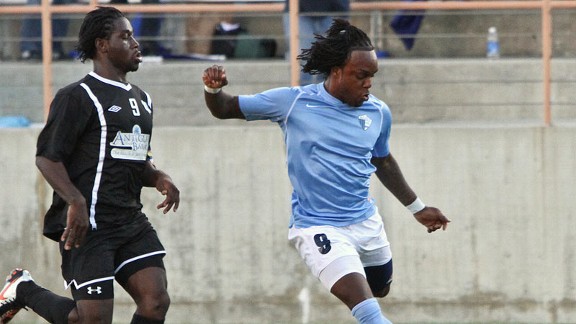 L.A. BluesFormer Chivas USA forward Chukwudi Chijindu, who played last year for the L.A. Blues, is with the Wilmington Hammerheads.

If you're looking for a local team to support in the USL Pro, the third-division league in American soccer's pyramid, the L.A. Blues aren't your only option.

There's also the Wilmington Hammerheads.

The North Carolina club, which will visit the Blues for a couple of games next month at Cal State Fullerton, have the largest collection of Southern California talent in the league: seven players from the area, another who played college ball here, and one more -- not sure he really counts -- who was with the Blues for a short spell last year.

They're among 32 players from Greater Los Angeles in USL Pro, which heads into its third weekend of games with Friday night's Blues-Rochester match at Fullerton.

The Blues, who featured a heavily local roster in their first season, have three players from the area (Anaheim's Carlos Borja, Newport Beach's Bryan Burke and Long Beach's Luis Gonzalez), four more from local colleges (UC Irvine's Irving Garcia, Cal State Fullerton's Shay Spitz and Bethesda Christian's Sun-Hyung Cho and Cheun-Yong Park), plus a former Galaxy winger who has called SoCal home since signing with MLS at 16 nearly five years ago (Israel Sesay).

The Rochester Rhinos, who won a league opener over the Blues last weekend, also have a decent contingent led by former UCLA star Mike Zaher and UC Santa Barbara products Conor Chinn and Tyler Rosenlund. All three, plus former Galaxy defenders Quavas Kirk and Troy Roberts, have MLS experience.

Orlando City has Palmdale's Maxwell Griffin, a UCLA alum whose performance for the champs last year led to a late-season loan deal to the San Jose Earthquakes. Pittsburgh has Long Beach's Tino Nuņez, from UC Santa Barbara, who spent a couple seasons with Real Salt Lake. Three goalkeepers are in the group: L.A.'s Kevin Klasila at Charlotte, Huntington Beach's Kyle Polak with Wilmington, and Laguna Hills' Eric Reed at Charlotte.

Wilmington's So Cal group includes former Chivas USA forward Chukwudi Chijindu, a Fontana product who spent last season with the Blues on loan from the Goats, plus Hollywood's Jack Avesyan and Hagop Chirishian, Laguna Hills' Trey Cole, Lakewood's Manny Guzman and Thousand Oaks' Dylan Riley.

Here's a full list of players with local ties in the USL Pro (with hometown and local high school/college in parenthesis, with local adult club following):


April, 13, 2012
4/13/12
6:31
PM PT
By
Scott French
| ESPNLosAngeles.com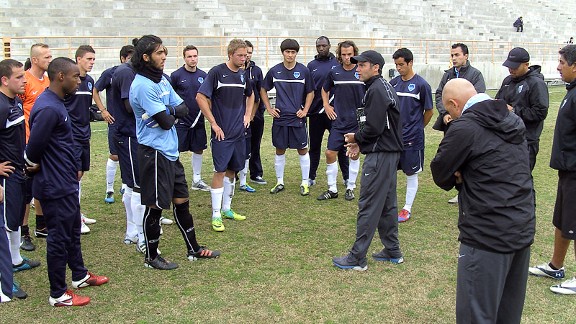 Blues Pro SoccerCharlie Naimo addresses his team during the buildup to the 2012 USL Pro season.

FULLERTON -- The Los Angeles Blues embark Saturday night on their second go-round in the USL Pro, looking to right what went wrong in the inaugural season, when their championship-caliber side unraveled after its big-name star abandoned ship.

Head coach/general manager Charlie Naimo and his staff gutted the team, keeping just four players and bringing in a mix of veterans and youngsters with perhaps not quite the flair of last year's group but with far more grit and resilience, and the Blues are thinking title as they kick off against the Rochester Rhinos at Cal State Fullerton's Titan Stadium.

The Blues want desperately to improve on last year's 8-7-9 campaign, followed by a first-round exit in the third-division professional league's playoffs, and challenge defending champion Orlando City SC and several prime contenders, including the Rhinos, who won the National Division last year, seven points ahead of third-place L.A.



But the real fight is off the field, where Steve Donner -- the club's new vice president of business operations -- is leading a charge to professionalize the organization, create for it a role on Southern California's crowded sports landscape, and create a foundation that will enable the Blues to survive and succeed for years to come. The most important move has been hauling the team's offices from Santa Monica to Fullerton, just a couple of blocks from the club's training ground at Fullerton College, and pledging its future to Titan Stadium after splitting a dozen league games last year among Cal State Fullerton and venues in Corona, Norco and Pacific Palisades.

Tickets are cheap, certainly in comparison with the Galaxy (and, less so, Chivas USA), parking is free and the soccer is better than decent. That's what Donner -- a sports marketing executive with extensive experience in hockey, minor-league soccer and lacrosse -- and his staff are trying to sell.

"A very convenient, very entertaining sports option in the Orange County and the L.A. Metro market: That's the niche we hope to create," said Donner, who was chief executive officer last year at Orlando City, which led the USL Pro in attendance. "It's going to take some time in order for people to understand what we really are."

That's because word didn't get out last year. A short lead-time to the club's debut -- the Tampa, Fla.-based United Soccer Leagues accepted the Blues for its top division in December 2010, and play began five months later -- had the organization scrambling from the start just to put on a season. Marketing was nearly nonexistent, sponsorship was sparse, and little more than 4,500 showed up for the entire 12-game home schedule, with just four crowds above 600.

A BAD START: "It couldn't have been worse last year," Naimo acknowledged. "It's really no one's fault. We started so late. Geographically, we were a constellation, and bottom line: You can't market to people you're not around."

"It did not work, as far as sponsorship, ticket sales," Ali Mansouri, who owns the club with his wife, Maryam, said at the close of last season. "We had a budget, what this thing is going to cost us. And we were very close to it. We were about 10 percent [above] what we estimated the cost is going to be. Very happy about that. But we also had an estimate of how much money we're going to bring in. We [made] 20 percent of that. That wasn't good."