Los Angeles Soccer:

Teal Bunbury
January, 13, 2012
1/13/12
11:27
PM PT
By
Scott French
| ESPNLosAngeles.com
CARSON -- The foundation Jurgen Klinsmann and Caleb Porter are building this month at Home Depot Center will support U.S. Soccer's primary men's teams through what could be a pivotal year for the sport in America.

The start of qualifying for the 2014 World Cup and the London Olympics dominate the calendar, but as important as results might be, more crucial is the steps forward the national team looks to take in Klinsmann's first full year in charge and the role the under-23 national team will play in developing talent for the top side.

The teams tangoed late Friday afternoon on Glenn "Mooch" Myernick Field, right outside HDC's main stadium, with the full nats -- starting the So Cal portion of their annual January camp -- scoring four times in 15 minutes late in the first half for a 4-0 victory over the U-23s.

They'll scrimmage one more time at HDC before Klinsmann's group returns to Phoenix for next weekend's friendly against Venezuela, with University of Akron coach Porter's younger group, which is preparing for the Olympic qualifiers in March, sticking around through Jan. 25.

The national team has the usual January collection of top MLS talent and secondary players from European leagues with winter breaks, with two midfielders from the 2010 World Cup side (New England's Benny Feilhaber and Eintracht Frankfurt's nearly forgotten Ricardo Clark) and two players from the preliminary World Cup squad (Chivas USA defender Heath Pearce and Real Salt Lake goalkeeper Nick Rimando).

They've been working the past 10 days in Phoenix, with a lot of fitness work, and will focus on technical and tactical work before the games Jan. 21 against Venezuela and Jan. 25 at Panama.

"This scrimmage gives us an idea of how they are comfortable on the field," Klinsmann said afterward. "How they shift. How they take a couple of guidelines that we gave them and implement them. And now we can real the players a bit better. Because you never know when you get a fresh group coming in how their understand is of each other, how they read reach other. We know about their personal capabilities, but not in the context of a team, so that's why we need those games to see that.

"And then we can go ahead and modify training sessions and talks where we kind of want to guide them towards on the tactical side as an entire team together."

There is some crossover between the national team and the U-23s. Freddy Adu, who has been called into only one full camp under Klinsmann after a stirring performance in the CONCACAF Gold Cup title-game loss last summer, is the most prominent name on the roster, but the most important players are with Klinsmann's bunch.

Juan Agudelo, the 19-year-old New York Red Bulls forward, is the most significant -- Klinsmann calls his abilities "special" -- and Sporting Kansas City forward Teal Bunbury are age-eligible for the Olympic team, and so is FC Dallas winger Brek Shea, who is drawing considerable interest from Europe. D.C. United's Bill Hamid and Chicago's Sean Johnson, both goalkeepers, also can make the U-23 roster.


October, 30, 2011
10/30/11
9:34
PM PT
By
Scott French
| ESPNLosAngeles.com
Higher-seeded road teams won both Eastern Conference playoff openers Saturday, with conference champ Sporting Kansas City using two
Teal Bunbury
goals to knock off defending MLS Cup champion Colorado and Houston scoring twice in the first half en route to a victory at defensive-minded Philadelphia.

Bunbury scored four minutes into the second half and converted a penalty kick 10 minutes later to lead Sporting to a 2-0 triumph at Colorado, which missed injured captain
Pablo Mastroeni
and lost three more players -- forward
Caleb Folan
and defenders
Kosuke Kimura
and
Drew Moor
-- to injury.
Houston beat the Union, 2-1, with
Calen Carr
's 30th-minute strike making the difference after Dynamo defender
Andre Hainault
, from a
Brad Davis
set piece, and Philly's
Sebastien Le Toux
traded goals in the sixth and seventh minutes.
K.C. will be home for the second leg Wednesday, and Houston plays its home leg Thursday. The series winners meet in the Eastern final next Sunday.
Houston's win was its first in five meetings with Philadelphia, which debuted last year in MLS. Sporting's triumph hinged on Colorado defender
Tyrone Marshall
's nightmare of a night -- he was beaten by Bunbury on the first goal, then dragged down the speedy forward in the Rapids box for the PK, picking up a red card in the process.
September, 4, 2011
9/04/11
10:46
PM PT
By
Scott French
| ESPNLosAngeles.com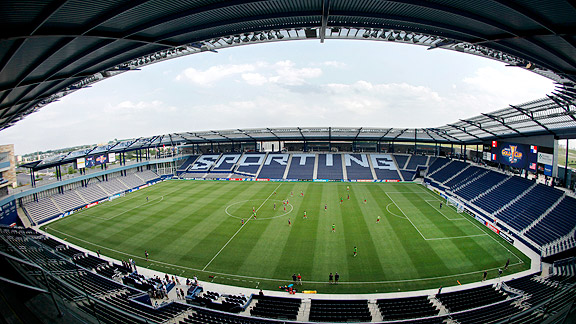 AP Photo/Charlie RiedelAfter a long rest, L.A.'s rough road doesn't start easy when the Galaxy visits Sporting K.C.

Hurricane Irene, Chad Barrett concedes, was "a terrible thing for the East Coast," and he certainly doesn't mean to make light of tragedy, but when he sees the storm through a Galaxy prism, he's got a different take.

"For our legs' purposes," the L.A. forward said this week, "it was actually a great thing."

The Galaxy, run ragged by a schedule thick with games in two competitions, got a needed week and a half away heading into Monday's Labor Day showdown at Sporting Kansas City, a chance, Barrett said, "to take some time off, recharge our batteries."

Major League Soccer's best team dives into the most difficult stretch of its season in K.C., the first of nine games over 30 days, the results of which will inform whether the Galaxy (14-3-9) win the Supporters' Shield and determine if they're headed to next year's CONCACAF Champions League knockout stage.

Irene was kind enough to knock out a trek to New Jersey, for last weekend's marquee match against the New York Red Bulls. That one's been rescheduled for Oct. 4, the last of these nine games, with a 12-day break to follow.

"Everyone [had the] chance to get their bodies healed again and get some quality rest and at the same time get some good trainings in and get down tactically what we need to do as a team," said defender Frankie Hejduk, who is finally healthy after an ankle injury. "When you're consistently playing Saturday-Wednesday-Saturday-Wednesday, your body doesn't get the opportunity to get your proper rest. In that respect the break's really helped us."

And now things get harder. Sporting (9-8-9) has been MLS's hottest team -- it has lost just twice in its last 18 league games; says Landon Donovan: "you could argue they're as good as any team in the league at this time" -- and on the horizon are games with Eastern Conference leader Columbus, Real Salt Lake and New York. Plus four Champions League games, three of them on the road.


July, 8, 2011
7/08/11
10:48
PM PT
By
Scott French
| ESPNLosAngeles.com
Chivas USA's decision last week to test some tactical alternatives -- and then discard them before trying them out in a game -- could prove to be a masterstroke by rookie head coach
Robin Fraser
.
His Goats, he says, are "starting to form an identity," and by demonstrating that he was willing, at the very least, to consider trading in that identity -- as a possession team that, when things are going right, can run foes off the park -- for something less attractive, possibly less satisfying but maybe more effective might have been enough to shake them from a growing stupor.

Chivas (5-7-6) offered two impressive and dynamic but far from complete performances last week while ending two skids -- first of three losses and then of four games without a win -- and head into Saturday's Major League Soccer match at Sporting Kansas City (5-6-6) feeling pretty good about themselves.
But not
too
good.
"I think at times when we weren't playing great on the field, we recognized that," defender
Heath Pearce
said after Wednesday night's 2-0 triumph over San Jose at Home Depot Center. "We didn't try to force our way out of it. We played smart, we played safe. ... We were able to build into our kind of flow. When we kind of get off pace, we start trying too hard to keep that style of play. We were able to recognize that early [in the victory] and kind of go through the ebbs and flows of the game."
Learning how to manage the game is a big part of the process Chivas is undergoing as it grows into the side Fraser envisions. On occasion, the Goats get it right, and when they do, it's
Nick LaBrocca
-- acquired from Toronto FC during preseason -- at the reins. He's playing atop the midfield diamond, and his class on the ball and ability to finish, seen with goals in last weekend's 1-1 draw against Chicago and to secure the win over San Jose, have provided a needed dimension, especially with
Blair Gavin
and
Paulo Nagamura
missing so much time through injury.
The elements of Chivas' game are simple but difficult. They prefer to move the ball, to play keep away as they bear down on the opponent's box, and it all stems from their defensive play, which was solid last week after mistakes doomed earlier efforts.
June, 8, 2011
6/08/11
11:02
PM PT
By
Scott French
| ESPNLosAngeles.com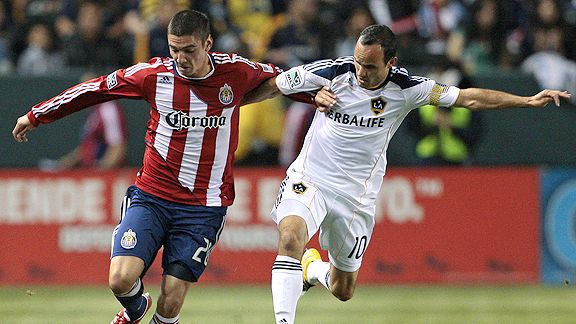 AP Photo/Jason RedmondChivas USA's Zarek Valentin, left, is one of many young players from the University of Akron finding success in MLS.

Last week's visits to Southern California by D.C. United, the Vancouver Whitecaps and the Portland Timbers provided occasion for a mini-reunion among Akron Zips. For Chivas USA defender Zarek Valentin, it was a chance to compare notes with a few other prized rookies produced by the college powerhouse.

Valentin, along with second-year Goats Blair Gavin and Ben Zemanski, was able to hang out with Vancouver midfielder Michael Nanchoff, D.C. United defenders Perry Kitchen and Chris Korb, and Portland midfielder Darlington Nagbe.

"There were a good, like, 10 of us in the L.A. area. So it was pretty cool," said Valentin, whom Chivas made the fourth overall selection in January's MLS SuperDraft. "We were all in one hotel room, just kind of laughing about old times and stuff."

New times, too. Valentin has played three positions on Chivas' backline. Kitchen, taken with the No. 3 overall pick, has been a revelation for D.C. United whether in central defense or at right back. Nagbe, the No. 2 selection, is considered can't-miss, although his young pro career has primarily been about rehabbing injuries. Nanchoff, the No. 8 pick, and Korb are starting to find their way with their new clubs.

Two more players from the Akron side that won the NCAA title last December also are in the league -- Houston defender Kofi Sarkodie was taken with the No. 7 pick, and San Jose midfielder Anthony Ampaipitakwong joined Korb as a second-round pick -- joining a group spearheaded by Seattle winger Steve Zakuani and Sporting Kansas City forward Teal Bunbury.

"It's nice to see that, and it's great to see [the guys from] our program, especially the guys playing," Valentin said. "You love to see two Akron guys in the D.C. game [Friday against the Galaxy], and you see Michael Nanchoff got into his first game -- we watched his touches online."

There's an oddity in all that Akron elegance: Four rookies among the Zips alums -- Valentin, Kitchen, Korb and Sarkodie -- have played at right back in MLS.


May, 14, 2011
5/14/11
12:50
PM PT
By
Scott French
| ESPNLosAngeles.com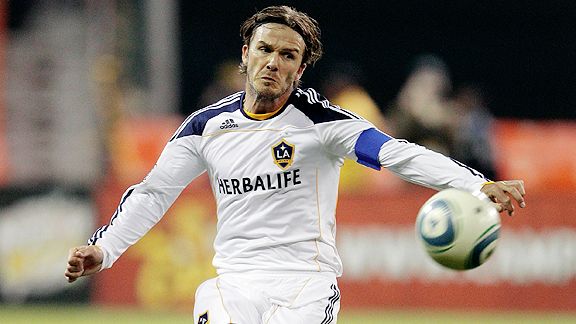 Rob Carr/Getty ImagesDavid Beckham and his Galaxy mates are looking to finish an opponent off.
David Beckham watched his Galaxy teammates give up a late equalizer Wednesday at Philadelphia from the comfort of his home, left behind to rest as L.A. delves more deeply into a congested schedule that will surely test its depth.
Doesn't mean he liked it, and he sure wasn't happy with the finish, but the English midfielder is enthused by the Galaxy's form and is looking to return to the lineup Saturday night with a win over Sporting Kansas City at Home Depot Center.
A victory would end a three-game winless streak that has been prolonged by the Galaxy's difficulty in finishing its chances, a recurring theme through the first two months of the Major League Soccer season.
"We have to finish teams off," Beckham said Friday. "We're not winning as many games as we'd like to. The biggest thing is finishing teams off. We're playing well, but we need to get that second or third goal."
L.A. has scored more than once just twice, in successive wins April 17 at Chicago (2-1) and April 23 at home against Portland (3-0). They've had four 1-1 draw, all results that would have been different had the Galaxy been more clinical in front of the net.
Beckham noted last week's draw with New York.
"In the first half, we found a way of getting through them," he said, "and once we found that, we had three or four or five really good chances, and we didn't put them away, and, obviously, it costs you at the end of the day.
"So we have to find a way of beating teams and keeping pressure up for the full 90 minutes. Because the game is about 90 minutes, and more sometimes, and you have to play through that."
With Beckham sitting out, Galaxy coach
Bruce Arena
changed up his system, turning his usually fairly flat 4-4-2 alignment into a 4-3-1-2, with
Landon Donovan
sitting underneath forwards
Juan Pablo Angel
and
Miguel Lopez
. They were dominant most of the night, but a poor back pass from
Sean Franklin
gifted Philly catalyst
Danny Mwanga
an 83rd-minute goal, and the returned home with one point rather than three,
"It's always difficult watching games you want to be in involved in," Beckham said. "I think the guys did well. I think it shows the strength of our squad, because we had [different] players going in and a new formation, as well, and I think that was the positive side of it."
February, 16, 2011
2/16/11
4:52
PM PT
By
Scott French
| ESPNLosAngeles.com
There are numerous procedures to acquire talent in rule-crazy (lawyer-rich) Major League Soccer, and we saw one of them enrich the league's best club and mete out a little justice this past week.
Weighted lotteries dispersed three top young players into the league. Two of them have the potential to be big stars. The third is a highly regarded outside back pegged for a long, productive career.

Real Salt Lake, arguably the finest side in the league, came up the big winner, claiming former Wake Forest forward
Cody Arnoux
against all odds.
Former University of Virginia forward
Chris Agorsor
, who also has star potential, went to Philadelphia, and teen right back
Korey Veeder
was picked up by Columbus.
Neither the Galaxy nor Chivas USA entered the lotteries, for which a team's chances are based on its record in its past 30 games in relation to the other teams involved.
Arnoux, who scored 32 goals in his sophomore and junior seasons at Wake Forest, returned last summer from a year with English club Everton's reserves and seemed to settle in nicely with the Vancouver Whitecaps in their final season as a D2 club.
That's what the Whitecaps figured: They tried to sign Arnoux for their MLS side, but the league wouldn't have it. MLS uses lotteries for players coming out of college who sign after the draft or for players who previously turned down a league offer. Arnoux had been aggressively pursued before he left Wake Forest following his junior season, so to Friday's lottery he went.
RSL won despite just a 5.4 percent chance of success.
"Miracles never cease," quipped GM
Garth Lagerwey
to MLS's website.
Arnoux is renowned for his work rate and his nose for the net, and he said he hoped he could step in for
Robbie Findley
, the World Cup forward who moved to England's Nottingham Forest.
"I never stop working -- that's what I build my game around," Arnoux told the league's website. "I'm not the guy who's going to make the right pass every time or make the right decision. But I'm good in front of goal and have confidence in front of goal and that has to be built back up because I've been off for a while.
"I'm a hard worker, and that's something English fans like. Even though I wasn't playing with [Everton's] first team, they appreciated that a lot, and I know American fans appreciate that a lot. That's the kind of player I am. I've not always been the best, but I've always had to try to work harder to beat everyone else."
December, 21, 2010
12/21/10
6:19
PM PT
By
Scott French
| ESPNLosAngeles.com
It's a young group, younger than usual, that Bob Bradley is bringing into camp next month with the U.S. national team, signaling the start to a new four-year cycle rather than preparation for next summer's CONCACAF Gold Cup.

A.J. DeLaGarza, so impressive during Major League Soccer's stretch run, gets his first call-up to the national team; he'll be joined by Galaxy backline mates Sean Franklin (Palmdale/Highland HS and Cal State Northridge) and Omar Gonzalez in the Jan. 4-22 camp at Home Depot Center.

Chivas USA forward Justin Braun and three players with local ties -- Real Salt Lake goalkeeper Nick Rimando (Montclair/Montclair HS and UCLA) and Colorado Rapids defender Marvell Wynne (UCLA) and midfielder Jeff Larentowicz (born in Pasadena) -- also are on the 24-man roster, from which Bradley will draw his lineup for the Jan. 24 friendly against Chile at HDC.

The annual January camp, always at HDC, usually is used to scout younger players -- including those who emerged during the previous MLS campaign -- and give U.S.- and Scandinavia-based veterans a foundation to build fitness before their seasons begin in the late winter or spring.

This time Bradley called in very few veterans. Sweden-based midfielder Alejandro Bedoya is the only player from the U.S. pre-World Cup training camp on the roster, and none who went to South Africa is involved. A dozen players are uncapped, five more have just one cap, nobody has made more than six international appearances -- across the roster, there are only 28 caps.

A rundown on the two dozen players coming to HDC:


December, 2, 2010
12/02/10
4:27
PM PT
By
Scott French
| ESPNLosAngeles.com
Major League Soccer's Generation Adidas trek to Madrid started off swell, with a 2-1 victory over Real Madrid's reserve team Thursday.
Galaxy forward
Tristan Bowen
(Van Nuys), former UCLA standout
Amobi Okugo
and rising star
Luis Gil
(Garden Grove/Santiago HS) are among 19 players -- all either in MLS' developmental Generation Adidas program or recent grads -- on the team guided by FC Dallas coach
Schellas Hyndman
.
Injured Chivas USA midfielder
Blair Gavin
is one of two current GA players who are missing the trip.
Sporting Kansas City forward
Teal Bunbury
, who last month made his U.S. national team debut, and Columbus midfielder
Dilly Duka
scored for the MLS side. Okugo, who plays for Philadelphia, was a standout in midfield, and Real Salt Lake's Gil came on in the second half.
Others on the roster include national-teamers
Juan Agudelo
(New York) and
Brek Shea
(FC Dallas). The team will face the reserve teams from Rayo Vallecano on Tuesday and Atletico Madrid on Wednesday.
November, 17, 2010
11/17/10
11:29
PM PT
By
Scott French
| ESPNLosAngeles.com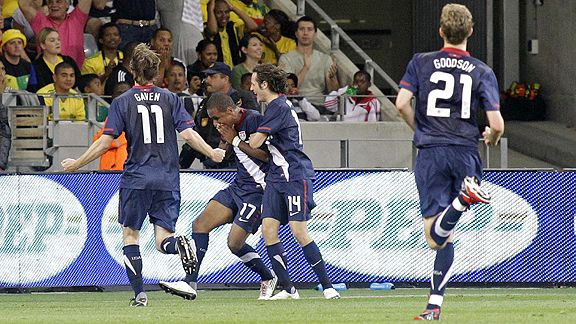 AP Photo/Schalk van Zuydam
U.S. players celebrate after Juan Agudelo's goal lift them to a 1-0 victory over South Africa.
The best thing about the U.S. national team's trek to South Africa wasn't Wednesday's 1-0 triumph in the Nelson Mandela
Challenge at Cape Town -- although that certainly was nice and was rewarded with a sweet trophy -- nor any of the philanthropic activities, and not even Thursday's scheduled sit down with Mandela himself.
It was the way in which a young U.S. side asserted itself, and what that might mean going forward.
Four players 20 or younger debuted in the triumph over Bafana Bafana, and all fared well as the Yanks, missing nearly all of their first-choice players, had the better of play against an experienced side playing at home in front of 52,000 vuvuzela-blowing fanatics.
Big props especially to Colombia-born forward
Juan Agudelo
, who six days shy of his 18th birthday became the youngest player ever to score for the U.S., and Norway-born and -bred midfielder
Mikkel Diskerud
, who combined with Agudelo on the goal and repeatedly made mature, important defensive decisions.
November, 11, 2010
11/11/10
7:36
PM PT
By
Scott French
| ESPNLosAngeles.com
Former Chivas USA defender Jonathan Bornstein got the call this week: He's heading back to South Africa with the U.S. national team.
Bornstein is one of five players from last summer's World Cup squad that U.S. coach Bob Bradley placed on his roster for Wednesday's "Nelson Mandela
Challenge" friendly against South Africa in Cape Town. The former Los Alamitos High School, Cal Poly Pomona and UCLA standout, who will join Mexico's UANL Tigres in January, is the most experienced player on the roster, with 34 international appearances.
Bradley also called in Aston Villa goalkeeper
Brad Guzan
, who played for the coach when he was in charge at Chivas USA, West Ham United defender
Jonathan Spector
, Orebro midfielder
Alejandro Bedoya
, and Real Salt Lake forward
Robbie Findley
from the World Cup team.
Columbus Crew winger
Robbie Rogers
(Palos Verdes and Huntington Beach/Mater Dei HS), who was on the U.S. preliminary World Cup roster but did not go to South Africa, also is on the team.
Six uncapped players are on the roster. The most intriguing is Kansas City Wizards forward
Teal Bunbury
, who has turned down invitations to play for his native Canada, saying he has a better chance to realize his goal of playing in a World Cup by declaring for the U.S. That he does.